What We're Seeing: First impressions from Week 10
The Eye on CFB gang offers their knee-jerk impressions from Week 10 games across the country.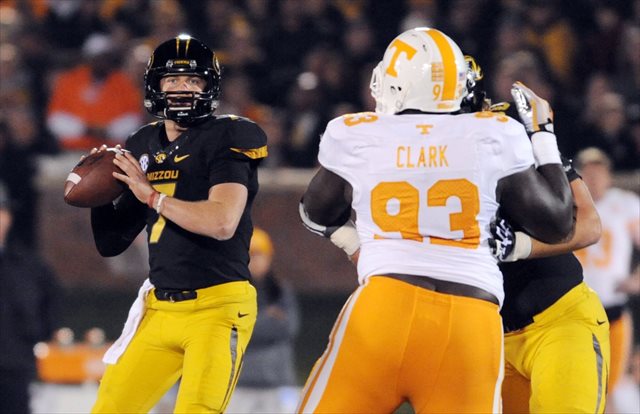 Every game day Saturday, the three-man Eye on College Football crew watches football ... a lot of football. Here's their knee-jerk impressions of what they've seen during Week 9. This post will update throughout the day.
No. 10 Missouri 31, Tennessee 3 [RECAP]

As for the Vols, it seems pretty simple: if they're at home and have Justin Worley healthy, they'll be excellent, capable of scaring the pants off of Georgia or beating South Carolina. If they're on the road and Worley is unavailable, forget it.

And as for Missouri, it's a measure of Gary Pinkel's coaching job this year that 1. even the devastation of last week's collapse against South Carolina couldn't derail the Tigers focus 2. Maty Mauk has been more than ready to fill in for James Franklin. The redshirt freshman had his best game yet against the Vols, throwing for 163 yards, rushing for 114 more, and tossing three TD passes to no interceptions.

It was just the Vols, at home. But add in an outstanding defensive performance to the factors above, and there was no evidence Saturday that the Tigers shouldn't still be considered the team to be at in the SEC East. -- Jerry Hinnen
Nebraska 27, Northwestern 24 [RECAP]
Honestly, it's hard to remember everything that happened in the first 59 minutes of this game. The only thing we can recollect right now is this.
That's Ron Kellogg finding Jordan Westerkamp in the end zone -- with the ball taking the scenic route -- on the very last play of the game to give Nebraska a 27-24 win. It was a very fitting end to what had already been a very crazy week for the Pelini family. Oh, and it also kept Nebraska alive in the Big Ten's Legends Division. -- Tom Fornelli
No. 8 Auburn 35, Arkansas 17 [RECAP]

Fans outside of the Plains or the Natural State can be forgiven if they've forgotten, but the biggest dustup of the summer's SEC Media Days was Gus Malzahn saying that he thought Bret Bielema's proposal to institute tempo-slowing rules changes was "a joke" the first time he heard it, and Bielema responding with a borderline rant about the no-huddle and player safety. So Bielema casually mentioning that there was a problem with the game film sent by Auburn this week almost certainly wasn't an accident, and Malzahn playing coy with quarterback Nick Marshall's injury status might not have been either.

But those sorts of hijinks would fall by the wayside once the game started, right? Not so much -- at one point Arkansas ran a "swinging gate" formation, the source of the game tape complaint, for a fourth-down conversion. And before the next play, this happened. Malzahn said afterward his players did not fake injuries, and the ESPN sideline reporter said Anthony Swain had been riding a bike and had a knee brace put on after the apparent injury. But the odds that the fans in Fayetteville -- or Bielema himself -- will take Malzahn at his word are slim.

Which means the end result is that after just one offseason and one in-season meeting, Bielema-Malzahn already appears to be each coach's biggest personal grudge match. So let's hope they both stay in their positions for a long, long time. -- Jerry Hinnen
No. 20 UCLA 45, Colorado 23 [RECAP]
For the second time this season, Colorado took an early lead at home against a ranked conference opponent. Eventually No. 20 UCLA, just like Oregon in early October, got the offense rolling and pulled away late with a 45-23 win. Bruins quarterback Brett Hundley showcased his entire skill set, completing 19 of 24 passes for 273 yards and two touchdowns while leading the team in rushing with 72 yards and two touchdowns on 11 carries. Jordon James was back in the lineup at running back, but neither he nor Paul Perkins or Damien Thigpen were able to get in a rhythm on the ground against the Buffs defense.
Getting back on track was very important for the Bruins, who cannot afford another conference loss after facing Stanford and Oregon in back-to-back weeks. Arizona State still sits alone in first place of the Pac-12 South with just one conference loss, staring down a home stretch of Utah, Oregon State, UCLA and Arizona. The Bruins must win the head-to-head and take care of business against Arizona, Washington and at USC on Nov. 30. -- Chip Patterson
No. 25 Notre Dame 38 Navy 34 [RECAP]
You would think that since Notre Dame played Air Force last week and held the Falcons offense to only 10 points that the Irish defense wouldn't have much trouble slowing down another option offense on Saturday. Well, you would be wrong.
Navy rushed for 329 yards on Saturday, trading touchdowns with the Irish offense for a full 60 minutes. Unfortunately for Navy, the Irish offense had very similar success against Navy, but the Irish defense was able to make a stop at the end of the game.
Because of it the Irish were able to keep their BCS bowl hopes alive, though it wasn't exactly a performance that inspired a lot of confidence in the Domers. -- Tom Fornelli
Georgia 23, Florida 20 [RECAP]

Georgia's special teams finally made it through an entire game without making a catastrophic, game-turning mistake ... and watched the offense do the honors instead, with Arthur Lynch's drop of a backwards pass (and failure to cover it) handing Florida's hopeless-looking offense one touchdown and a failed play-action pass out of the Bulldogs' own end zone yielding a safety. One semi-competent Florida touchdown drive later, what had looked like an absolute Bulldog cruise was a three-point nailbiter.

The Bulldogs made just enough plays down the stretch to win, just as they did at Tennessee, just as they didn't quite at Vanderbilt. And they deserve some credit for that. But given how left-for-dead for Florida appeared to be, there's no lead the Bulldogs can hold down the stretch run that will appear safe ... and no way to rank them ahead of Missouri or South Carolina when it comes to rating the favorites to emerge out of the SEC scrum. -- Jerry Hinnen
No. 9 Clemson 59, Virginia 10 [RECAP]
Midway through the second quarter, this game looked much different. Virginia's defense had allowed two touchdowns, but forced four three-and-outs and intercepted Tajh Boyd to keep the Cavaliers in the game at 14-7. Then things got out of hand quickly as Clemson turned back-to-back Virginia turnovers into a 21-point surge just before halftime. Suddenly, the score was 35-7 and Virginia looked very much out of the game.
The star of Clemson's defense during that surge was freshman safety Jayron Kearse . Kearse forced a fumble and returned an interception 37 yards as a reserve in the game (the former four star prospect has been a regular contributor in secondary, ranking in the Top 10 on the team in tackles). 
Clemson's offense is at its best when in rhythm, and the disruption of that rhythm appears to be a team's only hope at preventing these kinds of point explosions. Boyd completed 23 of 28 passes for 373 yards and recorded four total touchdowns (three passing, one rushing) to break Phillip Rivers' ACC record for career touchdowns responsible. Sammy Watkins checked in with 162 receiving yards on seven catches just week after a 163-yard performance against Maryland. These final games of the 2013 season will be the last time we get to enjoy the Boyd-to-Watkins combination, so that's one reason to watch the Tigers in these lopsided victories. -- Chip Patterson
Minnesota 42, Indiana 39 [RECAP]

First of all, even in defeat, it's worth acknowledging that amid all the grind-it-out slug-a-thons that can go on in the Big Ten, it's nice that the conference still has a Loki -- the unpredictable, offensively unstoppable, defensively suspect (and that's being kind) Hoosiers of Kevin Wilson. They're not about to win the league, not about to win the division, not even about to go a bowl game (they're 3-5 and still have Wisconsin and Ohio State on the schedule). But they are not boring. They're borderline must-watch television -- and when was the last time that could be said about Indiana?

But fun is one thing, winning is another, and it's Jerry Kill and Jerry Kill's staff that are doing the winning, primarily through a perfect balance of bludgeoning running and surprise deep throws -- including the 50-yard game-winning pass from Phillip Nelson to a wide, wide-, wide, wide-open Maxx Williams. The Gophers are 7-2, having now pulled three straight upsets as an underdog of a touchdown or more, and this one was the only one that was close ... and even that required a furious Hoosier comeback from down 35-13. (To be fair, the Gopher victory also required Indiana to fumble a backwards pass when in range for a game-tying chip-shot field goal in the final minute.)

With Wisconsin and Michigan State still to come, the Gophers aren't in divisional contention, either. But eight wins are in play nonetheless -- and who would have ever expected that? -- Jerry Hinnen
 No. 4 Ohio State 56, Purdue 0 [RECAP]
Did you enjoy watching Ohio State score touchdowns on five of seven first half possessions and cursing easily to a 56-0 win against Purdue? If not, you should get used to it. The Buckeyes are humming offensively with Braxton Miller and Carlos Hyde , and there just isn't a defense left on the Buckeyes' schedule that seems prepared to slow them down.
What was impressive about Ohio State's victory on Saturday was the defensive performance.  Purdue was held to just 115 total yards of offense did not have a single play gain more than 20 yards. The Boilermakers have had their issues offensively in recent weeks, but that kind of dominance (along with six sacks) stood out. Up next for the Buckeyes, who are now 21-0 under Urban Meyer, is a week off before finishing the season against Illinois, Indiana and, of course, Michigan. -- Chip Patterson
No. 14 South Carolina 34, Mississippi State 16 [RECAP]

It's hard to react to this game, because this game was pretty much the Platonic ideal of a game between the 2013 Gamecocks and 2013 Bulldogs. Not one thing happened that wasn't completely expected. Did Connor Shaw not throw for a ton of yards but hit four touchdown passes and wind up with a sterling efficiency rating that screams "this guy's underrated"? Yep. Did Mike Davis run for more than 100 bruising yards on fewer carries than it felt like he should have had? Yep. Did South Carolina's defense feel generally less-than-lock-tight and still finish the game having given up just 16 points and 4.8 yards per play? Yep. Did Dak Prescott look like a major threat in the running game (15 carries, 78 yards, 2 TDs) but awkward, indecisive and loose with the ball in the passing game (5.1 YPA, no TDs, 3 INTs)? Yep, yep, yep.

And in the end, did South Carolina win right in that comfortable, expected zone between "total blowout" and "uncomfortably competitive"? Of course they did. -- Jerry Hinnen

Boston College 34, Virginia Tech 27 [RECAP]

Most postgame reaction to the Hokies' second upset loss to "lesser" ACC competition in two weeks will likely focus on the deterioration of Logan Thomas, and not without reason. Once considered all but a first-round lock, Thomas tossed four interceptions in the loss to Duke last week and followed that up with four second-half turnovers against the Eagles, including a hideous over-the-middle unanswered prayer of a pick-six to put B.C. in front for good.

But it's also worth taking some time to give a nod towards Steve Addazio, whose hire on Chestnut Hill was greeted with a round of yawns despite his success at Temple. Instead the Eagles have already doubled their win total from Frank Spaziani's final season, thanks in large part to Addazio's shrewd running schemes, the pounding style of Andre Williams (who went for 166 against the Hokies' powerful front seven), and the hire of veteran defensive coordinator Don Brown. For his part, Frank Beamer also had a major coordinating hire in the offseason, and chose Addazio's former OC Scot Loeffler as his play-caller and quarterbacks coach despite his disastrous season in charge of Auburn's 2012 offense. Result? The Hokies ranked 112th in the FBS in yards-per-play entering this week.

Thomas deserves some scrutiny. But the coaching decisions on either sideline deserve much more when it comes to explaining Saturday's result. -- Jerry Hinnen
No. 22 Michigan State 29, No. 21 Michigan 6 [RECAP]
There's a potential problem with picking on your little brother while growing up, and that problem is that one day your little brother is going to grow up. And he just might prove to be tougher than you.
And on Saturday Michigan State was tougher than its big brother.
The Spartans defense absolutely smothered the Michigan offense all day. Michigan State held the Wolverines to -48 yards rushing on the day. That is not a typo. It was a result of seven sacks for the Michigan State defense, which battered Devin Gardner all day long. Even if the Spartans weren't sacking him they were hitting him. It was truly one of the most dominant defensive performances I've seen in a long time, as Michigan averaged a paltry 2.8 yards per game.
It was also a performance that has me thinking the only thing standing between Ohio State and an undefeated season could be Michigan State in the Big Ten Championship. -- Tom Fornelli
No. 24 Wisconsin 28, Iowa 9 [RECAP]
Wisconsin kept its BCS bowl hopes alive with this win, although the Badgers didn't really get going until late in the first half. Joel Stave would hit Jacob Pederson for a 44-yard touchdown pass with just over two minutes remaining in the half to take a 7-6 lead and then just pull away in the second half.
While it wasn't the typical offensive performance for Wisconsin -- James White did have 132 yards and two touchdowns, though Melvin Gordon was kept in check by the Iowa defense -- it was a very good performance for a Wisconsin defense missing its best player in linebacker Chris Borland. The Badgers held Iowa's offense to only four yards a play and did not let it sniff the end zone.
Which is what makes this Wisconsin team such a threat to get an at-large BCS bid. When it's offense has an off day it's defense is good enough to make sure it doesn't actually matter. -- Tom Fornelli
Penn State 24, Illinois 17 OT [RECAP]
Illinois came so close to ending its 17-game Big Ten losing streak. So close. The Illini not only took a 17-14 lead in the fourth quarter, but it also forced a Penn State turnover at the goalline late in the game to hold on to the lead. However, the Illini offense then went three-and-out leaving Penn State enough time to get the game-tying field goal.
Penn State would win in overtime after Christian Hackenberg found Kyle Carter for a touchdown on third and 11 and then picked off a Nathan Scheelhaase pass in the end zone on Illinois' ensuing possession.
Given how poorly Illinois has played in the Big Ten this season, this victory was probably a lot closer than Bill O'Brien or Penn State would have liked -- the Nittany Lions really were their own worst enemy with penalties -- but after that 49-point loss to Ohio State last week, the Nittany Lions will take any win. It doesn't matter what it looked like. -- Tom Fornelli
SportsLine's computer model simulated every Week 12 game 10,000 times with surprising resu...

Though a marriage between the Vols and Gruden has been rumored for a while, it seems unlik...

Barrett Sallee is cashing on 67 percent of his best bets and gives 3 strong picks for Week...
The No. 16 Bulldogs will travel to Arkansas Saturday afternoon on CBS

The Owls are 7-3 overall and 6-0 in the Conference USA East division

Wisconsin has another chance to impress the committee