What We're Seeing: First impressions from Week 3
The Eye on College Football crew weigh in with their thoughts from games around the country.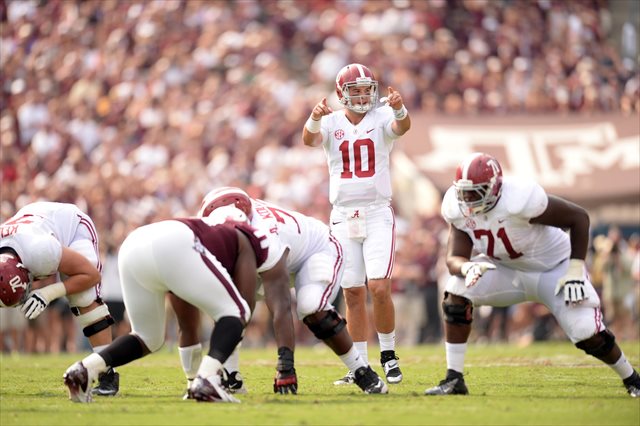 Every game day Saturday, the three-man Eye on College Football crew watches football ... a lot of football. Here's their knee-jerk impressions of what they've seen during Week 3. This post will update throughout the day.
Alabama 49, Texas A&M 42 [RECAP]

So ... which one is the real Alabama? Is it the team we saw Week 1 vs. Virginia Tech, which boasted the expected boa constrictor defense but could barely get out of its own way on offense and needed three defensive/special teams touchdowns to put away a Hokie team that squeaked past East Carolina Saturday? Or is it the team we saw Week 3 vs. Texas A&M, which had every toy imaginable in its offensive toolkit -- the game-changing quarterback, the star receivers, future NFL tailbacks, and the dominant offensive line to make it all work -- but had no defensive answer for either A&M's quarterback or its future All-American wideout, and gave up 635 yards?

For the rest of college football, there's both good news and bad news regarding the No. 1 team in the country. The good is that if the defense from Saturday ever shows up the same week as the offense from Week 1, the Tide could be vulnerable to several teams on its remaining schedule (weak as it is). The bad is that if the offense that edged A&M shows up with the defense that smothered Virginia Tech, there might not be a team in the country capable of staying with them. -- Jerry Hinnen
Ole Miss 44, Texas 23 [RECAP]

Most of the post-game coverage from Austin is going to focus on the Longhorns' ongoing descent into madness, and not without reason; when one of the sport's traditional heavyweights is blown out in consecutive weeks by the likes of BYU and Ole Miss, yes, it's worth discussing how they've come to this. ("This," in Week 3, is being outscored 30-0 to end the game, and "how" was a complete lack of defensive halftime adjustments and a rough outing from backup quarterback Case McCoy.)

But it's worth recognizing that just as BYU's Kyle Van Noy and Taysom Hill are special players, so Ole Miss's stars deserve plenty of credit for taking maximum advantage of the Longhorns' issues. Jeff Scott finished with 164 rushing yards (8.6 a carry!) and added an electric 73-yard punt return touchdown that broke the game open; Bo Wallace, occasionally loose with the ball in 2012, finished with a 2-to-0 TD-to-INT ratio and added 57 yards (and a score) on the ground; and a secondary helpless Week 1 vs. Jordan Matthews and missing veteran corner Charles Sawyer played a major role in holding McCoy to 5.4 yards an attempt. (And Texas to zero points after halftime, of course.).

Ole Miss isn't about to win the SEC. But the Rebels' games vs. LSU, Texas A&M and Alabama might have a surprising amount of say in who does.  -- Jerry Hinnen

Ohio State 52 California 34 [RECAP]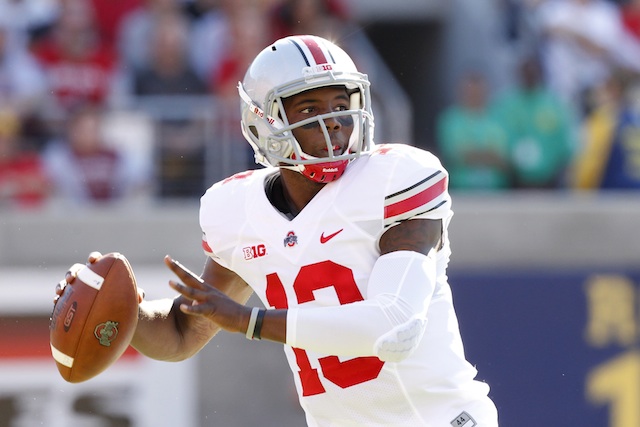 You know, if Braxton Miller isn't careful, he might not have a job to return to when he's healthy. Miller did not suit up for Ohio State on Saturday night, but it didn't really matter as the new Kenny G, Kenny Guiton, was playing smooth jazz up and down the field.
Guiton compiled 368 yards of offense and threw for four touchdowns, including 90 and 47-yard strikes to Devin Smith in the first quarter. In other words, Ohio State can probably give Braxton some time to heal and make sure he's completely healthy for the Big Ten schedule. Or they can just send Guiton out there and probably keep on winning anyway. It's a nice problem to have! -- Tom Fornelli
Florida State 62, Nevada 7 [RECAP]
Jameis Winston's near-perfect performance against Pittsburgh in the Seminoles' season-opener introduced the world to "Famous Jameis." With a week off before hosting Nevada, the legend of his Monday night debut grew every day. Winston was equally impressive with his accuracy against Nevada, completing 15 of 18 passes (83.3%) while tossing two touchdowns and averaging 11.9 yards per attempt. The redshirt freshman also threw his first career interception, which led to Nevada's only touchdown. 
Florida State had a few advantages over the Wolf Pack, ranging from talent to the absence of starting quarterback Cody Fajardo and a cross-country trip. Still, the Seminoles were impressive as they outgained Nevada 617-214 and dominated in all phases of the game. Defensive back-turned-running back Karlos Williams made a splash in his offensive debut, running for a 65 yard touchdown on the way to a 110 yard performance.  
As for Winston's numbers to date? Famous Jameis has more total touchdowns (8) than sacks and incompletions combined (5 incompletions, 2 sacks). -- Chip Patterson
UCF 34 Penn State 31 [RECAP]
A lot of folks have been quick to hand the American Athletic Conference over to Louisville, and given some of the play we've seen in the conference thus far, you can understand the thought process. However, on Saturday in Happy Valley, UCF let Louisville know it isn't going to be a cakewalk.
Blake Bortles threw for 288 yards and three touchdowns while Storm Johnson rushed for 117 yards and a touchdown to knock off Penn State in Beaver Stadium. I don't care who you are, it's never easy to go into Happy Valley and knock off the Nittany Lions at home. This was a big win for the American Athletic Conference and a big win for the Knights. -- Tom Fornelli
Oregon 59 Tennessee 14 [RECAP]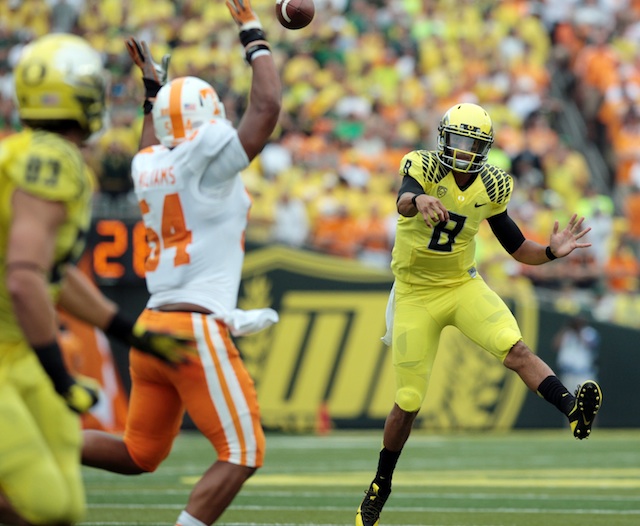 Oh my goodness the things Oregon did to Tennessee in this game. The Vols actually looked strong early and struck first, taking a 7-0 lead. And then Oregon went out and scored 59 straight points to pummel the Vols.
Now, if you were wondering if Oregon was a real contender for a national title this season, I think you have your answer. No, Tennessee is not one of the elite programs in the SEC right now, but this was still an SEC team that the Ducks racked up 686 yards of offense against. That's right, 686 yards, and keep in mind the Ducks basically took the fourth quarter off on offense.
Marcus Mariota set a career-high in passing yards with 456, and also finished with four touchdowns. Oh, and he set his new career-high two minutes into the second half. So, you know, he had a decent day. -- Tom Fornelli
USC 35, Boston College 7 [RECAP]
The offensive struggles in USC's first two games -- which led, in part, to these signs outside of the Coliseum -- were nowhere to be found against Boston College, as the Trojans racked up 521 yards of total offense, averaging 8.4 yards per play, in a 35-7 win. 
Cody Kessler delivered his best performance of the year, completing 15 of 17 passes for 237 yards, two touchdowns and no interceptions. The most exciting moment came when Kessler, named the starting quarterback earlier in the week by Lane Kiffin, connected with Marqise Lee on a pass that the All-American wide receiver took 80 yards for his first touchdown of the season. The win was big for Kiffin as well, after a week that was filled with chatter about job security. Both the victory itself and the way USC won will quiet some of the critics for the time being.
Kiffin's choice to continue serving as the team's primary play-caller was called into question after the offensive struggles with Cody Kessler and Max Wittek under center. Kessler's performance against Boston College, a respectable ACC defense coached this year by Don Brown, should give USC fans confidence that better days are ahead for the Trojans offense. -- Chip Patterson
Washington 34 Illinois 24 [RECAP]
I think we learned quite a bit about both of these teams in this game.
We'll start with Washington, who once again looked impressive in their new up-tempo offense, racking up 614 yards of offense at 7.2 yards per play. Keith Price had a huge game, throwing for 399 yards and two touchdowns while Bishop Sankey had 264 total yards and two touchdowns. While Stanford and Oregon are still the favorites in the Pac-12 North, Washington is a team that should not be dismissed.
As for the Illini, they lost the game, yes, but they also proved that their 2-0 start wasn't a fluke. Washington took to a 31-10 lead in the third quarter and it seemed like the game was over. If this was last year's Illinois team, it would have been, as things would have spiralled out of control. Instead teh Illini worked their way back into the game and cut the lead to 31-24 before Washington sealed the victory with a late field goal. The Illini aren't going to compete for a Big Ten title, but they just might be good enough to get to a bowl game, and given the preseason expectations, that'd be quite the accomplishment. -- Tom Fornelli
This game started at 9 a.m. Pacific and it looked like UCLA hadn't quite woken up yet at kickoff, as Nebraska would jump out to a 21-3 lead. And then UCLA woke up. The Bruins would respond with 38 unanswered points behind the play of quarterback Brett Hundley and running back Jordon James.
Hundley finished the day with 354 total yards and three touchdowns while James rushed for 106 yards and a score of his own. The comeback was a nice end to a very emotional week for the Bruins following the death of teammate Nick Pasquale.
As for Nebraska, if you thought the Cornhuskers defense was cured after its strong performance against Southern Miss last week, well, nope. UCLA racked up 504 yards of offense -- 6.5 yards per play -- and it would have been higher had it not let off the gas a bit in the fourth quarter. -- Tom Fornelli
Notre Dame didn't beat Michigan last week, but it nearly got them this week. Michigan had to survive a fourth and goal from the one-yard line on the final play of the game to escape Ann Arbor with a 28-24 win. 
It was not a very good day for Devin Gardner as a passer, as he completed 16 of his 30 passes for 249 yards and two touchdowns, but he also threw for three touchdowns. Another problem was that Gardner once again led the Wolverines in rushing with 112 yards. Fitzgerald Toussaint rushed for 69 yards on 18 carries -- 3.8 per carry -- and the Wolverines have to be concerned about their inability to get a run game going behind a young offensive line. It's an area they must improve if they want to win the Big Ten this season. -- Tom Fornelli
Blake Bell competed in 22 games for Oklahoma, but Saturday's 51-20 win against Tulsa was the junior's first career start. It was also one of the most complete performances in Bell's career.
The Belldozer got off to a fast start through the air, completing 15 of 21 passes for 281 yards and two touchdowns in the first half. By the time the Sooners had finished off their in-state rivals from Conference USA, Bell had totaled 413 yards and four touchdowns -- with a 73.0 completion percentage and 11.2 yards per attempt. 
"So much for your controversy right now. It didn't last long," Bob Stoops said after the game. "You can't deny what he just went out and did. I'm proud of him and excited for him. It also speaks to his character. Here's a guy that was ready for it -- never got down, never changed his attitude. He got his chance and he took great advantage of it."
After losing the starting job to Trevor Knight before the season, it sounds like the Belldozer has been parked in the No. 1 QB spot. -- Chip Patterson
Louisville 27, Kentucky 13 [RECAP]

This was a convenient snapshot of two programs in the different stages of development. The Wildcats won't be happy about coming up short in their bid for a season-defining victory against their bitter in-state rival -- particularly given that the biggest play of the game, a fumble on the Max Smith- Raymond Sanders zone read inside the Louisville 10 with the Wildcats down 10-3, was an entirely self-inflicted wound. But the progress from last season was obvious: the Wildcat offensive line blocked skillfully in Neal Brown's spread sets (5.1 yards per rush), freshman Jojo Kemp looked like a legitimate playmaker, and the Wildcat defense provided some real resistance to Teddy Bridgewater. The Wildcats have promise. They just don't have enough players yet.

Which, of course, is right where the Cards were when Charlie Strong arrived. Four years later Bridgewater is in the Heisman hunt (though his ho-hum-by-his-standards 250-yard, single-touchdown performance won't help matters there), there are talents all over the field (receiver Devante Parker is an NFL player in the making), and Louisville is the sort of team that can operate at less than 100-percent efficiency and still win by two scores on the road at a highly motivated rival. Don't hang your heads too much, 'Cats; the team that beat you is itself proof things can get better. -- Jerry Hinnen

Arkansas 24, Southern Miss 3 [RECAP]

If you're not aware of the Hogs' one-two tailback punch of Jonathan Williams and Alex Collins, well, it's time to be aware. Starting quarterback Brandon Allen left the game for good in the first quarter with a shoulder injury, backup A.J. Derby finished 4-of-6 for all of 36 yards ... and the Razorbacks still won by three touchdowns. How? Five-star signee Collins went for 115 yards on 25 carries -- becoming the first true freshman to rush for 100 yards in his first three games since Adrian Peterson -- and Williams broke off a 45-yard touchdown run on his way to 116 yards on just 16 carries.

Arkansas has yet to face a BCS team, but the way Williams and Collins have looked so far, Bret Bielema may have the Hogs looking like a true Wisconsin South faster than anyone could have predicted. -- Jerry Hinnen
All photos: USATSI.
Weinke was injured when Florida State lost to Tennessee in the 1999 BCS title game

It was one of the busiest offseasons for the assistant coaching ranks

Oliver's star has already been born, but 2018 is when it will truly be recognized
Craig Kuligowski is reportedly leaving Miami to take the same job with Alabama

BT Potter is about to be very popular in the Clemson locker room

McElwain will coach receivers and help coordinate the offense for the Wolverines