What We're Seeing: First impressions from Week 4
The Eye on CFB team offers updating reaction and analysis from games across the country.
Every game day Saturday, the three-man Eye on College Football crew watches football ... a lot of football. Here's their knee-jerk impressions of what they've seen during Week 4. This post will update throughout the day.
Texas Longhorns 31 Kansas State Wildcats 21 [RECAP]
Well it looks like the heat on Mack Brown 's seat will cool down for at least one week. Texas came into Saturday night's game having lost its last two and having not beaten Kansas State since 2003, so a couple streaks came to an end.
Of course, what might even be more important for Texas than the win was the fact that the run defense finally showed up. Kansas State rushed for 112 yards on 37 attempts, averaging only three yards per carry. A much different story than we saw with the Longhorns defense against BYU and Ole Miss.
Unfortunately not everything went well for Texas in this game. David Ash was cleared to start and did, but he did not play in the second half because of a head injury. The good news for Ash and Texas is that they have a bye next week before playing Iowa Hawkeyes State on October 3, which should be enough time for Ash to recover. -- Tom Fornelli
LSU Tigers 35, Auburn Tigers 21 [RECAP]

Is it possible LSU -- LSU! -- has bigger question marks on its defense than its offense? The Bayou Bengals hardly broke a sweat in hanging 35 on the visiting Tigers, with Zach Mettenberger slinging darts on his way to an average of 10 yards an attempt, Jeremy Hill breaking out with 184 yards and 3 touchdowns, and the LSU offensive front repeatedly opening holes the width of HOV lanes in the center of the Auburn defense. If not for a failed fake field goal and a Terrence Magee fumble inside the Auburn red zone, LSU would have coasted to 40 points.

Meanwhile, though, after bottling up Gus Malzahn's offense for a half, LSU relaxed a bit ... and then struggled to unrelax against Auburn's quick tempo, particularly in the run game. Though Nick Marshall never got on track as a passer, he and tailbacks Tre Mason and Cameron Artis-Payne wound up combining for 219 yards rushing, powering Auburn to three second-half touchdowns and a last-gasp drive that reached the LSU 4 before stalling. How much of that was LSU lapsing mentally and how much was an actual problem is to-be-determined, but other teams with well-drilled up-tempo running games -- oh hi, Texas A&M -- had to like what they saw. -- Jerry Hinnen
Alabama Crimson Tide 31, Colorado State Rams 6 [RECAP]
If the only thing you know about this game is the score, know this, too: at one point early in the fourth quarter, Alabama punted the ball back to Colorado State ahead only 17-6.

But you should know this, too: it looked as if Alabama knew it could operate at about 60 percent effort, still hold the Rams out of the end zone with ease, and coast to the win. After that punt at 17-6, the Tide seemed to notice it had to try at least a little bit -- and promptly turned the Rams over, went on a one-play scoring "drive," and then forced CSU into 3rd-and-27 before a game-clinching punt. Nick Saban won't be happy, and it wasn't exactly a performance befitting the No. 1-ranked defending national champions ... but we'll have to wait for the Ole Miss game to know if it means anything for the Ole Miss game. -- Jerry Hinnen
Stanford Cardinal 42, Arizona State Sun Devils 28 [RECAP]
Arizona State never relented, fighting back from a 29-0 halftime deficit, but Stanford's dominance along the line of scrimmage was too much to overcome in the Pac-12 opener for both teams. In the first half, the Cardinal controlled the game by forcing third and long on defense and having success with the pass rush against Sun Devils quarterback Taylor Kelly. Stanford took advantage by scoring four of the first five times they got the ball, and soon Arizona State was pressing.
Seeing Arizona State fight back in the second half is an encouraging takeaway for Sun Devils fans, but the defense's inability to handle Stanford's multiple looks and formations allowed the Cardinal offense to milk clock with long second half drives -- limiting the ability of Taylor Kelly, who was just heating up, to potentially lead a comeback. 
The first three quarters of this game felt like a reminder of the 2012 Pac-12 champions; dominating with a power run game and physical front seven to match. But the Sun Devils' three fourth quarter touchdowns is something that David Shaw was not pleased to see. Up next for the Cardinal is a trip to Pullman to face Washington State. -- Chip Patterson
Michigan Wolverines 24 Connecticut Huskies 21 [RECAP]
Ugly wins count just the same as pretty ones, and that's probably what Brady Hoke is telling his team after yet another close call for his Wolverines. After escaping Akron at home last week the Wolverines had to battle back from a 21-7 deficit in the third quarter to escape with another win.
And while the Wolverines may now be 4-0, there are still quite a few problems to worry about. Specifically Devin Gardner 's ball security, as the Michigan quarterback threw two interceptions and lost a fumble in this game. Through four games Gardner has thrown seven interceptions in 90 pass attempts. Last season Denard Robinson threw nine interceptions in 167 attempts.
If Garder doesn't start taking care of the ball it's only a matter of time before Michigan slips. -- Tom Fornelli
Florida Gators  31,  Tennessee Volunteers  17 [RECAP]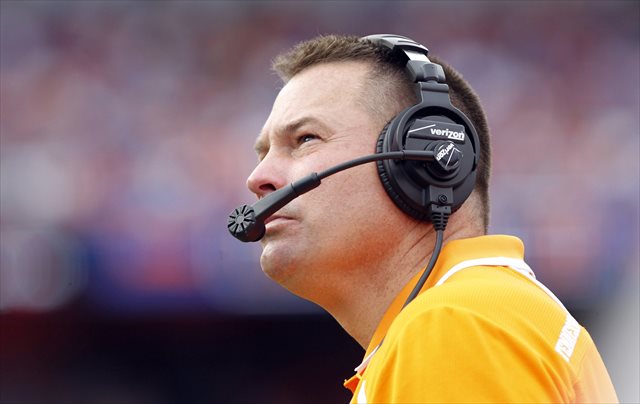 If you're looking for positives as a Volunteer fan,  Justin Worley  looked semi-competent in the second half -- 10-of-23, 149 yards, one nice touchdown drive, all against a Gator secondary that ranks among the best in the country. And after Nate Peterman's catastrophic first half, there should at least be some certainty concerning the quarterback position going forward.

But part of that certainty is that Worley -- whose first three games were just good enough for Butch Jones to decide he preferred a redshirt freshman making his first start in the Swamp -- is the best quarterback on the roster. And though 31 points conceded after the first half cavalcade of turnovers isn't awful, the Vol defense had the advantage of themselves facing a QB that had never attempted a collegiate pass before and an offense that seemed determined to shoot itself in the foot as often as possible in the first half. Giving up 31 points in just over three quarters to a brand-new quarterback and Florida's iffy receivers -- especially with all the gifts -- just isn't a positive. 

So if the quarterbacking is suspect, and the defense is mediocre, and this is still the team that had to improve dramatically to finish 62nd in FBS rushing last year ... what's really here for Butch Jones to work with? -- Jerry Hinnen
Notre Dame Fighting Irish  17  Michigan State Spartans  13 [RECAP]
This game was just about as ugly as you'd expect it to be, but Notre Dame got by the Spartans thanks to a whole lot of pass interference calls against Michigan State. In fact, for a while it seemed Notre Dame's entire offensive strategy was to throw deep and hope a Spartan defensive back was called for interference.
The strategy worked four times and helped keep a few touchdown drives alive, which, looking at the score, was kind of a big deal. Now, whether or not the pass interferences were actually pass interferences, that probably depends on which team you were rooting for.
Though it's possible the referees -- a Big Ten crew, for what it's worth -- were just showing some mercy. After all, the three quarterbacks who saw time in this game --  Tommy Rees , Connor Cook  and  Andrew Maxwell  -- were a combined 30-for-69 for 277 yards. Even a running back threw an interception.
Like I said. It was ugly. -- Tom Fornelli
USC 17,

Utah State Aggies

14 [RECAP]
First off, spare some sympathy for the Aggies, who could have been a BCS buster a year ago with one play each vs.
Wisconsin Badgers
and BYU ... whose last six losses dating back to 2011 have all been by a touchdown or less, three of them vs. BCS teams ... who once again are left cursing themselves after just missing out on a program-defining victory.
But also spend a moment tipping your hat to the Trojan defense, which overcame another suspect performance by Lane Kiffin's offense (who scored 3 points in the second half despite an overwhelming field position advantage) to hold
Chuckie Keeton
to 164 total yards, limit a well-coached Aggie offense to just two scoring drives, and damn near win the game singlehandedly. The Trojan defensive line of
Leonard Williams
,
Antwaun Woods
and
George Uko
-- with a big assist to outside linebackers
Morgan Breslin
and
Devon Kennard
, who were dominant in pass rush -- simply destroyed the USU offensive line. Keeton is a massively talented player, but even he can only do so much with a defender in his face two seconds after every snap. --
Jerry Hinnen
Georgia Tech 28 , North Carolina Tar Heels 20 [RECAP]
Georgia Tech got their second-straight win against a division opponent on Saturday, emerging as the most likely challenger to No. 16 Miami in the ACC Coastal. After Bryn Renner led the North Carolina offense on two first quarter touchdown drives to take an early 14-0 lead, Georgia Tech settled in and began to take control of the game. 
Long touchdown drives of 9 and 11 plays in the third quarter were matched with improved play from the Yellow Jackets defense. Defensive Jeremiah Attaochu began causing problems for the Tar Heels offensive line, and the secondary, led by Louis Young and Jemea Thomas, began breaking on passes and taking advantage of the messy conditions. North Carolina's defense held Georgia Tech to just 4.5 yards per carry, but the inability to get off the field allowed the Yellow Jackets to run 71 times for 323 yards. 
Georgia Tech's most challenging games left on the ACC schedule include road trips to Clemson and Miami. The Hurricanes have their own cross-division rival to worry about in Florida State, so it looks like the Oct. 5 meeting in Sun Life Stadium will set the stage for the ACC Coastal Division title race. -- Chip Patterson
Maryland Terrapins 37, West Virginia Mountaineers 0 [RECAP]
The 2013 West Virginia football team is a far cry from the high-scoring Mountaineers teams many became accustomed to in the first years of the Dana Holgorsen era. After the 37-0 loss to Maryland on Saturday, Holgorsen said the team was "as inept as we can possibly be." 
Credit Maryland for taking advantage of West Virginia's ineptitude. Possessions after possession, the Mountaineers put the ball right back in the hands of CJ Brown and the Terps offense. Maryland even struggled in the red zone in the first half, settling for field goals on three scoring opportunities, but West Virginia was struggling with the simple task of getting first downs. By the end of the game, the offense had as many turnovers (6) as first downs. 
Maryland deserves to celebrate this win, particularly since they have matched 2012's win total in September. But this game felt like a bigger indication of how far West Virginia has fallen. Less than a year ago, the Mountaineers were undefeated and ranked No. 5 in the AP poll. Since then, Holgorsen has a 3-8 record against FBS opponents. -- Chip Patterson 
Wisconsin 41 Purdue Boilermakers 10 [RECAP]
There's no doubt that Wisconsin came into the weekend with a bit of a chip on its shoulder after last week's loss to Arizona State, and the Badgers took out whatever frustration they had by running over Purdue on Saturday.
It's becoming commonplace to see both Melvin Gordon and James White having 100-yard days, and they did so again Saturday. Gordon finished with 147 yards and three touchdowns while White had 145 yards and one touchdown. Then there was Corey Clement who finished 17 yards shy of 100 yards himself.
As a team the Badgers had 388 yards rushing and averaged 8.1 yards per carry. They also ran 22 pass plays, though I'm not really sure why. -- Tom Fornelli
Georgia 45, North Texas Mean Green 21 [RECAP]
When Georgia gave up a blocked punt for a touchdown early in the third quarter to let the visiting Mean Green -- 32-point underdogs -- tie the game at 21 apiece, it was the safest of bets that the Bulldog faithful were going to grumble their way to the exits regardless of the final score.

But chin up, Dawg fans: that performance was secretly every bit as dominant as it should have been. Georgia nearly tripled UNT's yardage, 642 to 242; the Georgia defense held the Mean Green offense to 3.7 yards per-play and without a point for the game's final 39:53; and despite a couple of wobbly moments early in the second half, Aaron Murray was Aaron Murray: 23-of-30, 408 yards, 4 touchdowns. Wit hthe exception of two special teams plays, Georgia looked like Georgia is supposed to look against North Texas.

Yes, those two special teams plays were 7-point doozies, and Mark Richt has some work to do in that department. But Saturday, at least, wasn't evidence that that much work is needed any other department. -- Jerry Hinnen

Big Ten Breakfast Blowouts
The Big Ten opened the day with three games on the early slate, and, well, there wasn't much need to watch any of them. Ohio State Buckeyes , Iowa and Minnesota Golden Gophers combined to outscore their three opponents 178-27 and San Jose State Spartans was responsible for 24 of those points.
Kenny Guiton set an Ohio State record with six touchdown passes, and he threw all six of them in the first half of Ohio State's 76-0 win over Florida A&M.
In Iowa the Hawkeyes offense had four touchdowns, it's defense had two touchdowns and its special teams had two touchdowns. Kevonte Martin-Manley returned two punts for touchdowns within 90 seconds of one another, as Iowa cruised to an easy 59-3 win over Western Michigan Broncos .
Then there was Minnesota, who found itself in a battle with San Jose State in the first half before outscoring the Spartans 23-7 in the second half to win 43-24. Mitch Leidner , who was in at quarterback for the ailing Philip Nelson , finished the day with four rushing touchdowns to lead the Gophers attack. -- Tom Fornelli
Mayfield has also taken an important side in the Katy Perry-Taylor Swift feud

There are seven SEC teams in this week's college football rankings, but Alabama is not No....

For the first time, we have a tie for the top spot in the CBS Sports 130
Mayfield has passed last year's Heisman winner, Lamar Jackson

Georgia-Tennessee has been picked as the SEC Game of the Week

A look back at the weekend that was in college football