What We're Seeing: First impressions from Week 5
The Eye on CFB team offers updating reaction and analysis from games across the country.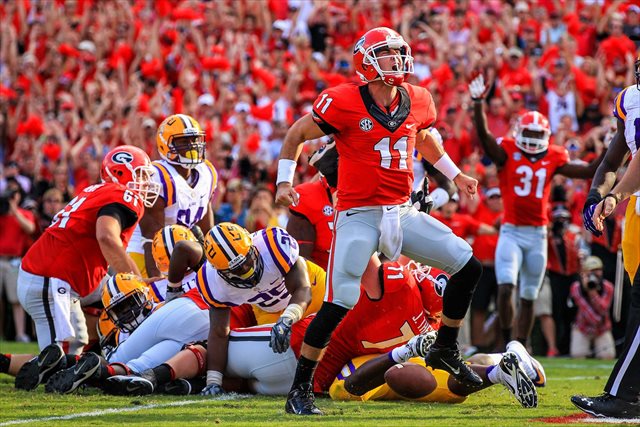 Every game day Saturday, the three-man Eye on College Football crew watches football ... a lot of football. Here's their knee-jerk impressions of what they've seen during Week 5. This post will update throughout the day.
No. 9 GEORGIA 44, No. 6 LSU Tigers 41 [RECAP]

Lots of digital ink will be spilled over the performance of both quarterbacks in this game, and with good reason: Zach Mettenberger looked like nothing less than a top-10 draft choice and one of the best quarterbacks in the country, and if Aaron Murray had already killed the brainless "can't win the big one" talk, against LSU he buried it six feet deep and read it its funeral rites.

But those weren't the only stars of the game. Odell Beckham Jr. and Jarvis Landry combined for 274 yards and cemented their reputation as quite possibly the best wide receiver tandem in the country; Georgia pass-rushers Jordan Jenkins and Leonard Floyd put just enough heat on Mettenberger in the second half to disrupt the otherwise flawless LSU offense; and tailbacks Keith Marshall and Jeremy Hill quietly ground out 96 and 86 tough yards, respectively.

In short: yes, the quarterbacks were the primary reason the game was such an instant classic. But the overflowing level of talent on both rosters, on both sides of the ball, all capable of producing a big play at the biggest moments ... that was a major, major reason, too. -- Jerry Hinnen
No. 4 Ohio State Buckeyes  31, No. 23 Wisconsin Badgers  24 [RECAP]
The two best teams in the Big Ten did battle in Columbus on Saturday night, and afterward Ohio State found itself with a pretty clear path to Indianapolis and maybe even Pasadena. Braxton Miller returned for the Buckeyes and showed no signs of rust, scoring an early touchdown and finishing the night with 281 total yards and four touchdowns.
However, the secret to Ohio State's success on Saturday night was stopping the Wisconsin running game. The Badgers came into the game averaging 350 yards per game and eight yards per carry. Ohio State held the Badgers to 105 yards and 3.9 yards per carry. On the whole, though, Wisconsin actually averaged more yards per play than Ohio State did on the night (6.6 to 5.7) but there was one thing Ohio State's defense was able to do that Wisconsin's couldn't.
The Buckeyes got off the field on third down, as Wisconsin converted only three of its 12 third downs. It's because of that Urban Meyer is now off to a 17-0 start at Ohio State. -- Tom Fornelli
Alabama Crimson Tide 25, Ole Miss Rebels 0 [RECAP]

No one believed that the Rebels' wideouts were going to be able to go Mike Evans on the Tide, as Bo Wallace kinda-sorta-suggested they could. But with the memory of A&M's blizzard of points and yards still fresh, plenty believed that Donte Moncrief and Laquon Treadwell could at least make the 'Bama secondary's life somewhat difficult.

Nope. Corners Deion Belue, Eddie Jackson and safeties Ha-Ha Clinton Dix, Landon Collins and Vinnie Sunseri and utterly blanketed the Rebel receivers, forcing Wallace into tight throws, coverage sacks and/or scrambles, and general misery time after time after time. Wallace finished averaging an ugly 5.1 yards per-attempt without a touchdown, with just 5 yards on the ground on 12 carries, and enough fourth-down failures to last him the proverbial lifetime. If that's Alabama's weak point, well, good luck, rest of Mike Evans-less college football. -- Jerry Hinnen

No. 14 OKLAHOMA 35 No. 22 NOTRE DAME 21 [RECAP]
When you go on the road to face a tough opponent, you generally want to get off to a fast start. Well, Oklahoma Sooners did just that. Two of Notre Dame Fighting Irish quarterback Tommy Rees ' first three passes were intercepted, including one for a pick-six and the Sooners found themselves with a 14-0 lead before three minutes had even elapsed from the clock. 
And although Notre Dame would play its way back in to the game, it never truly felt like Oklahoma was in danger of losing, and it certainly felt over when the Sooners scored just before halftime to extend the lead back to 21-7.
Through two games the Oklahoma offense has looked much stronger with Black Bell at quarterback, as he followed up a strong performance against Tulsa by completing 73% of his passes with two touchdowns and no turnovers. He finished the day with 290 yards and spread the ball around to eight different receivers. 
While it's just one non-conference win, it felt like Oklahoma was making a statement on Saturday that the road to the Big 12 title still goes through Norman. -- Tom Fornelli
WEST VIRGINIA 30, No. 11 OKLAHOMA STATE 21 [RECAP]
Before this game began West Virginia Mountaineers coach Dana Holgorsen made 21 changes to the two-deep on the Mountaineers depth chart, including making the change to  Clint Trickett  at quarterback. Well, it seems the changes worked.
After being shutout 37-0 by Maryland last week the Mountaineers upset Oklahoma State Cowboys in Morgantown, though it was not a pretty effort from either team. This game featured four missed field goals, five turnovers and only 4.66 yards per play -- though they ran 177 plays! -- but something tells me Dana Holgorsen doesn't care how it looked, all he cares about is his team got the win at the end. -- Tom Fornelli
No. 16 WASHINGTON 31, ARIZONA 13 [RECAP]
Bishop Sankey ran for 159 yards and Ka'Deem Carey countered with 132 on a day that where passing was very difficult due to heavy rainfall in Seattle. Arizona Wildcats failed to convert a first down on their first five possessions, and also botched a punt that led to a safety. Really, the entire first half felt like a wash due to the conditions with an 11-6 score and very little success for either team. 
But Washington Huskies committed to the ground game in the second half, as Sankey set a new single-game school record with 40 carries and the Huskies slowly pulled away from the Wildcats. That second half helped set up next week's marquee matchup with Stanford. Washington hasn't been 4-0 since 2001, and so far all signs point to 2013 being the year Sarkisian breaks that invisible 7-win barrier in the regular season. As for Arizona, the offense will continue to be inconsistent until BJ Denker makes opposing defenses fear the pass. Denker entered the game ranked last in the Pac-12 among starting quarterback in pass attempts per game, completion percentage, yards per attempt and yards per game. Denker and Carey can be a very dangerous duo on the ground, but right now the Wildcats offense leaves much to be desired. -- Chip Patterson
No. 8 FLORIDA STATE 48, BOSTON COLLEGE 34 [RECAP]
Boston College Eagles put No. 8 Florida State Seminoles on upset alert early, jumping out to a 17-3 lead and holding the Seminoles to just 47 yards of offense in the first quarter. But Jameis Winston had different plans for Saturday, and responded with a perfect 6-for-6 performance in the second quarter that included three touchdown passes. The finale was a 55-yard Hail Mary touchdown as time expired in the half. The freshman phenom fought his way out of two tackles, freeing himself to launch a beautiful pass that landed right in Kenny Shaw 's hands in the end zone. It was like a mixture of Johnny Manziel and Doug Flutie, and we have video in case you missed it.
So what do we make of Florida State? The Seminoles appeared destined for a head-scratching road loss in conference play, then responded impressively and pulled away with a two-score win. Winston led the team in rushing, showcasing his dual-threat skills both on designed reads and when wide receivers were covered. Between Winston's strong showing and the continued offensive development of running back Karlos Williams , the Seminoles have all the tools to match their extremely talented defense. But can that defense, which surrendered 34 points to Boston College, keep Clemson in check on Oct. 19? I don't know. I can't wait to find out, though. -- Chip Patterson
EAST CAROLINA 55, NORTH CAROLINA 31 [RECAP]
East Carolina Pirates 's offense never relented, scoring on nine of their 12 possessions in a game the Pirates controlled from the opening kickoff. The Pirates claimed their most dominant road win against their in-state rivals since 1975, and did so thanks to a well-executed tempo attack. Quarterback Shane Carden completed 68.1 percent of his passes for 380 yards and three touchdowns while adding three rushing touchdowns in the game, leading ECU's offense as they ran a season-high 101 plays to rack up 574 yards on the Tar Heels. 
The single-game play total is the second-most in FBS play this season. ULM ran 104 plays in a 21-19 win at Wake Forest on Sept. 14 and Boise State ran 100 plays in the loss to Fresno State on Sept. 20. -- Chip Patterson
No. 12 SOUTH CAROLINA 28, UCF Knights 25 [RECAP]

It's worth taking a moment to acknowledge a game performance from the Knights, who played a lights-out first half defensively and got 358 passing yards from the largely impressive Blake Bortles . (The three interceptions -- one a back-breaker with UCF down 10 in the fourth quarter -- mean it wasn't entirely impressive.)

But it's worth taking several moments to acknowledge Gamecock running back Mike Davis , who pounded the Knights into submission on 21 brutal second-half carries that yielded more than 150 yards and three touchdowns. And as stunning as Davis's thumping power is, his breakaway speed -- which delivered a 53-yard score in what seems to be a weekly occurrence -- is even more frightening. Is it possible that the Gamecocks lost Marcus Lattimore and got better at tailback? Five weeks in, that argument looks stronger than ever. -- Jerry Hinnen
No. 15 MIAMI 49, USF 21 [RECAP]
There were very few highlights for South Florida Bulls in this 49-21 loss, unless you count Mattias Ciabatti 's 2-yard punt. The Bulls defense did a decent job competing against the Hurricanes, but former Penn State quarterback Steven Bench was unable to provide a spark to the struggling Bulls offense in his first start. Miami's defense got after Bench and forced three turnovers while holding USF to just two third down conversions in 14 attempts.
Miami's only real takeaway offensively was a potential re-aggravation for Stephen Morris ' ankle injury. Morris threw a pair of touchdowns before checking out with the game in hand, allowing backup Ryan Williams close the game. Duke Johnson ran 14 times for 84 yards, but fumbled twice and took a couple of scary shots to the head that required apparent concussion testing on the sideline. -- Chip Patterson
TENNESSEE 31, SOUTH ALABAMA 24 [RECAP]

This game really shouldn't have had to come down to a fourth-and-goal interception of USA quarterback Ross Metheny inside the final 90 seconds; Tennessee Volunteers outgained the Jaguars 482-392 and forced as many turnovers as they yielded, at three apiece. But that it did come down to that interception can be laid largely at the feet of the anemic Vol passing "attack," which was returned to the care of quarterback Justin Worley and delivered all of 5.7 yards per his 36 attempts with a 2-to-3 touchdown-to-interception ratio. (With the Vol running game averaging 7.5 yards an attempt and the Vols ahead by as much as 24 points early in the second half, why did Butch Jones let Worley throw only one fewer pass than the Vols had rushing attempts?)

Worley wasn't any better by the "eye test" than he was by the numbers, with several throws off-target and one interception at the USA goal-line as ugly a throw as ugly throws get. But after the disastrophe of Nate Peterman's start in Gainesville last week, it's hard (and maybe impossible) to say Jones has any better options -- or has much hope against the SEC heavy-hitters lined up on the rest of the Vols' schedule, unless Worley improves in a big, big hurry. -- Jerry Hinnen

ILLINOIS 50 MIAMI (OHIO) 14 [RECAP]
So the 2013 season has been a lot kinder to Illinois Fighting Illini than 2012 was. After beating Miami (Ohio) RedHawks on Saturday afternoon the Illini will now finish September with more wins (three) than they had all of last season (two), and they have an offensive resurgence to thank for it.
Through four games the Illini have set a school record with 161 points, which may not seem all that impressive, but it's important to remember that the Illini scored 200 points all of last season. Nathan Scheelhaase has been the biggest benficiary of new offensive coordinator, as he threw five touchdowns on Saturday after throwing only four last year.
Now, life will get a lot tougher when Big Ten play begins next week, and Illinois still has a long way to go, but it's clear with new coordinator Bill Cubit this offense is light years ahead of where it was last season. -- Tom Fornelli
Greg Huegel suffered a knee injury during Wednesday's practice

The Wildcats and Utes open conference play on Friday night

Eichorst's firing on Thursday sets Riley's seat ablaze, even if a decision won't be made i...
Eichorst had been at Nebraska since 2012

Three straight titles makes it seem like 'Alabama and everybody else' in the SEC

Some early-season Big Ten games could shake up the national standings