What We're Seeing: First impressions from Week 7
The Eye on CFB gang offers their knee-jerk impressions from games across the country.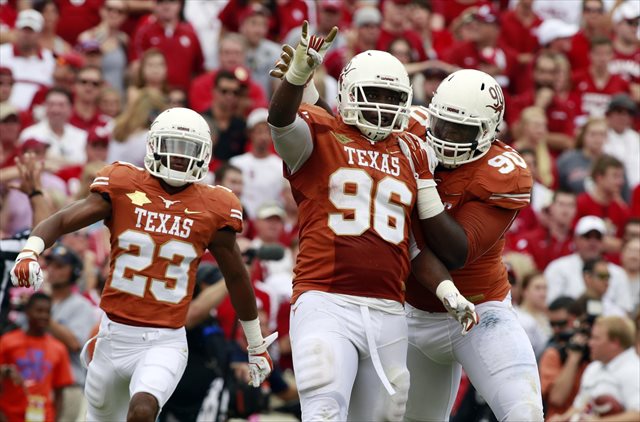 Every game day Saturday, the three-man Eye on College Football crew watches football ... a lot of football. Here's their knee-jerk impressions of what they've seen during Week 7. This post will update throughout the day.
Texas 36 No. 12 Oklahoma 20 [RECAP]

All right, so maybe we should hold off on burying Mack Brown and the Texas football program. When the Longhorns struck first early in the first quarter with an Anthony Fera field goal it was the first time they held a lead in this series since 2009. The Longhorns won't trail Oklahoma again until 2014 at the earliest.

Texas totaled 443 yards of offense against an Oklahoma defense that had been one of the best in the country this season, and also held the Oklahoma offense to only 276 yards of offense.

Case McCoy didn't have a great game, but he made some key throws to help lead the Texas offense, and he made some very good decisions on third downs. Then there were Johnathan Gray and Malcolm Brown, who both finished with more than 120 yards rushing on the day. They truly led the Texas attack.

The Longhorns also managed to score touchdowns on both defense and special teams.

It was the best game Texas has played this season, and those losses to BYU and Ole Miss seem like a long time ago. Suddenly Mack Brown and the Longhorns find themselves with a 3-0 mark in the Big 12 and a win over Oklahoma already in the rearview.

Following the loss to Ole Miss Brown reminded everyone that Texas could still win the Big 12, and everyone laughed at the idea. Now? Now Mack's taking Gatorade baths and he could soon be laughing at all of us.
-- Tom Fornelli
No. 9 Texas A&M 41, Ole Miss 38 [RECAP]

Seriously, Ole Miss fans: I know you remember Johnny Manziel ripping your hearts out in 2012, throwing a killer touchdown pass with seconds remaining to finish a miracle comeback from 10 down in the fourth quarter. So why would you do the things that led to this picture and this tweet?
A&M O-lineman RT @BA_Compton ... If you're gonna waive money at Johnny, you better have AT LEAST 20's. Put away the cheap ass 1's and 5's.

— Brent Zwerneman (@BrentZwerneman) October 13, 2013
You talk smack to a player who's already burned you once, and you get what's coming to you: 346 Manziel passing yards, 113 Manziel rushing yards, a critical 4th-and-7 Manziel scramble conversion and game-tying Manziel touchdown run (on the same drive) with under four minutes to play, and ultimately a second straight crushing home loss to Manziel's Aggies. Manziel is the current charter member of college football's Happy Fun Ball club: tempting as it may be, just don't taunt him. -- Jerry Hinnen

No. 25 Missouri 41, No. 7 Georgia 26 [RECAP]

The knee-jerk response to this score will be 1. Georgia was just too banged-up on offense 2. Gary Pinkel and Co. have still got it on offense.

And to an extent, those responses will be correct; there's little question Mike Bobo leaned more heavily on Aaron Murray than he would have if either Todd Gurley or Keith Marshall had been available, and it's true that with a healthy set of weapons -- particularly at receiver, where Marcus Murphy and L'Damian Washington are as legit as legit gets -- Pinkel's offensive coaching looks much as it did when he was flattening the Big 12. But the serious injuries have spared both Georgia's offensive line and Aaron Murray, and don't explain why Murray was routinely harried (and gave up a critical sack-fumble-scoop-score late in the first half) or why the Bulldogs' senior quarterback failed to keep his composure on several late throws that either sailed high or into the arms of grateful Tiger defenders.

And as for Todd Grantham's defense, well, they're mostly healthy, too -- and with the Bulldog offense's help, they yielded 30 or more points for the fifth time in six 2013 games and played a major role in digging the Dawgs the 18-point first-half hole they never did climb out of. Did the injuries and Missouri's quality make this a tough game for Georgia? Yes. Did it mean it wasn't winnable? Not by a long shot. -- Jerry Hinnen
Wisconsin 35 No. 19 Northwestern 6 [RECAP]

Also known as the Ohio State Loser's Bracket.

Yeah, obviously the bye week helped Wisconsin recover from their loss to Ohio State a bit better than Northwestern, because the Badgers basically dominated the Wildcats in this matchup. Wisconsin turned the ball over three times, or else this one could have been a lot worse.

The Badgers totaled 529 yards of offense to Northwestern's 242, and as is usually the case, most of Wisconsin's damage was done on the ground. Melvin Gordon finished with 172 yards and a touchdown while James White had 100 yards and a touchdown of his own. As a team Wisconsin finished with 284 yards.

It was the kind of performance that convinced you Wisconsin is still the second-best team in the Big Ten.

As for Northwestern, in case the final score didn't hurt enough, the Wildcats finished the game without both Venric Mark and Kain Colter. -- Tom Fornelli
No. 10 LSU 17, No. 17 Florida 6 [RECAP]

Spare some sympathy, if you would, for the Florida defense. In the Gators' first loss of the season, Week 2 at Miami, they held an offense with Duke Johnson and Stephen Morris to 206 total yards and two scoring drives longer than 4 yards. In their second loss, the Gator defense -- sparked by five-star true freshman corner Vernon Hargeaves III, who already looks like an All-SEC-caliber player and challenged Jarvis Landry and Odell Beckham all game -- went to Baton Rouge and held an offense that scored 59 points last week (and hadn't scored fewer than 35 all season) to 17. The Tigers gained a mediocre 5.5 yards per-play and recorded just 10 first downs. It wasn't a perfect performance -- Zach Mettenberger still threw for 8.4 yards an attempt, and Jeremy Hill still rushed for 121 yards -- but it was enough to give the Gators a shot at a huge win as long as they got something resemblance competence on offense.

They didn't, of course, and until they do, all the defense in the world won't be enough ... and all of the Gators' hopes of contending for an SEC East title aren't going to amount to much, either. -- Jerry Hinnen
No. 2 Oregon 45, No. 16 Washington 24 [RECAP]
No De'Anthony Thomas ? No problem. After several hours of will-he-or-won't-he speculation regarding the status of Thomas' injured ankle, the Ducks made the whole issue disappear by racking up 631 yards of total offense and pulling away late with the victory. Marcus Mariota looked Heisman-worthy, accounting for 454 of those yards and four total touchdowns. Every time Washington trimmed the Ducks' lead, Mariota responded with a score (or two) to keep the Huskies a stiff-arm away (pun intended).  
Individual awards aside, the most impressive takeaway from Saturday's win was seeing Oregon's defensive line step up against the heightened competition. Bishop Sankey broke loose for 167 yards and two touchdowns on the day, but he, and the Washington offense in general, appeared to wear out under Oregon's pressure in the fourth quarter. Taylor Hart , Tony Washington and others get to tee off on opponents once the Ducks offense gets rolling, and against Washington it forced Keith Price to turn in his worst performance of the season. -- Chip Patterson

No. 15 Baylor 35, Kansas State 25 [RECAP]

How do you take this if you're a Baylor fan? On the one hand, your previously unstoppable offense looked entirely mortal, punting 6 times on 12 possessions and turning it over another time. You were outgained overall by a team that got thumped at Texas. Your allegedly improved rushing defense looked shockingly porous, yielding a full 6 yards per carry and still seemingly flabbergasted that run-first QB Daniel Sams was looking to run the ball deep into the third and fourth quarters.

And despite all of that, the Bears walked out of Manhattan with a 10-point win, the Bears' first road Big 12 win since 2011, the first over a team other than Kansas since 2010, and the first by a double-digit margin of Art Briles' entire tenure. By any standard other than the one established by the Bears' first four games, Saturday qualified as a resounding success. -- Jerry Hinnen
Penn State 43 No. 18 Michigan 40 4OT [RECAP]

Fortune favors the bold, and Brady Hoke's timid decisions late in this game really wound up costing the Wolverines. Michigan was up seven points in the final minutes of the fourth quarter when it elected to punt in Penn State territory rather than try a long field goal that would have iced the game. Penn State responded with a five-play touchdown drive that featured two great catches by Allen Robinson to tie the game and force overtime.

Then in the first overtime Penn State missed a 40-yard field goal putting Michigan in position to win. Hoke once again went conservative and had his offense essentially play for the field goal attempt.

Penn State blocked the field goal.

Both teams would then trade made and missed field goals for a few more overtimes before Michigan struck first in the fourth overtime with a field goal to make it 40-37. Then Penn State faced a fourth and one at the Michigan 16. That's when Bill O'Brien did what Brady Hoke wasn't willing to do. He took a risk, and instead of attempting a game-tying field goal he went for it on fourth down.

Bill Belton would pick up the first down and a few plays later Belton would find the end zone and the win.

In the end, Bill O'Brien coached like Penn State had nothing to lose, and Brady Hoke coached not to lose. And the right decision was rewarded. -- Tom Fornelli
No. 3 Clemson 24, Boston College 14 [RECAP]
Well, that was close. The Tigers avoided a major letdown just one week before Florida State comes to Death Valley thanks to, surprisingly, the Tigers defense. Tajh Boyd outgained Boston College's offense by himself, but the offensive line struggled to establish the ground attack against a fired-up Eagles defense that was only matched in intensity by boisterous head coach Steve Addazio. It was clear early this wasn't going to be the ACC blowout Clemson handed to Wake Forest or Syracuse. Defensive coordinator Don Brown had a good gameplan, and with Andre Williams , the nation's leading rusher heading into Saturday, Boston College was in a position to add another upset on a busy Saturday in the Top 25.
Defensive end Vic Beasley , linebacker Stephone Anthony and the rest of the Tigers defense had other plans. Williams was held to just 2.9 yards per carry on 24 attempts on the Eagles struggled to get anything going on offense in the second half outside of one play -- a 69-yard touchdown pass from Chase Rettig to Alex Amidon midway through the third quarter. 
No coach wants to see their team struggle like Clemson did in the first half, but the strong defensive performance should give that unit an extra boost of confidence heading into one of their toughest tests of the season: stopping Florida State quarterback Jameis Winston in primetime. -- Chip Patterson

No. 14 South Carolina 52, Arkansas 7 [RECAP]

The Razorbacks continue to have an outstanding pair of tailbacks in Alex Collins and Jonathan Williams, who against the Gamecocks combined for 129 yards and a touchdown on 16 carries. So why did they only get 16 carries? Because the Gamecocks were busy hogging the ball with 277 rushing yards of their own, limiting Arkansas to only 37 plays of their own for the entire game. Much of the wrath of Razorback fans will be focused on quarterback Brandon Allen (who finished a miserable 4-of-12 for 30 yards and one of the uglier interceptions you'll see), but it won't matter what the Hogs are doing on offense if Bret Bielema can't shore up his front seven. After a promising start to the season, with three wins and the competitive loss to Texas A&M, Bielema's team seems dangerously close to backsliding right back into John L. Smith territory. -- Jerry Hinnen
No. 24 Virginia Tech 19, Pitt 9 [RECAP]
The Hokies remain in control of the ACC Coastal Division, thanks to another dominating performance from the defense. Pitt quarterback Tom Savage was beaten down by Dadi Nicholas, Derrick Hopkins , and the rest of the Hokies pass rushers, taking seven sacks and generally fearing for his safety most of the afternoon. 
The Hokies offense struggled to find a rhythm, frequently riding a few big plays to get in scoring position then settling for a field goal. Pittsburgh's  defense deserves some credit for those struggles, particularly the play of senior defensive linemen Aaron Donald and Tyrone Ezell. Pitt's offense did a good job avoiding turnovers against the ball-hawking Virginia Tech secondary, but they continued to get beat up front by Tech's talented defensive line. 
Virginia Tech became the third bowl eligible team in the country, improving to 6-1 overall and 3-0 in ACC play. After needing a season finale win against Virginia to clinch a postseason berth in 2012, the Hokies have things rolling back in the direction of ACC title contention. Up next is Duke, Boston College, then a meeting with Miami in Coral Gables on Nov. 9. -- Chip Patterson
Michigan State 42, Indiana 28 [RECAP]
Dare we say this, but does Michigan State have an offense? Yes, the Spartans scored 42 points against a less than spectacular Indiana defense, but did you read the first part of that sentence? 
The Spartans scored 42 points! 
They also seemed to find a real weapon in running back Jeremy Langford, as he finished today's game with 120 total yards and four touchdowns. Quarterback Connor Cook also completed 71% of his passes for 235 yards and a couple touchdowns.
Now, we're not going to sit here and tell you Michigan State is the new Baylor or anything, but if this offense keeps playing as well as it has the last few weeks and pairs that with an excellent defense, this Michigan State team is going to be tough to beat. -- Tom Fornelli
No. 20 Texas Tech 42, Iowa State 35 [RECAP]
Davis Webb earned a win in his first start at quarterback, leading the Red Raiders back to the end zone in a tit-for-tat Big 12 shootout with Iowa State. Texas Tech rolled up 669 yards of total offense, but turnovers, missed field goals and other miscues prevented the undefeated Red Raiders from pulling away in the second half. Luckily, Webb was able to answer Iowa State's scores with touchdown drives of his own and the Cyclones were never able to gain an advantage on the scoreboard. The 6-4 freshman targeted talented slot receiver Jace Amaro often, connecting on nine passes for 143 yards. 
The back half of Texas Tech's schedule suggests that the margin of error will be much smaller moving forward, but for now Kliff Kingsbury's squad is sitting on top of the Big 12 standings with Texas thanks to a 3-0 start in league play. -- Chip Patterson
Schiano would have made $4.4 million in Year 1 with annual raises as part of a six-year de...

Dykes spent this season as an offensive analyst at TCU

The "Wyoming Wild Man" notched six tackles for loss as a junior in 2017
Zaycoven Henderson was charged with aggravated assault with a deadly weapon

Patterson is a former No. 1 recruit in the country

Baker Mayfield and two Sooner teammates made the first team