What We're Seeing: First impressions from Week 8
The Eye on CFB gang offers their knee-jerk impressions from games across the country.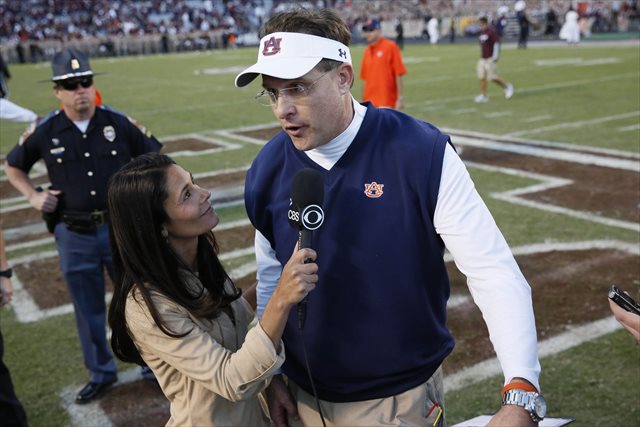 Every game day Saturday, the three-man Eye on College Football crew watches football ... a lot of football. Here's their knee-jerk impressions of what they've seen during Week 8. This post will update throughout the day.
No. 24 Auburn 45, No. 7 Texas A&M 41 [RECAP]

Just 12 months ago, Auburn and Texas A&M played at the Tigers' Jordan-Hare Stadium. The Aggies led 28-0 in the second quarter, 42-7 at halftime, and 63-21 at the final whistle.

Which illustrates how remarkable a coaching job Gus Malzahn has done in his first year as the Auburn head man. More than anything, Malzahn has given his offense a crystal-clear identity -- the Tigers are going to pound the ball for three quarters, wear you down, and let the three-headed rushing monster of Tre Mason, Nick Marshall and Cameron Artis-Payne win the game in the fourth. The Tigers' three fourth-quarter drives lasted a combined 25 plays and covered a combined 219 yards, with 170 of those coming on the ground.

Given that A&M entered the game ranked 110th or worse in both opponent rushing and opponent's yards-per-carry, that's not a shock; the Aggies' rush defense has been a throbbing Achilles heel since Week 1, and was always going to catch up with them at some point. But that it caught up with them at home against a team they so thoroughly obliterated just one season ago still boggles the mind ... of anyone other than Malzahn, anyway. -- Jerry Hinnen
No. 13 Stanford 24 No. 9 UCLA 10 [RECAP]

The Pac-12 just can't stop cannibalizing itself.

It wasn't the prettiest of offensive performances for either team, but Stanford's defense was fantastic on Saturday afternoon. UCLA came into this game averaging 547 yards and 45.8 points per game. Both of those numbers will be going down after Stanford held it to 266 yards and 10 points.

The Cardinal defense essentially kept UCLA quarterback Brett Hundley penned up all day, as he finished the day with only 222 total yards and a touchdown, but also two costly interceptions. It was Stanford's Jordan Richards on the receiving end of both interceptions, and the first came in the third quarter and set up a Stanford score to make it 17-3. UCLA would cut the lead down to 17-10, but it never truly felt as if the Bruins were back in the game.

As for the Stanford offense, it was Tyler Gaffney leading the way, rushing for 166 yards and two touchdowns. -- Tom Fornelli
Ole Miss 27, No. 6 LSU 24 [RECAP]
Let's be clear about how bad a loss this was for the Tigers. We can acknowledge that the Rebels were at home, and as they showed vs. Texas A&M the previous week, they're awfully feisty at home these days. We can acknowledge Bo Wallace played what was almost certainly the best game of his career. We can acknowledge that playing Georgia, then Florida, then the Rebels in back-to-back-to-back weeks isn't easy for anyone.
But this was an Ole Miss team that was already down a bushel of defenders and then lost replacement end Cameron Whigham, a team that bent over backwards in the second half to hand LSU the victory in the form of a muffed punt, a needless fumble, and a terrible 29-yard field goal attempt. All LSU needed to win was some modicum of consistency from Zach Mettenberger, the player who had sparked dark horse Heisman talk with his start to the season ... and then threw for fewer than 7 yards an attempt, tossed three first-half interceptions, and generally looked more like LSU quarterbacks of seasons past than 2013.
LSU is already kicking themselves over letting Aaron Murray beat them with an injury-wounded team. But they should kick even harder over this one.
-- Jerry Hinnen
No. 5 Florida State 51, No. 3 Clemson 14 [RECAP]
The Game of the Century this wear not, but Florida State showed that the 2013 Seminoles might be the program's best team of this century, shutting down Tajh Boyd and high-powered Clemson offense while scoring more points on the Tigers than any opponent in the history of Tiger Stadium. 
The 51-14 rout was a constrictor-like suffocation, methodically scoring at least one touchdown in each quarter as redshirt freshman quarterback Jameis Winston totaled a career-high 445 yards on 22-for-35 passing (12.7 yards per attempt) with three touchdowns and just one interception. Tajh Boyd , Winston's opponent in this battle of Heisman Trophy hopefuls, completed just 18 of 38 passes for 164 yards with one touchdown and two picks. Winston may have out-dueled Clemson's redshirt senior, but the lasting impact of this win is much bigger than the quarterback position.
With the win, Florida State has regained their status as the class of the ACC. Jimbo Fisher cited the 2012 ACC Championship as a crucial building block for the program, explaining that you have to be a conference champion before ever discussing a national championship. According to Fisher, this team got a taste of success with the ACC title and an Orange Bowl and everything changed. 
Showing up to someone else's house and running them out of the stadium is a vintage Florida State move, one that would have fit in during Bobby Bowden's run of nine straight ACC tiles from 1992-2000. The Seminoles' reputation since the ACC expanded in 2005 has included head-scratching losses to unranked conference opponents. With a vintage beatdown on the resume, a similar loss is the only thing that could keep Florida State out of BCS title contention. -- Chip Patterson
Vanderbilt 31, No. 15 Georgia 24 [RECAP]

Yes, the Georgia offense is still riddled with injuries. (Somehow I doubt that when Mark Richt was imagining how this season would go, his vision included Brendan Douglas handling the ball -- and fumbling it away -- on a make-or-break drive on the road.) Yes, the defense is still young and was victimized by a series of truly terrible targeting calls. But there's no excuse for the Bulldogs' special teams, is there?

They've been terrible all season, but only cost Richt and Co. the game against Clemson, when a fumbled snap short-circuited a critical field goal. That is, that was the only win they cost Richt and Co. until today, when Vanderbilt punted away down 27-14 in the fourth quarter and completely devoid of momentum. Damian Swann muffed the punt, and the Commodores turned it into a touchdown. Up 27-24 with only minutes remaining, Georgia was poised to force backup quarterback Patton Robinette to lead a high-pressure scoring drive longer than any Vandy had managed in the second half. Collin Barber fumbled a high snap, and it took Vandy one play to score the game-winning touchdown.

In short: yes, Georgia has been horrifically unlucky in several ways this season. But it lost to Vandy because of things entirely within its special teams' control.  -- Jerry Hinnen
No. 14 Missouri 36, No. 22 Florida 17 [RECAP]

Go figure: not only is Missouri now your SEC East favorite, the Tigers are now your heavySEC East favorite. With both South Carolina and Georgia going down, Gary Pinkel's team is two games up on the closest pursuers with a head-to-head tiebreaker over the Bulldogs and a home game coming up against the Gamecocks,

But they're also the heavy SEC East favorite.because they're simply the best team in the division, and it's not close. The Gators brought what was supposed to be the best defense in the SEC to Columbia. And Maty Mauk -- remember, a redshirt freshman making his first career start, pictured above -- and the gaggle of talented Tiger wideouts shredded them for 290 yards passing on 8.1 yards an attempt. Missouri was even better on the ground, ripping theDominique Easley-less Gator front seven for 204 yards, 137 of them from the rejuvenatedHenry Josey.

In short, James Franklin or no James Franklin, it was the sort of offense that Mizzou fans grew accustomed to in the Tigers' Big 12 salad days .. only it came against an SEC unit that's banged-up but as elite as SEC units get. Tiger fans can't make Atlanta reservations yet, but it seems like it's only a matter of time. -- Jerry Hinnen
No. 4 Ohio State 34 Iowa 24 [RECAP]
You know, Ohio State may in fact be the best team in the Big Ten, but it sure doesn't make a habit of blowing opponents out, does it? Ohio State moved to 19-0 under Urban Meyer on Saturday, but this win looked to be doubt for a while as the Buckeyes didn't take their first lead of the game until a Braxton Miller touchdown pass to Devin Smith with four minutes remaining in the third quarter.
A lead that was erased 50 seconds later by an 85-yard Iowa touchdown.
However, that would be the last time Iowa scored, as Ohio State basically owned the fourth quarter. Braxton Miller and Carlos Hyde just proved to be too much at the end, as both had fantastic days. Miller finished with 324 total yards an two touchdowns while Hyde rushed for 149 yards and two touchdowns of his own. 
Still, even if the win is the only thing that truly matters, Ohio State isn't really convincing anybody its as dominant as its 19-game win streak would have you believe. -- Tom Fornelli
Minnesota 20 Northwestern 17 [RECAP]

It appears the wheels have fallen off for Northwestern. After a 4-0 start to the regular season the Wildcats are now 0-3 in Big Ten play after falling at home to Minnesota on Saturday. And while a lot of Saturday's loss can be attributed to Northwestern being without both Kain Colter and Venric Mark, that can't be much comfort for a team that had Big Ten title dreams a few weeks ago.

Now Northwestern finds itself at 0-3 in the Big Ten and 4-3 overall, with division games against Michigan, Michigan State and Nebraska all remaining on the schedule. In other words, Northwestern has now gone from dreaming about the Rose Bowl to needing to fight just to get to a bowl game.

As for Minnesota, this was a huge win and also the first win for Tracy Claeys as he fills in for Jerry Kill. The Gophers are now only one win away from becoming bowl eligible, though that sixth win could prove to be hard to come by. -- Tom Fornelli
Tennessee 23, No. 11 South Carolina 21 [RECAP]
Tennessee notched its first win over a ranked opponent since 2009 in Butch Jones' first SEC win, making Tennessee's upset over the Gamecocks in Neyland Stadium one of the biggest victories in the program's recent history. Michael Palardy's game-winning field goal as time expired added drama to the memorable win, which has added to the SEC East shake up on Saturday.
For South Carolina, there are two major takeaways from the loss. First, Jadeveon Clowney had his best performance of the year. With all the attention on Clowney's matchup with Tennessee tackle Antonio Richardson , the oft-criticized All-American recorded was very active and made it into the backfield a handful of times to create havoc. The other takeaway is serious concern for the Gamecocks passing attack. Connor Shaw struggled for most of the game, but found success in the second half on the ground along with Mike Davis. Shaw completed just 8 of 22 passes -- though to be fair, there were plenty of drops -- before suffering a left knee sprain with five minutes to go and the Gamecocks leading 21-20. 
Dylan Thompson was unable to pick up the first downs South Carolina needed to milk the clock, the Tennessee's game-winning drive was kept alive by a fantastic one-handed catch by freshman wide receiver Marquez North . With Missouri still undefeated after downing Florida, the Gamecocks are no longer looking like the favorite in the SEC East. -- Chip Patterson
Notre Dame 14 Southern California 10 [RECAP]

This was a battle between two teams that just couldn't put the game away in the second half. Whether it was just an inability to move the ball, or questionable decisions, this game was more a contest of waiting out the clock.

Notre Dame lost Tommy Rees to an apparent head injury in the third quarter, and once he left the game the Irish simply could not move the ball with Andrew Hendrix at quarterback. Because of this the Trojans had numerous chances to take a lead, but the Trojans offense couldn't move the ball effectively either, and really struggled on third and fourth down, going 2-for-15 in such situations.

There was also the decision to attempt a couple of long field goals. With Notre Dame unable to move the ball on offense, you'd think the Trojans would have been more aggressive, but instead they played it safe and paid the price as Andre Heidari missed both of his attempts over 40 yards.

Points that loomed large given the final score, but I don't think Ed Orgeron should have put Heidari in that position in the first place. -- Tom Fornelli
Arizona State 53, No. 20 Washington 24 [RECAP]
At the end of the first quarter, Washington showed no signs of fatigue after back-to-back losses to Stanford and Oregon. The Huskies were up 7-3, forcing a field goal and intercepting Taylor Kelly. The rest of the game was a completely different story.
The Sun Devils scored on five straight possessions in a 26-0 second quarter that included relentless pressure on Huskies quarterback Keith Price and no running room to speak of for Bishop Sankey . By the time the rout was over, Arizona State totaled seven sacks for a loss of 55 yards, and Washington officially finished with -5 rushing yards on 25 attempts. 
Arizona State, on the other hand, ran the ball quite well, finishing with a season-high 314 team rushing yards. Star running back Marion Grice led the way 158 yards rushing and added four catches for 37 receiving yards, scoring three touchdowns to maintain his position as the nation's leading scorer. With UCLA's loss, Arizona State is right back in the mix for the Pac-12 South title and if Grice and Taylor Kelly continue to produce at a high level they should be in the mix (avoiding Oregon helps). 
For Washington, the hope of a Pac-12 title is gone and the inability to bounce back during this brutal three-game stretch has left the margin for error very slim if the team is to avoid yet another 7-5 finish under Steve Sarkisian. The Huskies get Cal and Colorado at home, but still have back-to-back road game against UCLA and Oregon State before hosting the Cougars in the Apple Cup. -- Chip Patterson
No. 16 Texas Tech 37, West Virginia 27 [RECAP]
Texas Tech is four games into Big 12 play, and it is time to start taking the Red Raiders (7-0, 4-0) seriously as Big 12 title contenders. Freshman quarterback Davis Webb put together another strong showing, completing 73.5 percent of his passes and totaling 461 yards in his second career start. West Virginia, like Iowa State the week before, continued to push Texas Tech in a back-and-forth game that was still up for grabs in the fourth quarter. 
West Virginia mounted a 27-3 run in the second and third quarter thanks to a one-two punch on the ground with Dreamius Smith (16 carries, 88 yards) and Charles Sims (15 carries, 81 yards), but the Red Raiders' defense stepped up to force back-to-back three-and-outs in the fourth quarter as Webb lead a pair of touchdown drives to ice the win.
Webb distributed the ball to eight different receivers, with Jace Amaro (9 catches, 135 yards, two touchdowns) and Bradley Marquez (8 catches, 112 yards) leading the way. First-year coach Kliff Kingsbury has the toughest part of the schedule ahead, but in this Big 12 no one looks unbeatable. The Red Raiders are very much in the mix for the league's BCS bid. -- Chip Patterson

No. 21 <span data-shortcode= State" data-canon="Oklahoma Sooners" data-type="SPORTS_OBJECT_TEAM" id="shortcode0"> 24 TCU 10 [RECAP]

This game was hard to watch and further drove home my opinion that there just isn't a great team in the Big 12 this season. Oklahoma State and TCU combined for eight turnovers in this contest, with Oklahoma State committing all of its turnovers in the first half. However, that didn't stop the Cowboys from taking a 17-0 lead into the locker room at halftime because the TCU offense was incapable of doing anything with the ball in its hands.

The fact is that it was a lackluster performance from both teams, as both Oklahoma State quarterbacks -- J.W. Walsh and Clint Chelf -- seem to have regressed a bit this season, and the Oklahoma State offense just isn't living up to the preseason expectations. Though the good news for the Cowboys is that they're still 2-1 in the Big 12 and very much alive for a Big 12 title. Because nobody in the Big 12 is getting through without at least one loss this season. -- Tom Fornelli
No. 18 Oklahoma 34, Kansas 19 [RECAP]
Kansas jumped to a 13-0 lead on the Sooners, giving the home crowd hopes that the Jayhawks might pull the upset and notch their first win in Big 12 play since 2010. Then everything began to unravel with a botched punt that resulted in a safety.
Oklahoma then caught Kansas off-guard with a wide receiver pass from Lacoltan Bester to Sterling Shepard going 49 yards for a touchdown, giving Oklahoma the lead for good just before halftime. Jayhawks running back James Sims carried a tremendous load offensively, carrying the ball 23 times for 131 yards and two touchdowns. Jake Heaps was ineffective throwing the ball and Charlie Weis' attempts to use Montell Cozart as a change-of-pace quarterback did not work either. 
Oklahoma never got into a rhythm on offense, mostly capitalizing on Kansas' mistakes and a few explosion plays to get on the scoreboard. Blake Bell was a much bigger part of the gameplan as a rusher than he was a week ago against Texas, finishing with nine carries for 69 yards. The most encouraging drive of the game came in the 4th quarter; an 11 yard drive that ate up more than five minutes of clock and ended with a Damien Williams touchdown. It was the response the Sooners needed after Kansas cut into their lead, and sealed win number six to make the Oklahoma bowl eligible. -- Chip Patterson
No. 25 Wisconsin 56 Illinois 32 [RECAP]
This game wasn't even as competitive as the final score looked, as the Badgers jumped out to a 21-0 lead in the first 10 minutes of play and never really looked back. However, it was a bit of a "pedestrian" performance for the Wisconsin running game, as only Melvin Gordon managed to break the 100-yard barrier on the night, finishing with 142 yards and three touchdowns. Gordon also went over the 1,000-yard mark on the season, giving Wisconsin a 1,000-yard rusher for nine straight seasons, the best mark going in the NCAA.
Of course, not everything went well for the Badgers in this contest. Linebacker Chris Borland missed most of the game with a leg injury. It remains to be seen if Wisconsin was just being cautious with Borland in a game it had in hand, or if this is an injury that could linger into coming weeks. It should be noted that the Illini offense had a lot more success moving the ball once Borland left the game, so he's not somebody Wisconsin will want to lose for any period of time. -- Tom Fornelli
Cristobal's first game at Oregon ended the same way Chip Kelly's did

Conner Manning and the Panthers dominated the Hilltoppers in the Cure Bowl

You can only go to the well so often before it dries up
The Trojans beat LSU earlier in the year and now have their first 11-win season as a FBS t...

Saban has never been a fan of the early signing period and made it clear that hasn't chang...

Paul Tyson is a three-star quarterback prospect for the 2019 recruiting class