What We're Seeing: First impressions from Week 9
The Eye on CFB gang offers their knee-jerk impressions from Week 9 games across the country.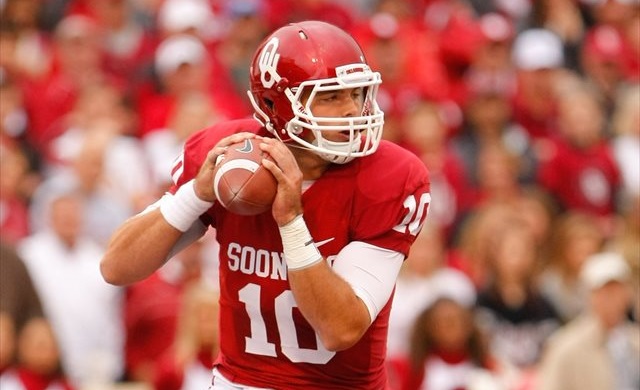 Every game day Saturday, the three-man Eye on College Football crew watches football ... a lot of football. Here's their knee-jerk impressions of what they've seen during Week 9. This post will update throughout the day.
No. 17 Oklahoma Sooners 38, No. 10 Texas Tech 30 [RECAP]

Would the real Blake Bell please stand up? The former "Belldozer's" yards-per-attempt in his first two starts: 11.2, 7.7, the second of those coming on the road against a solid Notre Dame Fighting Irish defense. His yards-per-attempt the last three weeks? 4.9, 5.1, and then 5.2 vs. a terrible, terrible Kansas team that's being obliterated by Baylor as we speak.

So what happened Saturday against a feisty Tech defense? 249 yards passing on just 22 attempts, an 11.3 per-attempt average, with 44 Belldozing rushing yards to boot. To watch Bell launch a perfect 70-yard bomb to Jalen Saunders for the Sooners' second score was to think the Sooners can still muster the offense to win the Big 12 ... but it was also to wonder where on earth that sort of poise and precision was against Texas two weeks ago. If Bell can keep the lightning in the bottle this time, the Red Raiders might not be the only team the Sooners are capable of booting from the ranks of the undefeated. -- Jerry Hinnen

Duke Blue Devils  13, No. 14  Virginia Tech Hokies  10 [RECAP]
For the first time in school history, Duke will have a bowl eligible team two years in a row. The pursuit of that accomplishment was notable after the Blue Devils' come-from-behind victory last week at Virginia, but few believed win number six was going to come against Virginia Tech's defense in Blacksburg. Interestingly enough, it was an unexpected performance from Duke's defense that led to the program's first road win against a ranked team since 1971.
The stats are astonishing. Duke quarterback  Anthony Boone  completed just 7 of his 25 attempts for 107 yards (4.3 yards per attempt) and tossed four interceptions. As a team, the Blue Devils failed to convert on a third down and averaged just 3.3 yards per carry on the ground. Virginia Tech held a 387-198 advantage in total yards and only punted three times, but missed opportunities cost the Hokies dearly in a loss that could knock the team from the Top 25.
With Virginia Tech's defense playing so well this season, the Hokies offense recently dialed back to a ball control, don't-turn-it-over mentality. That backfired against Duke as  Logan Thomas  tossed four interceptions (two off tipped balls),  Cody Journell  missed two field goal attempts, and two Virginia Tech drives ended with a turnover on downs -- although it should be noted that the Hokies were 4-for-6 on fourth down for afternoon.
Duke's bowl eligibility was going to be a story to follow down the stretch of the 2013 season. With the Virginia Tech victory, the team faces much less pressure in the team's final four games against N.C. State, Miami, Wake Forest Demon Deacons and North Carolina. With less outside pressure, it is intriguing to think about where Duke could finish in the Coastal Division. After watching Saturday's results, particularly in Miami, it is not that crazy to think that a conference record of 5-3 or 6-2 could earn a share of the Coastal Division title. -- Chip Patterson
No. 20 South Carolina Gamecocks 27, No. 5 Missouri Tigers 24, 2OT [RECAP]

Do losses get any more brutal than this one? Put aside Missouri's dark-horse hopes for the national championship for a moment; consider only that, thanks to tiebreakers, a win would have put Missouri effectively three games ahead of Georgia in the SEC East race, three ahead of Florida, and four games ahead of South Carolina, with only four games left for the Tigers and one of them against Kentucky. Barring a miraculous run from Tennessee, the SEC East belonged to Missouri after a win Saturday, lock, stock and barrel.

And all the Tigers had to do was to not gack up a 17-point lead they held with the ball with under three minutes remaining in the third quarter. All they had to do was get one stop on the Gamecocks' final three possessions. All they had to do was gain a couple more first downs, maybe just one more, on their own final three possessions. All they had to do was stop Connor Shaw on fourth-and-goal in overtime. All they had to do was score a touchdown after first-and-goal in the second overtime. And though it wouldn't have won the game, all they had to do to force a third overtime was a hit a 24-yard field goal.

But they did none of those things, and now one more slip-up -- with games at Ole Miss and vs. Texas A&M still to come -- will throw the division completely open. Has any team ever come so close to a division title and still it seen it slip away? We may find out. -- Jerry Hinnen

No. 1 Alabama Crimson Tide 45, Tennessee Volunteers 10 [RECAP]

Three years ago, Alabama's most heartbreaking loss came at home. Two years ago, Alabama's only loss came at home. One year ago, Alabama's only loss came at home again. So it's actually to LSU's advantage that their Nov. 9 showdown is at Bryant-Denny Stadium, right?

Not on the basis of the Tide's play at home so far in 2013. Tennessee's early fourth-quarter touchdown was the first allowed by the Alabama defense at home this season, in the Tide's 20th such quarter of action. In the first 11 such quarters against SEC opposition, Alabama had outscored their three opponents 117-3. The Tide defense had outscored their three opponents 9-3. (The loss of Vinnie Sunseri was supposed to ding the Alabama secondary a little. He was mostly replaced by Landon Collins , who only returned a Vol pick 89 yards for a score.)

Obviously Zach Mettenberger, Jeremy Hill, Jarvis Landry and Odell Beckham Jr. present a substantially greater challenge than what Ole Miss, Arkansas or Tennessee could offer. But to this point, there's no evidence the venue is going to help the Tigers at all. -- Jerry Hinnen
No. 4 Ohio State Buckeyes 63 Penn State Nittany Lions 14 [RECAP]
This is what Ohio State needs to do more of. I'm not saying that blowing out a mediocre Penn State team at home is going to vault Ohio State into the top two of ballots across the land, but it will at least answer a question people have wondered about Ohio State this season.
Can the Buckeyes blow somebody out?
Yes, yes they can. Braxton Miller had another huge game, totalling 321 yards and five touchdowns. He was helped out once again by Carlos Hyde , who finished with 147 yards rushing and two touchdowns, and an Ohio State defense that forced three Penn State turnovers.
It was the kind of performance that Ohio State needs to keep having if it is going to have a chance to pass up any of the undefeated teams in front of it in the BCS poll without them losing first. Though, even then, it might not be enough. -- Tom Fornelli
No. 3  Florida State Seminoles  49, N.C. State 17 [RECAP]
Between Bobby Bowden Day and the continued celebration of Florida State's impressive victory at Clemson Tigers , there were plenty of reasons to think the Seminoles might get caught off guard by a feisty, albeit inconsistent, N.C. State team.
Those concerns were erased quickly, thanks to a 35-0 score when the first quarter came to a close. Florida State's defense forced three turnovers in the quarter, and quarterback  Jameis Winston  led a touchdown drive on each of the offense's first five possessions.
The Wolfpack showed some life in the second half, continuing to grind against the second and third stringers of Florida State. Running back  Shadrach Thornton  had a 72-yard touchdown run to highlight a 24 carry, 181 yard performance against the Seminoles defense, but quarterback Brandon Mitchell , back in his first start after injury, struggled mightily.
Winston's day was done after the first drive of the second half, handing the offense over to Jake Coker  with a 42-point cushion. There is no concern regarding the Seminoles' focus right now, and if you're looking for an early advantage in next week's game I'd look at the team who has outscored its last three ACC opponents 163-31. Miami, on the other hand, has a 96-74 advantage in its last three ACC games. -- Chip Patterson
No. 7 Miami 24, Wake Forest 21 [RECAP]
With a highly-anticipated matchup against Florida State a week away, Miami got  off to a slow start against Wake Forest and needed a big day from running back  Duke Johnson  to close out a 24-21 win and remain unbeaten. Johnson carried the ball 30 times for 168 (5.6 yards per carry) and two scores, including the game-winning touchdown with less than a minute remaining. Wake Forest jumped out a 14-3 lead in the second quarter, holding on to the lead until the final minutes of the fourth quarter. 
The Hurricanes offense only ran three plays the entire first quarter thanks to the early effectiveness of  Tanner Price  and the Wake Forest offense. With the offensive line split wide, the Demon Deacons used four and five wide receiver sets to create space in the defense for Michael Campanaro  and  Tyree Harris  . 
After Johnson's first score gave Miami the lead at 17-14, Wake Forest got some help from Miami native  Dominique Gibson  . After a pass from Price, Gibson broke a tackle and exploded 44 yards down the sideline for a go-ahead touchdown. Johnson, who left last week's game with a concussion, carried the load with seven touches on the 10-play game-winning drive. 
The Hurricanes have faced early deficits in all three of their ACC wins, but found a way to climb back and eventually win. Saturday's performance may have been impacted by the upcoming date against the Seminoles, but right now the two ACC frontrunners are handling business differently in league play. Now, we turn our attention to see how Florida State handles the situation… -- Chip Patterson
No. 19 Oklahoma State Cowboys 58, Iowa Hawkeyes State 27 [RECAP]
With Baylor looking just-this-side of invincible at home and both Oklahoma and Texas due to visit Waco, it's possible the Big 12 could come down to the Bears' Nov. 23 visit to Stillwater. The good news for the Cowboys is that if it does, Baylor's struggles in defending the run on the road at Kansas State loom a lot larger after Desmond Roland destroyed the Cyclone front seven to the tune of 219 yards on 8.4 a carry and four touchdowns. For the game, the Cowboys racked up 341 yards on 7.4 a pop, and made it feel like a win for the Cyclones any time new starter Clint Chelf dropped back to pass.
Of course, that's the bad news; even the Wildcats couldn't actually beat the Bears without a passing game, and Chelf's 9-of-26-for-71 yards line -- an absolutely miserable 2.7 yards an attempt -- suggests the Cowboy passing game remains very, very, very much a work in progress. Who's the Big 12 favorite? Check back again next week. -- Jerry Hinnen
No. 9 Clemson 40,  Maryland Terrapins  27 [RECAP]
Clemson did not appear to shake their funk, which began in the first quarter against Florida State last week, and looked uncharacteristically shaky against a depleted Maryland team in the 40-27 win.  Tajh Boyd  connected with  Sammy Watkins  for half of his completions, with Watkins' 14 receptions setting a new school record and 163 receiving yards accounting for most of Boyd's production through the air. 
Luckily for the Tigers, Maryland's offense, which entered the game without the starting quarterback, leading rusher and two leading receivers, never had the opportunity to take advantage of Clemson's three turnovers.  Caleb Rowe  threw for 287 yards and three touchdowns, but tossed two interceptions of his own and the Terps offense only recorded five first downs for the entire game. 
At full strength, Maryland beats Clemson on Saturday. That was not the case, so the Tigers were able to overcome their miscues and avoid the upset. Up next for Boyd, Watkins and crew is a road trip to Virginia and then the ACC finale at home against Georgia Tech. 
Maryland still needs one win to become bowl eligible, with Syracuse, Virginia Tech, Boston College and N.C. State left on the schedule. -- Chip Patterson
Notre Dame 45 Air Force Falcons 10 [RECAP]
What a difference a week can make, huh? 
After Notre Dame struggled mightily on offense without Tommy Rees against USC last week the Irish had their quarterback with them on Saturday and he took advantage of a bad Air Force team. Rees threw for 282 yards and five touchdowns all to five different receivers. The five touchdown passes moved Rees into third all time amongst Notre Dame quarterbacks, passing Ron Powlus.
With a game against Navy next week -- a smooth moove to schedule option teams in back-to-back weeks -- odds are the Irish will find themselves at 7-2 and back in the BCS bowl conversation come next Sunday. -- Tom Fornelli
Iowa 17 Northwestern Wildcats 10 OT [RECAP]
The tailspin continues for Northwestern. It was a month ago that Evanston was the center of the college football world as Northwestern was 4-0 and hosting Ohio State. Since then the Wildcats have lost four straight and have scored only 33 points in their last three games. 
While a lot of the offensive struggles could be pinned on injuries to Venric Mark and Kain Colter , Northwestern had Kolter back on Saturday and still had a hard time finding the end zone.
Because if it the Wildcats find themselves in a position where simply reaching a bowl game will be tough. They've got to win two of their final four games against Nebraska Cornhuskers , Michigan State Spartans , Michigan and Illinois Fighting Illini . -- Tom Fornelli
No. 14 Texas A&M 56, Vanderbilt Commodores 24 [RECAP]
What shoulder injury? Johnny Manziel returned from his ding against Auburn by looking pretty much like the same Johnny Manziel he's always been, hitting 25-of-35 for 304 yards, 4 touchdowns, and his now-customary ill-advised interception. But with Manziel's rushing yardage down of late as Kevin Sumlin seemingly seeks to protect his star's health -- he carried just 4 times for 11 yards vs. the 'Dores, a week after going for "just" 48 yards vs. Auburn -- is Johnny Football even the biggest Heisman candidate on his own team?
That honor could arguably go to the unstoppable Mike Evans , who faced one of the SEC's better corners in Andre Hal and one of its better secondaries in Vanderbilt's, and still wound up with 77 yards and 2 big touchdowns. But Evans' presence loomed even larger than the numbers, with several of his five grabs of the "not badly covered, he's just unfair variety." For the season, Evans now has 1,101 receiving yards (and 11 touchdowns) through just eight games, with an outrageous 22.9 yards-per-reception average.
This blogger's hypothetical Heisman vote would still go to Manziel over his matchup nightmare of a teammate. But that Evans even makes it worth discussing tells you how impressive the redshirt sophomore has been. -- Jerry Hinnen 
No. 20  Louisville Cardinals  34, USF 3 [RECAP]
Louisville avoided letting the loss to UCF linger, getting back to business in a 34-3 dismantling of South Florida Bulls . The Bulls' 2-0 start in conference play will help Willie Taggart in his rebuilding efforts, but the team never looked competitive against the Cardinals.  Teddy Bridgewater completed 25 of 29 passes for 344 yards and three touchdowns with apparent ease, and Louisville's defense nearly pitched a shut out. In fact, the drive ending in a 50-yard USF field goal was set up by Louisville penalties and actually lost yards.
The key here for Louisville was not letting the UCF loss linger. This team can still get to a BCS bowl with some help, but another conference loss could bring a very disappointing end to a season with high expectations. -- Chip Patterson
Houston Cougars 49, Rutgers Scarlet Knights 14 [RECAP]

Show of hands: who had Houston's Nov. 9 trip to UCF circled in the preseason as one with serious BCS implications? You, sir, with your hand raised -- you are either from Orlando or a liar.

But that's absolutely the situation after the Cougars -- 5-7 a year ago -- crushed Rutgers in Piscataway to emerge as the clearcut biggest hurdle standing between UCF and the American's auto-BCS bid. John O'Korn was masterful, hitting 24-of-30 for 364 yards and 5 touchdowns, and Deontay Greenberry continued to live up to his hype as the biggest recruit in Cougar history with 168 yards receiving, 3 touchdowns, and the general appearance of being the best player on the field. The Cougar defense, victimized by BYU for 47 points last week in Houston's only loss of the season, forced six Scarlet Knight turnovers -- not that this is too difficult, the way Gary Nova is playing -- and held Rutgers scoreless (at home) for the game's final 37 minutes.

All of this was very, very good news for Louisville, by the way, who has to win out (including at home to the Cougars Nov. 16) and hope a Houston upset of UCF throws the AAC into a one-loss, three-way tie at the top. But at this stage, even assuming that home victory over a team as white-hot as Houston seems like a dangerous proposition. -- Jerry Hinnen
Minnesota Golden Gophers 34 No. 24 Nebraska 23 [RECAP]

For the first time since 1960 the Golden Gophers of Minnesota knocked off Nebraska, snapping a 16-game losing streak to the Cornhuskers. Early on in this game it looked as though Nebraska was going to have an easy day, but then the Minnesota defense -- led by Ra'Shede Hageman -- took up residence in the Nebraska backfield for the rest of the day, slowing down the Nebraska ground attack and getting pressure in Taylor Martinez 's face.

The Gophers defense would get four sacks and force two turnovers while holding the Cornhuskers to only 328 yards of offense.

Though the Gophers offense helped out in that department too, as it ran the ball right at Nebraska and put together long drives to keep that Nebraska offense off the field. The Gophers rushed for 271 yards on the day and held on to the ball for over 35 minutes in the game. Because of it the Gophers are now bowl eligible for the second straight season, and the heat that had been turned down on Bo Pelini's seat? Yeah, it's butts are getting warm in Lincoln once again. -- Tom Fornelli
Michigan State 42 Illinois 3 [RECAP]
So I'm thinking it's about time Michigan State got a number next to its name. Not that blowing out a bad Illini team is worthy of being ranked, but Michigan State played the kind of game that a good team plays against a lesser team. The Spartans dominated an overmatched opponent.
A week after a dud against Purdue the Spartans got things done on both sides of the ball, holding Illinois to 137 yards of offense and 3.3 yards per play. Meanwhile the Spartans offense finished with 476 yards, 268 of which came through the run game where Jeremy Langford has emerged as a number one back. Langford finished with 128 yards and two touchdowns, and he now has 368 yards and five touchdowns in Michigan State's last three games. -- Tom Fornelli
Guice was ruled out for Saturday but convinced Ed Orgeron to let him play in a limited rol...

Greg Huegel suffered a knee injury during Wednesday's practice

The Wildcats and Utes open conference play on Friday night
Eichorst's firing on Thursday sets Riley's seat ablaze, even if a decision won't be made i...

Eichorst had been at Nebraska since 2012

Three straight titles makes it seem like 'Alabama and everybody else' in the SEC