What's next for Miami if NCAA tries to draw hard line?
Should Miami try to sue the NCAA if it delivers heavy-handed sanctions despite breaking its own investigative rules? The answer isn't so clear-cut, but expect the school to exhaust all options.
• 3 min read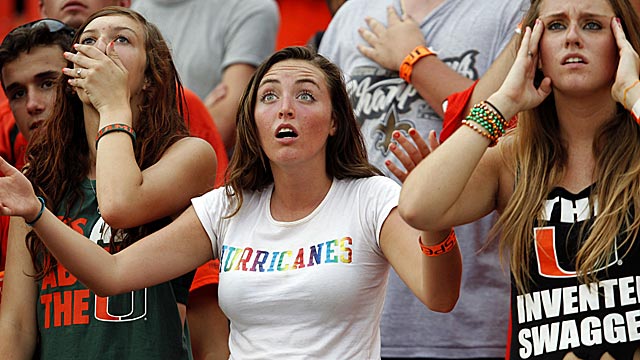 Will the NCAA leave Miami and its fans in disbelief? (Getty Images)
When talking to people about the NCAA's botched investigation in the Nevin Shapiro case and Miami's place in it, I've heard this line of thinking a few times:
If the NCAA tries to drop the hammer on the Hurricanes despite its own deft ability to mishandle enforcement, UM should just sue, right? Lawyer up, Emmert.
After all, Miami's basically self-imposed sanctions on everything in Coral Gables but the swim team to appease the NCAA -- including two bowl bans and player suspensions. Now, heaping an aggressive "notice of allegations" on the Canes, after paying Shapiro's lawyer to obtain information, could be a hard sell.
More on Miami
Column

Related Stories
The NCAA is expected to announce the findings of its internal investigation this week. Then the focus shifts back to South Florida for an NOA and eventual appearance in front of the committee on infractions -- unless the case gets dropped altogether.
Though a lawsuit might make sense for Miami if it's not pleased with results, a school going from the appeal process to taking a flamethrower to the NCAA is an uncommon step.
History shows coaches sue, players sue and schools sue over antitrust cases, said Josephine Potuto, a University of Nebraska professor of constitutional law, the school's faculty athletics rep and a former Committee on Infractions chair.
But there's not much precedence for a school suing over "impermissible benefits" or "lack of institutional control" or other high-handed rhetoric the NCAA uses. The state of Pennsylvania, not Penn State, recently filed a lawsuit against the NCAA over the Jerry Sandusky case.
Then again, these are unprecedented times when the NCAA can't execute an investigation with built-in legwork courtesy of Yahoo! Sports.
Though Potuto cautions she doesn't have all the information about the NCAA's internal findings or Miami's case, she says one option for a school facing sanctions it deems outrageous is to take the case directly to the NCAA board of directors.
"Try to handle it inside the structure amicably," Potuto said. "Going to litigation should be the last resort, not the first."
There's no problem being adversarial with the NCAA if it helps find a solution and that's what the client wants, said Gene Marsh, a Birmingham-based sports attorney and former COI chair.
If the NCAA goes softer on the Canes because of its own problems -- maybe reducing a few scholarships and avoiding bowl bans -- that could be enough for Miami, a school that has spent two years trying to shake this thing and appears ready to move on.
Regardless, Miami has incentive to vet every detail of the investigation with the NCAA enforcement staff.
"If I break into your house without a warrant, that's a constitutional violation," Potuto said. "If while I'm there I see a large sum of cash and drugs, that's out (as evidence) because I have no reason to be there in the first place."
Miami's attorney is Michael Glazier, who has handled several high-profile cases. He understands how the NCAA works and how to mitigate damages. How will he advise Miami should the NCAA take a hard line despite its own blunders?
Attempts to reach Glazier have been unsuccessful.
At the very least, one lawyer with NCAA experience suggests, coaches should have major leverage in the COI interview process, which could help Miami if the case gets that far.
Coaches get excoriated when they claim they don't know about a violation, the lawyer says, yet that's exactly what NCAA president Mark Emmert did when addressing the payments made by the NCAA to Shapiro's lawyer to obtain information they otherwise wouldn't have found.
But if there's enough turmoil inside the NCAA offices, who knows if this case even gets that far?
Saban isn't going to win Alabama's special election, but the Crimson Tide coach got some l...

The Tigers are going worldwide for their next punter

Led by Heisman Trophy winner Baker Mayfield, the Big 12 finished with seven first-team sel...
Schiano would have made $4.4 million in Year 1 with annual raises as part of a six-year de...

Dykes spent this season as an offensive analyst at TCU

The 'Wyoming Wild Man' notched six tackles for loss as a junior in 2017