Where Chip Kelly could land if he decides to return to college football
Looking at potential college destinations for Chip Kelly after being fired by the Philadelphia Eagles.
• 5 min read
Chip Kelly has been fired by the Philadelphia Eagles, which means the former Oregon coach is a free agent on the coaching market. Many expect Kelly, who had a 26-21 record in Philadelphia, to look for another NFL coaching job, but if the NFL teams aren't calling, a return to the college ranks could be a possibility. 
There were some big college coaching vacancies earlier this year, but all of the Power Five programs have filled those openings. That doesn't mean there won't be a school that backs up the Brinks truck to Chip Kelly's house to try and lure him back to college for next season or 2017. 
When looking at possible destinations for Kelly, it's important to consider what programs could even afford him. Kelly made $6.5 million per year with the Eagles and will command something similar from his next employer -- that would make him the nation's third-highest paid college coach behind Jim Harbaugh and Nick Saban. 
There are only a handful of programs that can afford that kind of coaching salary. We'll throw out any school that didn't pay its coach $3.5 million in 2015, and even that might be too low. That leaves about 30 schools that can even think about paying Kelly the money he'll command. 
You can immediately throw out Alabama, Michigan, Ohio State, Oklahoma and Florida State -- the top five schools in coaching salaries -- as they all have top level coaches that they won't be in a hurry to push out for Kelly. 
Get rid of other teams that are happy with their coaches, recently extended their coach, won't want to pay massive buyout money or just hired a new coach -- Notre Dame, USC (this wasn't even before hiring Clay Helton full time), Ole Miss, Baylor, Georgia, Iowa, Arkansas, South Carolina, Florida, TCU, Missouri, Michigan State, Oklahoma State, Tennessee, Washington, Clemson, Arizona, Virginia and Oregon (sorry, he's not heading back to Eugene).
Then take out the places that would be more than happy to hire him, might be able to scrape together money but you just can't see him going (bye Kentucky and Mississippi State) and you're left with six borderline realistic destinations for 2016 or 2017. 
1. Texas Longhorns: Texas has not been pleased with the start to Charlie Strong's tenure in Austin, but Strong is supposed to get at least one more year to turn things around. The Longhorns just threw a vote of confidence behind Strong to lure in a new offensive coordinator, so it doesn't seem likely the Longhorns would make this move this offseason.
However, this is Texas. The Longhorns expect to win and if boosters see Chip Kelly as the answer they won't have any problem coming up with the money to pay him and cover buyouts for Strong and his staff. 
2. Texas A&M Aggies: Things are unraveling in College Station for Kevin Sumlin and the Aggies, as a pair of blue chip quarterbacks transferred out this December. Sumlin has long been rumored as the next college coach to get an NFL shot and if any team comes calling this offseason, it's hard to imagine him not jumping at an offer to avoid what may be a sinking ship. 
If Sumlin left, the Aggies have boatloads of cash to throw at Kelly and they could try and keep John Chavis around to run the defense opposite Chip's offense. This one seems to be the scenario that would be most believable for this offseason, with Texas a better chance for 2017. I question whether the NFL wants Sumlin, but if one team does and he bounces, the Aggies are probably the collegiate front-runner for Kelly. 
3. Auburn Tigers: Auburn may be getting a bit impatient with how the Tigers have performed the last two years under Gus Malzahn, particularly after a disappointing 2015 campaign. Many expect Malzahn to be on the hot seat in 2016, but if Kelly is interested right now the Tigers could pull the trigger early and cut bait with Malzahn. 
4. Penn State Nittany Lions: The James Franklin era isn't off to the greatest of starts as he's yet to beat any big opponents with the Nittany Lions. Franklin still recruits pretty well and while I don't see Kelly as a culture fit in Happy Valley, Penn State has the money to make this move should they choose to make a change. 
5. LSU Tigers: Ah, yes, good ol' LSU. Les Miles was on the brink of being fired before saving his job in the final game of the season -- or it was saved because Jimbo Fisher said no, depending on who you ask. Whatever the reason, Miles won the power struggle in Baton Rouge, but there's clearly a rift between Miles, the boosters and athletic department.
If Miles decides that he proved his point and bolts for some reason this offseason (I can't imagine this happening, but you never know), or LSU tries to make another coup, the Tigers would certainly have the funds to put together a very enticing offer for Kelly. 
Kelly returning to the college ranks seems like a long shot at this point, but if there isn't any interest from the Titans or other teams, there will be a team or two at the collegiate level that will make a run at bringing him back to school. 
6. UCLA Bruins: I don't think Jim Mora Jr.'s performance in Los Angeles has exactly been inspiring, but for some reason he still comes up in discussion for NFL jobs when they come open. If he were to leave UCLA, the Bruins could possibly be a destination for Kelly. 
For most coaches, getting to live in Los Angeles would be a big perk, but by all accounts Chip Kelly does nothing in his life outside of football, so I'm not sure how much that would matter to him. UCLA only pays a base salary of $3.3 million per year to Mora, so it would take a serious commitment to find Chip Kelly money, but they might be able to get there.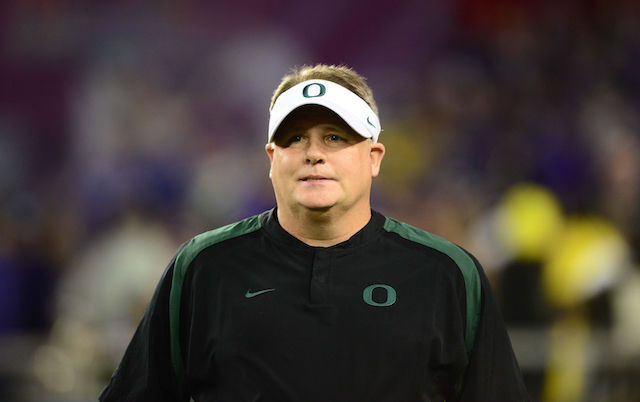 CBS Sports HQ Daily Newsletter
Get the best highlights and stories - yeah, just the good stuff handpicked by our team to start your day.
Please check the opt-in box to acknowledge that you would like to subscribe.
Thanks for signing up!
Keep an eye on your inbox for the latest sports news.
Sorry!
There was an error processing your subscription.
The lawsuit claimed Colorado officials failed to properly address domestic violence claims...

The cupboard isn't bare in Tuscaloosa

Media members are now on the record for their picks for the 2018 season
Bubba Cunningham believes his coach's remarks were 'poorly communicated'

Ball is still life for Malzahn, but he now has some space to be himself as he leads the Ti...

Swinney is happy to have his current quarterback situation