Where do Harvards of the world fit in with big-money football?
Harvard helped give birth to the NCAA in 1906. But where does it stand now? As the power-conference schools debate paying players, the academic mainstays sit in limbo.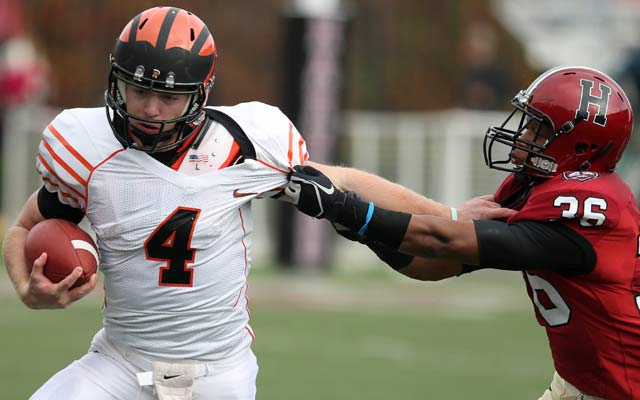 SAN DIEGO, Calif. -- Bob Scalise oversees the nation's largest athletic department. Not economically, mind you. That title would go to Texas or Ohio State.
Harvard's AD is in charge of 42 sports -- 66 if you count junior varsity and club -- encompassing 1,200 athletes. Not one of them has an athletic scholarship because the Ivy League doesn't award them.
"We think people learn something by playing sports," Scalise said Thursday during the NCAA Convention governance dialogue. "What some of these kids are learning at other places are, 'How do I maximize my net worth?' They're not there to get an education. The system is not set up for them to be educated."
Well, duh. The surprise is not that some players use college as a minor-league springboard to the pros. It's that the likes of Harvard still want to be considered a part of the 350-member Division I.
"Do they need us?" Scalise asked a small group of reporters. "Does Division I need us or do we need them? We need them because we want our kids to be able to go compete at the highest level. Some of us said they need us because we give them some academic legitimacy."
That's really what's at stake here this week: The growing professional model in big-time college athletics vs. the amateur ideal. The similarities between an Ivy League school and BCS mother ships are dwindling as we speak.
But the likes of Harvard (and Stanford and Vanderbilt and Duke) bring the academic legitimacy that makes the whole enterprise palatable. Harvard's president is the highest-paid person on campus. Nick Saban makes about five times the amount of his president at Alabama.
But a significant portion of that 350 are going to be paying players soon. Well, that, and perhaps allowing those same players to sign with agents as undergrads.
This governance dialogue that continues Friday represents the first baby steps in redefining what the NCAA does and what amateurism means.
"Now," said Scalise, entering his 13th year on the job, "they're acting like commercial enterprises."
Well, duh, again. What will almost certainly come out of this convention week is a model that favors the 65 schools in the five power conferences -- Pac-12, Big 12, SEC, ACC, Big Ten. Almost certainly players at those schools will be paid what they're calling the full cost of attendance. But those Big 5 -- once they have more autonomy -- could vote in $8,000 a year just ... because.
To the guy watching the hoops tournament/football playoff from his couch, "You probably won't see much change," said Wake Forest president Nathan Hatch, chair of the Division I board of directors.
To the 800 or so stakeholders in the room Thursday, the question had to be: Who is using whom at the dawn of this new normal? The likes of Harvard want to be in that Division I club to have access to the NCAA tournament. (The Ivy League is so academically pure it doesn't allow its schools to participate in the FCS football playoffs, though all other programs are allowed to compete for NCAA titles.) The trade-off is that Harvard lends its academic brand to an increasingly professional enterprise.
The pay issue is so contentious that the 31-member NCAA Student-Athlete Advisory Committee that would presumably benefit financially from such a move officially has no opinion on the subject.
"When you ask a student-athlete, 'Would you like to receive extra money?' I don't know if you're going to find someone who is going to say no," said Christopher Hawthorne, a punter on the SAAC from Minnesota.
"But I don't think many student-athletes understand the full force of the legislation, what it actually means. I think a stipend is something that definitely differentiates schools -- can be very, very contentious and very, very hot button issue."
When it was asked where the players are in the proposed new governance structure, Hatch didn't have much of an answer.
"I don't know if we've wrestled with that substantially," he said.
Better start grappling, Nate.
There are few innocents here except for the players who -- at the highest level -- work in a sort of athletic indentured servitude. The trade off for their services is high-level training for the pros. Networks get content. We get our games. Schools, ADs, coaches get paid.
Trickle down dictates players should be next.
More trickle down: Even at Harvard, Scalise has overseen a basketball program that turned itself in for a secondary violation regarding improper recruiting contact by an assistant. An embarrassing academic cheating scandal took the sheen off the school's first NCAA tournament appearance in 66 years. 
Meanwhile, the NCAA has argued in the celebrated O'Bannon suit that if players are paid, television ratings will go down 15-20 percent. 
Anyone else noticing that the NCAA executive committee is about to rubber stamp players being ... paid? Oops, semantically it's called full cost of attendance.
The entire issue may boil down to what you consider "money."
Scalise was one of those 800 who spent three hours Thursday digging down on the new-look NCAA model. The general consensus is that all parties barely tilled the soil.
"We've got a lot of work to do," one BCS-level AD said.
So much work that Thursday's dialogue session began with a test question for those in a ballroom that was big enough to land a plane.
Practice question: What's your favorite house pet?
Seventy-two percent voted "dog".
"Dog, all the way," said Mark Emmert when the NCAA president was asked later how he voted.
It was only fitting that Scalise pronounced sentence on the proceedings in his own way. After the session was over, he articulated his views in a lengthy email to moderator Jean Frankel, the NCAA's management consultant.
Let's not forget there is a reason for those 42 sports, 1,200 athletes and no scholarships. Harvard has a proud legacy. It was essentially in the room when the NCAA was created more than a century ago.
"We were there when the NCAA was founded," Scalise said. "We were there to address these similar issues in the early 1900s."
How did that work out?
"We won a Rose Bowl," he said referring to epic 1920 win over Oregon.
"With the current model we can't win a Rose Bowl."
Do the 800, Division I or the NCAA care?
Browne was benched in favor of Darnold early into last season

There are new names to learn every season, and here are 14 to keep an eye on from the SEC

Taking a close, detailed and opinionated look at the SEC a week before the start of the 2017...
Rosier will start for the Hurricanes in their opener against Bethune-Cookman

Alabama has won three straight conference titles, and the rest of the SEC is full of quest...

Struggles out of the SEC in 2016 were a mere blip on the conference supremacy radar