Which team is best? Forget the eye test -- new-age analytics are here
Which conference is best? Who plays the toughest schedule? Once you look into the real numbers, there's no more debate. Right?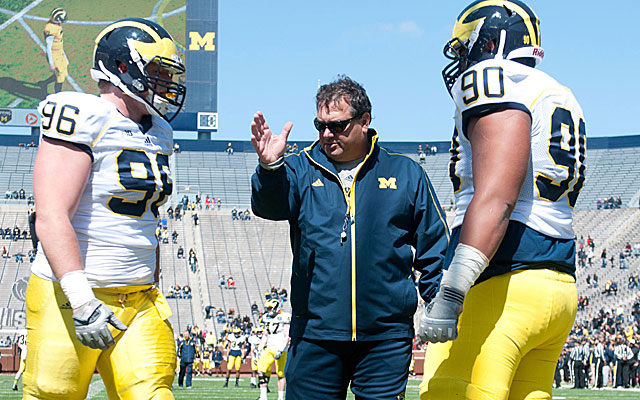 More college football: Jon Solomon | Dennis Dodd | Jeremy Fowler | Latest news
Dave Bartoo flew to Los Angeles from Portland last month for the Pac-12 media days without much of a plan. He didn't know where he was staying or if he was staying.
The 43-year-old father of two just wanted to be around -- the media, coaches, TV types, administrators. He wanted to be around the game.
If you don't know him, you will -- soon. Bartoo and his affiliated species of numbers crunchers will have an increasing effect on college football in 2014. Just like sabermetrics infiltrated baseball, similar analytics are creeping into this corner of the football universe.
You're about to become familiar with roster heat maps or get left behind in the digital dust. Field position margin is one the hottest -- and most relied upon metrics -- in the coaching profession. (Makes sense, Ohio State was No. 1 in '13!) So are points per trip inside the opponent's 40.
Tulane started its average possession closest to the opponent's end zone than anyone last season. Texas-San Antonio started the furthest. Both won seven games. As you can deduce, there are mind-boggling variations, combinations and possibilities depending on your numbers dealer.
"What really matters," said Oregon metrics junkie Mark Helfrich, "is what can you throw up on a Power Point to show the players."
In this age some believe these New Age stats relate as much to winning as zone read spreads or The Process. The final stamp of approval: The College Football Playoff has contracted with one noted service to keep the 13 members of the selection committee intimately informed.
"Rest assured," said Stephen Prather, one of the four partners in SportsSource Analytics, "that committee will have access to a ridiculous amount of information."
There are other data providers. The industry is blowing up. Brian Fremeau of footballoutsiders.com is a 37-year old Notre Dame grad and an art and media production background. If you want your mind blown, check out his schedule strength graphic on bcftoys.com. Something as simple as Notre Dame's historical winning percentage can be expressed in a single line.
They aren't exactly competing against each other so much as carving out the same niche. Bartoo has presented before a BCS-school coaching staff -- he won't say which -- for 90 minutes. Leveraging his knowledge into profit, he hopes, is right around the corner.
"I have this knack," he said, "for taking seemingly complex questions and making simple answers out of them. I'm a storyteller with numbers."
Bartoo's background is in finance, "I merge banks and credit unions out of business." He's also the guy who convincingly shot down the Saban-Bielema pace-of-play argument. The league that runs the most plays, the Big 12, also has the fewest injuries.
He's the guy who calls strength of schedule in this playoff age "a fairy tale, a rainbow, a myth." Look at the last two national champions, he says of Alabama and Florida State, their average strength of schedule is No. 48.
He can pretty much narrow the Heisman race to a group of players whose teams are at least 9-3 and ranked in the top 25. That's because that has been the common denominator for the winner the last 40 years.
After aggregating the top 10 recruiting classes since 2000, he can tell you only Michigan and Georgia haven't made a BCS title game. What he can't tell you is why.
"When I don't see anything in the numbers," is there an issue we can't quantify?" Bartoo asked.
That's kind of the fascination with Moneyball in shoulder pads. Arizona State, Ball State, Kentucky, Oregon, Colorado, Ohio State, Clemson, Georgia Tech and Wisconsin have signed on with SportsSource Analytics. The SSA partners work virtually from their homes with customized analysis for coaches, ADs, schools, even super agents like Jimmy Sexton.
Stephen's brother Scott was a farmhand with the St. Louis Cardinals who once glimpsed a budding Albert Pujols. "Chief Data Architect" Marty Couvillon created the highly informative cfbstats.com.
CFP executive director Bill Hancock calls their data the "antithesis" of college basketball's RPI.
"It's just straight data with no interpretation," Hancock said.
One afternoon, the SportsSource Analytics guys remotely took control of my laptop for a guided tour through their site. It's not usually available to the media or the public. Conclusion: When CFP selection committee chairman Jeff Long announces the Football Four on Dec. 7 he'll be able to back up the choices convincingly. No more "They passed the eye test."
Most of SSA's research goes back only to 2001, but even then amazing trends emerge.
• No team since that time is over .500 when trailing at the half. That's not a huge revelation but this is: LSU is the best at 23-23.
• If you're losing to Bill Snyder at half, you're toast. K-State's coach is 81-3 with the lead going into the second half.
• Nick Saban is 57-2 in games when he has "superior talent." SSA keeps a four-year running average of recruiting rankings. If your class is at least 10 spots better than your opponent you have "superior talent."
• Here's one for those who were tepid over USC's hiring of Steve Sarkisian: In the last 13 years, only nine coaches have improved a program more compared to the previous five years than Sark at Washington. Sarkisian won 54 percent of his games at U-Dub. That was a vast improvement on Tyrone Willingham's 23 percent win rate. 
• Bret Bielema is 54-0 lifetime in games he is "expected" to win. That is defined by winning contests in which you are favored by seven or more at home, 10 or more on the road or 8 1/2 at a neutral site. Meanwhile, the great Saban has a two-game losing streak in that category (Auburn, Oklahoma).
• Certain clients might also be interested in which SEC referee had the most holding calls. In the interest of anonymity we'll leave that one alone.
"We're basically a three-year old company that is now working with the College Football Playoff selection committee," Stephen Prather gushed. "These guys are going to be watching film, they're diligent people, they're smart people. Will they make the right decision? That begs the decision of what's 'right'?
These data slingers are the new cowboys. Their spread sheets are the Old West. This is baseball's Billy Beane before Hollywood got a sniff. They're redefining the industry with abbreviations we're going to have to know -- PPP, FEI, S&P+. It's just a matter of how much those coaches, agents and administrators want to consume.
If you want to travel intellectually off-road, ask Bartoo a key difference between 2014's two strongest conferences. The average Pac-12 recruit, he says, comes from more than 800 miles from campus. That's twice the average distance for an SEC recruit.
"That's less coaching time and more travel time," in the Pac-12 Bartoo said.
Compelling except that Oregon (1,330-mile average distance for recruits) and South Carolina (212 miles) start the season both ranked in the top 10.
Who even conceives of tracking this stuff? A 43-year old Portland resident with more ideas than long-term plans, for one.
"The biggest travesty now is to say, 'I can't,' " Bartoo said.
CBS Sports HQ Daily Newsletter
Get the best highlights and stories - yeah, just the good stuff handpicked by our team to start your day.
Please check the opt-in box to acknowledge that you would like to subscribe.
Thanks for signing up!
Keep an eye on your inbox for the latest sports news.
Sorry!
There was an error processing your subscription.
Jackson is just the latest Hokie to leave the program over the past couple days

Williams is the program's leader for rushing touchdowns

Committed but unsigned means 'game on' for opposing coaches
Sanders is a three-star prospect from Cedar Hill, Texas

Two former Bulldog standouts will be toting the rock on Super Bowl Sunday

Rhule has brought Baylor back from a program rocked by scandal and NFL teams have noticed