While Manziel's career winds down, let's celebrate Johnny Football
Johnny Manziel has given us a lifetime of fun in less than two seasons of college football. Foggy football future or no, he will not be forgotten.
Strip the word "Heisman" off Johnny Manziel. It's not about that now. It's not about the off-field carousing or autograph hounding, either.
What it is, is over. His college career, just about. Johnny M. Football played his final home game for Texas A&M on Saturday, throwing five touchdowns against Mississippi State. He might has well have been throwing kisses to the crowd.
After exactly 14 games in College Station, this was his final Kyle Field appearance in uniform and pads.
"One more year," they chanted.
"It was Senior Day," said killjoy coach Kevin Sumlin, "not redshirt sophomore day."
The crowd and the coach knew better. In some sense, we are witnessing history. A double Heisman would be great -- and righteous -- but college football has surrendered to Johnny Football.
Alabama has been merely another team when he is on the field. Sumlin probably will ride his excellence to a better job, soon. The SEC didn't welcome Texas A&M so much as A&M changed the SEC. Thanks to Johnny. His numbers are so far ahead of last year that it's ridiculous. Yards, touchdowns, completion percentage. All up.
The man has accounted for 86 touchdowns in his career, 39 this season to lead the nation.
I told you to forget about the Heisman. I lied. Bait and switched ya, just like the ol' gunslinger quarterback has done to linebackers for two seasons.
Manziel is a better player this season and probably isn't going to win another Heisman. Could he win it again? Should he win it again? Absolutely. The only bigger college football story this season would be an Alabama three-peat.
But Manziel at this point is an afterthought in the Heisman race. Third place might as well be 40th place.
Instead of wondering "What if ...," the race has become "What's next?" It's the nature of the award. It's the nature of our society. Next up is Jameis Winston. He passed for 159 yards against Wake Forest on Saturday before Florida State mercifully pulled him.
It didn't matter that across the country Johnny Legend had to chuck it 39 times -- throwing three interceptions in the process -- to drag the Aggies across the finish line against the pesky Bulldogs.
Nothing against Winston. He's a better athlete than Manziel, has a better arm. He has beaten two top-10 teams. But Manziel is laying his body out there as if his NFL future goes no further than his Sunday DirecTV package.
And that's all I care about. Johnny as a pro is not going to be anywhere near as good as Johnny College. It's the nature of the game. Dual-threat quarterbacks are harnessed in the NFL. Either that or they get hurt. Ask Robert Griffin III.
At this point, Manziel is the best player in the country by a wide margin if you take into account he's doing it largely alone. Winston at least has help -- a big, burly line, a top-10 defense, budding All-Americans all over the field.
The Aggies at this point are a two-man team. Texas A&M is ranked 10th and in contention for a BCS bowl with Manziel basically playing catch with favorite receiver Mike Evans.
Anything A&M has accomplished this season is because the Aggies have to outscore the opposition. To be kind, the defense is rounding into SEC shape. To be clear, it stinks.
Mississippi State scored 41 on Saturday because it could. A&M isn't close to Alabama in September if Manziel doesn't play like he's controlled by a joystick. The Aggies don't beat Ole Miss if Manziel doesn't account for 175 total yards and lead three scoring drives ... in the fourth quarter alone.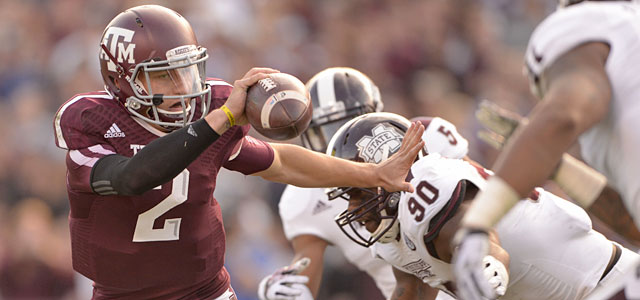 One team has been within three touchdowns of Alabama all season. That was the Fightin' Manziels two months ago. Only one quarterback has beaten the Tide in the past two years. That was the fightin' Manziel.
Texas A&M scored 42 in September against the Tide.
Since getting the most yards laid on it in school history that day, Alabama has allowed a total of 43 points in seven games.
It's such a good story, it hasn't really been told properly. Winston has a future. Johnny Football's career is almost done. Has the ultimate rogue been given proper football respect?
We fell in love with Manziel at some point because he could play backyard football, just like all of us at one time or another. Run down by the old oak tree and cut right, Johnny'll hit ya.
His game was like an old girlfriend. We all grow up, grow old and move on, but we'll always have that first crush -- in this case that silly spin move out of the grasp of an Alabama defender. Or that fumble-touchdown last season in Tuscaloosa.
It is more than coincidence that Johnny M. Football has played his best football against what could be a three-peating Tide.
If he won the Heisman again, Texas A&M bookstores would be set up for life. The school that tried so hard to protect Manziel's likeness would be able to profit off it in perpetuity with a double Stiff Arm.
There was a recent story that claimed Manziel's Heisman has been worth only $20,000 to the school.
That's complete BS. How do you measure enrollment increases a year from now, five years from now, because Johnny Football played in College Station? How do you measure future recruits who consider A&M because of Manziel?
If Sumlin leaves for Southern California -- he is reportedly the Trojans' top target -- how does that affect the job he would leave behind?
Lots. It may be the difference in luring Chad Morris -- Clemson's super-hot offensive coordinator -- over some retread. You can't measure Johnny Football, you can only hope to contain his impact on the future of A&M.
The school is in the process of adding 20,000 seats to Kyle Field. After this season, will that be enough?
Texas A&M is in another stratosphere because of a quarterback who has streaked across the heavens. The school and the program are better off competitively, financially, realistically.
You tell me who the second BCS team is from the SEC if Missouri, Auburn and A&M finish at 10-2. It's not even close. Bowl executives would sell their fillings to get Johnny Football in his last college game.
We're probably talking about the Sugar Bowl at that point. Forget the obvious visions of Manziel on Bourbon Street. It would be a championship game without the official designation. A&M would have gotten nowhere near the SEC title game and had one of the best two-year runs in its history.
I thought Tim Tebow was the best college player I had seen. Then it was Cam Newton. Manziel has beaten them both out these past two years. The only player in the past 25 years to compare might be Barry Sanders.
The best thing about Johnny Manziel is that he didn't need hype. He was impervious to it. His life, his game have been a YouTube video. Whether it was scrambling out of the pocket or boldly walking through a University of Texas frat party, the man never failed to entertain.
They'll be writing about Johnny Football 50 years from now because his life is ... bigger than life.
What's next? Pause and first let yourself wonder for a moment, what if?
Gary Danielson previews this week's SEC on CBS Game of the Week from Nashville

Gary Danielson and 247Sports' Rusty Mansell join for an SEC-flavored episode

The first three weeks of the season have elevated some coaches to the big time
Debating the top team in the country, grading the surprise teams as 'real' or 'fake'

SEC races kick into high gear with some fun matchups that will shape the landscape of each...

The Bottom 25 ranks the 25 worst teams in college football every week