While Penn State recovers, NCAA could help by lifting bowl ban
Two years into unprecedented penalties, all is not lost at Penn State. And the progress should convince the NCAA it is time to admit its bowl ban was a mistake.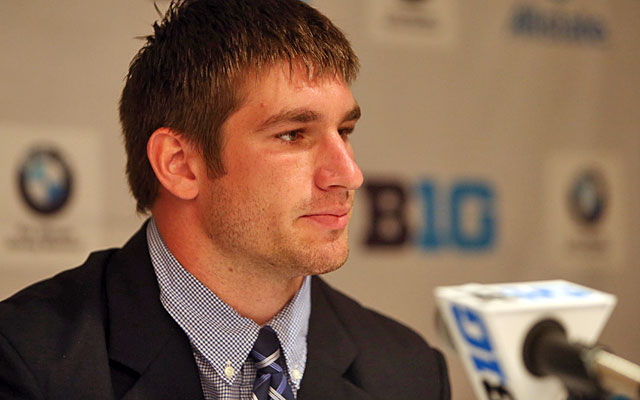 More college football: Dennis Dodd | Jon Solomon | Latest news
CHICAGO -- There's a statement to be made, a huge one at Penn State.
A nation's outrage may not have diminished over the Jerry Sandusky scandal but the story is certainly off the front page. It was two years ago this month that the NCAA overreached into a sordid criminal matter, forever changing history.
So much upheaval, so much collateral damage. The group of innocents from that day two years ago are still being punished. They don't talk about it much anymore, but they live it each day.
"I think we've done everything right," Penn State linebacker Mike Hull said. "I don't think we did anything wrong in the first place."
But those Nittany Lions players are still suffering the same penalties that were handed down in 2012. Among them, a four-year bowl ban that affected young adults who had nothing to do with the scandal. That alone may have turned up the current heat on the NCAA and president Mark Emmert.
It's one thing to take four years to penalize Southern California or to take Jim Tressel out at the knees. It's another to tell those innocent Penn State players in a tangential way that they're going to be paying for the criminal sins of a predator.
"It was basically the worst thing you can do to the program," Hull said Tuesday at Big Ten media days, "aside from the death penalty."
They came to Penn State to play football. They will leave better men. Contrary to some predictions, Penn State football did not burn to the ground. Far from it. Bill O'Brien kept the program afloat, winning eight and seven games despite having no postseason to sell to his players or recruits.
That's 15 wins, the same amount as a fully loaded Michigan had in the same two seasons.
The NCAA healed some wounds by giving Penn State back some scholarships last year. This year would have been the beginning of a four-year span during which Penn State would be reduced to 65 scholarships per year. That's basically down to the FCS (Division I-AA) level.
That won't be the case. It looks like NCAA's attempted arson of the program will be doused. There's a future for Penn State football, something that couldn't be assured two years ago. In that sense, the ongoing lesson is that the NCAA never should have punished the innocents in the locker rom.
It's time, then, for that statement.
Penn State integrity monitor George Mitchell is close to issuing another update on the school's compliance progress. The NCAA assigned a lengthy list of targets for the school to adhere to in the wake of Sandusky (Athletics Integrity Agreement).
Last year's Mitchell report (see above) was encouraging, as was a December update. A similar favorable report must lead the NCAA to rescind the remaining two years of the bowl ban.
"It would obviously be big," coach James Franklin said. "We don't even talk about it but I do think it would be a shot of enthusiasm and excitement."
There are no bad outcomes to rescinding the ban. We all know the NCAA could use a huge PR bump. Big 12 commissioner Bob Bowlsby said in criticizing the NCAA eight days ago that "cheating pays." Emmert fired back with a Monday letter stating criticisms of enforcement are "inaccurate."
Why even go there when positive perception of the association may be at an all-time low? Ending this Penn State affair is not only common sense, it's good business sense for the NCAA. A group of five congressmen wrote Emmert recently asking that all the Penn State penalties be dropped.
"Continuing these unprecedented sanctions harms innocent student athletes and further erodes the increasingly specious credibility of the organization," the letter said.
Thankfully, Franklin's bombastic arrival has put the happy back in Happy Valley. It has overshadowed the dark times. No matter what the situation, there will be no excuses for one of the most vibrant coaches in the country.
"It's very black and white, we live by that," Franklin said of the penalties. "If someone tells us something different down the road -- [it's] gravy, icing on the cake, bonus."
Penn State is in the process of proving what was evident all along. It is one of the five or 10 schools in the country that could survive such sanctions. It happened at USC. It's happening in State College. Penn State was picked fourth in the Big Ten East by the media. The Nittany Lions finished second and third in their division in the first two years post-Sandusky. That's not football Armageddon.
What's amazing now is the players are all out there for the thrill of it. That's the way it's supposed to be, right? Franklin can't sell his players or recruits on a postseason rainbow.
Out of an ugly past has come some purity.
"You play for more than just going to a bowl," Hull said. "You prove yourself every single Saturday out there. You play because you love the game."
Every day that goes by, all of them at Penn State are able to talk more football. O'Brien told reporters last spring he had 67 scholarship players. Then he went out and beat Michigan and Wisconsin while winning those seven games.
Franklin goes into this season with 72 scholarship players, 13 fewer than the maximum. There will be no excuses from a football program on the mend. Let's hope there is common sense from the organization overseeing it.
CBS Sports HQ Daily Newsletter
Get the best highlights and stories - yeah, just the good stuff handpicked by our team to start your day.
Please check the opt-in box to acknowledge that you would like to subscribe.
Thanks for signing up!
Keep an eye on your inbox for the latest sports news.
Sorry!
There was an error processing your subscription.
Outside linebacker Chris Allen will miss the season after sustaining a knee injury

Quintez Cephus is instead focusing on a legal case for "unspecified" charges from an April...

This is the second ACL injury for White in as many years
Davis is accused of breaking one of his ex-girlfriend's ribs and sending a threatening tex...

Meyer has been on paid administrative leave since Aug. 1

Matt Womack re-injured a broken foot he suffered earlier in the offseason