Who had next: the 10 biggest college football upsets since Appalachian State
As it turned out, Appalachian State was only the beginning. Here's our list of the 10 biggest upsets from the past five upset-filled seasons of college football.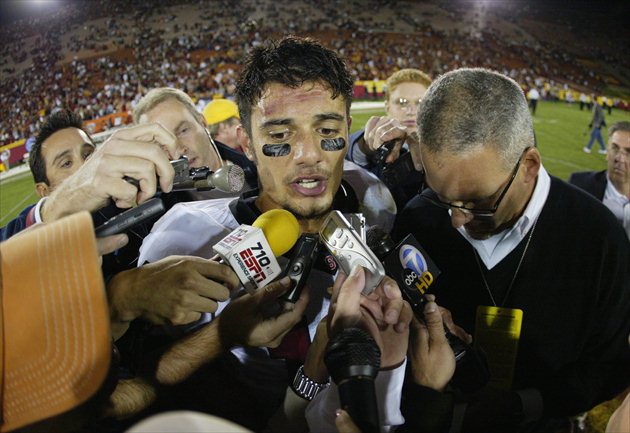 For one magical night in Los Angeles, Stanford's Tavita Pritchard was at the center of college football. (Getty Images)
The choice for the biggest upset of the past five years of college football is an easy one: Appalachian State 34, Michigan 32 in the opening week of the 2007 season, the jaw-dropping, history-making upset whose five-year anniversary CBSSports.com's college football coverage is celebrating this week.
But it's worth remembering that the Mountaineers' victory set the table for what proved to be an epically chaotic season in 2007, and four years' worth of headline-making upsets to follow--including what would prove to be the biggest upset in the history of Vegas point-spreads, the first-ever FCS upset of a future BCS conference champion, and arguably the sport's greatest program of all-time falling to a school that's never made a bowl appearance.
Here's our list of the 10 biggest of those upsets:
1. Stanford 24, USC 23, Oct. 6 2007. The Cardinal: 1-11 in 2006, 1-3 to start the season, coming off of a 41-3 loss to Arizona State, not ranked since 2001. The Trojans: undefeated, ranked No. 1 in the Coaches Poll, only one season removed from a dominant three-year run in which they went 37-2 and won two national championships. Oh, and the game was being played in the Coliseum, where Pete Carroll's team hadn't lost in their last 35 games. Oh, and Stanford was starting backup quarterback Tavita Pritchard. That's how you end up with a whopping 41-point spread.
And that, in turn, is how a game passes into West Coast football legend as the biggest Vegas upset of all time. Buoyed by Trojan quarterback John David Booty's four interceptions (the third of which set the Cardinal up in Trojan territory with 2:50 to play), Stanford trailed just 23-17 in the dying seconds. But Pritchard had to convert a 4th-and-20 to keep the game-winning drive alive, then had to find receiver Mark Bradford on 4th-and-goal from the 10 for the decisive score--and an upset many would argue was even more unfathomable than Appalachian State's.
2. Pitt 13, West Virginia 9, Dec. 1 2007. Apparently you really can throw out the record books when it comes to the Backyard Brawl: the Mountaineers were 10-1, the BCS No. 2 (and Coaches No. 1), and had won 32 games in three years; Pitt was 4-7 and about to not go bowling for the third straight season. With the game in Morgantown and a certain national championship berth on the line, Vegas installed the Mountaineers as 29-point favorites.
But Rich Rodriguez's team never recovered from an early thumb injury to Pat White, sputtering on offense to the final whistle and watching the program's best-ever shot at BCS glory -- and, as it turned out, the entire Rodriguez era -- disappear into the Morgantown night.
3. James Madison 21, Virginia Tech 16, Sept. 11, 2010. The second-ever win by an FCS team over a ranked FBS opponent, the Dukes' victory in Blacksburg as 35-point underdogs made precious little sense at the time. But it made even less sense when the 2010 season was over--the Hokies responded by winning their final 11 regular season games and claimed an Orange Bowl berth with a perfect 9-0 ACC mark (championship game included), the first ACC team to run the league table since 1999. JMU, meanwhile, struggled to a 3-5 record and an eighth-place finish in the Colonial.
The lesson? No matter how good you are or who you're playing, scheduling two college football games within six days -- the No. 13 Hokies had lost to Boise State the previous Monday night in a made-for-TV special -- probaby isn't the best idea.
4. Iowa State 37, Oklahoma State 31 (2 OT), Nov. 19, 2011. Given the statistical frailties of the Cowboy defense and Iowa State's penchant for pulling colossal upsets under Paul Rhoads, it's easy to forget -- even just 10 months after the fact -- how heavily favored Mike Gundy's team was heading to Ames. Standing at 10-0, ranked a consensus No. 2, and coming off of a 66-6 demolition of Texas Tech in Lubbock, no one batted an eye when the Cowboys were installed as 27-point favorites.
Of course, five turnovers and 568 yards allowed on the road have a tendency to even things out just a bit. Even so, it's also easy to forget that all the Cowboys needed to escape with their BCS dreams intact was a 37-yard field goal at the end of regulation from the reliable Quinn Sharp. But it didn't happen, and Alabama fans are still celebrating as we speak.
5. Oregon State 27, USC 21, Sept. 25 2008; Washington 16, USC 13, Sept. 20 2009. A special two-part entry devoted to the Trojans, who saw their national title chances end in highly similar circumstances in back-to-back Septembers. But each upset looks very different in hindsight; the loss to the Huskies maybe doesn't seem like such a shocker at a glance, but it's worth remembering that Steve Sarkisian's team had only snapped a 16-game losing streak the week before against Idaho, while the third-ranked Trojans were only only a week removed from defeating Ohio State at the Horseshoe. Then-freshman Matt Barkley's absence through injury played a major role, and those Trojans would go on to become the most disappointing team of Carroll's tenure, but seeing them lose to a team that had gone 0-12 the year before was jarring nonetheless.
On the flip side, at the time, Oregon State's Thursday night shocker over USC in 2008 maybe didn't quite seem mindblowing. The Beavers had handed the Trojans their first regular season loss in three seasons in Corvallis in 2006, and even as the No. 1 team in the country and 25-point favorites, in Week 3 USC still hadn't entirely shaken the specter of the Stanford loss from the year before. But by the end of the season, the Trojan defense had established itself as one of the best the BCS era has ever seen, and a Rose Bowl demolition of No. 6 Penn State stamped the team as the best of Carroll's tenure to not play for a BCS title. There's little question now that Jacquizz Rodgers and Co. took down a team that was certainly national championship-caliber.
6. Louisiana-Monroe 21, Alabama 14, Nov. 17, 2007. Nick Saban has established himself as arguably the best college football coach in America once his programs are up and running, which is why it seems all the more inexpicable that his last two teams have both fallen prey to stunning upsets in his first year at the helm. At LSU in 2000, his Tigers lost to UAB at home 13-10. But even that looks like your run-of-the-mill upset compared to the Tide's four-turnover loss as 24-point favorites (in Bryant-Denny Stadium!) to the ULM Warhawks--a team that's never once been to the postseason or even posted a winning record in 18 years as an FBS program. That defeat helped drop the Tide to 6-6 in Saban's inaugural season, and even if that mark seems like ancient history now, the ULM loss still stands as a reminder of how far the Tide have had to come to reach the heights they have.
7. Texas Tech 41, Oklahoma 38, Oct. 22, 2011. In Weeks 8, 9, and 10, the Red Raiders lost to Iowa State, Texas, and Oklahoma State by a combined score of 159-33. Which makes their Week 7 performance all the more flabbergasting, as Seth Doege carved apart the Sooner defense to the tune of 425 yards and four touchdowns, ending Oklahoma's 39-game home winning streak and dooming the AP preseason No. 1 to another season without a national title. After winning outright as 28-point underdogs, the Raiders would go 0-5 the rest of the year and post their first losing season since 1992.
8. Syracuse 38, Louisville 35, Sept. 22, 2007. In retrospect, Steve Kragthorpe vs. Greg "GERG" Robinson is an anti-coaching matchup for the ages; both programs were far better before their arrival and became far better after their dismissal. But in early 2007, the Cardinals were still riding high from the Bobby Petrino era and were expected to flatten Robinson's flailing Orange to the tune of a 37-point spread. Instead the 'Cuse pounced on the Cards early and held on late for what was then the biggest upset along the Vegas line in betting history (until, of course, Stanford broke it only two weeks later).
9. Jacksonville State 49, Ole Miss 48 (2 OT), Sept. 4, 2010. If not for Ole Miss's collapse to 4-8 this season, this Week 1 surprise might qualify as the SEC's version of Appalachian State-Michigan. As is, it's still worth recalling that the Rebels had just finished back-to-back Cotton Bowl championship seasons, boasted a largely veteran defense, and had imported Oregon refugee Jeremiah Masoli as a new weapon at quarterback. But none of it made any difference against the Gamecocks, who went for two and the win in the second overtime--giving coach Jack Crowe a kind of FCS-over-FBS redemption after his own Arkansas team fell to the Citadel in 1992, leading to his immediate firing.
10. Colorado 27, Oklahoma 23, Sept. 29, 2007. Bob Stoops's team had appeared to put their disappointing (and bona fide classic) Fiesta Bowl loss to Boise State behind them early in the 2007 season, hanging 79, 51, 54, and 62 points on their first four opponents. Meanwhile, Dan Hawkins' Buffs looked only slightly improved on 2006's 2-10 outfit and entered as 23-point underdogs on their home field. But Hawkins' team instead comprehensively dominated Stoops's, holding them to just 230 yards, hogging the ball for more than 38 minutes of possession, and getting the last-second field goal for by far the biggest win of Hawkins' star-crossed Boulder tenure.
And now, one bonus entry:
10b. Navy 46, Notre Dame 44 (3 OT), Nov. 4, 2007. Why is one of the most famous, most dramatic, most emotional games of the past five years relegated to "10b"? Because we'd argue it was barely an upset, if one at all--this was the worst Irish team in more-or-less forever, a 1-7 mess under Charlie Weis that was fortunate, even at home, to enter the game favored by three points (and to eventually finish 3-9). But any time one program beats another -- partiularly one as storied as Notre Dame -- after failing for 43 straight years, that deserves a mention in the annals of historic upsets.
Other games considered: No. 17 Kentucky 43, No. 1 LSU 37 (3 OT) and Arkansas 50, No. 1 LSU 48 (3 OT), 2007; Wyoming 13, Tennessee 7, 2008; Ole Miss 31, No. 4 Florida 30, 2008; Purdue 26, No. 7 Ohio State 18, 2009; No. 19 South Carolina 35, No. 1 Alabama 21, 2010; No. 19 Nevada 34, No. 3 Boise State 31 (OT), 2010; Sacramento State 29, Oregon State 28, 2011. And a quick special section: Syracuse 24, Notre Dame 23, 2008; Navy 23, Notre Dame 21, 2009; Tulsa 28, Note Dame 27, 2010.
CBS Sports HQ Daily Newsletter
Get the best highlights and stories - yeah, just the good stuff handpicked by our team to start your day.
Please check the opt-in box to acknowledge that you would like to subscribe.
Thanks for signing up!
Keep an eye on your inbox for the latest sports news.
Sorry!
There was an error processing your subscription.
The Michigan-Michigan State rivalry rolled on, two days after they actually played the gam...

Alabama and LSU are off until their colossal showdown on Nov. 3 in Baton Rouge, Louisiana

Jack Sears will prepare to start for the Trojans
Hurts suffered the injury during his third-quarter touchdown run

These threads are, as they kids say, straight fire

SportsLine's advanced computer model simulated every Week 9 college