Who pays ex-players' medical bills? One foundation tries to fill void
Positive-Strides.org is an organization committed to helping injured former players like ex-South Carolina football star Stanley Doughty.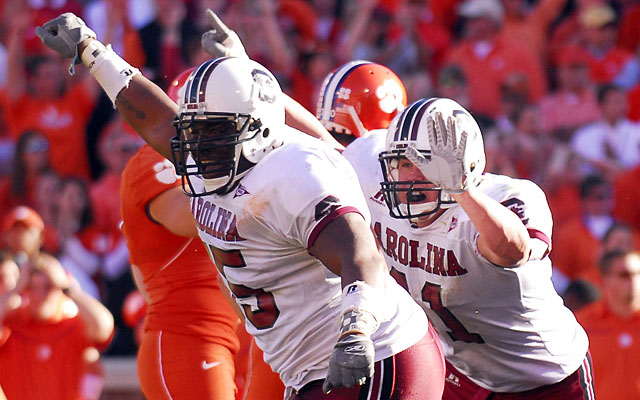 Seven years of helplessness have passed for Stanley Doughty. A cervical spine injury he sustained as a University of South Carolina defensive lineman leaves him living on disability checks from his parents' home in Louisiana -- frustrated, humiliated and broken.
At one point, Doughty lived out of his car for a month. He once had a job at Waffle House but couldn't keep it because of the burning sensation he felt whenever he lifted plates or reached for a shelf.
"At job interviews they ask if I ever had any injuries," said Doughty, now 30 years old. "No one wants to put you on a job with a cervical spine injury because you're a liability. I haven't been able to do what I need to do to provide for my kids and feed them and clothe them. It's been devastating."
The Atlantic told Doughty's story last year. Ryan Brant, a former Ohio State lacrosse player, read the article while searching for injured ex-college athletes to help through his new non-profit foundation in Maryland called Positive-Strides.org.
Last week, Positive-Strides.org paid for Doughty's MRI with a neurosurgeon. Pretty soon, the foundation will take care of Doughty's neck surgery -- the type of procedure Doughty said South Carolina should have paid for many years ago.
"I thank God for them," Doughty said of Positive-Strides.org. "They took it up for themselves to get me help and taken care of."
Positive-Strides.org sells itself as a rare foundation that fills a gaping void for financial assistance and guidance to former college athletes who suffer debilitating injuries in colleges and get stuck with medical bills.
What is Positive-Strides?
Positive-Strides is a 501 (c)(3) non-profit public charity foundation that provides mental, physical, and/or financial support to athletes who have suffered sports-related and career-ending injuries. Its goal is to provide services to help guide injured athletes in the right direction and steer them to look at the positives in life before facing depression and addictions. The game plan includes providing injury prevention seminars to athletic organizations, youth organizations and parent groups. Source: Positive-Strides.org
Many colleges do pay medical expenses and insurance for athletes. Yet there's no NCAA requirement for schools to pay for insurance or sports-related injuries, particularly after athletes leave school.
The NCAA has a catastrophic insurance program at no cost to the school or athletes, although it doesn't activate until an athlete's medical bills exceed $90,000. Advocates for college players' rights are pushing for better health insurance.
The timing of Positive-Strides.org helping Doughty is interesting. Doughty is among the more than 70 current and former college athletes suing the NCAA over its alleged mismanagement of concussions.
Doughty's case was consolidated with those of other plaintiffs into the Adrian Arrington lawsuit. Lawyers for Arrington have been in settlement talks with the NCAA for several months. Last week, many of the consolidated plaintiffs, including Doughty, filed court motions removing their attempt to be included in the Arrington and NCAA settlement talks because the other plaintiffs will participate in the next mediation session.
Many of the plaintiffs are seeking damages. They also want medical monitoring, not unlike what Doughty describes he's now getting from Positive-Strides.org.
"All of the foundations (dealing with concussions) are providing research, and research is wonderful and it's going to pay off," Brant said. "But how does it help the athlete now? That's where we come in and we're getting them healthy mentally and physically."
'It's like I'm in prison'
Doughty claims he suffers from dizziness, burning and numbness -- symptoms he attributes to concussions sustained at South Carolina. Doughty said he was young and mistakenly trusted the word of South Carolina medical officials to continue playing after he was temporarily paralyzed during a helmet-to-helmet collision at practice in 2004.
Doughty had previously been diagnosed with mild congenital stenosis -- a narrowing of the spine near the neck that occurs at birth. After the Kansas City Chiefs signed Doughty as an undrafted free agent in 2007, the team diagnosed an acquired spinal injury that often occurs in traumatic blows. The Chiefs released Doughty before his NFL career ever started.
"The university provided appropriate medical care for Mr. Doughty while he was a student-athlete at USC," South Carolina said in a statement. "Mr. Doughty was aware of his medical status and the university has provided all records requested by he, his attorney and the Kansas City Chiefs."
Enter Positive-Strides.org, which started in December. Brant can relate to Doughty's depression because Brant experienced that as well as a college athlete. Brant said he had four knee surgeries and one back surgery and got "cast aside" by Ohio State and Hofstra, describing the lack of support by his coaches as "devastating."
"Who knows how many former college players go through these medical and emotional issues?" Brant said.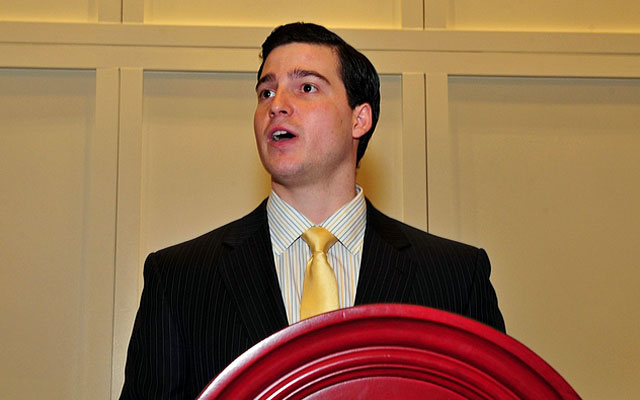 Positive-Strides.org is helping about 15 former male and female college athletes. Former Maryland football player Pete DeSouza, who broke both of his legs in a 2010 scooter accident, is now a director for the foundation. Recently, a Towson women's soccer player who lost her scholarship after suffering five concussions contacted Positive-Strides.org, Brant said.
The foundation has raised about $60,000 through donations, grants and corporate sponsorships, Brant said. The board of directors includes Washington Redskins sports psychologist Juliet Francis; prominent University of Maryland trustee Barry Gossett, who is chairman of the University of Medical System; and motivational speaker Tim Strachan, who once was a highly-recruited high school quarterback before he became a quadriplegic. Renowned orthopedic surgeon James Andrews and NFL Players Association senior director Nolan Harrison III have been asked to join the board. 
What's in this for Brant? He said he simply wants to give back given his life difficulties after his college playing career ended. Still, the effort raises a question: Is Positive-Strides.org angling for a role with medical monitoring after the NCAA potentially settles its concussion lawsuits?
"On the legal side of things, I'm trying to stay clear and I don't want to burn any bridges since we're new," Brant said. "What we are doing is helping those who are not covered by the NCAA. We know it's the NCAA's decision. Their legal team decided that. I don't agree with everything that they do, but I'm trying to make the best of the situation as it is."
Doughty appreciates someone -- anyone -- helping him. If Doughty straightens himself out, Brant plans to make him a motivational speaker who will talk to college athletes.
"My parents are disabled, I'm disabled," Doughty said. "I'm sitting in this room all day, every day, not able to do what I think is necessary to do. It's like I'm in prison. It's affecting my mind, affecting my thoughts, brought complications to my family. People in my family are degrading me, it's crazy. Now someone believes in me to help."
CBS Sports HQ Daily Newsletter
Get the best highlights and stories - yeah, just the good stuff handpicked by our team to start your day.
Please check the opt-in box to acknowledge that you would like to subscribe.
Thanks for signing up!
Keep an eye on your inbox for the latest sports news.
Sorry!
There was an error processing your subscription.
The lawsuit claimed Colorado officials failed to properly address domestic violence claims...

The cupboard isn't bare in Tuscaloosa

Media members are now on the record for their picks for the 2018 season
Bubba Cunningham believes his coach's remarks were 'poorly communicated'

Ball is still life for Malzahn, but he now has some space to be himself as he leads the Ti...

Swinney is happy to have his current quarterback situation