Who will replace Bill O'Brien at Penn State?
Now that Bill O'Brien is leaving Happy Valley, who is most likely to replace him?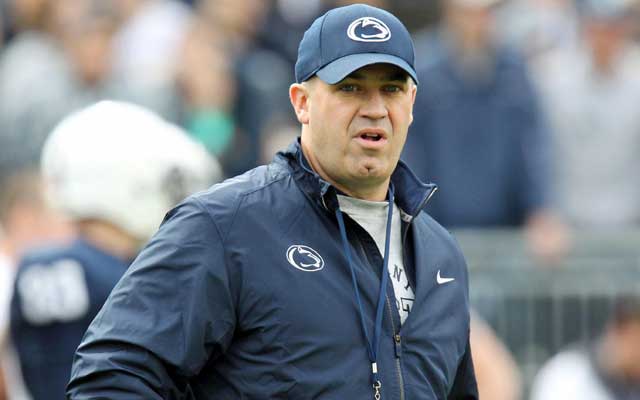 Happy New Year, Penn State, you're going to need a new coach. But who? That's the question Penn State fans will be asking themselves, and while it's hard to know exactly who O'Brien's replacement will be, there are some obvious candidates.
Al Golden, Miami: While Al Golden was at Temple from 2006 to 2010 there were a lot of people who felt he was essentially Penn State's coach-in-waiting. It made a lot of sense. Joe Paterno wasn't getting any younger, and it seemed as though he'd be retiring shortly. Meanwhile Golden was building a Temple program and he did play under Paterno as a tight end at Penn State from 1987 to 1991. 
Things didn't work out that way as Golden would leave Temple to take over at Miami in the 2011 season and guide that program through some NCAA sanctions of its own. Would Golden give up what is a nice job at Miami to return to another program dealing with the NCAA? Well, it's his alma mater, so you'd have to think Penn State is going to make that phone call. Especially when you consider that since O'Brien just left at two years, you have to think Golden would consider Penn State to be a destination job, not just a stepping stone. But, again, Miami could be considered a destination job too.
James Franklin, Vanderbilt: If there's been a major job opening on the college football level the last few seasons James Franklin's name has popped up as a potential candidate, and for good reason. Franklin took over a Vanderbilt program that didn't exactly have a history of success and in three seasons his Commodores have gone 23-15 and gone bowling every year. In its history Vanderbilt has only gone bowling six times.
And you have to think the Penn State job is one that would interest Franklin. He was born in Langhorne, Pennsylvania after all, and while he's been successful at Vanderbilt, Penn State is a step above Vandy. 
Greg Schiano, unemployed: Schiano was just fired by the Tampa Bay Buccaneers and getting the job at Penn State would be an awfully soft landing spot. The New Jersey native spent six seasons on the Penn State staff as an assistant from 1990-95.
And while his tenure in the NFL did not go well either on the field or off it, Schiano had a lot of success at Rutgers before that. Like James Franklin, he took a Rutgers program that wasn't accustomed to football success and went 68-67 over 11 seasons, including a 56-33 record in his final seven seasons. Schiano was the coach during six of the nine bowl games Rutgers has ever played, and an argument could be made that Rutgers isn't getting ready to join the Big Ten next season if not for Schiano.
Greg Roman, San Francisco 49ers: If your coach leaves for the NFL, why not go to the NFL for his replacement? Roman has been the offensive coordinator with the 49ers since 2011 when he came to the team along with Jim Harbaugh from Stanford. 
Roman also interviewed for the job before Penn State hired Bill O'Brien and was a finalist then. If he was interested in the job then you'd have to think he'd still be interested in it now. Like Schiano, Roman is a New Jersey native so he's more than familiar with the area of the country he'd need to recruit.
Jon Gruden, television: Is Jon Gruden going to take the Penn State job? No, of course not, but you can't have a job opening in college football without mentioning Jon Gruden. It's the law.
Florida's roster got a boost on Tuesday with the return of several key members of the prog...

Tom Hutton joins the ranks of former Aussie rules footballers joining the college football...

The freshman is already on Heisman lists after throwing the walk-off score in the national...
These seven teams should make the most noise down the homestretch towards signing day

Air Force was forced to cancel 11 athletic events because of the 69-hour government shutdo...

Olson has a lot of the tools offensive coordinators want in a quarterback