Why college football preseason polls don't and shouldn't matter
Beware, Florida State. Five of past six preseason No. 1s in coaches poll finished No. 8 or lower. No preseason No. 1 has ended No. 1 since USC in 2004.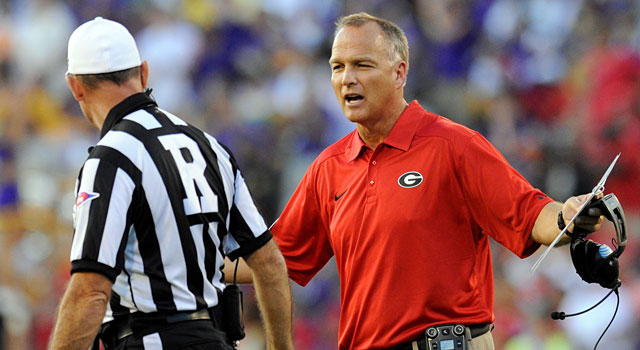 More college football: Dennis Dodd | Jeremy Fowler | Latest news
Welcome back to the silly season of preseason polls. These are the talk-friendly rankings that stir up interest in late July and August, generate online page views and debate on talk radio, and typically look meaningless in December.
The coaches poll was released Thursday. Beware, No. 1 Florida State. No preseason No. 1 in the coaches poll has finished No. 1 since Southern California in 2004. Five of the past six preseason No. 1s finished No. 8 or lower and with two or three losses.
Now, more than ever, the 2013 season should be a reminder of the value of preseason polls. Here's how last year's final top 5 teams were ranked in the preseason: Florida State (No. 12), Auburn (not ranked), Michigan State (not ranked), South Carolina (No. 7), Missouri (not ranked). 
In six of the past seven seasons, at least three preseason top-10 teams finished with four or more losses. Injuries, hype, complacency, team chemistry, poor coaching and plain bad luck can all cause a preseason top-10 team to crash and burn.
In the past, preseason polls could directly impact the final BCS standings.  The coaches poll rankings fed into the BCS rankings that were released later in the season. So how people viewed a team in the preseason -- before a single game had been played -- could help or hurt you in December. Voting habits changed in recent years allowing teams to be reshuffled depending on how the season plays out, yet it would still be an advantage to start high.
It remains to be seen if the preseason polls will or won't impact the playoff selection committee moving forward. Will the committee allow for the natural fluidity of surprising teams to emerge without preconceived notions based on tradition and past performances?
"Up until this year, I don't know if we did [have a shot]," Northwestern coach Pat Fitzgerald said. "I'm not sexy. We're not sexy, you know? Our fans don't click on websites enough, on dot-com sites. All that nonsense is gone."
Maybe. But in honor of that nonsense driving fan interest, here's one more poll: The worst preseason top-10 picks from the coaches poll since 2006:
   1. 2012 Arkansas: Preseason No. 10, finished 4-8
   2. 2013 Florida: Preseason No. 10, finished 4-8
   3. 2010 Texas: Preseason No. 4, finished 5-7
   4. 2012 USC: Preseason No. 3, finished 7-6
   5. 2011 Texas A&M: Preseason No. 9, finished 7-6
   6. 2008 Clemson: Preseason No. 9, finished 7-6
   7. 2006 Florida State: Preseason No. 10, finished 7-6
   8. 2013 Georgia: Preseason No. 5, finished 8-5
   9. 2010 Iowa: Preseason No. 10, finished 8-5
   10. 2013 Texas A&M: Preseason No. 6 (1 first-place vote), finished 9-4
Just think: It's only 18 days until the Associated Press preseason poll comes out.
Schiano would have made $4.4 million in Year 1 with annual raises as part of a six-year de...

Dykes spent this season as an offensive analyst at TCU

The "Wyoming Wild Man" notched six tackles for loss as a junior in 2017
Zaycoven Henderson was charged with aggravated assault with a deadly weapon

Patterson is a former No. 1 recruit in the country

Baker Mayfield and two Sooner teammates made the first team