Why neutral-site games help and hurt college football
It's a big week for neutral-site games in college football. Jon Solomon weighs the pros and cons of the events.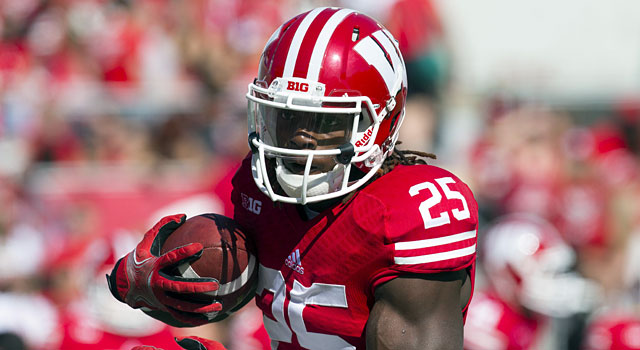 When the Chick-fil-A Kickoff debuted in 2008, Peach Bowl president Gary Stokan envisioned the game becoming "the Daytona 500 of college football." For too long, the sport gave fans easy-to-ignore Week 1 matchups, so Stokan wanted to jazz it up.
The Chick-fil-A Kickoff, which features this week a doubleheader of Boise State-Ole Miss and Alabama-West Virginia, kicked off a trend. Also this week, Florida State plays Oklahoma State in the sixth Cowboys Classic, and LSU meets Wisconsin at the second Texas Kickoff Classic.
This may just be the beginning. Stokan envisions a future with many bowl cities staging a kickoff game and teams wanting to participate due to the strength of schedule factor for reaching the College Football Playoff.
2014 Neutral-Site Games
Matchup
Location
Boise State vs. Ole Miss
Atlanta
Colorado vs. Colorado State
Denver
Navy vs. Ohio State
Baltimore
Alabama vs. West Virginia
Atlanta
Florida State vs. Oklahoma State
Arlington, Texas
LSU vs. Wisconsin
Houston
Washington State vs. Rutgers
Seattle
Penn State vs. UCF
Dublin, Ireland
Oregon vs. Cal
Santa Clara, Calif.
Texas vs. UCLA
Arlington, Texas
Arkansas vs. Texas A&M
Arlington, Texas
Notre Dame vs. Syracuse
East Rutherford, N.J.
Oklahoma vs. Texas
Dallas
Notre Dame vs. Purdue
Indianapolis
Florida vs. Georgia
Jacksonville, Fla.
Navy vs. Notre Dame
Landover, Md.
Army vs. Connecticut
New York
Baylor vs. Texas Tech
Arlington, Texas
Army vs. Navy
Baltimore
"Kickoff games are the future for bowl cities, and to me, the future of home-and-home games is neutral-neutral," Stokan said. "If I was an AD, I would play my seven home games a year, make my budget and schedule neutral-neutral each year -- maybe this year Atlanta, next year Orlando. (Schools will say) I recruit in both and I can make money in both, whereas if I schedule a home-and-home, I make money in one game."
The future of neutral-site games is not entirely that simple. But there's already evidence of what Stokan's model may look like, even as many schools fight attendance declines --particularly among students -- that could be helped by playing more attractive games on campuses.
LSU and Wisconsin play this year at Houston's Reliant Stadium (LSU recruiting territory). They play the return game in 2016 at Green Bay's Lambeau Field (Wisconsin recruiting territory).
"As we went forward, it was very obvious that if we were going to play these games, they were going to get played on a neutral field," Wisconsin coach Gary Andersen said. "I'd love to play it in Camp Randall. Going to Death Valley would be a great experience."
In addition to Atlanta, Houston and Arlington, Texas, numerous bowl cities are exploring more neutral-site opportunities, including Jacksonville, Orlando, Nashville and Charlotte. Virginia Tech and Tennessee will play a football game at Bristol Motor Speedway in 2016.
"I think you'll see a lot more of these one-off games happening," said Rick Catlett, president of the Gator Bowl Association. "The biggest issue is with the networks. It's easy for ESPN to control the kickoff games. But other regular-season games are a totally different story. We had to work very hard for that Alabama-Florida State game (in Jacksonville in 2007) to get one of the conferences to give up television rights."
The media rights of neutral-site games belong to the conferences. But which one when there's a non conference neutral-site game?
"That gets worked out by the conferences as they have discussions," SEC executive associate commissioner Mark Womack said. "I sense there's an interest of exploring more of these opportunities from bowl cities. They have their challenges. They have to raise the dollars to make it worthwhile for the institutions to give up a home game for the neutral site team. Then there's the television issues."
That point was emphasized last year in a league-wide memo Big Ten commissioner Jim Delany issued after the Wisconsin-LSU series was finalized in 2013. According to the Cedar Rapids Gazette, Delany's letter said the Big Ten supported neutral sites as long as at least half of the series occur in Big Ten territory and under the league's television agreements. Any arrangement would be "disapproved" if a Big Ten team was not the home team in at least half of the games or if it was a one-game event outside the league's TV umbrella.
"We're in some conversations now," Ohio State coach Urban Meyer said about neutral-site games. "I was a little leery. I think that's kind of the wave now."
Alabama is the poster child
Neutral-site games allow a team to annually play seven home games, plus get a sizable neutral-site payout without losing that money another year as part of a home-and-home series.
Some schools can make as much, if not more, off a neutral-site game as they can off one home game. At the right price, two neutral-site games can be far more valuable than a home-and-home series with one big gate at home and a small appearance fee on the road.
Alabama is the poster child of this approach. The Crimson Tide has played a neutral-site game in six of eight seasons under coach Nick Saban. The only exceptions were a home-and-home series with Penn State in 2010 and 2011.
Alabama gets a $3.2 million payout for playing West Virginia in Atlanta this week, a $4 million payout for facing Wisconsin in Arlington in 2015, and a yet-to-be disclosed amount for playing USC in Arlington in 2016. Those payouts allow Alabama to give up a home game before 100,000-plus fans.
But the price for this approach is fewer attractive games on campus for season-ticket holders and higher travel costs for fans. Also, that's one less payday spent on local merchants in the college town.
Given its rabid fan base and recent championship success, Alabama can probably afford to go this route. Nonetheless, these are Alabama's underwhelming nonconference opponents in Tuscaloosa since the first Chick-fil-A Kickoff in 2008: Two games each with Chattanooga, Western Kentucky, North Texas, Georgia State, Florida Atlantic and Western Carolina; one game each with Penn State, Tulane, Arkansas State, Florida International, San Jose State, Kent State, Georgia Southern, Colorado State and Southern Mississippi.
Chick-fil-A Kickoff Budget
What do the finances look like for an event that stages a neutral-site game? This was a portion of the Chick-fil-A Kickoff's proposed budget for the Alabama vs. West Virginia game, according to 2012 contracts with the teams.
Revenues
Category
Money
Game tickets sold by teams
$7,200,900
Title sponsorships
$510,457
TV spot revenue
$60,000
Non title net sponsorship revenue
$50,000
Parking (775 spots, $20 each)
$15,500
Game program revenue
$15,000
Merchandise % owed to Georgia Dome
$12,000
Merchandise guarantee
$10,000
Handling fees
$7,000
Expenses
Category
Money
Team payouts
$6,330,560
Sales tax (8% of game ticket sales)
$533,400
Administration
$300,000
Bowl commission (25% title/20% other)
$149,614
Georgia Dome stadium rental
$145,000
Georgia Dome staffing
$130,000
Scholarship donations to teams
$100,000
Comp ticket expense
$84,500
Comp hotel rooms to teams
$40,000
Game officials/stats crew
$27,000
Game insurance
$22,000
"You ever try to schedule a game?" Saban said. "Do you know what goes into that? And it's very difficult to do home and home with quality teams. … To be honest with you, you almost have to buy games to get people to play you. Outside of the neutral-site game we do and our conference games, we struggle to schedule three other games."
To get at least a $3.2 million payout from this year's Chick-fil-A Kickoff, Alabama must sell 31,000 tickets at prices ranging from $80 to $200 for adults. (West Virginia has the same payout but must only sell 25,000 tickets.) A ticket to the Alabama-Wisconsin game next year will range from $125 to $300.
Stokan portrays neutral-site games as a win for fans because they're getting high-quality matchups they likely wouldn't get on campus. "Obviously it's not part of your season tickets," he said. "But if you want to go on the road and see a ranked opponent play, at least you get access to tickets."
In 2017, Michigan will receive a $6 million guarantee for playing Florida in the Cowboys Classic, according to mlive.com. The amount could increase if Florida's financial guarantee is more than Michigan's. The Big Ten is considering more neutral-site games in New York and Washington.
At the Gator Bowl Association, Catlett used to think a neutral-site game in Jacksonville could only succeed with Florida or Florida State. Now he believes almost any SEC-ACC matchup still works."A Tennessee or South Carolina or even an Auburn would work really good in our wheelhouse," Catlett said.
Raising the payout money can be a challenge, but city tourism dollars can provide bowls help for neutral-site games, Catlett said. For a bowl, selling another game can add leverage for bowl tickets.
"It puts your premium seats in high demand because there are multiple events they can go to," said Catlett, who has seen club seats at the Gator Bowl increase from $90 to $125 in six years while still selling them all. "You can drive the price, which means more revenue."
Conference vs. conference schedules?
In a way, the neutral-site trend is simply recycling an old idea with modern twists. The New Jersey Meadowlands staged the Kickoff Classic as a preseason game for 20 years.
Teams needed an exemption to play in the Kickoff Classic as a 12th game. At one point, seven preseason games existed at once before the NCAA killed the last one in 2004, around the time everyone added a 12th regular-season game. That quickly put the Kickoff Classic out of business.
Although 14 of the 20 Kickoff Classic games featured two preseason top-25 teams, the games tended to be routs with an average victory margin of 18 points. So far, seven Chick-fil-A Kickoff games have been decided by an average of 14.3 points, five Cowboys Classic games by 12 points, and one Texas Kickoff Classic by 18 points.
"Great ideas are never lonely," said Houston Texas president Jamey Rootes, who organizes the Texas Kickoff Classic. "It was successful in Atlanta and we plan on it being an annual tradition to open and close with the Kickoff Classic and the AdvoCare Texas Bowl. At some point you probably do reach a point of saturation on that opening weekend. I'm not sure whether we're there or not."
Stokan's theory is kickoff games will eventually pop up throughout the country.
"I could see Kansas City, Orlando, Charlotte, the Rose Bowl -- every bowl city to me has a potential for a kickoff game," Stokan said. "I think there are cities like Indianapolis that doesn't have a bowl game that could easily do a Kentucky-Indiana kickoff game, or any of those Midwest teams. What we learned from the bowl business is being regional is the key to the kickoff game."
Attractive home-and-home games won't necessarily disappear. The most pivotal nonconference game in 2014 may be on a campus: Michigan State at Oregon on Sept. 6.
Michigan and Oklahoma recently announced a home-and-home series for 2025 and 2026. LSU has a pair of future series with UCLA and Arizona State. Washington has future series with Michigan and BYU.
Due to the College Football Playoff, Stokan thinks scheduling could eventually resemble the NFL, especially as the Power 5 conferences gain control over certain NCAA legislation and if college football adds a competition committee that it's considering.
"I could see a time, maybe five years down the road, when schools are playing against each other's conferences," Stokan said. "So the ACC East will play the SEC West and Big 12 East plays Pac-12 West, or something like that. That's an interesting part of scheduling that I could see to improve season-ticket packages or offer differentiation points for the College Football Playoff."
Until then, the Daytona 500 of college football has company in Week 1.
CBS Sports HQ Daily Newsletter
Get the best highlights and stories - yeah, just the good stuff handpicked by our team to start your day.
Please check the opt-in box to acknowledge that you would like to subscribe.
Thanks for signing up!
Keep an eye on your inbox for the latest sports news.
Sorry!
There was an error processing your subscription.
The end zones inside Michigan Stadium will have a new, distinct look

Fotu Leiato was found at the scene of a crash near Oregon's Autzen Stadium

A sticky situation arises when one goes after a job but ultimately does not get it
UCF was No. 2 on last year's list, but where does it rank this year

It's the second offseason incident for the junior receiver

Kendall Hinton threw for 399 yards and four touchdowns in 2017