Why not? Baylor RB Seastrunk (of Oregon infamy) says Heisman is his
Dodd: His infamy at Oregon behind him, Baylor's Lache Seastrunk figures it's time to claim his Heisman. And considering RG3's success in the Bears' offense, and Johnny Manziel's meteoric rise, why not?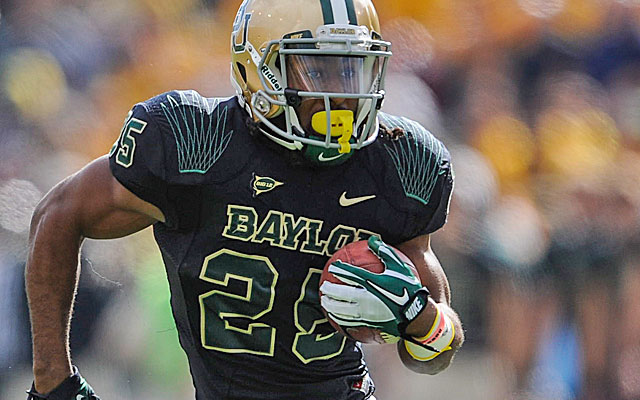 Before Scott Drew's recruiting and RG3's legs, Baylor was pretty much a place where folks kept to themselves. In general, the Baptist flagship was not a place that encouraged individuality.
If a Bear anywhere considers those conclusions off-putting, they haven't met Lache Seastrunk. Being that he is spouting his stuff in a college town of conservative leanings is, well, refreshing. Drew and RG3 expressed their flamboyance in different ways. In the industry, Drew is the loved/hated men's hoops coach who has pulled monster recruits as much as he has alienated detractors. Robert Griffin III achieved the impossible, bringing relevance, respect and a Heisman to Waco.
But RG3 was measured, even, not like this. Not like Seastrunk.
"I'm not going to never cower down because of what I said," he said. "I'm going to be honest about what I say."
If everything goes right, and dreams come true, Seastrunk is about to make the serene Waco campus into a college football red carpet.
"Why not?" Baylor's junior tailback said half a dozen times during a 20-minute interview.
As in, why can't a once-significant figure in a major NCAA investigation clear his name? Why can't a fallen prep star at Oregon find happiness back home in Texas? Why can't a junior who has started six career games win the Heisman? (Prompting the obvious retort: Johnny Hancock  had all of zero career starts going into 2012.)
Still ...
"Why not?" Seastrunk asked again.
That's how he answers a question with a question regarding a statement made to the Sporting News eight months ago.
"I'm going to win the Heisman. I'm going to win it in 2013. If I don't, I'm going to get very close. I'm shooting for that goal. I will gladly say it."
Seastrunk finished ... well, he didn't finish anywhere in the Heisman race last season. Considering the just-concluded Oregon case, perhaps he's lucky to finish anywhere at all. Actually, it was Oregon's relationship to third-party handler Will Lyles that was the issue. But a lot of mud that was slung got on the kid when Oregon paid $25,000 for a very dubious "recruiting guide."
Especially when Lyles told Yahoo! that Oregon got paid "for what they saw as my access" to Seastrunk. (The NCAA eventually dinged Oregon with minor penalties.)
I asked Seastrunk directly: The perception is that Oregon paid $25,000 to get closer to you through Will Lyles.
"I'll be real blunt," Seastrunk said. "[Lyles] didn't steer me anywhere. Honestly, I was going to the University of Southern California, open and shut case. I liked the way Pete Carroll ran his program. Second choice was Auburn. [Lyles] didn't pick no schools for me. I picked the schools I wanted to pick.
"To be truthful, I didn't see none of that money. I didn't get none of it. If that's the case my grandmother would have a liver right now."
More credit for that candor. A big reason for Seastrunk transferring to Baylor was because of his grandmother's cancer. She's better now, he says.
In terms of the Heisman, Seastrunk has achieved his breakout season. He has teased us with his talent -- rushing for 1,012 yards in 2012 -- while making linebackers miss spectacularly and setting school records by finishing with a flourish (831 yards over his final six games).
What he didn't achieve was playing time at Oregon. When Heisman talk bubbled up from the talkative Temple, Texas prospect, former Ducks coach Chip Kelly (per ESPN Magazine) told him: "You're trying to win the Heisman. You need to try to figure out how to get on the field."
"When I went to Oregon, they just really weren't patient enough with me," Seastrunk admitted at Big 12 media days. "Honestly, I felt like I wasn't good enough."
So, he was asked, which was it: Oregon not patient enough or you not good enough?
"People always bring up Oregon, like, 'Why did you leave?'" Seastrunk said. "That year my grandmother was sick, but once you think about it, they felt like I wasn't good enough. So I wasn't good enough."
And so the kid who claims he's going to win the Heisman has a sense of perspective. There are going to be plenty of opportunities to win the Stiff Arm, maybe. Seastrunk was the Big 12's preseason offensive player of the year. Four of the past five Big 12 offensive players of the year have been Heisman finalists. Sam Bradford (2008) and RG3 (20111) won it.
Baylor was second in conference scoring (edged by Oklahoma) while leading the Big 12 in total offense and plays run (82.4 per game). At the same time, coach Art Briles is going to have to find touches for fellow tailback Glasco Martin -- the "Thunder" part of Baylor's Thunder and Lightning backfield combo.
"Glasgo's going to run over you. He's the person they should fear," Seastrunk said. "I'm the person with the lightning bolt coming through every now and then."
Being Briles' quarterback, new starter Bryce Petty is going to get his. The past two Baylor starters (Nick Florence and RG3) have finished no lower than 13th in pass efficiency while averaging 4,300 passing yards.
"A reasonable expectation, first thing that popped into my mind is [for Bryce to] break every Baylor record there is offensively," Briles said.
Meanwhile, Seastrunk made lazy bums of us all -- the media. We love guarantees. God, do we love them. Joe Namath created a heck of an industry for us when he guaranteed that Super Bowl 34 years ago. Shove a notebook or microphone in front of a willing athlete and he offers you that promise, your day is made. It's too easy for us. Guarantees guarantee headlines, program entire blocks of radio air time.
Never mind the layers, the detail, the nuance. Seastrunk is insightful enough to know that the conference is wide open. Baylor received first-place votes in the preseason media poll. The Bears are a team built for the Big 12, able to outscore everyone. And they're hot, having won four in a row and five of their past six.
Since RG3 broke the Heisman seal, there reason to believe a player from a Baptist flagship can win the Heisman. Again.
"Why do we have to take a backseat to someone else?" Seastrunk said. "Why can't we get what we deserve? There is a reason why all this is happening.
"Coach Briles always told me [to] censor what I say sometimes, but also speak from the heart."
In other words ...
"Why not?"
Temple knocked off USF last year to claim the division title

Guice is dealing with a 'minor injury' which has not been specified by coach Ed Orgeron

These are the best bets to make in Week 4 including Florida-Kentucky and Oklahoma State-TC...
Two players died as a result of playing college football on Saturday

Gary Danielson previews this week's SEC on CBS Game of the Week from Nashville

Gary Danielson and 247Sports' Rusty Mansell join for an SEC-flavored episode