Why Penn State's complicated future still begins with Joe Paterno
The complicated future of Penn State -- both on and of the field -- is largely in the hands of coach James Franklin but still tied to the past and Joe Paterno.
STATE COLLEGE, Penn. -- The topic was the impact of NCAA penalties on Penn State's football program in the wake of the Jerry Sandusky child-molestation scandal. Penn State coach James Franklin got up several times during a mid-April interview in his office to review a chart on his desk so he could provide accurate data of what he called "out of whack" scholarship numbers.
Once at 65-75 scholarships, Penn State will be close to 85 in 2016. But Franklin's chart on his desk projects only 10 seniors in the program this year instead of the 20-25 he desires. The chart shows just 15 juniors, some of whom Franklin said normally would have benefitted by a redshirt year if not for the numbers crunch.
When Franklin was hired in 2014, he said Penn State administrators warned him that his third and fourth years would be the most difficult. The NCAA had imposed on Penn State a $60 million fine, a four-year ban from bowl games, the removal of past victories and a reduction in scholarships -- penalties that have since mostly gotten rolled back.
Still, that third year is now here for Franklin, who is trying to buy time while Penn State attempts to create a new future against the backdrop of a program still struggling with how it handles the memory of Joe Paterno. Penn State athletic director Sandy Barbour also cites the scholarship losses as a reason for patience, saying the 2016 season is less about wins and losses and more about how the team competes and plays.
"We kind of look at this as year one," Franklin said. "This is the first year we don't have [ineligibility for] bowl games hanging over our head. This is the first year of having the full amount of scholarships. This is really year one in a lot of ways for us."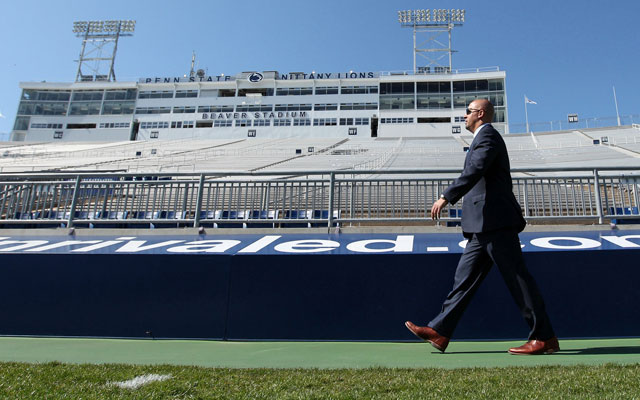 Some fans are growing restless. Penn State has three new assistants -- including both coordinators -- after two coaches made lateral moves for other jobs. The Big Ten East, where Penn State plays, only got harder when Jim Harbaugh joined Urban Meyer and Mark Dantonio in the division.
But mostly, there's this: Paterno still looms over Penn State. Just last week, allegations emerged publicly from two men who claimed they were sexually abused by Sandusky and reported their abuse to Paterno in the 1970s.
If true, the latest allegations would show Paterno knew of his longtime assistant's crimes well before a 1998 police report and a 2001 report by another assistant coach. In a statement Sunday, Penn State president Eric Barron said he was "appalled" by the "rush to judgment" accompanied by media stories surrounding the allegations.
Allegations that one unnamed man described to CNN from 1971 were horrific, particularly his claim that Paterno and another Penn State official accused him of lying when the man said Sandusky raped him. "Stop this right now! We'll call the authorities," the man said Paterno and another official told him. "I just wanted to get off the phone."
Trauma that Sandusky's victims experienced and still live with daily cannot compare to a university or football program trying to rebuild. They're not even in the same equation.
Still, what's unmistakable is the division that remains at Penn State, as evidenced by what transpired in the past week and through interviews conducted for this story prior to the latest developments.
Five years isn't long enough to heal fresh wounds. Criminal trials and lawsuits are still pending, including one civil suit by Paterno's family aided by several university board members that seeks to exonerate the legendary coach.
"I think the biggest mistake the university made was to immediately distance itself from Joe Paterno," said Anthony Lubrano, a Penn State board member involved in a lawsuit against the NCAA. "It so angered the Penn State community that, in the absence of coming to an agreement with the Paternos, this university will remain split.
"It has not healed, and it manifests itself at Beaver Stadium every Saturday when there aren't 107,000 people. There were a couple games it was probably 80,000 people. It's that an important issue to the Penn State community. Joe Paterno represented that much to the Penn State community that the fact they distanced themselves from him is just wrong."
(Lubrano described one new allegation that Paterno knew in 1976 that Sandusky molested boys as "uncorroborated and baseless," and he called on Penn State to release the "full context" of the claim. The victim's deposition was sealed by a judge.)
History is still writing the final chapters of who knew what and when about Sandusky, even though we'll likely never know everything and most people's opinions are firmly entrenched. It's hard not to wonder if Penn State will need several decades before truly becoming united again.
"I don't think so, because I see it happen little by little every day," Barbour said. "I will say this: I don't know of any other college community that could have gone through what Penn State went through and not just been absolutely crushed."
Franklin tries to distance himself from the fallout of Paterno's legacy. There is only so much a new coach can do other than win games and focus on his current and future players. He has more pressing issues that he can directly impact on a daily basis than criminal trials, lawsuits and what Paterno did or didn't know. Yet at the same time, the Paterno divide impacts the big picture of his football program.
"It's going to take time," Franklin said. "There's still hurt feelings. We've been fractured, and for so long I think what made Penn State so special is we were a family, a community, and everybody was pulling the rope in the same direction. We need to get back to that."
It's a program trying to churn forward. It's building up scholarship depth again. It's evolving to new coordinators in year three. It's promoting a humble star in running back Saquon Barkley. It's beginning to plan a major renovation to Beaver Stadium.
And yet, the past is too fresh to become history yet. The past won't become the past soon enough, not for Sandusky's victims and not for Penn State.
NCAA penalties didn't crush Penn State
Penn State didn't fall off the map in college football. That may sound trite, but it's no small achievement given the NCAA penalties and the nature of the Sandusky scandal.
Franklin has a 14-12 record in two years. The coach he succeeded, Bill O'Brien, was 15-9 in two years before leaving for the NFL while blasting the Paterno crowd on his way out. In reality, not many more wins could have been expected at Penn State since 2012 given the turmoil.
"If someone would have told you four years earlier that you'd be going to two bowl games, people would be ecstatic," Franklin said. "To me, that is a perfect example of how special this place is because I don't know if there are too many programs -- maybe you can count them on two hands -- that could have sustained and battled through what we've battled through."
When Franklin took over, he inherited only one scholarship offensive tackle in the sophomore, junior and senior classes combined. There were only nine scholarship offensive linemen in the program, about half of what a major college team wants.
Offensive line has been the most discussed position in recent years and not for good reasons. Quarterback Christian Hackenberg, once discussed as a potential No. 1 overall NFL draft pick, became a sitting duck; he lost confidence as he kept getting hit and wound up a second-round pick this spring.
Penn State allowed 39 sacks in 2015 (tied for 113th nationally) and 44 in 2014 (tied for 124th). The Nittany Lions gave up nearly as many sacks in the past two years as they did combined from 2009-13. Converted defensive linemen, fringe scholarship players and junior college transfers didn't fix the issues.
"It's hard to solve the offensive line issue quickly, because if you're where you should be as a program, those guys shouldn't play until they're redshirt sophomores unless you have a special guy," Franklin said.
Last November, Penn State fired offensive coordinator John Donovan, who is now an offensive quality control coach for the Jacksonville Jaguars. Offensive line coach Herb Hand left for the same job at Auburn. Highly-regarded defensive coordinator Bob Shoop took the same position at Tennessee.
How rare had change been at Penn State? In Paterno's final season, five of the coaches (including Paterno) had not worked at any school except Penn State. Still, losing three assistants heading into Franklin's third year hardly seems ideal.
"In some ways, yes; in some ways, no," Franklin said. "It depends who you hire. I like who we got. I think we haven't had turnover and that magnifies it and Penn State isn't used to turnover. They're used to staff staying here a long time. But yeah, that was a challenge, especially the timing of it (near National Signing Day)."
There was also anxiousness from the fan base this offseason because some players (mostly graduate transfers) left and some recruits decommitted. Barbour said the amount of money thrown at assistant coaches and the desire for players to get more playing time can mostly explain those departures.
"I love the way our decommits get talked about, and yet, you look at some of our Big Ten brethren and they had as many decommits as we did," Barbour said. "It all bears monitoring. I don't take any of that casually. You look at it all and make sure you kind of understand what some of the underlying issues may be."
Brent Pry, who worked closely under Shoop, became Penn State's new defensive coordinator. That could provide a smooth transition on defense for the Nittany Lions, which ranked in the top 15 nationally in yards per play during each of the past two seasons. Still, the defense is in rebuilding mode at the same time the offense breaks in a new scheme and quarterback.
New Penn State offensive coordinator Joe Moorhead, who was head coach at his alma mater Fordham, will likely start Trace McSorley at quarterback. "You could tell that he has a familiarity with the concepts we run," Moorhead said.
Moorhead's offense uses varying degrees of tempo and run-pass options. The idea is to momentarily freeze defenders when making decisions, something that could limit pressure on the offensive line.
"When I met with the (offensive linemen) individually, a recurring theme is we're going to ignore the past and create a future," Moorhead said. "I wasn't concerned with what they did in the past and public perception. I believe our offense allows offensive linemen to play fast, to play with physicality and to play with confidence because it limits the looks you see. I've seen incremental gains."
Penn State's reduction in scholarships created hidden issues beyond the offensive line, according to Franklin, who ran down a list of challenges from the past two seasons.
It's the second-team cornerback not getting tested properly in practice because the offensive line can't pass protect. It's the wear and tear on starters needed to log more snaps. It's the handful of players who needed, but did not have, someone pushing them in practice for their job.
Franklin came to Penn State with a reputation as a recruiter. His first three classes have been ranked 15th, 18th, and 20th nationally in the 247Sports Composite. Penn State was rated 31st, 36th and 46th in the three years before Franklin.
"I probably have to answer questions to recruits that no other coach in the country [has] to answer," Franklin said. "Every program in the country deals with negative recruiting. We're dealing with negative recruiting probably about things that I would characterize as crossing the line."
Such as what exactly?
Franklin wouldn't specifically elaborate except to say Penn State deals with "subjects and conversations" that no other coach faces. It was hard not to think he was referencing Sandusky's past abuse of boys in the Lasch Football Building, which has been renovated since the scandal.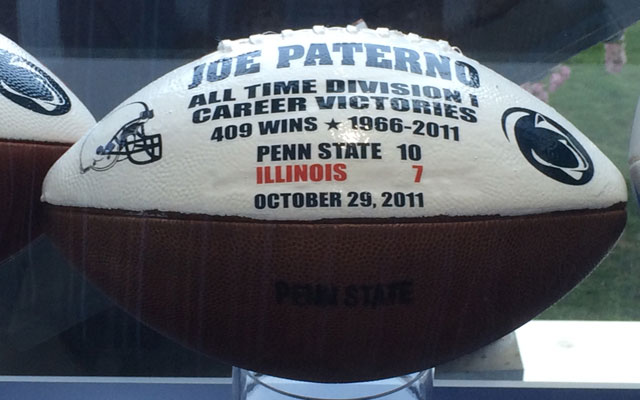 The fight for Paterno's legacy
Even as Penn State tries to move forward, the past won't go away. Former Penn State president Graham Spanier, former vice president Gary Schultz and former athletic director Tim Curley await trials for their alleged role in covering up Sandusky's crimes.
Some of the charges against the men were thrown out by a judge in January; prosecutors elected not to challenge that decision. The men are still charged with endangering the welfare of children and failing to report suspected child abuse allegations against Sandusky, who is serving 30-60 years in prison. Curley also still faces a perjury count.
Citing a university audit, the Associated Press reported in November that Penn State has so far paid out nearly $93 million in settlements to 32 claims of sexual abuse by Sandusky. That's about $8 million more than the Roman Catholic Archdiocese of Boston paid to settle about 550 lawsuits by people who said they were sexually abused by priests.
A court case over who must pay some of those settlements -- Penn State or its insurance company -- brought to light one of the latest Paterno allegations. In a court order, the judge referenced a man's claim that he told Paterno in 1976 that Sandusky abused him. The man's deposition is under seal. The judge rejected Penn State's argument that its insurer should cover nearly all of the settlement payments, meaning the university may not be able to recover millions of dollars it already paid out.
Initially, Penn State put out a statement last week that said the university doesn't "speculate publicly or hypothesize about individual allegations. These are sensitive matters, and we want to be respectful of the rights of all individuals involved. It would be inappropriate to do otherwise."
Then Barron, Penn State's president, cast doubts about the latest allegations in a letter Sunday to the university community. Barron said Penn State cannot find evidence that an alleged "early assault" was communicated to Paterno, noting "this raises considerable credibility issues as to this press report."
"But I have had enough of the continued trial of the institution in various media," Barron wrote. "We have all had enough. And while Penn State cannot always comment on allegations that emanate from legal proceedings, I thought it was important to let you know my reaction to the media frenzy that has ensued over the past few days. I am appalled."
However, a Penn State spokesman confirmed to the Associated Press that the earliest year of alleged abuse covered in Penn State's settlements is 1971. That's the first confirmation of how far back the Sandusky abuse claims go -- 40 years before his arrest. Penn State has not explained what steps it took to verify allegations during the settlement process.
The Paterno family continues to fight for Joe Paterno's legacy. Sue Paterno said in a statement the family has no knowledge of new claims related to her husband. She called for an end to what she described as "this endless process of character assassination by accusation."
The family is part of a lawsuit against the NCAA over the association's use of former FBI director Louis Freeh's investigative report in the consent decree for penalties, most of which were later repealed or ended early. Freeh concluded that Paterno, Spanier, Schultz and Curley "failed to protect against a child sexual predator harming children for over a decade."
Lubrano and six other Penn State trustees successfully sued the university to obtain private documents Freeh used in his investigation. Lawyers for those trustees have been reviewing the records for a couple months.
"I expect Paterno v. NCAA will result in a significant monetary settlement or monetary damage," Lubrano said. "But I also expect that it will result in something far greater for all of us. I'll tell you -- being with Joe right before he died -- Joe's only concern was to learn the truth."
Shortly before he was fired in 2011, Paterno said in a statement about the scandal, "It is one of the great sorrows of my life. With the benefit of hindsight, I wish I had done more."
In a 2012 interview with The Washington Post's Sally Jenkins one week before he died, Paterno insisted that he "never heard of rape and a man." He tried to explain how he handled a 2001 incident involving Sandusky that a Penn State assistant witnessed and told Paterno about.
"I didn't know exactly how to handle it, and I was afraid to do something that might jeopardize what the university procedure was," Paterno said. "So I backed away and turned it over to some other people, people I thought would have a little more expertise than I did. It didn't work out that way."
In the immediate aftermath of the Freeh report, the NCAA quickly handed down penalties against Penn State. A statue of Paterno outside Beaver Stadium came down -- a symbol that some supporters of Paterno have pushed for to go back up.
"Here's a whole group of people that say, 'It's time, it should never have been taken down,'" Barron told PennLive.com in 2015. "Here's a whole group of people that say when you do it, make sure we can really celebrate. I want it to be done right. I want it to be clear to everybody, OK? And you've got a group of people that say never, OK, because of what they know. So I would tell you this isn't the perfect time."
Lubrano, who wants to honor Paterno, said doing so remains "complicated" given the pending litigation.
"The moment that the issue of Paterno is resolved, you'll see the community come together like you've never seen before," Lubrano said. "But until that happens, I think people are going to be divided."
Penn State plans to renovate football stadium
In a way, Penn State appears to be gradually planning for that desired day of reconciliation. The athletic department is creating a master plan for major renovations of several facilities, including Beaver Stadium.
Football attendance has gone down for Penn State, whose stadium seats seat around 107,000 fans. The Nittany Lions averaged 100,000 only once in the past four seasons; from 2006-10, they never averaged fewer than 104,234 in a year.
It's very possible the size of Beaver Stadium will be reduced depending on the design, Barbour said. Potential new suites would take away some existing space and widening the seats, as many fans suggest, would also cut into the size "and probably not at a one to one ratio."
In that sense, Penn State is no different than many universities fighting to get fans into the stands and out of their homes where they watch games on TV. With a few exceptions, the trend in recent years has been to reduce stadium sizes to add more lucrative premium seats and improve the fan experience.
"We know it's not going to come cheap, but it's hard to say how much until we know what renovations will look like," Barbour said. "If we finish the master plan by the end of the summer and if we were to start design almost immediately, I think it would be at least after the 2017 season when we would start. That might even be pretty aggressive. We still have to figure out how to finance it."
Penn State generated $125.7 million in athletic revenue during 2014-15, ranking 10th nationally, according to USA Today. Athletic donations rose from $24.2 million in 2014 to $27.7 million in 2015.
Still, there's nothing easy about a major campaign to renovate a stadium. When asked if the Paterno divide among supporters has impacted fundraising in general, Barbour replied: "There's no doubt there are some who are unhappy as to how things have been handled. I get asked all the time, 'When's the university going to honor Coach Paterno?' I think there are some who are either waiting for that moment, or given their feelings of what's happened, have decided that moment has come and gone for them. But for the most part, it's a really, really passionate community that's focused on today's students."
What does Barbour tell those donors who want Paterno to be honored? "There will come a proper time to honor Coach Paterno," she said in mid-April, "because what he did for this university was pretty incredible and his imprint is here every day regardless of what kind of label we put on this."
Of course, if the campaign started now, Penn State would be asking fans for more money while coming off three straight seven-win seasons. Those results suggest survival mode given the NCAA sanctions, but seven-win seasons are not an easy sell at Penn State.
Franklin's "year one" public campaign for 2016 may not be viewed similarly by some fans, who are growing impatient. Franklin arrived with slogans like "Unrivaled" and "Dominate the State," but Penn State has never been that type of flamboyant school. Franklin seems to have toned down his style lately.
"The fans here don't need to be sold the product; they are already willing buyers," PennLive.com columnist David Jones wrote in January. "They only need to be shown quality. Not necessarily flashy features, just durability and integrity of design. … No, all they want is the steak. And they are spoiled rotten because they've had great steak for decades."
Given what Franklin inherited, a case can be made he deserves time to see how his recruiting plays out. But in big-time college sports, that doesn't always happen if a coach and fan base aren't on the same page. Franklin was the eighth highest-paid college football coach in the country last season at $4.4 million, according to USA Today's coaching salary database.
"I think surprisingly for every one negative message you get, there's nine positive," Franklin said. "I think people that have been in this community, people that have supported Penn State a long time, people that understand football, have really been good. But as you know, the people that are frustrated and the people that are upset are the loudest. That's how it always is."
Barbour said that because of the way the NCAA penalties were announced, applied and removed all within two years, it's easy to forget how long the scholarship reductions will linger.
"I think that's our challenge: How quickly can we get back up to speed competitively?" she said. "And I'll be honest: I think we're doing it as quickly as anybody could have expected. I mean, two years under Bill O'Brien and two years under James Franklin and we haven't had a losing season. That's not the standard at Penn State. Before the Penn State nation comes down on my head, that's not where the goal is for us to be. But we can't forget how we were handicapped."
Around the Penn State campus, Paterno's impact can still be found. His career accomplishments are highlighted inside a Penn State sports museum, which includes a giant Wheaties box of Paterno prominently displayed in one room. There are books for sale in the museum store about Paterno's life. The Paterno Library on campus still bears the coach's name.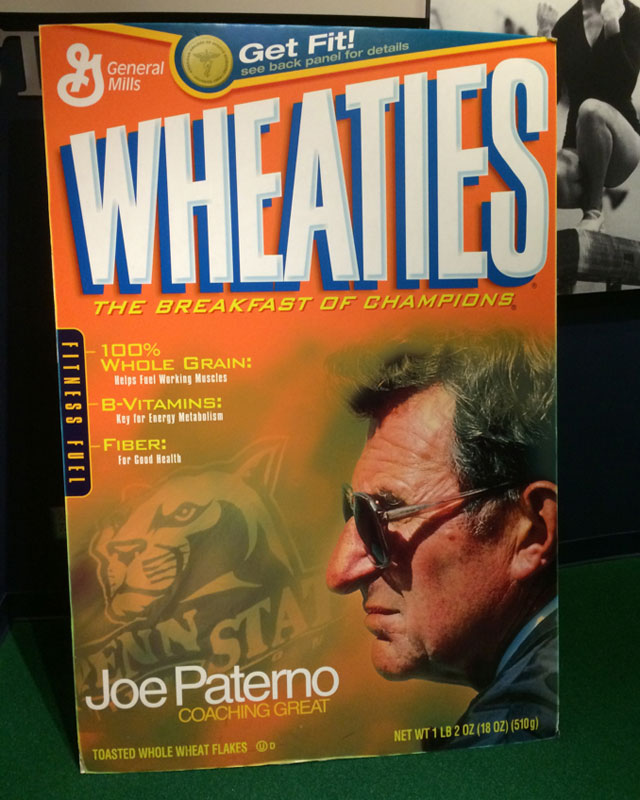 Yet the statue of Paterno became a perverse symbol of the Penn State scandal, as if the only labels for this football coach are saint or sinner. Paterno was a human being, not a god. Because of how horrific Sandusky's crimes were and given that new information keeps coming to light, the debate goes on about who a dead man really was.
Lives got torn apart because of Sandusky's abuse and the inability by anyone in power -- police, university leaders, Paterno -- to put a stop to it. That conclusion drawn by many people seems unlikely to change even as history writes the final chapters.
For Penn State's current football program, there is no playbook on how to move forward, only a new Grand Experiment.
How long does it take to become whole again after being divided over the memory of a man who, for better or worse over 40 years, defined Penn State?
Follow and read more from Jon Solomon on Facebook and Twitter.
CBS Sports HQ Daily Newsletter
Get the best highlights and stories - yeah, just the good stuff handpicked by our team to start your day.
Please check the opt-in box to acknowledge that you would like to subscribe.
Thanks for signing up!
Keep an eye on your inbox for the latest sports news.
Sorry!
There was an error processing your subscription.
Clemson arrives at the ACC's Football Kickoff as heavy favorites to win the league

Horns Down has been a thing for a long time, but now it's under more scrutiny than ever

UConn's jump to the Big East this offseason leaves the AAC with 11 conference members
The Knights have owned the AAC for the last two seasons

A complete rundown of this year's SEC Media Days participants from each program

Franks turned around his career in 2018, but can he turn around Florida in 2019?