Why the Big 12 is happy with 10 amid the latest round of realignment
Expansion possibilities might hinge on SEC gentleman's agreement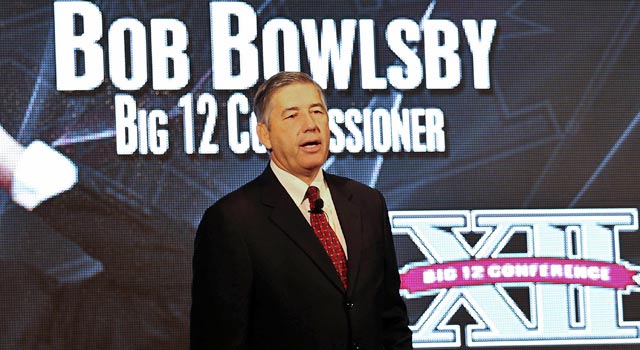 'I think no one has proven to me that larger is better,' Big 12 commish Bob Bowlsby says.
(US Presswire)
The Big 12 is suddenly an outlier in college athletics. In a couple of years, it will be the smallest BCS conference. As it is, the Big 12 can't even count to 12 (teams).
Superconferences loom. Conference networks surround it. With Louisville hooking up with the ACC, it looks like the realignment carousel is passing by the Big 12. Again.  
Yet things couldn't be better in the Pure Prairie League (plus West Virginia). That continues to be the opinion of Big 12 commissioner Bob Bowlsby.
"You and others may think I'm crazy," he told CBSSports.com on Wednesday. "I think no one has proven to me that larger is better. ... If we had the opportunity geographically or financially for something that clearly moved the needle, we'd be on them."
There isn't that school out there at the moment. That includes Louisville, which the league had vetted in the past.
More on realignment
Columns

Stories
One industry source estimated Big 12 schools will be cashing checks for $30 million-plus in the first year of the playoff beginning in 2014. The total now stands at approximately $20 million per school. Beginning in 2014, the Big 12 will begin taking in $40 million per year from the alignment with the Sugar Bowl (previously Champions Bowl).
There's your opportunity -- as Bowlsby put it -- that moves the needle. Expansion in the form of a bowl game split between the Big 12 and SEC.
A conference championship game doesn't make much financial sense. One media consultant says such a game would be worth only $700,000-$1 million a year per school. Not an insignificant amount, but worth having to split with two more mouths to feed?
Think of it in Powerball terms. It's easier to make more money if you and nine friends combined to buy tickets for Wednesday's drawing instead of 12.
"I would be laughing," said a source who has worked closely with the Big 12. "They're in great shape. If the TV deal was lousy, if in two or three years their network deal was coming up [then I could see it]. But right now, the Big 12 has hit the lottery. They've got it perfect. Those guys have it on Easy Street."
Further reasons the Big 12 is in good shape:
-- Big 12 expansion rests, indirectly, on a perceived gentleman's agreement with the SEC. The league supposedly would not expand to states where there currently are teams. That seemingly takes Florida State, Clemson and Georgia Tech out of the mix.
If the SEC honors that agreement, then the SEC might go after N.C. State and/or Virginia Tech if Mike Slive feels like he has to respond to the Big Ten's recent moves. In that occurrence, Florida State, Clemson and Georgia Tech would be in play for the Big 12.
Even then, industry sources argue whether one or some combination of those schools brings pro rata -- at least equal value -- to the Big 12.  
-- The Big Ten and SEC need inventory for their networks. That's part of what the Big Ten's expansion was about. The SEC has yet to play its hand in further expansion but is launching a lucrative network in approximately 15 months. The league might add a ninth conference game to add inventory for the network.
There is no market for a Big 12 network. ESPN/Fox own all the games except for one (nonconference) game owned by each school. Schools choose how to monetize those contests via streaming, pay-per-view, etc.
"You can't start a network with 10 games," an industry source said.
Especially with The Longhorn Network basically keeping Texas out of the mix.
-- The Big 12 can't lose any schools in the next 13 years (see below), so a raid by another conference seems unlikely. Think of a law of diminishing returns. The ACC's 14 aren't going to be making as much as the Big 12's 10. The pecking order will remain the same: The Big Ten and SEC will be 1-2 in revenue in some order. The Big 12 and Pac-12 will be 3-4 in some order. The ACC will be the fifth major conference, still most vulnerable to being picked apart by one of the other four.
That's what the Louisville move was about. It keeps the ACC whole for now, but what if (Big Ten commissioner Jim) Delany isn't done?
"We've lost our moral compass, and we've lost our financial compass. This is damage for damage's sake," one BCS source said of the current round of shifting. "Invading a country that you need for your own security. No one is going to convince me that intercollegiate athletics is better if the Big East goes away or the ACC goes away."
-- There is a growing vibe that the Big 12 has to do something. It could be the mom-and-pop surrounded by big-box stores if you believe the future is superconferences. Florida State, Miami, Clemson and Virginia Tech are seemingly out there for the picking.
The superconference carousel might come and go with the Big 12 staying at a nice, tidy 10. It already has a 13-year contract with ESPN and Fox paying the league $2.6 billion. That coincides with a grant-of-rights that basically keeps any of the teams from leaving. If Texas and/or Oklahoma split for, say, the Pac-12, then the Big 12 would keep its TV rights.
Conclusion: Texas/Oklahoma aren't leaving for the Pac-12.
Further conclusion: Any league that includes those two schools remains worth keeping together.
All this comes with a huge disclaimer: As long as there are lawyers, never say never. The ACC's $50 million exit fee wasn't a big enough impediment for Maryland. But the Big 12 -- for the moment -- is more than happy with 10. 
CBS Sports HQ Daily Newsletter
Get the best highlights and stories - yeah, just the good stuff handpicked by our team to start your day.
Please check the opt-in box to acknowledge that you would like to subscribe.
Thanks for signing up!
Keep an eye on your inbox for the latest sports news.
Sorry!
There was an error processing your subscription.
The end zones inside Michigan Stadium will have a new, distinct look

Fotu Leiato was found at the scene of a crash near Oregon's Autzen Stadium

A sticky situation arises when one goes after a job but ultimately does not get it
UCF was No. 2 on last year's list, but where does it rank this year

It's the second offseason incident for the junior receiver

Kendall Hinton threw for 399 yards and four touchdowns in 2017