Will the playoff selection committee influence conference scheduling?
The guess is the SEC will remain at eight conference games in football. How the new playoff selection committee would view that is unclear.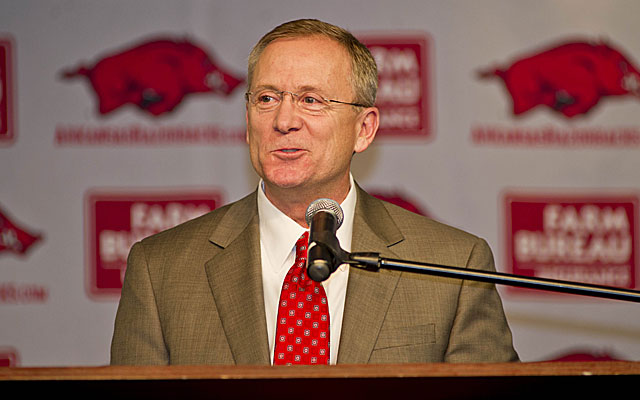 More college football: Dennis Dodd | Jeremy Fowler | Latest news
GRAPEVINE, Texas -- The playoff selection committee's influence is unknown even to the 13-member body. By its mere existence, it has caused a shift in the landscape.
Example 1: The SEC schedule debate. The committee concluded two days of meetings here Thursday. Not much happened.  That doesn't mean stuff isn't happening outside the meeting room.
The parameters for choosing those four teams pretty much exist in the minds of those 13 committee members. Sure, there are usual assumptions about strength of schedule, head-to-head, etc. But on the College Football Playoff website, one of the FAQs about the selection committee includes this phrase, "members will have flexibility to examine whatever data they believe is relevant to inform their decisions."
So conferences have pretty much been left on their own to decide such things as to whether to stage a conference championship game (Big 12 and Sun Belt don't, for now). Scheduling has become a huge issue.
"I actually think that's ongoing in all the conferences," said Jeff Long, the selection committee chairman and Arkansas AD. "I've understood some [leagues] that play more conference games may be looking at it differently now."
Enter the SEC which -- just a prediction here -- will stay at eight conference games in the future. There has been no official announcement but a sensible observer can read the signs.
There has been that debate about the SEC expanding to nine conference games. The Pac-12 and Big 12 play that many. The Big Ten is going to it in 2016.
The SEC had to consider a few things:
• Adding a ninth conference game does provide content for the SEC Network, which launches in August. The network will debut with 45 football games. With each team playing another conference game, that's seven more games.
• A ninth conference game possibly consolidates the league's stranglehold on the sport. Strength of schedule was a component in the BCS and it remains one in the committee's collective minds.
Think of it this way: Just about any SEC conference game is going to make a stronger impression than just about any non-conference game that would be played in its place.
Except the SEC is probably going to stay at eight. Again, nothing official, but here is the thinking: A ninth game could be just as much as a torpedo as it could be a boost.
We hear every year about what a meat grinder the SEC schedule is. We also have become accustomed to the SEC championship game being a de facto national semifinal in the BCS era.
Why tempt fate? That championship game has worked out because there have been few upsets. As much as a ninth game would be strength of schedule boost, it would also sink an undefeated SEC team chasing a national championship.
It's one reason the ACC and Big 12 are seeking to change the parameters for a conference championship game. (See below.)
If they haven't already, SEC conference officials will realize eight is enough. In a straw poll last year, coaches voted 13-1 in favor of an eight-game schedule.
There is a reason commissioner Mike Slive lobbied for the playoff to be the best four teams -- not conference champions only. If the playoff would have been in place last year, the Football Four probably would have included both Alabama and Auburn. Who needs a ninth conference game to ruin that?
It's real simple math: The SEC was dominant playing eight conference games. With the playoff field doubling to four, why change?
• Elsewhere on the unseen hand of the selection committee: The ACC and Big 12 have combined on legislation that would alter how teams get to conference championship games.
This is a direct reaction to the committee not mandating such things. As mentioned, the Big Ten and Sun Belt are the only FBS leagues (out of 10 without a championship game.) It's not going to matter to the committee if everyone is on equal footing when it comes to deciding its champion.
But is the Big 12 at a disadvantage because it has only 10 teams and the ACC essentially has 15 including Notre Dame?
The selection committee certainly isn't saying.
CBS Sports HQ Daily Newsletter
Get the best highlights and stories - yeah, just the good stuff handpicked by our team to start your day.
Please check the opt-in box to acknowledge that you would like to subscribe.
Thanks for signing up!
Keep an eye on your inbox for the latest sports news.
Sorry!
There was an error processing your subscription.
It's Big Brother versus Little Brother yet again

The Sooners and Horned Frogs try to stop the bleeding in Week 8

Ole Miss' Walk of Champions remains a gameday tradition
Pruitt's ties to Rainsville, Alabama, are everlasting, and his eldest son is a reminder where...

Micah Roberts has his finger on the pulse of UNLV football

Micah Roberts has his finger on the pulse of Boise State football