Will Tide QB Sims force Saban to tweak 'dinosaur' offensive ways?
Alabama was a huge favorite against the Mountaineers, whose inspired effort shows the Tide has more work to do at quarterback and on defense.
• 4 min read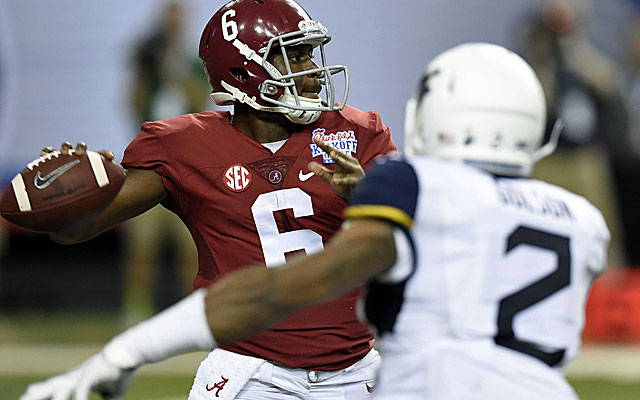 ATLANTA -- If Blake Sims is Alabama's full-time quarterback instead of Jacob Coker -- and that race seems far from over -- it's time for Nick Saban to embrace what he seemed to oppose for years.
No-huddle offense.
Fast Football.
The same thing that helped West Virginia frustrate an underwhelming Tide secondary with 365 passing yards while running plays every 19 seconds during Alabama's solid yet unspectacular 33-23 win in the Georgia Dome. 
Sims, a fifth-year senior and first-time collegiate starter, is an athletic quarterback in a pro-style offense. He'd be perfect for some read option, but that's not coordinator Lane Kiffin's thing.
But Saban, a self-proclaimed supporter of the "dinosaur age" offense with blocking tight ends and two backs and two receivers, admits Sims was at his best when the Tide went no-huddle. Sims was rattled in the second quarter. He called a few wrong formations or plays in the huddle, causing the Tide to burn timeouts. Saban told Coker -- the touted FSU transfer who was expected to win the job but didn't -- to get warmed up. Time to play.
But then Saban had another thought. He told Kiffin to dial up a faster pace.
Sims (24-of-33 for 250 yards and an interception) was at his best when the Tide offense fired off six plays in 1:27 to end the half, an average of 14.5 seconds per play, twice the per-play pace of the previous drive.
During that span, Sims completed all four of his passes for 28 yards and ran for another 21 to set up a 41-yard Adam Griffith field goal. Yes, the Tide had to go fast since it was the two-minute drill, but Saban took notice of how comfortable Sims looked when the offense moved.
Will this challenge Saban's beliefs at his core?
"We'll certainly consider (more no huddle)," said Saban, who in early 2014 advocated a proposal that offenses must wait at least 10 seconds between plays before snapping the ball. "We have the capability to do it... I think we will do what we think benefits our players the most."
Quarterback isn't the Tide's biggest problem right now. After one game, that appears to be cornerback, where Alabama is usually stout but looked lost at times covering West Virginia's wideouts.
In fact, erase a few crucial third-down drops and WVU might have won this game. An incomplete pass to fullback Elijah Wellman at the 1-yard line early in the fourth would have been a walk-in score.
Saban said he expected a tight game since he was playing with a new quarterback and West Virginia was better than advertised, but he probably didn't plan on calling his defense "soft" during a halftime TV interview, which means either the Mountaineers are a Big 12 contender or Alabama has problems again.
The average Alabama fan didn't expect to call West Virginia's Clint Trickett (365 passing yards) the best former FSU quarterback on the field. That was supposed to be Coker, who entered the game with 1:05 left for a few garbage handoffs. Coker didn't take ownership of the job in fall camp.
The Tide found itself in survival mode, which can suit Sims well because of his scrambling ability. Sims offset a few errant throws with an impressive ability to avoid sacks.
Sims, the SEC's new version of Matt Flynn, a fifth-year senior with minimal fanfare whose relief efforts could affect the SEC West tilt, felt good winning the starting job because "I worked hard," he said.
He'll feel even better if the Tide caters to Sims' skill set.
"Very comfortable in what we did," said Sims when asked about being in the no-huddle for parts of the game. "Maybe we can bring it into next week."
Coker will probably get his shot. Saban said he wants his staff to help Sims improve "as well as Jake."
The starting quarterback won't be the star, though. Running backs T.J. Yeldon and Derrick Henry -- with 239 rushing yards on 40 carries Saturday -- are the stars. An Alabama quarterback must handoff left, handoff right, complete a few third-down passes, repeat.
Sims, despite misfiring on a few open receivers in the first half, sealed the game with a 3rd-and-7 conversion to a slanting Chris Black with 4:42 left. He should have had 300 passing yards but a wide-open Christion Jones dropped a deep pass late in the third quarter.
"Couldn't be more proud of that guy," said right tackle Austin Shepherd of Sims. "He pretty much just gets in the huddle and he is ready to go."
Looming larger than quarterback play is a secondary that allowed 8.1 yards per passing attempt, with starting corner Bradley Sylve struggling mightily at times. West Virginia converted 4-of-7 third downs in the first half.  
Saban stressed his defense needed a quarterback, which senior linebacker Trey DePriest should solve when returning Saturday against FAU. The Tide had "a lot of mental errors," he said. A repeat performance might help Florida pull off a Sept. 20 upset in Tuscaloosa.
"Very frustrating," said safety Landon Collins about giving up key third downs.
When Saban needs a spark, though, he can turn to old friend Kiffin to change the pace. Kiffin called a "fantastic" game Saturday, Saban said.
"The guy's a really good coach, now," Saban said. "Ya'll need to fess up to that."
Kiffin can punctuate that statement if Sims, the unlikely starter thrust into a huge role, has success.
South Florida and UCF played the most entertaining game of the 2017 season

Bielema completed his fifth season with the Razorbacks on Friday

Friday's upset to Pittsburgh was bad, but it's not a season-ender for Miami
Pittsburgh pulled the upset of the weekend with a 24-14 win on Friday afternoon

Lock beat out some big-time names with 41 touchdown passes (and counting)

You can remove Patterson's name from your coaching wish lists