Winless debut earns Ellis Johnson a pink slip at Southern Miss
On the heels of arguably the best season in school history, Johnson's first season yielded unquestionably the worst.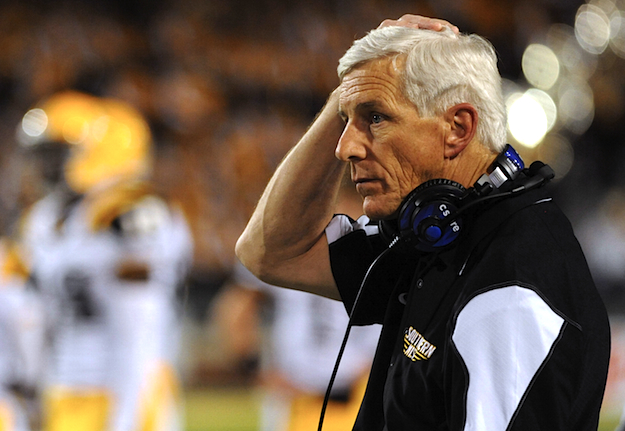 Southern Miss concluded the worst season in school history Saturday in a 42-24 debacle at Memphis, the Golden Eagles' twelfth consecutive loss in a winless campaign that included double-digit defeats to East Carolina, Western Kentucky, Marshall, Rice and SMU. Along with dwindling attendance figures, that was all the school needed to see from first-year head coach Ellis Johnson, who was officially given the boot on Tuesday.
"Following a thorough assessment of our football program, I made the recommendation to our University President that we not retain Ellis Johnson as our head football coach," athletic director Jeff Hammond said in a statement. "Dr. [Aubrey] Lucas accepted my recommendation and earlier this morning I informed Ellis Johnson that he will not return in the future as our head football coach. … In this regard, we have already initiated a search for a new head coach. We will move rapidly in this effort seeking a dynamic leader with the character to lead our program back to prominence."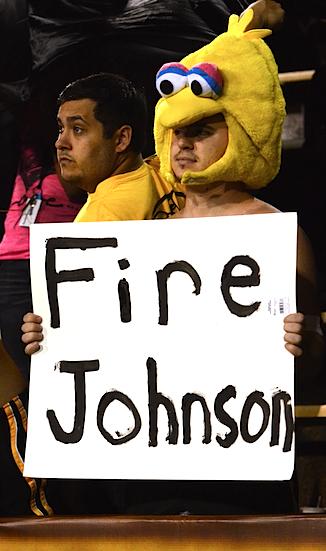 Even by the standards of a profession notable for abbreviated tenures and annual turnover, one year is an usually fast hook for a head coach, although in this case it's one Southern Miss fans have seen coming for weeks. USM was no rebuilding job. The program Johnson inherited last December was one of the most consistent in the nation, having turned in 18 consecutive winning seasons under predecessors Jeff Bower and Larry Fedora, the fourth-longest streak in the FBS behind Florida, Florida State and Virginia Tech. Five times in that span Southern Miss won at least a share of the Conference USA championship, including 2011, when the Eagles set a school record for wins (12), finished in the top 20 of the final polls and sent Fedora on to a more prestigious job at North Carolina. Johnson, a former USM assistant, was hired to replace Fedora after nearly a decade as defensive coordinator at Mississippi State and South Carolina.
On the heels of arguably the best team ever in Hattiesburg, Johnson's first season yielded unquestionably the worst. Besieged by injuries and inexperience, the Eagles lost every game, burned through four different starting quarterbacks and finished 100th or worse nationally in eight major statistical categories, including total offense, scoring offense, scoring defense and turnover margin. What few opportunities they did encounter for a win all met with disappointment: A fourth-quarter lead over Louisville fell apart in monsoon-like conditions; an upset bid at Central Florida came up short in double overtime; a 16-0 halftime lead over UAB collapsed in a 27-19 defeat; a late two-point conversion attempt was thwarted in a 34-33 loss to UTEP. Those were the best of times.
Whoever inherits the position from Johnson will encounter a major rebuilding project, and will be granted more than one season to see it through in a league undergoing major upheaval as a result of conference realignment. The name reportedly at the top of the early wish list is North Carolina offensive coordinator Blake Anderson, who followed Fedora to UNC after their success together at Southern Miss. If the job does go to a familiar face – any familiar face – the program he finds will barely resemble the one he left, but at least there will be nowhere to go but up.
The movie will zero in on former Penn State coach Joe Paterno during the Jerry Sandusky sc...

Bidding for Salaam's trophy, which the auction house says was obtained legally, ends Satur...

Locksley has been the offensive coordinator at Illinois and Maryland during his coaching c...
Many NFL-eligible juniors ignore advice provided by the league and risk going undrafted each...

Snyder died in Manhattan, Kansas, on Wednesday

Locksley joined Alabama's staff in 2016