Winston case leaves Heisman, BCS, and two lives in limbo
Jameis Winston isn't charged with sexual assault, but his case leaves Heisman voters and BCS bosses in limbo, not to mention the lives of two young people.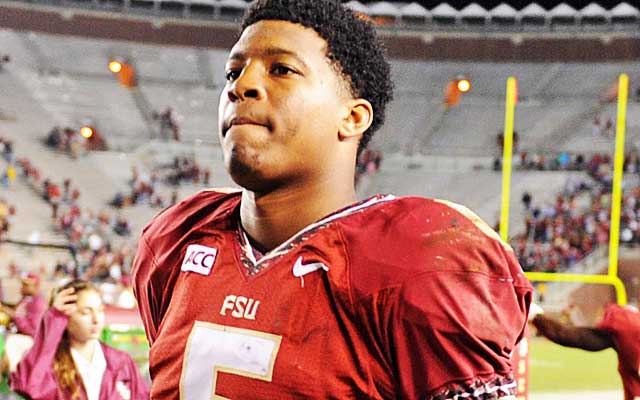 The frantic end to this season screams for that playoff selection committee to assemble a year early.
At least then, we'd have an explanation; we'd have a human out front to tell us why.
Someone -- Arkansas AD Jeff Long is the initial committee chairman -- would have to rise in front of cameras and notebooks to explain why Florida State  would be playing for a national championship.
Or not.
By now you must know there is so much more than football that goes into that decision at the moment.
Even without the Jameis Winston situation, the 16th and final BCS title game is shaping up as historic. Three undefeated football factories (Alabama, Florida State, <span data-shortcode= State" data-canon="Ohio Bobcats" data-type="SPORTS_OBJECT_TEAM" id="shortcode0">) are scrambling for the two available national championship berths.
With the Jameis Winston situation in play, the game and everything leading up to it becomes incredibly complicated. Artificial football deadlines loom side-by-side with legal considerations.
In the back of his mind, is Florida state attorney Willie Meggs considering that Heisman invites go out in a couple of weeks?
Should he?
Pick 'em day for the BCS is now 13 days away. Heisman ballots are due around that time. It would scream for that selection committee -- someone in authority -- to render a decision, to speak publicly on a highly-charged issue that mixes morals, football and the law.
Sadly, the committee doesn't begin its duties until next season. Those left to decide this season aren't qualified. They can't possibly be. This is sports, frivolous compared to the altered lives of two young people -- one the star quarterback, the other accusing the star quarterback of sexual assault.
Such considerations for football glory shouldn't be the responsibility of 900-plus Heisman voters in addition to 62 coaches and 69 Harris Poll voters in the BCS.
The computers are, at least, somewhat objective. They don't read the papers, don't know the law, don't even know who's playing quarterback for Florida State -- much less if he's been under investigation for a felony.
But those six BCS computers also don't know that a third-string quarterback may be leading the Seminoles to an undefeated season if Winston is charged.
Would that be fair to Ohio State? Alabama? Should we even care this much, considering moral and legal possibilities?
I suspect I'm not the only one who would be uncomfortable with 131 voters making a subjective decision on the worthiness of Florida State in the national championship game. (Full disclosure: I have neither a Heisman nor a Harris poll vote.)
There are at least five national awards for which Winston merits consideration as the nation's best player or best quarterback.
"We are aware of the situation," a spokesman for the Davey O'Brien Award told me. "That's all I can tell you."
As it stands, all those decisions must consider morals and the law as well as football.
It's a mixture none of them are equipped -- nor should be asked -- to consider. It's not remotely close to what the BCS was set up to do. The Heisman already has that fairly fuzzy mission statement that allowed it to invite Tyrann Mathieu two years ago. That's after the Honey Badger was suspended for a game for a reported positive drug test.
At the time, Mathieu was not accused of a crime. Neither was Cam Newton. By the 2010 ceremony, he had been exonerated in an NCAA investigation.
O.J. Simpson was allowed to keep his Heisman. Reggie Bush wasn't. Yeah, it's fuzzy.
The current voters could be asked to judge before a case gets close to a courtroom. They could be arbiters of a young man's character and a young woman's accusations.
But as long as this situation lingers, there is the possibility those voters could sit in some sort of final football judgment of FSU and its quarterback.
That doesn't seem to be right or acceptable. For starters, it wouldn't be all about football.
A reminder: Winston's innocence must be presumed. FSU's quarterback has only been accused of sexual assault. No charges have been filed.
There also are obvious concerns for the alleged victim.
That's part of the issue. It exists in a kind of media purgatory where the whole thing could go away tomorrow or last through the ramp-up for the BCS title game in early January. Meggs has said he doesn't expect a resolution until after Thanksgiving.
But even if Winston is cleared tomorrow, a stain will remain. The BCS commissioners would find themselves overseeing a system potentially making a moral judgment on potentially the nation's best player without him being charged with a crime.
The coaches' poll is an inherent conflict from the jump. Thankfully, its official input into the system ends after this season. As it is, those coaches and their professional organization -- the American Football Coaches Association -- control one-third of the BCS.
It is not so much a dirty secret anymore, the BCS rewards them and their coaching friends with millions of dollars in bowl money.
Two years ago, Nick Saban had to explain why he voted Oklahoma State No. 4 on his final coaches' ballot. It was a legitimate question. The Cowboys finished third in the BCS, .0086 of a point behind Alabama.
Let's see how coaches react amid the swirl of Winston's situation. Once again, their final ballots will be public.
The enduring point is that the coaches shouldn't have a hand in the process in ordinary times.
These are decidedly extraordinary times.
There will be those who will judge Winston solely by his on-field accomplishments. That's fair. But what if he's not on the field? One complicated potential scenario: Winston is charged, then suspended and third-string quarterback Sean Maguire helps win the ACC championship game (backup Jacob Coker is out).
Florida State still would be undefeated. Does it deserve to remain No. 2 without its best player? To some voters would Winston's absence be equivalent to an injury? Is there a way he could be back before the BCS title game?
Would any of it be fair to the rest of the Seminoles who contributed to this undefeated season?
Before any of that, what would be fair to the alleged victim?
Meanwhile, the presumption of Winston's innocence can't change. Except, possibly, in the groupthink of those human polls. That's beyond uncomfortable. That's wrong.
An unresolved case could make for an unsavory Heisman ceremony. Pete Thamel, then of the New York Times, famously asked Newton three years ago if he expected to lose his Heisman in the wake of the pay-for-play scandal.
"Two words for you, my friend," Newton said, "N-O."
By that time Newton had been cleared by the NCAA. This year's Heisman ceremony could have as its backdrop, the basic tenets of how we live as a society:
Laws against one person harming another.
At this rate, the Heisman Trust is probably hoping Johnny Manziel walks into another Texas frat to, you know, class up its award.
The BCS took away USC's championship. The Heisman asked Bush for its trophy back. Those were unprecedented events with which the Heisman and BCS weren't comfortable.
If the Winston situation lingers, all of college football will be involved. And it would be a football decision no one is properly prepared to resolve.
Find out which of your favorite team's players are among the nation's best entering the 2017...

Rosen, a junior, will be eligible for the upcoming NFL draft

Texas A&M has to be better defensively to stand a chance in the SEC West
A letter indicated that there is a growing awareness of the persistent problem in college...

The series will follow the Navy football program throughout the 2017 season

Should college football players still be tested and punished for using marijuana?