Winston reinstated to FSU baseball team after community service
Florida State quarterback Jameis Winston had to serve community service after receiving a citation for shoplifting crab legs from a Publix.
• 1 min read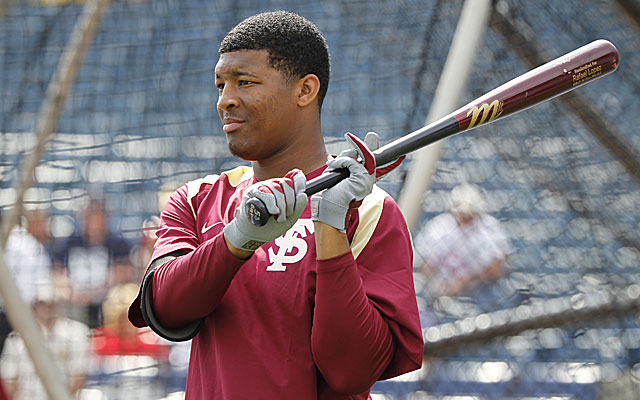 Doyel: One suspension enough for Winston | Fowler: Sit Winston for 2014 opener
After serving the required community service for shoplifting crab legs from a Tallahassee Publix, Jameis Winston has been reinstated to the Florida State baseball team. 
Winston was issued a civil citation for the incident and was required to complete 20 hours of community service. The Heisman Trophy winner, who also serves as the Seminoles' closer on the baseball diamond, missed a three-game series against Minnesota over the weekend while serving his suspension. 
"Winston is reinstated," Florida State baseball coach Mike Martin told the Tallahassee Democrat after Sunday night's game. "He finished his community service and as soon as he did he came over here, and we reinstated him."
Winston has not commented publicly on the issue since his official statement following the Tuesday citation.
"As reported in the news, last night I received an adult civil citation for petty theft from a local supermarket," Winston said on Wednesday in an official statement. "I went to the supermarket with the intent to purchase dinner but made a terrible mistake for which I'm taking full responsibility. In a moment of youthful ignorance, I walked out of the store without paying for one of my items. I realize that I am in the public spotlight and my conduct needs to be above reproach. I make no excuses for my actions and will learn and grow from this unfortunate situation."
Florida State's baseball team, ranked in the Top 10 nationally, improved to 36-11 after the sweep of Minnesota over the weekend.
Alabama has won three straight conference titles, and the rest of the SEC is full of quest...

Struggles out of the SEC in 2016 were a mere blip on the conference supremacy radar

Georgia Tech has been with Russell Athletic since 1992
The junior will take the snaps for the defending national champions in 2017

MetLife Stadium is about 10 miles away from where the World Trade Center buildings once st...

The Terps will wear these against Indiana on Oct. 28.