Winston, Seminoles put nation on notice with romp at Clemson
The Death Valley crowd may have been loud, but Florida State and quarterback Jameis Winston made the most noise in a resounding 51-14 victory. One thing is clear: Winston and the Noles are for real.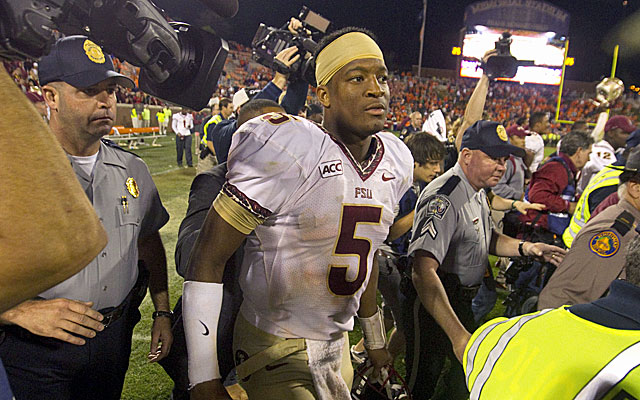 CLEMSON, S.C. -- When Saturday night's game between No. 3 Clemson and No. 5 Florida State -- billed as possibility the biggest, most impactful ACC football game ever -- was about to kick off, it was loud.
"Incredibly loud," said Jameis Winston, the Florida State quarterback.
What did Jameis Winston do as the biggest game of his football life was just about to start?
"I just smiled," he said. "I told our guys 'Hey, we're not playing against noise. We're playing against the Clemson Tigers.'"
Let Saturday night's events put everyone on notice. Jameis Winston is for real. He was all too real for those aforementioned Clemson Tigers, throwing for 444 yards and three touchdowns as Florida State made its case on the eve of the release of the first BCS standings with a 51-14 victory that could have been a lot worse.
The Tigers had a lot going for them when the night began. They had fifth-year senior quarterback Tajh Boyd and a home crowd of 83,428 that overflowed Memorial Stadium.
Clemson fans had been looking forward to this day since the Tigers closed out the 2012 season with a dramatic win over LSU in the Chick-fil-A Bowl and then saw their team open the 2013 season with a 38-35 win over Georgia. They had seen their team win 11 straight conference games by double digits.
Those were not insignificant things. This was supposed to be their night.
But the Florida State Seminoles had a lot going for them as well. Like talent. Lots and lots of talent. And it trumped everything. No one was more impressive than Winston.
And here's the scary part. Just six games into his first college football season, Winston's teammates have come to expect the sensational.
"Nothing he does surprises me anymore," said wide receiver Rashad Greene, who caught eight passes for 146 yards, including a 72-yarder for a touchdown. "He is in complete control out there. We all have a lot of confidence in him."
The feeling is definitely mutual.
"This is a very tight team and we care about each other," Winston said. "We have so many weapons it's scary. These guys understand what it is like to go to work to get ready. We loved playing in this kind of atmosphere."
And then Winston, who is making a bid to become the second redshirt freshman to win the Heisman Trophy, said this: "When we prepare like we did for this game and play together, we are going to be a hard team to beat."
Clemson coach Dabo Swinney is convinced.
"Florida State might be the best team in the nation," Swinney said. "We knew they were good coming in. You don't have a lot of room for error against a team like that."
To put it into historical perspective, Florida State's 51 points were the most an opponent had ever scored at Clemson.
"I'll tell you this. I love coaching this football team," Florida State coach Jimbo Fisher said. "This group of guys is really close and they are all about substance. We were confident in the locker room before the game because we knew we were so well prepared. This is a great place for college football and it was loud. But our guys knew we were ready to play and they just played great tonight."
Fisher has coached his fair share of great quarterbacks. But just six games into Winston's career he concedes that he has something very, very special.
"What he has is a gift," said Fisher. "It is a maturity that you can't coach."
Even the one mistake that Winston made, an interception in the first half, wasn't his fault, Fisher said. The headsets went out on the sidelines and so Winston got the wrong instructions when he threw the pick.
Simply stated, the drama we were all expecting Saturday night never happened. Never came close to happening. So what does it all mean?
Florida State is now 6-0 (4-0 ACC) for the first time since 1999, the season the Seminoles went undefeated and won the national championship. With a win over No. 3, the Seminoles should jump over Ohio State and be no worse than third behind Alabama and Oregon when the first set of BCS standings are released on Sunday night.
The question for Florida State now is how, or if, it can play its way into the No. 2 spot in the BCS standings if neither Alabama nor Oregon stub their toe down the stretch.
Someone asked Fisher if he might be coaching the best team in the country.
"I'll let you guys decide that," said Fisher. "But if we take care of our business and keep working every week to get better then people will see."
The schedule looks manageable. Florida State returns home next Saturday to play NC State in what will be a revenge game after a 17-16 loss in Raleigh in 2012.
Undefeated and 10th-ranked Miami rolls in to Tallahassee on Nov. 2. Miami (6-0) looked very average in Chapel Hill on Thursday night before coming back late to beat North Carolina, 27-23. Then it's Wake Forest (4-3), Syracuse (3-4), Idaho (1-6) and struggling Florida (4-3) before the ACC championship game, which will likely be a rematch with Miami or Virginia Tech. Is going 13-0 against that schedule enough to get the Seminoles to Pasadena? We're about to find out.
And here's the rub that makes this Florida State team interesting. Last April the Seminoles had a record 11 players taken in the NFL Draft. And to a man, Florida State believes this team is better.
"This game was important because we wanted to show everyone that this is a better team," defensive back Lamarcus Joyner said. "Last year we had a bunch of talent but we didn't have the leadership. This is a team -- a complete team."
Yes, it most certainly is.
Nick Saban reportedly wants to hire Freeze, but there may be things keeping that from happ...

Florida State-Miami will be on Oct. 6, and the Seminoles will play Clemson on Oct. 27

Weis Jr. was an offensive assistant for the Atlanta Falcons in 2017
Lott is joined by three current athletic directors and will serve a three-year term

These are the top guys every school is still chasing

College football lost a ton of star power, but these players are studs going into next fal...