Winston strong in Florida State spring game, unveils new weapons
Taking time off from his duties as closer for the Florida State baseball team, Heisman winner Jameis Winston throws 56 times and impresses in the national champs' spring game Saturday.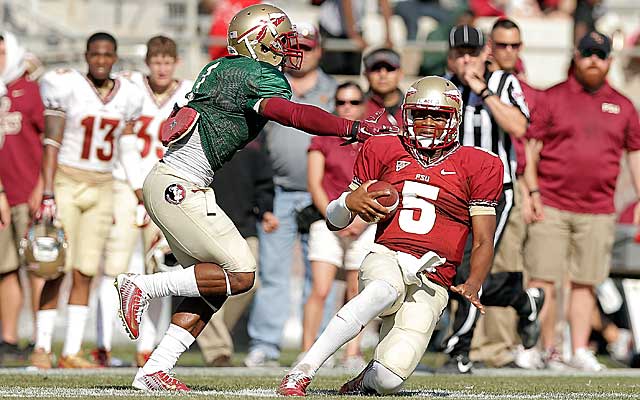 More CFB: Spring games roundup | TV times, schedule | Latest news
TALLAHASSEE, Fla. -- The last time Jameis Winston threw 56 times was high school.
"Definitely high school," the Heisman winner said following Florida State's spring game.
The Seminoles' dual-sport quarterback didn't specify whether that was passing or pitching. But it had absolutely been that long and the air show was absolutely entertaining.
In his most meaningful action since throwing the winning touchdown pass in the BCS title game, Winston completed 27 of 56 passes for 396 yards and two touchdowns against a mostly second-string defense.
For the team's -- and the country's -- top player, it wasn't like he needed the work. Winston welcomed it anyway as he led four scoring drives in the Garnet's 31-14 win over the Gold.
The 56 passes are way more pitches than the FSU's closer has thrown in any appearance for coach Mike Martin's baseball Noles this season. If the game had counted for anything more than a scrimmage, it would have marked a career high for Winston in attempts.
The question is, why? Coach Jimbo Fisher was calling timeout with 25 seconds left. Winston spiked the ball with eight seconds left trying for one more score against the second-team defense.
"The busier I am, the better for me," Winston said.
The man-child is definitely busy. He arrived here Saturday morning via private plane from Atlanta. Winston had appeared Friday night in a Florida State baseball game against Georgia Tech.
He has balanced the two sports this spring, missing only a couple of football practices. Winston wasn't going to miss this one with 36,500 getting their first look at the defending national champs since that magic January night against Auburn.
The kid is exuberant and talented, but why risk playing him 78 of his team's 83 snaps in a meaningless scrimmage?
"We were trying to get the chemistry going and assimilate a game as best as we possibly could," Winston said. "I think we did a good job at it."
Injuries had taken eight starters out of the game. The running game was a rumor so why not chuck it around? Fisher decided he was going to test his rebuilt secondary and work out a new set of receivers. That secondary picked off two passes, one by sophomore Jalen Ramsey, the first true freshman to start at corner since Deion Sanders.
How did it feel to intercept a Heisman Trophy winner?
"It's special all the time, but I've done it in practice plenty of times," Ramsey said.
That's not cockiness, it's preparation. Fisher says the only thing that doom these Noles shooting for a repeat is "boredom."
"You get bored of doing something over and over and over and you think there is something magical that you have to change," he said.
Not here at the moment. Fisher is just starting to load the recruiting pipeline, the same way his mentor Nick Saban has at Alabama. Fisher knows these Noles are good enough to win it again, although he won't hear any talk of defending the national championship.
"I don't like that word. When you say 'defend' they can take it from you," Fisher said. "They can't take it from us." 
While Fisher has lost stars Lamarcus Joyner and Terrence Brooks from a secondary that allowed a national low 157 passing yards last season, the coach dropped his guard in a quiet moment. He believes that Ramsey along with juniors P.J. Williams and Ronald Darby could all be first-round draft choices.
It may be the toughest defense Winston faces all season. Last year's No. 3 total D lost only four starters.
With receivers Kelvin Benjamin and Kenny Shaw, both working on NFL careers, senior Rashad Greene has to step up. Eleven of Winston's 27 completions went to Greene, who might have made himself some NFL money in the spring game. He was that consistent.
So was Jesus "Bobo" Wilson, a 5-foot-9 sophomore who caught the prettiest pass of the day -- 66 yards from Winston.
"The more they play together, the more body language, Jameis can see them under pressure situations," Fisher said.
Winston -- who has four saves and a 1.76 ERA in his other sport -- missed a baseball game for one of the few times this season. At stake, ongoing, is his desire to play both sports professionally and, for Saturday night anyway, get back up to Atlanta for the third game of the series Sunday against Georgia Tech.
After throwing almost 60 times, Winston didn't so much as wear an ice wrap.
"I wish we had a [Saturday] night game, so I could rush back and could skip all this," he told the media.
Somewhere, a private plane was waiting.
Florida's roster got a boost on Tuesday with the return of several key members of the prog...

Tom Hutton joins the ranks of former Aussie rules footballers joining the college football...

The freshman is already on Heisman lists after throwing the walk-off score in the national...
These seven teams should make the most noise down the homestretch towards signing day

Air Force was forced to cancel 11 athletic events because of the 69-hour government shutdo...

Olson has a lot of the tools offensive coordinators want in a quarterback