Winston's Alabama hometown, high school to have 'Jameis Winston Day'
Jameis Winston will receive a key to the city of Hueytown in a July 5 celebration of 'Jameis Winston Day' at his old high school stadium.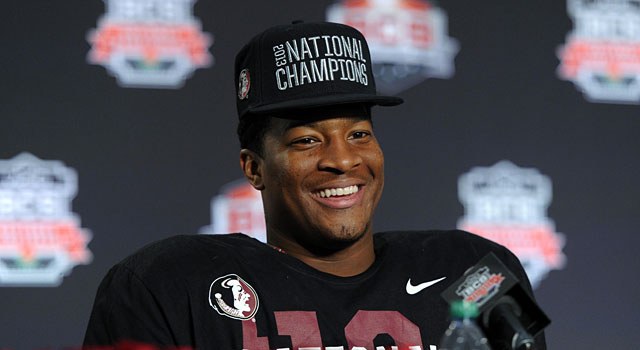 Jameis Winston's Alabama hometown isn't shy about its pride in Florida State's reigning Heisman Trophy winner.
Al.com reported Tuesday that the city of Hueytown will issue a proclamation declaring July 5 "Jameis Winston Day." The city council and other leaders will join the nearby city of Bessemer in hosting a celebration at Hueytown High School's Gilmore-Vines Stadium that evening, at which Winston will be presented a key to the city.
Hueytown councilwoman Fran Zinnerman told al.com that the city will eventual raise two steel signs honoring the 2011 Hueytown High graduate, and that the council was unaffected by either the 2013 investigation into rape allegations against him (for which he was not charged) or his recent civil citation for shoplifting crab legs from a Tallahassee Publix. 
"None of the accusations or charges against Winston had an impact on this decision," Zinnerman said. "We were actually scheduling this ceremony when it was convenient for Jameis to get home after the baseball season ... We wanted to recognize him as a Heisman Trophy winner, a graduate of Hueytown High and a resident of Hueytown. That's why he is being recognized."
Hueytown football coach Mark Stephens told al.com that the program will retire Winston's number as a yet-to-be-determined future date.
Many NFL-eligible juniors ignore advice provided by the league and risk going undrafted each...

Snyder died in Manhattan, Kansas, on Wednesday

Locksley joined Alabama's staff in 2016
Saban reportedly wants to hire Freeze, but there may be things keeping that from happening

Florida State-Miami will be on Oct. 6, and the Seminoles will play Clemson on Oct. 27

Weis Jr. was an offensive assistant for the Atlanta Falcons in 2017