Wisconsin lineman: Taylor Martinez 'still looks like he's skipping rocks' as passer
"He still can't throw. I'm just going to say it; he still can't throw. He's not going to beat us with his arm."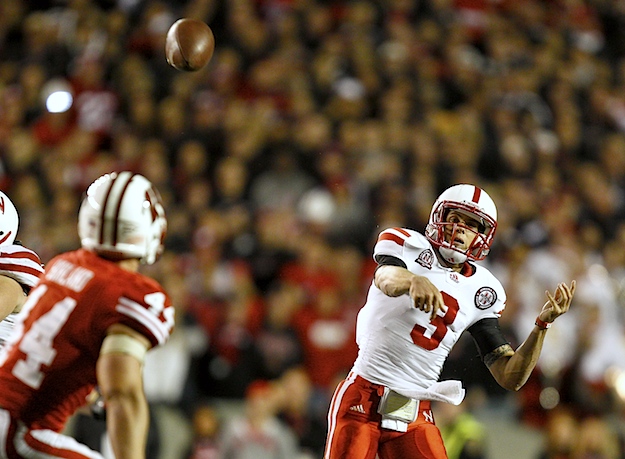 Last year, Wisconsin defensive end David Gilbert didn't play at all in the Badgers' 48-17 rout of Nebraska, which means he still had an infinitely better night than Cornhuskers quarterback Taylor Martinez. In his first game against a Big Ten defense, Martinez was intercepted three times –- all setting up Wisconsin touchdowns –- and spent the rest of the season dodging questions about his progress as a passer.
This year, after an offseason spent honing his oft-mocked throwing motion with veteran quarterbacks coach Steve Calhoun, Martinez leads the Big Ten in pass efficiency with a touchdown-to-interception ratio of 9-to-1 through four games. Still, heading into Saturday's return date with Wisconsin in Lincoln, he obviously has at least one skeptic to convert on the Badgers defense (emphasis added):
"I'm not convinced," Gilbert said Wednesday night. "The one game he didn't play very well in they lost to UCLA. You've got to look at who they've played. You've got to look at who they've played. We're definitely going to bring it. It's Big Ten season.
[…]
"It still looks like he's skipping rocks out there to me," Gilbert said. "But that's not my concern. That's probably more a concern of the defensive backs. My concern is hitting him. I don't care what he throws like. I'm not trying to let him throw at all.

"He still can't throw. I'm just going to say it; he still can't throw. He's not going to beat us with his arm."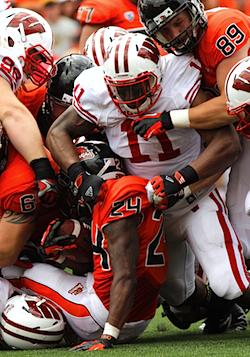 Bold words from a man whose own team ranks dead last in the conference in total offense after games against Northern Iowa, Oregon State, Utah State and UTEP, especially concerning an opponent that ranks first in the same category. (Though both teams are 3-1 with a road loss against a Pac-12 underdog, at the moment Nebraska's offense is outpacing Wisconsin's by 229 yards and 27 points per game.) But we'll play along here: Let's look at whom the Cornhuskers have played.
Against Southern Miss in the opener, Martinez ripped up the defending Conference USA champs for a career-high 354 yards and five touchdowns. Against Arkansas State, he hit 13 of 14 passes against the defending Sun Belt champs for 180 yards and two more touchdowns. Against Idaho State, he had two touchdown passes in the first half and didn't set foot on the field in the second. In all three games, he posted a sky-high pass efficiency rating well above 200, the three most-efficient games of his career against any opponent when attempting at least 10 passes. For the season, Martinez is on pace to achieve his stated goal of completing 70 percent of his passes.
But then, yeah, there's that trip to UCLA. Martinez was not quite brutal in the Rose Bowl. As a runner, in fact, he was fairly brilliant, producing the longest run of his career from 92 yards out. But he wasn't exactly efficient, either: Nebraska converted just one of 11 third-down attempts and managed just six points on nine possessions in the second half. With the game still within reach in the fourth quarter, Martinez served up an easy, floating interception that set up a short field for the Bruins' clinching touchdown in a 36-30 loss.
That remains his only pick of the season. But under the circumstances – on the road, in the clutch, against the only comparably talented defense on the non-conference schedule – it might still say more about where Martinez is as a passer than any of his nine touchdowns against the lower classes. Gilbert's quote might make the media rounds and wind up on a bulletin board somewhere in the 'Huskers locker room between now and Saturday night. But after 28 career starts and two-and-a-half years of persistent doubts about Martinez's arm from all corners, a trash-talking defender is hardly the only one who needs convincing.
- - -
Hat tip: Omaha World-Herald.
Scott leads the Spartans with 408 rushing yards

One of the finest restaurants in Columbia has a unique partnership with University of South...

While Mother Nature has wreaked havoc, some teams have been just plain bad so far this sea...
Bryce Love's video game season and early-season turnarounds lead our group

Trust the Process as Tom Fornelli leads you toward his best bets for Week 8 of the season

A tough end to the 2017 slate will have Notre Dame against the ropes for the rest of the s...