Wisconsin's Alvarez: SEC schools 'weren't interested' in home-and-home
Wisconsin AD Barry Alvarez says he approached both LSU and Alabama about playing a home-and-home series rather than in neutral venues, but neither was interested.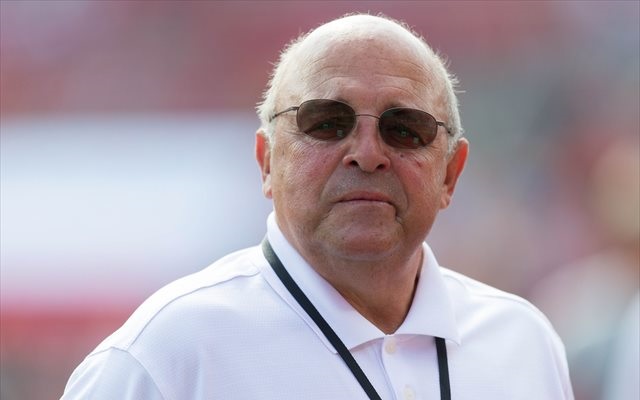 More college football: Jon Solomon | Dennis Dodd | Jeremy Fowler | Latest news
Wisconsin's neutral-venue clashes with LSU in 2014 and 2016 and Alabama in 2015 are about as good as inter-regional nonconference matchups get in college football. But Badgers coach Gary Andersen thinks they would have been even better if they had been played in the teams' iconic on-campus stadiums.
"You would love to play it in Camp Randall," he told the Wisconsin State Journal at Big Ten media days. "Going down to Death Valley would be a great experience, a very difficult place to play."
So why aren't the Tigers coming to Madison, or the Badgers headed to Baton Rouge? Wisconsin athletic director Barry Alvarez told the State Journal he asked both LSU and the Crimson Tide for home-and-home series -- but was turned down.
"They weren't interested," he said of LSU. "They wouldn't tell you why. They just weren't interested."
Intriguingly, Alvarez said he was in the preliminary stages of arranging a future home-and-home with another SEC team -- not Bret Bielema's Arkansas, he was quick to point out -- but that those discussions were in the "infant stage."
Here's to hoping those talks get past that stage, because Andersen is right; home-and-homes are even more exciting than neutral-site clashes. But Badgers supporters shouldn't be too tough on LSU and Alabama. The harsh truth is that a future visit to Lambeau or Cowboys Stadium is a much better carrot for use on the recruiting trail than a trip to Madison, and where the Tide are concerned, it's not difficult at all to see how TV money and scheduling flexibility would make a neutral-site one-off preferable to a two-season home-and-home.
Still, LSU just expanded its stadium past the 102,000-fan capacity mark, and will celebrate in 2014 by hosting a nonconference schedule of ... Sam Houston State, Louisiana-Monroe and New Mexico State. Alabama expanded Bryant-Denny Stadium not too long ago, and its home nonconference slate this season consists of Florida Atlantic, Southern Miss and Western Carolina.
You can't necessarily blame them for declining a high-profile home-and-home with a team like Wisconsin. But can you wonder if that's really the best decision for the local fans? Yes, yes you can. 
Culpepper completed 45 of his 75 passes for 518 yards and two touchdowns for the Orange in...

Kevin Purvis began working with the Bulldogs in 2006

Alabama topped Texas in the 2009 BCS National Championship Game and Notre Dame for the 2013...
Nyqwan Murray was projected to once again be a key playmaker in the Seminoles' offense

Just because you were great in college doesn't mean you'll be great in the NFL

Isaiah Williams chose Illinois over schools like Alabama, Clemson, Ohio State and more