With its season on the brink, LSU stays alive
Tigers avoid second consecutive loss for the first time since 2008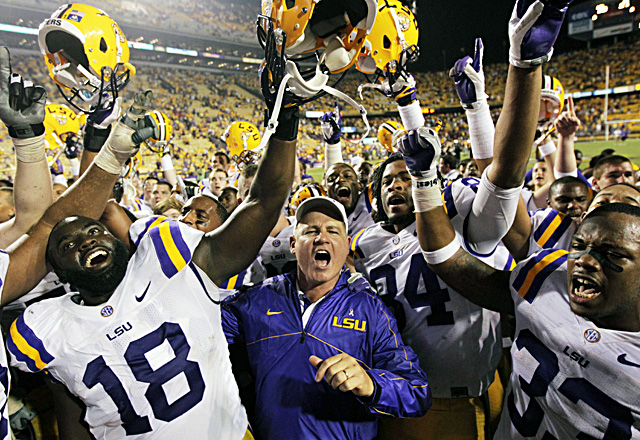 LSU coach Les Miles celebrates with his Tigers after the 23-21 win over third-ranked South Carolina.
(AP)
BATON ROUGE, La. -- What happened to the Mad Hatter? Gone sane, it would seem.
In hiding, at least.
It got to the point you wanted to yell: Grow a set, Lesticles.
For the great, confounding, confusing and brilliant Les Miles Saturday it was actually the game that was the trick play. He boiled it -- and the season -- down to playing it straight, making No. 3 South Carolina submit a week after the Gamecocks had elevated themselves to the status of Alabama's No. 1 challenger.
The only thing resembling a trick play the last two weeks for Miles has been tailback Spencer Ware running the Wildcat. If that qualifies, which it doesn't. Les' rep that was built on luck, pluck and funny stuff took a dive Saturday night in Death Valley.
More on South Carolina-LSU
Related links
That was the best thing that happened to LSU's season. The Tigers lined up, then they manned up. Just in time too. They pounded South Carolina that had just pounded Georgia.  That's the way it is in the SEC. A week after being worn down by Florida in The Swamp, the Tigers took out Jadeveon Clowney and his merry band of home wreckers.
"Our offense," LSU linebacker Kevin Minter said, "ran it down their throats."
Conventionally. Fifty-three times on the ground compared to 50 total snaps last week against Florida. There was nothing tricky about it. That's the way it had to be in a 23-21 win that saved LSU's season for now.
What else could Miles do but play it straight? There were four true or redshirt freshmen in the starting lineup. Thirteen Tigers had made their debut this season. And if you need to be reminded, the best defensive player in the country (so said the Bednarik Award) was kicked off the team.
This wasn't LSU 2012 as advertised. It was an underachieving bunch with its season on the brink. A second consecutive loss would ended hopes of, in order, the SEC West, the SEC and a national championship they were favored to win in August before Tyrann Mathieu was expelled.
"Tonight," Steve Spurrier said, "I realized why LSU was preseason No. 1."
That seems so long ago. The effort wasn't complete but it was enough. Through most of this season, Miles either didn't trust his offense or it didn't measure up. The clunky late model that weezed in The Swamp had no choice but to respond Saturday. Miles went to true freshman tailback Jeremy Hill in his most extensive playing since missing last season to clear up a rather messy legal situation.
In January, Hill pleaded guilty to a misdemeanor charge of unlawful carnal knowledge of a juvenile. On Saturday, he ran for 124 yards and busted the game open with two touchdowns.
"We set high goals," Hill said. "Win the SEC West, win the SEC, win the national championship. Anything less than that at this school is not acceptable."
Neither would have been a second consecutive loss, something that hasn't happened at LSU in four years. Saturday's battered offensive line included an all-freshman right side with less than five career starts between them. Redshirt freshman guard Trai Turner was the ninth offensive lineman to start this season for the Tigers. Three weeks ago against Auburn true freshman right tackle Vadal Alexander didn't play at all. He started Saturday. 
Left tackle Alex Hurst, the leader in snaps played, missed the game because of personal issues. That left senior Josh Dworaczyk to become an offensive line preacher when it came to extending the home winning streak to 22.  
"I brought it up Monday and I brought it up again last night and again today before the game to the entire team," Dworaczyk said. "I was here when we lost that last [home] game to Florida in 2009. It wasn't going to happen on my watch. I can't face those teammates that worked so hard to get that to where it is. We kind of drew a line in the sand right there."
There was faith to be won back for LSU (through a smattering of boos), confidence to be restored. When Hill scored 3:47 into the third quarter, LSU had gone 149 snaps and 28 possessions against FBS competition without a touchdown.
You want to know how that felt? Thirty-two of the Tigers' 78 plays Saturday were spent on a pair of 16-play drives that resulted in field goals. So when Hill, playing in his fifth career game, scored twice running behind that decimated line, it felt something like sweet relief.
"That was Death Valley," Miles said. "That was the place where opponents' dreams come to die – and it was spectacular."
South Carolina went from 35 against Georgia to struggling against LSU. Marcus Lattimore was held to 35 yards on 13 carries. Connor Shaw threw a crippling fourth-quarter pick to, fittingly, the secondary's most experienced player, All-American safety Eric Reid.
But the Tigers did mostly run and pound it and wear down the SEC's No. 1 defense. Turner, nicknamed "Bull" and Alexander "Dozer" cleared the way for a 258-34 advantage on the ground. The Louisiana-based team that plays by the banks of the Mississippi that was complaining about the humidity in Gainesville last week quit whining and turned up the heat.
The Tigers outgained South Carolina almost 2-1 (406-211) and threw the SEC East back into a competition a week after it looked like the Gamecocks' had locked it up.
Nothing, though, is simple for a Les Miles-coached team. If you wondering about the margin of victory, well, it wasn't that close. South Carolina scored 101 seconds left but couldn't recover the onside kick. By two points, the SEC West, the SEC and even a national championship is still in play for LSU.
"So," said the Hatter sounding mad again, "Yahoo."
"I'm just so happy we stepped up this week," Minter said. "We just couldn't lose it. We couldn't let that happen. This is Tiger Stadium."
And for one desperate, nervous night Death Valley was happy too.
Cristobal's first game at Oregon ended the same way Chip Kelly's did

Conner Manning and the Panthers dominated the Hilltoppers in the Cure Bowl

You can only go to the well so often before it dries up
The Trojans beat LSU earlier in the year and now have their first 11-win season as a FBS t...

Saban has never been a fan of the early signing period and made it clear that hasn't chang...

Paul Tyson is a three-star quarterback prospect for the 2019 recruiting class