With MacIntyre hire, Colorado football tries to heal once again
Colorado football has been terrible for seven years, leading to its third head coach during that span. Mike MacIntyre aims to change that.
• 8 min read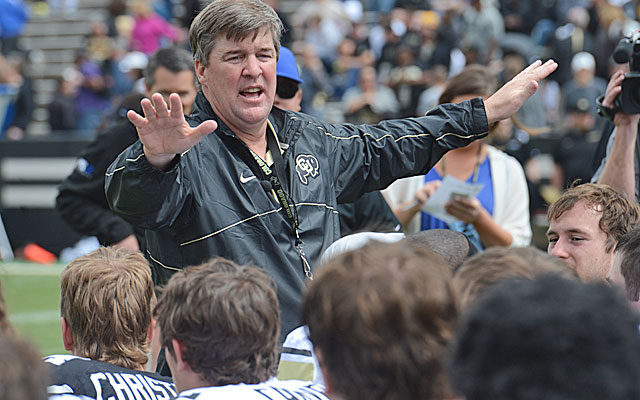 BOULDER, Colo. -- Camouflaged by bad hires and bad recruiting classes and seven straight losing seasons that plagued Colorado was something that was far, far worse in football essence.
A shaken locker room.
What's supposed to be a sacred place became divisive. Quarterback Connor Wood heard the offense and defense bicker last year: "I didn't screw up on that play, but you did." Tension built with every loss -- all 11, by an average of 31 points. No fistfights, Wood says, but the verbal sparring seemed relentless at times. Both sides were at fault.
"Going through a season getting kicked in the face, you still have to put your chest out," Wood said. "There had to be some healing going on."
As if that example didn't encapsulate the locker room vibe of soul-stripping losses, consider CU special teams coordinator Toby Neinas, who was on a New Mexico staff that won one football game for three straight years 2009-11. "You almost feel like you're doing it on purpose," he said.
For Colorado's new staff led by Mike MacIntyre, transforming the Buffs will take more than clever playcalling or watching early 1990s CU highlight tapes from the Bill McCartney era. 
This starts with the human element at basic levels. Let's care about each other, they say. CU coaches wear black wristbands with four letters in white caps: CARE.
That word also could apply to a jaded fan base that since 2006 has seen three coaches, a departed athletic director (Mike Bohn was forced out last month) and four seasons of three wins or fewer.
Well, do you still care?
MacIntyre wants to be firm with his players and keep them accountable, but first things first: Bring the joy back to the game.
MacIntyre even had to remind his players during a spring practice to cheer each other after offensive touchdowns or defensive turnovers. There was "no caring for teammates, no enjoyment," he said. It was just clocking in and out.
"It's caring about people, loving people, realizing everybody's special, because they really are," said MacIntyre, a former San Jose State coach who became CU's target after a failed pursuit of now-Tennessee coach Butch Jones. "If you treat people that way, you can make life a lot better. People know you truly care about them."
MacIntyre's plan is working so far, Wood says.
"From Day 1, he told us he's going to show us that he believes in us, that we can do great things here," said Wood, who tops the post-spring depth chart at quarterback. "Slowly but surely, we're buying in."
MacIntyre is less concerned with what happened in CU's past -- Dan Hawkins happened, for starters -- and more about players from all backgrounds spending quality time.
MacIntyre always has appreciated diversity, he says. MacIntyre's father, former Vanderbilt head coach George MacIntyre, recruited Ray Bellamy while working on the Miami staff in the mid-'60s. Bellamy was the first African-American to land a football scholarship to a major southeastern university.
MacIntyre was always proud of his dad for that. If CU ever has a gay player, MacIntyre says that player would not be discriminated against, would "still play, still grow."
"My whole life has been way ahead of the cutting curve on [diversity]," MacIntyre said. "It's extremely important to me, and it's in the DNA of who I am."
That's why MacIntyre has broken his team into nine groups of 10-12 players with no allegiances to position groups, age or race.
A group lifts weights together, attends study hall or service projects together, shares stories of their backgrounds in organized talking sessions. If one player misses a class or is late for a practice, the whole group is punished.
If the locker room connects, MacIntyre said, the rest will follow.
"We don't have two to three years to figure it out," MacIntyre said. "We've got to do it quickly."
Jon Embree didn't do it quickly following Hawkins and lasted two years, despite Bohn suggesting to CBSSports.com in early November that Embree's job was safe. Later that month, Embree was emotional at a post-firing press conference. (Attempts to interview Bohn for this story were unsuccessful.)
Just how long it takes CU to compete again depends on whom you ask. Former CU quarterback Charles Johnson, an associate athletic director under Bohn who's an ESPN Radio host in Denver, said there has been too much upheaval to expect a resurgence in less than two or three years.
Three quarterbacks played last season, and none very well. CU ranked last in the Pac-12 in total offense by a wide margin -- 302.3 yards per game compared to second-to-last Utah at 324.4).
Of the top-10 in-state players from 2012 and 2013 according to a 247Sports.com database, 18 of the 20 played somewhere other than CU.
The school's plans for a $170 million athletic upgrade, including $50 million from donations, are unfulfilled.
As far as talent, "We're behind just about everybody [in the Pac-12] in that regard," Johnson said. "Defensively, we've struggled to get big athletes."
MacIntyre isn't promising 10-win seasons immediately, but he believes any team with the "right 22" can produce positive results at any school.
The Buffs get back home-run hitter Paul Richardson (torn knee ligament) for an offense that will mix spread and power looks. MacIntrye believes too much of one offense affects the defense in part because it doesn't get different looks in practice.
CU has a few playmakers on offense between Richardson, receiver D.D. Goodson and wide receivers Tyler McCulloch and Christian Powell. Defensive end Chidera Uzo-Diribe, cornerback Greg Henderson, safety Jered Bell and linebacker Derrick Webb are the best returning defensive players on a unit that needs an infusion of speed in spots.
Most CU players were toddlers or not born yet when the school was a national contender under McCartney. MacIntyre doesn't see the need to rehash faded glory. 
"Sometimes a little bit of not knowing everything from the past helps you be successful," MacIntyre said. "You have to put on blinders, be like a racehorse and just run."
Spring practices and summer workouts have gone well enough in Wood's eyes to open up the eyes of others come fall.
"Not just one or two [wins]; I'm talking bowl eligibility -- that's our goal," said Wood, a Texas transfer in 2011. "We have the guys to do it. You have to be patient with it, but we have the guys to do it. The question is, are all of us going to pull together?"
In a broader scope and scale, there are still wounds to heal. Neinas says he's noticed the Buffs' black and gold don't always shine in high school football offices like it used to. Neinas is a Colorado native who's father, Chuck, the former director of the College Football Association and the Big Eight commissioner, still lives there. He wonders if high school coaches see the CU emblem and somehow feel wronged by it.  
Gary Barnett, who coached CU 1998-2005 and recorded the program's most recent winning season, said the struggles of the previous Hawkins and Embree coaching regimes have quelled expectations locally. Nationally, he said, people already knew how bad things had gotten. It took the firing of Embree, a former CU player, to make Colorado understand.
"There was so much belief for so long that all it took was a CU guy to come in and make it work," Barnett said. "So many put the trust and belief in it. Now they are going, 'You know what, that really wasn't the solution.'"
Before that, Hawkins "did everything to sort of mess up the apple cart," Barnett said, changing so much that McCartney had built.
MacIntyre doesn't have direct CU ties but has committed to recruiting well in-state, which Barnett says is necessary for this job.
The CU brand has taken a "significant hit," Johnson said, with boosters who still identify with the '90s production but wonder if the fun will ever return.
Colorado is aiming to change that but is willing to experiment when it comes to combing for talent. Neinas said he has presented two recruits to the staff who "don't show up on any recruiting list anywhere," a rarity in today's recruiting climate.
The staff asked him, "So, you think these guys can play in the Pac-12 and nobody is recruiting them?"
"Yes, I do," Neinas said.
The idea: Just get guys who can play.
CU fans have several choices for their symbolic snapshot of when the torture began. Some believe the program hasn't been the same since Barnett in 2004 called Katie Hnida a "terrible" kicker for CU shortly after Hnida said she was raped by a teammate in 2000.
Barnett said though CU's national perception took a hit during that time, the team rebounded off the field with 15 wins in 2004-05. Really, the program hasn't been the same since that 70-3 loss to Texas in the 2005 Big 12 title game. Bohn, hired in 2005, fired Barnett and replaced him with Hawkins, the former Boise State coach who went 19-39 in five years at CU.
Now the school must regroup once again, and a push toward respectability will require serious mettle. And, oh yeah, USC and Oregon will visit Folsom Field this year.
MacIntyre keeps telling himself: Win the locker room; the rest will come.
It's time to heal.
"They've done it here before at a very high level," MacIntyre said. "I know we can definitely do it again."
Mississippi State has been good to Mullen, but he should be the next Bulldog to upgrade

Cowart was the No. 3 overall recruit in the 2015 class but has not panned out yet for the...

Mayfield has also taken an important side in the Katy Perry-Taylor Swift feud
There are seven SEC teams in this week's college football rankings, but Alabama is not No....

For the first time, we have a tie for the top spot in the CBS Sports 130

Mayfield has passed last year's Heisman winner, Lamar Jackson