Worst potential BCS bowl ever? A Kent State-Ga. Tech $50M Orange Bowl fiasco
Kent State would actually earn more than Georgia Tech in BCS bowl money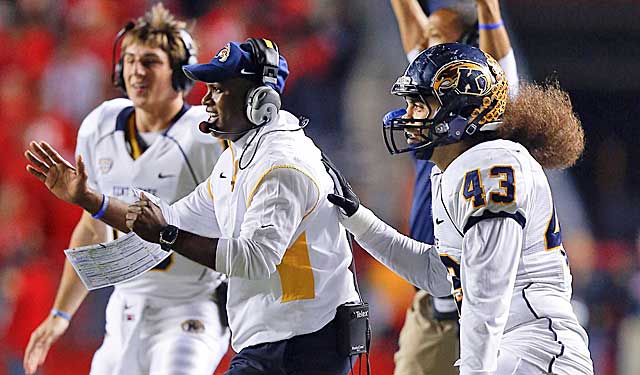 Kent State (if it qualifies) would be the most obscure BCS participant ever. (US Presswire)
Unintended BCS consequences? Try an Orange Bowl matchup between Georgia Tech and Kent State worth $50 million.
A $50 million matchup where the most significant win for either team is an argument between North Carolina and Rutgers. A $50 million BCS matchup where Kent State -- with its glorious history of two bowl games in 93 years of competition -- wouldn't be the ashamed one.
More on BCS fallout
Analysis

Related content
The Yellow Jackets (6-6) and Golden Flashes (11-1) are only playing by the rules. Kent State would be the most obscure participant in BCS history, and the more deserving in this possible matchup. They're playing Northern Illinois, No. 21 in the BCS, Friday in the MAC Championship Game. The Golden Flashes, 17th in the BCS, need to get into the top 16. That would almost guarantee them a BCS berth considering the Big East champion is likely to be unranked, out of the top 25.
Kent's chances will be helped if Stanford beats No. 16 UCLA in the Pac-12 title game. Also watch No. 12 Nebraska if it loses to Wisconsin in the Big Ten title game. Jerry Palm details some of this here.
For what might be the worst BCS matchup since UConn played Oklahoma in the 2011 Fiesta Bowl, Kent State-Georgia Tech is a game you wouldn't pay to see in September. But don't tell the participants when they collect their $50 million.
Kent State would get $28.2 million for being the non-AQ representative in the BCS rotation. That's the number guaranteed this year to the non-AQ champion that qualifies. (In Kent's case, that would be top 16 in final BCS standings if it is higher than a conference with an automatic berth. This year, that is almost certainly the Big East and could be the Big Ten as well.)
That money would be shared among the 60 or so schools in the six non-AQ conferences. There hasn't been a non-AQ in the BCS since Boise State in 2009. Georgia Tech would collect the standard $23.6 million for being the ACC automatic qualifier.
That addresses nothing about the quality of the game. Kent State at least is having its best season in history. The Oct. 27 win over Rutgers directly helps the Flashes' chances. The Scarlet Knights play Louisville on Thursday in a Big East showdown game, but neither team is in the BCS top 25.
Georgia Tech is in the ACC Championship Game because Miami has taken itself out of bowl consideration. 
But because of Miami's decision, the ACC would be represented by a 7-6 team that finished in a three-way tie for its division and lost to Middle Tennessee by three touchdowns. Tech's best win is arguably a 68-50 decision over Carolina on Nov. 10. Kent's only loss was to Kentucky by 33 points.
Get your tickets now!  
The Big East is guaranteed a BCS berth for the final two years of the system. However, the Sugar Bowl -- with the second-to-last pick -- would likely take that league's champion leaving the Orange Bowl to take Kent State. 
For Kent, this is a once-in-lifetime season. Consider that before this season, the Golden Flashes have been ranked once -- for one week in 1973. Their only conference title was in 1972. Former Rutgers assistant Darrel Hazell is in his second season, having won 15 of his last 17. The Flashes are ranked in four of the six BCS computers, which is way better than No. 20 Boise State.
There are darlings, and there are darlings.
Dri Archer, a likely All-American as an all-purpose runner, came to Kent from Laurel, Fla., where he beat out Denard Robinson in the state 100 meters. Archer finished second; D-Rob finished third. Because Archer is only 5-foot-8, 175 pounds, he was lightly recruited but caught the eye of former assistant Scott Booker. Booker is now the tight ends/special teams coordinator at Notre Dame.
It's the Irish gift that keeps on giving.
The former Rebels quarterback will compete to be Michigan's starter in the fall

The fake national title is the gift that keeps on giving

Today in College Football Fans Can Get Mad About Anything news
Chris Norton was once told he had a three-percent chance of moving anything below his neck

Bill Moos defended his jab as a 'tongue in cheek' bit of Big Ten smack talk

Frank Wilson is running quite a show at Texas-San Antonio