WVU's Dana Holgorsen: 'You lie in recruiting a bunch'
West Virginia coach Dana Holgorsen is honest about recruiting: 'You lie in recruiting a bunch.'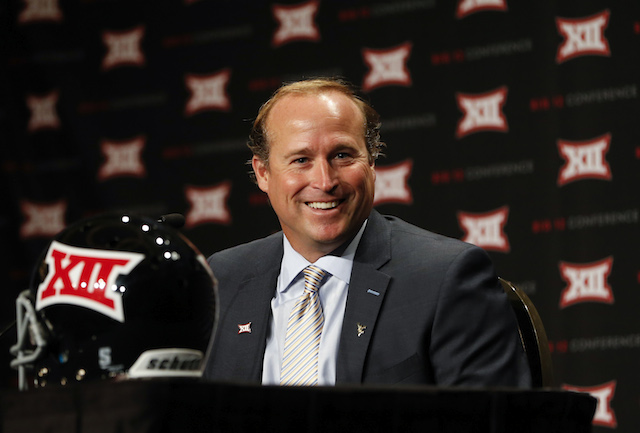 Dana Holgorsen is being very honest about recruiting when he says that a big part of recruiting is ... lying.
When speaking to the media on Monday the West Virginia coach didn't feel the need to sugarcoat what goes into the recruiting process.
"I know you lie in recruiting a bunch, and that's just part of it," said Holgorsen when talking to the media Monday. "What are we actually doing? What are we actually feeding these guys? Our job is to get guys on campus. Once they're on campus, our players do a lot of recruiting. They spend a lot of time with the recruits, and I encourage them to tell the truth about what we give them and how we treat them."
Now, whether or not Holgorsen should be this open about the process, I don't know, but it's the truth. A coach is going to tell a player whatever they need to in order to get that player to come to their school.
So, you know, if you're a high school football player being recruited right now, or any time in the future, just remind yourself that at least 50 percent of what you're being told is likely crap. Just pick the school you want to go to based on your own personal reasons, not what the coach is telling you.
And uniforms. Don't forget to pick your school based on how awesome the uniform looks. 
The movie will zero in on former Penn State coach Joe Paterno during the Jerry Sandusky sc...

Bidding for Salaam's trophy, which the auction house says was obtained legally, ends Satur...

Locksley has been the offensive coordinator at Illinois and Maryland during his coaching c...
Many NFL-eligible juniors ignore advice provided by the league and risk going undrafted each...

Snyder died in Manhattan, Kansas, on Wednesday

Locksley joined Alabama's staff in 2016