The shaping of Shaka
Once upon a time Shaka Smart was a boy without a father. Of all the reasons he's never left VCU, it's the one you never hear about
The shaping of Shaka
Once upon a time Shaka Smart was a boy without a father. Of all the reasons he's never left VCU, it's the one you never hear about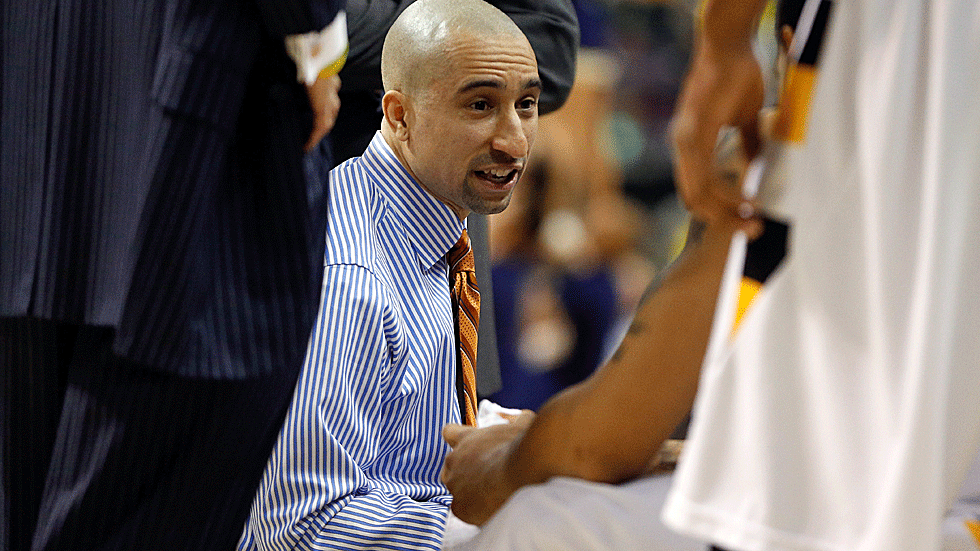 RICHMOND, Va. --
Any story about Shaka Smart has to address his rationalization for turning down UCLA, North Carolina State, Illinois, Tennessee and just about every other job that's opened in recent years to remain at VCU, and this story will address that before it's done, I promise. But first I want to tell you about a typewriter, a door that wouldn't shut and the last time Shaka Smart saw his father.
First, the typewriter -- an old typewriter in Smart's childhood home.
"Some of my earliest memories are of me, when I was like 5 or 6 years old, just sitting at that typewriter and writing letters to my dad," Smart said. "We didn't even have his address because he had just left us one day, and we didn't know where he lived. But I'd still type letters, and we'd just send them to his sister, who was in New York; we had her address. So we'd send these letters to her, and the letters were always like, 'Dad, I miss you. Please come back.' Just things like that."
Eventually, Smart's dad did come back. (Briefly, at least.) But he was, according to Smart, often verbally abusive, sometimes physically abusive and never a positive influence. That led to Smart's mother reaching the point where it no longer made sense to try to rekindle that relationship. So she asked the man who once left her to please leave again. And he obliged.
Which brings me to that door that wouldn't shut.
"It just wouldn't shut all the way, and we lived in Wisconsin so it was freezing," Smart said. "It was December 12th, 1994, and I can still see the scene of him leaving. I can still hear the sound of that door slamming. Like I said, it just wouldn't shut all the way. So I remember the door just slamming, and I can still hear the sound of that door just slamming. And that's the last time I ever saw my father. December 12th, 1994."
"Honestly, that's one of the reasons why I've stayed at VCU. What happened to me is a factor."
Studies show roughly 70 percent of African-American children are raised in single-parent homes, and the majority of those 70 percent grow up without a father who plays a positive role in their lives. So Shaka Smart's story isn't really a unique story.
But that's sort of the point.
It's such a common thing that Smart, all these years after being left by his father, now finds himself coaching a VCU team featuring nine players who were also raised without fathers. One player's dad was murdered. Another player's dad is in jail. There are multiple non-existent fathers because of addictions, either to drugs or alcohol.
"And then there's just some absenteeism," Smart said.
The byproduct of all that is that this fatherless 37-year-old now serves as the de facto father figure for the majority of the players on the VCU roster, and Smart shared his story with them, in great detail, for the first time, just before this season began.
"We had a team-bonding experience where we spoke about our backgrounds and everything," said VCU junior Melvin Johnson. "Coach spoke last, and he told us about his father leaving him, and it made us get even more attached to him because the majority of us grew up just like him. We were like, 'Wow.' We had never heard that story before."
Now let me back up and tell that story from start to finish.
The story begins when Shaka Smart was 2 years old. His parents were never married. But he had a mom, and he had a dad, and everything was normal until his father, an immigrant named Winston Smart, left for what was supposed to be a two-week vacation to his native Trinidad.
"But then he just didn't come back," Smart said. "He just did not come back."
There was never an explanation.
He just left and did not return home.
Which is what led Smart to that typewriter, endlessly writing letters that would never be read. His mother, Monica King, married a different man, four years later, whom she divorced three or four years after that. Then, randomly, Smart remembers the phone ringing one day.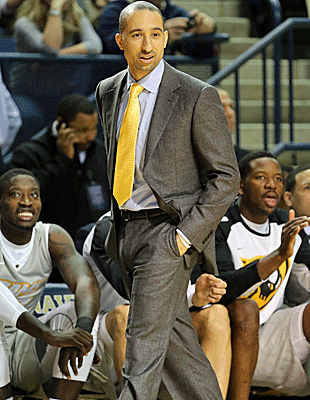 Shaka Smart has amassed a career record of 142-48 at VCU. (USATSI)
"I was maybe 10 or 11 years old, phone rings at my house, and it's this guy with this really thick accent asking for my mom," Smart said. "I could barely understand what he was saying. Turns out, that man was my dad. He was in St. Louis at the time going to Washington Law School."
That's the thing about Smart's father.
He's not the stereotypical uneducated absentee father.
"A really smart guy, actually," Smart said. "Four college degrees. Bright guy."
But he's also a complicated guy -- someone Smart remembers as difficult and harsh. Regardless, Smart visited him several times in St. Louis, and Smart's parents eventually got close enough again to where Smart's father moved back to Wisconsin and lived with Smart and his mother, on and off, for a few years.
"But he was never a positive part of my life," Smart said. "He was always so judgmental of me, and it's not like I was a bad kid or anything. He just didn't like that I was so into sports. He always wanted me to be just about academics … and he crossed the line a few times."
Consequently, Smart's mother asked Smart's father to leave. So he left. Again. And then that door that wouldn't shut just slammed, and Shaka Smart spent his final year of high school -- and every year since -- the same way he spent the years of life he remembers first, which is to say without a father to talk with, lean on or learn from.
***
Kenyon College is a liberal arts school in Ohio, a four-year institution recently labeled as one of the nation's "New Ivies" by Newsweek. The 19th President of the United States, Rutherford B. Hayes, is an alumnus. So is actress Allison Janney, actor Josh Radnor, comedian Jonathan Winters … and basketball coach Shaka Smart.
Smart attended Kenyon from 1995 to 1999. He played basketball for the Lords, finished as the program's all-time assists leader, was a member of USA Today's All-USA Academic Team in 1999, and a coach named Bill Brown is the only reason Smart ever enrolled.
"Just like my players who don't have a father around, I was sort of looking for somebody to fill that void -- not so much consciously, like I was taking out an ad in the newspaper or something, but I was definitely looking for that," Smart said. "And I saw him as a big father figure. He's why I was there."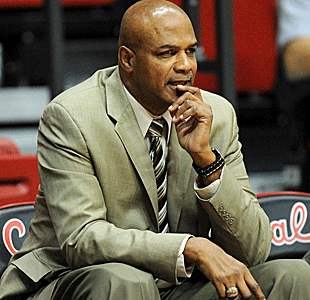 California University (Pa.) coach Bill Brown, who recruited Shaka Smart to play at Kenyon College, gave Smart his first coaching job. (Cal U (Pa.) athletics)
Smart's freshman year at Kenyon was great. School went well. Basketball went well. He grew closer than ever with Brown, his larger-than-life father figure. And then, out of nowhere, Smart received his first lesson in the business of college coaching.
"My coach left for a new job after my freshman year, and I remember just crying for like three days," Smart said. "I was 19 and lost because this guy, my father figure, just left. And, honestly, that's one of the reasons I've stayed at VCU. It factors into my mind. It really does. What happened to me is a factor."
Upon telling me this, Smart glanced at VCU's practice court.
Some players were getting up extra shots.
"Like that kid right there … that was me," Smart said while pointing at one of his nine players who was raised without a father. "That kid is here because of me just like I was at Kenyon because of my coach. So I know what it's like for a coach who is your father figure to leave, and I understand, maybe better than most, how me leaving will affect more than just me and my family. So when I get asked that question -- 'Why do you stay at VCU? -- and I get asked that question all the time, the school-pride answer is that this is the place to be, that we really, really like it here, that we've been to a Final Four, that we're building this great practice facility, that the program is on the rise. And that's all true. But, in addition to that, there is also what happened to me in my experience as a player. I cried for three days and felt lost. I still remember what it was like when my coach left."
***
It's important to note none of this should be interpreted as evidence that Smart will retire at VCU or even be there next season. He's never promised anybody anything. Top-tier jobs like North Carolina, Indiana, Duke, Syracuse, Louisville and who knows what else could theoretically open in the next five years, and, odds are, Smart will be a candidate for most of them, if not all of them, if only because he's been a candidate for every other high-profile position in the four offseasons since leading VCU to the 2011 Final Four.
As always, we'll see.
But what Smart will never do, it's already clear, is leave VCU just to get a bigger job in a bigger league, and money doesn't seem to be a factor, either. He's still very young for his profession and already really wealthy. And with the way he's recruiting at VCU, and with the investment the school has made into the program, there's no reason to think Smart's place in the college basketball world, or his celebrity, will diminish any time soon.
Meantime, there are all these players without fathers.
Nine of them on the roster.
All looking up to him.
"Without him, I wouldn't be in this position now," said VCU senior Briante Weber. "He genuinely cares about you."
Again, that alone won't tie Smart to VCU forever, and he's never suggested otherwise, publicly or privately. But it's absolutely a factor that hasn't been mentioned enough when folks ask this rising star of a coach why he passed on UCLA, North Carolina State, Illinois, Tennessee and just about every other job that's opened in recent years to remain at VCU.
He was once a son who was abandoned.
He was once a college player who got left.
He typed letters that were sweet but pointless, cried tears that were real but wasted, heard that door that wouldn't shut just slam really loudly, and he still remembers all of it.
"I'm completely against the idea that if you stay at a place you're a great guy, and if you leave you're all about money or whatever; that's such a played-out thing," Smart said. "Coaches can rationalize staying or going for money or their families or their happiness, and those are all good reasons. But one thing I do understand is that I'm in a line of work where, in my own little world, my decisions impact a lot of people. And that really does matter to me."