Healing in the Game
After a tragic hot-air balloon accident claimed the lives of two staff members, the Richmond women's basketball program is trying to move forward
Healing in the Game
After a tragic hot-air balloon accident claimed the lives of two staff members, the Richmond women's basketball program is trying to move forward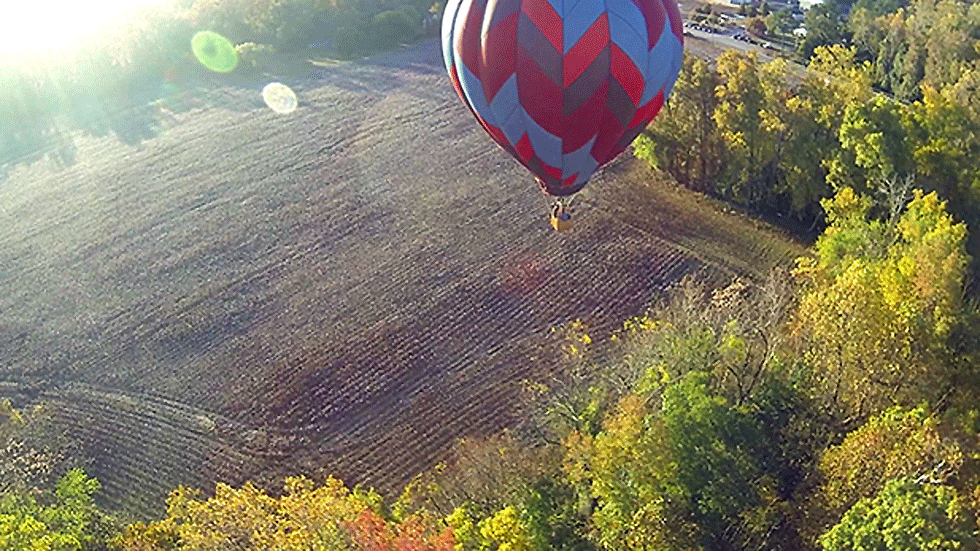 The story begins here, where the glaring overhead lights bounce off the giant red spider down at center court. The Richmond Spiders women's basketball team trots out, a mélange of braids, ponytails and curls bobbing in unison in front of 7,200 empty seats. It's a late-October preseason practice at the Robins Center arena, and this is where the healing happens.
Here, a scolding about a missed defensive assignment is a reminder of the right now, a fixture in the normal. Five months ago, this tight-knit family's fabric was torn, when two of its core members -- associate head coach Ginny Doyle and director of basketball operations Natalie Lewis -- embarked on a hot-air balloon ride and never came home. The wounds are fresh. The upcoming basketball season is long. Every second spent on the court is an act of resilience.
***
"She really loved this place," says Joe Doyle, smiling as he walks around his younger sister Ginny's house, a 15-minute drive from the University of Richmond campus. Joe and his mother are now trying to sell the home, and gathering Ginny's belongings forces him down memory lane.
Growing up in Philadelphia in the 1970s, they learned how to shoot hoops on the corner, where the basket was a metal rim bolted to a plywood backboard hanging from a telephone pole. Ginny always won, routinely embarrassing the neighborhood boys. She eventually chose to play college ball at George Washington, and then transferred to Richmond.
Joe pops in an old tape: grainy footage of big hair, bulging shoulder pads, and Ginny challenging former CBS analyst Billy Packer in a free-throw shooting contest in 1992. At the time, Ginny's streak of 66 straight from the line was an NCAA record for both men and women. It led to a series of TV appearances, national headlines and a nickname -- Dead Eye Doyle. She loved Richmond and found her way back there after assistant coaching stints at East Carolina and Rhode Island.
When Michael Shafer got the head-coaching gig at Richmond in 2005, Ginny stayed as part of his new staff. The program peaked with an NCAA tournament berth and five straight WNIT appearances, the last coming in the 2012 season. That's when Natalie Lewis, the bubbly 23 year old from Buffalo, joined the staff. Three minutes into Lewis' interview for the director of basketball operations job, Coach Shafer had made up his mind.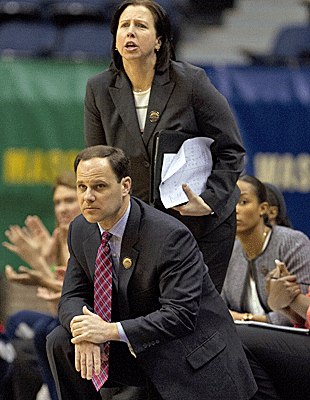 Ginny Doyle spent 16 years on the Richmond women's basketball sidelines, nine of them with head coach Michael Shafer. (Courtesy of Doyle family)
"It was the smile, the energy, and the enthusiasm," said Shafer. "She basically walked in saying, 'I love Richmond! I'll do whatever to be at Richmond!'"
So Natalie stayed, drawn to the city made for US history freaks who enjoy pleasant weather.
"She loved it, all the presidents and all the monuments," said her mother Trish Lewis. "Way beyond the campus she loved this city."
During her athletic days, Natalie starred as captain of the Richmond swim team, winning the Atlantic 10 championship in the 400-meter free relay in 2010. As tenacious as she was in the pool, she was unapologetically sweet out of it, baking cookies for road trips and giving handwritten letters to graduating teammates on Senior Day. She won her first swim meet at age 4, weeks after getting rid of those annoying water wings. She thrived on competition, alternating between swimming and basketball. When she wasn't playing, she was the young girl dancing and cheering at Canisius College basketball games in her hometown.
When Coach Shafer hired her, she grew so attached to the program that the team had to devise a grand scheme to keep her away from the arena one weekend, so that her longtime boyfriend could propose to her. Natalie found friendship and a wealth of knowledge in Ginny -- who, after nearly two decades, knew the program inside and out. Despite being 20 years apart in age, the two were linked through a mutual love of sports, Richmond and life.
"Ginny and Natalie just kind of clicked, and they had that spirit of 'Hey, let's do that!'" says Joe, winding down in his sister's sun-filled kitchen. "And I just envision that's probably what happened when they got the tickets for the balloon ride. They probably said, 'Hey, lets do that!'"
***
Coach Shafer was there. He heard that the balloon had been engulfed in flames 300 feet above ground. He saw the ambulances. He heard the wailing sirens as fire trucks converged on the wooded area near Meadow Event Park. He couldn't believe that any of this was real.
Authorities told him that the balloon -- carrying Ginny, Natalie and their pilot Daniel Kirk -- had collided with a power cord and caught fire. They didn't know exactly what went wrong. Pilot error, an empty fuel tank or the small size of the basket carrying the passengers could all be at fault. The only definite was that Ginny, Natalie and their pilot went missing shortly before 8 p.m. on Friday, May 9th.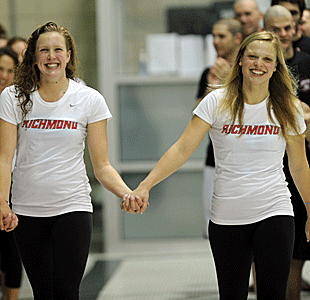 Natalie Lewis (right) walks with members of the Richmond swim team. Lewis was a four-year letter winner and two-time captain. (Richmond Athletics)
Coach Shafer alerted the university and hurried back to a deserted campus, which was gearing up for graduation that Sunday. The president's suite in the football stadium had been turned into a safe zone, where devastated members of the athletic program gathered to wait for details from state police. Using the Group-Me app on his phone, the coach reached out to his players. One by one, they flew, drove and ran back to school, broken and seeking answers.
"Maryland's two hours away and on the drive back, I couldn't think about anything else and it was just one of the most painful feelings ever," said Spiders sophomore guard Janelle Hubbard. "There was really no other place I wanted to be, other than with my teammates, my coaches and people who I knew felt the same way that I was feeling."
By late Sunday morning, search crews had found the remains of the three passengers scattered in the nearby woods. The medical examiner's office later announced that Ginny and the pilot died of blunt force trauma, and Natalie of acute thermal injuries linked to the fire. Rocked by the news, the university organized an immediate memorial service. Hundreds of mourning hearts packed the Cannon Memorial Chapel on campus.
"I spent the entire month of May in a fog," said Coach Shafer. "And then I spent the month of June trying to come to the realization that I needed to find two new people to fill positions. I lived in denial because I certainly didn't want to do it."
In August, Shafer was able to meet with his entire team for the first time since the day everything changed. The theme was togetherness, and that tragedy was an opponent best faced with an army of loved ones. He revealed the patches they would be wearing on their jerseys this season, with the letters "G" and "N" stitched in memoriam.
The coach became the head of a family fighting to heal. He told them that he loved them, "10 or 12 times a day," through text messages and in person. "We've forever been changed and they now know me on a completely different level," said Shafer. "They saw me cry. They saw me devastated. That doesn't happen in games."
***
The drive from Buffalo to Richmond is about nine hours without heavy traffic. When they took the trip in May, Trish and Evan Lewis were gripped with fear, praying that their daughter would be able to greet them when they arrived. Today's drive is different. En route, they stop to visit some of Natalie's favorite places, reflecting on what she loved.
Once they reach the Robins Center arena, they greet Joe Doyle and his mother. It's a Friday in November, and the Richmond women's basketball team will tip off its season against Providence in a few minutes. Both families will be honored at halftime. Throughout the first half, friends, colleagues and fans of Ginny and Natalie stop by. Some offer a smile. Some offer a conversation. All offer hugs.
On the court, Coach Shafer and his team are cruising past the Friars. Assistant coach John Miller is the new face on the sideline, coming over from Rider University to help fill the void left by Ginny. Since the accident, the team has received words of encouragement from the women's basketball staff at Oklahoma State -- which lost two coaches in a plane crash in 2011 -- and countless others nationwide. The patches on the game jerseys are a constant reminder of the team's newfound purpose. After 13 first-half points from Bria Powell, the Spiders head into the halftime break up 41-26.
The Doyle and Lewis families take center court, holding hands. The university president, chaplain and athletic director hand each family a bag of memorial items. As photos of Ginny and Natalie are shown on the large arena screens, the tears begin to flow. The audience falls to a hush, taking in the images of the two victims smiling: at a Phillies game, after a marathon, with their loved ones, always smiling. The photo montage concludes. There's a standing ovation and abundant applause as the families embrace each other and clear the court. The game continues.

Trish and Evan Lewis (left) stand with Joe and Virginia Doyle at a halftime memorial ceremony.
***
The story doesn't end here, on a rainy January day in The Bronx. When Richmond begins its A10 conference season against Fordham this Sunday, the team will still be healing. The expectation of Ginny or Natalie showing up at the gym hasn't subsided. In dealing with the pain and the massive void left by these two, some days are better than others.
But the court helps. The 94-by-50-foot hardwood, whether at the Robins Center or any of the 15 arenas the Spiders will visit this season, is a safe space. Every day of the past eight months, the team has battled its most relentless opponent. In the gym, the deep hurt turns to motivation. There is comfort in knowing that Ginny and Natalie would want them to be here, still playing the sport they love. An A10 championship and automatic bid to the NCAA tournament would be a bonus.