Marshall's plan?
Gregg Marshall feels right at home at Wichita State, but could he really be there for the long haul?
Marshall's plan?
Gregg Marshall feels right at home at Wichita State, but could he really be there for the long haul?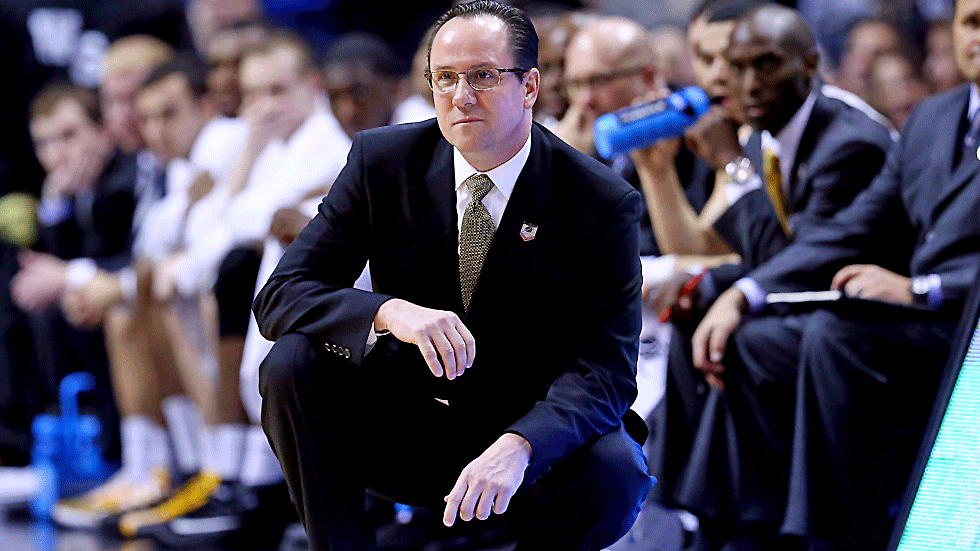 WICHITA, Kan. -- The nationally televised game had been played and won 24 hours earlier, and now Gregg Marshall was sitting with family and friends at the head of a table about four miles away from Koch Arena, at a place called Redrock Canyon Grill.
This was three Sundays ago. And Marshall was yawning a lot because the day prior had been a really long day.
The Wichita State coach had woken early that previous morning, that Saturday morning, in preparation for ESPN's College GameDay that originated from campus. Then he coached for two hours, cut some nets, addressed the fans, his team and, finally, the media. What followed was a celebration of yet another Missouri Valley Conference regular-season title inside Koch Arena's -- what else? -- Champions Club that was followed by a get-together at Marshall's home. No, he didn't pull an all-nighter or anything similarly wild. "But we were up late for us," confessed Marshall's wife, Lynn. And now it was showing. Because basically everybody at the table was yawning and picking through lunch, which began with a round of waters and an appetizer of shrimp buried in cheese and butter.
Meantime, the parade of well-wishers was constant.
Young and old, black and white, one after another folks dressed for Sunday service walked by and offered kind words. What became clear, after about 90 minutes, is that nobody wanted to impose on Marshall's private time but everybody wanted to show appreciation for what he's built in their city. So they did. And Marshall, between yawns, greeted each person warmly before later explaining, over a final glass of water filled with lemons, one of the reasons he has, to date, shunned all offers and remained at Wichita State.
"My mentor used to always say, 'Coach where you're loved,'" Marshall said. "He got a lot of satisfaction out of walking down the street when people would say, 'There's the coach' or 'He's a great coach.' He always got a lot of satisfaction out of that kind of stuff."
"And I'm assuming you feel loved in Wichita?" I asked Marshall.
"Oh yeah," he answered without hesitation. "I do."
Marshall's mentor, by the way, is John Kresse, and if the goal is to understand Marshall even a little it's important to familiarize yourself with Kresse' story. Kresse retired in 2002 after 23 seasons at Charleston during which he compiled a record of 560-143. He owns the fifth-highest winning percentage among all Division I men's basketball coaches and is an iconic figure in the place where he flourished professionally, and what you realize after spending time with Marshall, regardless of whether Marshall realizes it or not, is that the things that mattered to Kresse are, for the most part, the exact same things that now matter to Marshall.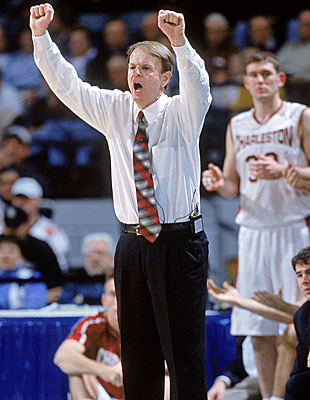 John Kresse is one of the most successful coaches in college basketball history. (Getty Images)
Kresse liked being loved; so does Marshall. Kresse craved a place where what he did resonated uniquely; so does Marshall. Kresse was forever hesitant to mess with happiness -- as is Marshall, which is why he's only changed jobs once in 17 years. Kresse retired at the relatively young age of 59 while Marshall, 52, regularly says things like "I don't want to coach forever." And lastly, but perhaps most importantly, Kresse was undeniably more addicted to winning than big-profile gigs, and making sense of all of this is the real key to grasping why Marshall has rejected the offers he's routinely rejected over the years.
"One place, and I don't want to say which place, but one place offered me so much money and I basically just told them, 'I don't care how much money there is; that money won't help me sleep when I'm losing,'" Marshall said. "Winning is what I really like to do. I'm fine financially. My drug is winning."
***
What Gregg Marshall calls equal parts "flattering and frustrating" is also unavoidable.
In other words, it's coming.
No matter what happens over the next few weeks, regardless of whether his Shockers lose in the Round of 64 or make their second Final Four in three seasons, Marshall will be presented, once again, with offers to coach at a school from a so-called power conference.
Will he ultimately leave?
That's the question Marshall gets asked more than any other. And the refreshing thing is that he's not one of the countless coaches who gives a non-answer while suggesting -- but hardly guaranteeing -- he'll retire at his current school. Simply put, Marshall has no idea what the future holds, and he admits as much. All he promises is that he'll never leave simply for money, never leave for a middle-of-the-pack power-conference job and never leave without considering everything a man considering relocating his family ought to consider.
Like ...
Would the new opportunity present a great opportunity to win?
Some coaches at schools in the MVC (and similar leagues) are so anxious to work at the power-conference level that they'll jump at almost any chance. Marshall, though, is not one of those coaches. Never mind all the opportunities he's passed on while at Wichita State, Marshall actually rejected power-conference jobs way back when he was coaching Winthrop in the Big South because, like he said, winning is his drug, and he knew he could probably win more consistently at Winthrop -- Marshall won six Big South titles in nine seasons at Winthrop -- than he could at a bottom-tier ACC or SEC school.
Would Marshall, theoretically, like to bang heads with a Mike Krzyzewski or John Calipari?
Sure.
He's a competitor at his core.
But he'll never take a historically average job relative to its league just to do it.
"The only way I'd leave for [a power-conference] job would be if I had an opportunity to fight on solid ground," Marshall said. "I would want to fight on equal footing."
Translation: Don't call unless you're an AD willing to give Marshall all of the resources he needs to compete at the top of any league. Otherwise, you're just wasting everybody's time.
Would the new opportunity trump his current opportunity?
Through the years
Year-by-year record of Wichita State coach Gregg Marshall
Season
School
Record
1998-99
Winthrop
21-8*
1999-2000
Winthrop
21-9*
2000-01
Winthrop
18-13*
2001-02
Winthrop
19-12*
2002-03
Winthrop
20-10
2003-04
Winthrop
16-12
2004-05
Winthrop
27-6*
2005-06
Winthrop
23-8*
2006-07
Winthrop
29-5*
2007-08
Wichita State
11-20
2008-09
Wichita State
17-17
2009-10
Wichita State
25-10
2010-11
Wichita State
29-8
2011-12
Wichita State
27-6*
2012-13
Wichita State
30-9*
2013-14
Wichita State
35-1*
2014-15
Wichita State
28-4
TOTAL
(17 seasons)
396-158
This is a simple notion, clearly. But I'm not sure most realize the opportunities Wichita State provides. For instance, nobody can ever tell Marshall he can't get a No. 1 seed in the NCAA Tournament, make a Final Four, host ESPN's GameDay, sign top-100 recruits or earn $2 million a year at Wichita State because "those are things I've already done," Marshall said.
"And we've been on national TV like 15 times this year," he added. "People know about the Shockers. We have a nationally relevant program, and that's what I want to maintain -- a nationally relevant program … like Gonzaga. Gonzaga is nationally relevant. VCU is nationally relevant. Butler is nationally relevant. And we are nationally relevant."
Beyond that, there's the off-the-court stuff.
And the off-the-court stuff is really, really nice.
Marshall is the most popular man in the city (even if the Koch brothers remain the wealthiest by a decent margin), and Wichita State's administration allows him to run his program like it's a top-tier power-conference program. The Shockers charter every single flight. Absolutely no exceptions. And the Marshall family has access to private planes for any and every personal trip they take.
"We're spoiled rotten here," said Lynn Marshall. "The way we get to travel is so fun."
Which leads to a funny story.
About a year ago the family saw something on the internet about a man flying coach on a commercial flight. The man was leaning his chair back. It was hitting another man's knees.
"So the man pulls out some kind of protector thing to protect his knees, and we were all giving our opinions on it, and [our son] Kellen goes, 'Mom, when's the last time you flew commercial?'" Lynn Marshall said. "And I had to really think about it because it had been like four years. So they really do just about everything they can for us here. It's a great situation."
Is the timing right?
This is something Marshall has forever considered and, truth be told, it's the main reason he never seriously entertained leaving after last season. For starters, he had a preseason top-15 team returning, and those are hard to relinquish. Additionally, Kellen was about to be a senior in high school, and Marshall had no interest in moving his son before his senior year.
"Last year would've been a terrible time for us to move," Marshall acknowledged.
Would a move make sense financially?
Anybody who knows Marshall understands money is not his primary motivation. But money still matters and is considered on lots of levels, and the best example came last year when California was looking for a new coach. Though Marshall declined to discuss details, the truth is that the job was his to take. But the conversations never went too far -- in part because the move would've made no sense financially for the Marshall family once the differences in cost of living were factored in. Hilariously, Lynn Marshall had even talked with former Cal coach Mike Montgomery's wife, Sarah Montgomery, about all of this. The two have known each other for years. So they had a candid conversation about everything.
"And Sarah said, 'Lynn, our house is $10 million … and it's not even nice," Lynn Marshall recalled with a laugh. "I said, 'Thank you, Sarah.' And then we also have a friend who is an accountant. He looked at everything. ... And he just went … 'No.'"
***
You can presumably tell from the previous 1,500 words that there are only a handful of schools capable, at this point, of successfully luring Gregg Marshall from Wichita State. But make no mistake, there are a handful of schools that could maybe do it. And without getting into specifics, if I were a Wichita State fan I'd be rooting hard for Rick Barnes (Texas), Tom Crean (Indiana) and Roy Williams (North Carolina) to keep their jobs forever.
Either way, everybody knows the score -- including Fred VanVleet.
"I think about all of it, obviously, because what he does could affect me," said VanVleet, Wichita State's star point guard who has one more year of college eligibility remaining. "I can't speak on what he should or shouldn't do. But he loves it here. I'll say that. And it's going to take a lot to get him to leave here. And if he does leave here, you know, we can't do nothing but respect that. He has a family to think about, and we all know and respect that. There would never be any hard feelings from us. But he does have a pretty good situation here, and it would take a very, very good offer to get him to go anywhere else."
Among those who agree with this sentiment: Judy Lamar.
That's Gregg Marshall's mother.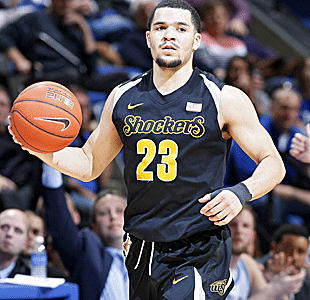 Fred VanVleet is fully aware how lucky the Shockers are to have Gregg Marshall. (Getty Images)
She was inside Koch Arena three Saturdays ago for Wichita State's win over Northern Iowa that delivered her son a ninth league title in 17 seasons as a head coach, and, afterward, she addressed the team and told them how proud she was of what they'd accomplished. Later, she explained to me how strange it was to fly to Wichita and, two days before the Northern Iowa game, turn on a radio "call-in show" and hear fans questioning this version of the Shockers, who are entering the NCAA Tournament with a 28-4 record and No. 14 national ranking.
"I heard that, and I was like, 'My goodness!'" Lamar said. "What in the world did they ever expect from this team?'"
(Gregg Marshall's mother really is terrific.)
In Wichita State's locker room, I pulled Lamar aside.
I asked her two questions:
1. What does she believe are her son's ultimate goals?
2. What are her goals for her son?
She answered the first question this way: "His goal is to be a success and to be happy at what he's doing, and he's both of those things right now."
She answered the second question this way: "My goal for him used to be to come back to the South. I used to want him to come back home."
But now?
"But now, after talking to him and hearing the joy in his children's voices and understanding how they've fallen in love with Wichita, I think they're happy right here," she said. "Once you get a few years on you, you realize being happy and content is far more important than $500,000 more a year. So I'm sure there will be other opportunities; there always is. But I don't know if any of them will be able to make him as happy as he is right here."