Life of Giles
The revival, and arrival, of Harry Giles III, the hottest prospect in the best recruiting class of the past decade.
Life of Giles
The revival, and arrival, of Harry Giles III, the hottest prospect in the best recruiting class of the past decade.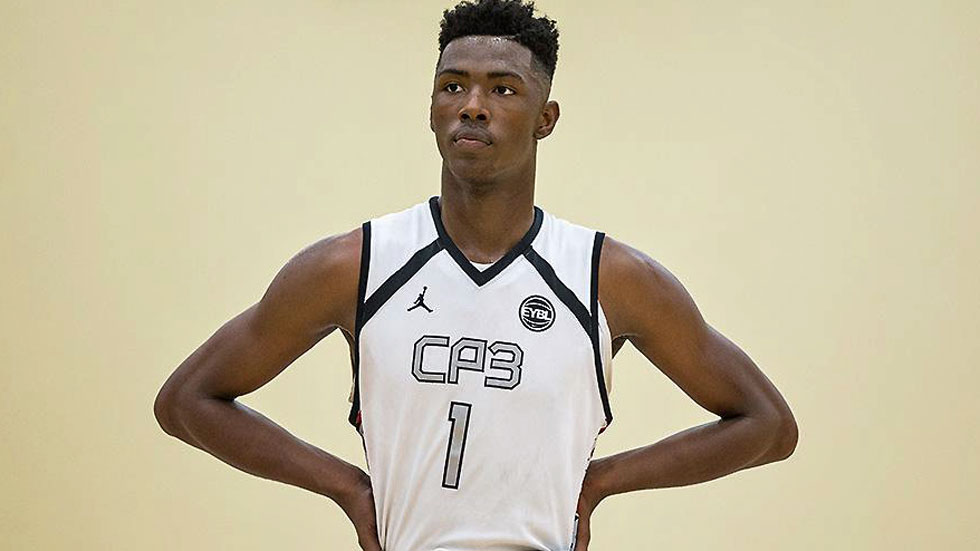 The game is over, his team has lost, but Harry Giles is still able to raise a smile.
He's flashing a grin because yet another teenager has approached him, this one in the overcrowded lobby of the Riverview Park Activities Center in North Augusta, S.C. following a game in the Peach Jam -- one of the most prestigious amateur tournaments held each July. The youngster hands his phone to a friend after kindly asking Giles to pose with him for a photo.
Giles, as always, instantly obliges. These postgame meet-and-greets have become customary for Giles. In some instances, the hectic crowds force the team's coaches to simply opt out of convening the kids.
"It's him: Harry Giles!" another moppy-headed pre-teen boy stammers to his friend. Get the phone ready. Giles turns, smiles -- and now those boys have a picture that has probably become the lock screen image on their iPhones. Heck, Harry Giles III, the No. 1 player (for most) in the class of 2016, is commanding more attention in the Peach Jam lobby than perennial NBA All-Star Chris Paul, who happens to be the proprietor of Giles' Nike-sponsored CP3 All-Stars basketball program.
Between the Peach Jam and Paul's/Jordan Brand's July 22-24 "The8" tournament in Las Vegas held a few weeks later, I counted at least a dozen people after every game (and there were no doubt plenty more; I didn't see every tilt Giles played) who approached him for a photo, win or lose. Giles never hesitated to pose and beam off a broad smile that should one day help him make millions in endorsements.
"Harry is so selfless," Paul said. "Being the star that he is, he's very selfless. The man has such a personality that, no matter where he plays, he's going to shine."
While being the No. 1 high school player in the nation almost always means something special, with this class, and for Giles, it takes on even more meaning because the 2016 crop is incredibly deep and extremely strong at the top. Giles looks to be the best of the best in what could be the most talented bunch of basketball big shots to emerge in a decade. In the eyes of almost any coach, scout, recruitnik or basketball fan who's happened to watch Giles play the past few months, he's established himself as the top overall prospect at the next two levels -- and is the favorite as of now to be the first player chosen in the 2017 NBA Draft.
"For him to be the type of prospect that he is ... after every game he's got 500 people wanting to take a picture, 300 people wanting [an] interview," said Giles' coach Jon Adams. "And he just takes that stuff in. For him to be able to handle that stuff as a rising senior, it's impressive. Chris [Paul] and I talk about that a lot, because when Chris was a rising senior, he was really good but he wasn't Harry-good. He didn't have the publicity around that Harry does. He didn't really have to deal with it like this until he got to the NBA, when it was his profession. Harry's still a kid, and it's unbelievable how he deals with it."
At the Peach Jam, Giles averaged better than 18 points and 11 boards on 69 percent shooting. The gym was packed to beyond-fire-code limits for each of his games. And afterward, he'd always make the time. Fans, interviewers, fans, more fans, more media members ... and more fans. His team bowed out in the Peach Jam semifinals, yet Giles, who was brought to tears by the loss, stuck around to cheer for his best friend, five-star 2016 small forward Jayson Tatum. He even did an on-air interview about his loss and Tatum's verbal commitment to Duke, which had happened on television just moments earlier.
Things like that are why evaluators, coaches -- people -- put so much stock in him as a player, as a recruit, as a person. Flatly: Giles already looks and acts like a pro.
"He's just a natural," Adams said.
This is equal parts a comeback and arrival story. Giles' journey over the past few years saw him go from an eye-popping, inspiring, lanky freshman, to a recovering and restricted power forward without burst, confidence, or any kind of certain future as it pertained to big-time basketball success. Then Giles changed everything with what he showed in the past three months.
***
Giles represents the latest and greatest in recruiting. Ever since the NBA instituted an age limit, forcing all high-school seniors to wait at least one year before putting their name in the draft, it seems we have a player almost every season that's become some new iteration of the can't-miss-gotta-get guy. John Wall, Harrison Barnes, Anthony Davis, Jabari Parker (then, in that same class, Andrew Wiggins), Jahlil Okafor and, most recently, incoming LSU freshman Ben Simmons, have all been highly hyped and for the most part have validated their pre-college reputations.
But with the 6-foot-10, 230-pound Giles, there is a touch of something different going on here. It's not just his game, which is as versatile right now as any big man playing college hoops. It's his approachable-yet-reserved persona, his accountability and from-the-ground outlook that have made him desirable to the biggest college recruiters as well as NBA scouts, who've been aware of Giles for years now. He seems to offer the complete package.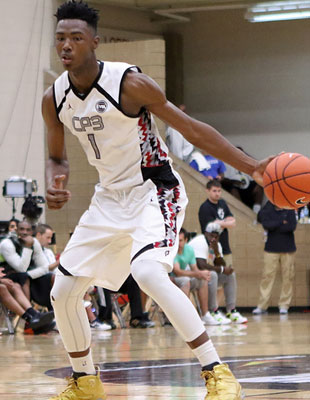 What really sets Giles apart is his ability to play fluidly on the perimeter at 6-foot-10. (Jon Lopez/Nike)
No, he doesn't have the offensive acumen of Okafor or the defensive dominance of Davis -- at least not yet -- but his lean frame, ability to handle the ball up the floor, play with power, coolly step back and hit a mid-range shot and be an increasingly vocal teammate? This stuff is for real, and it has all culminated in a summer of confirmation for those who think Giles has the game to project as something along the lines of a 10-time NBA All-Star. It's an unfair expectation to put on any 17-year-old, but these are the terms that major decision-makers in basketball play by, and right now Giles can do no wrong. In a class that features fellow big-men freaks Thon Maker and another North Carolina stud named Bam Adebayo, Giles still seems a cut above.
Within the past 12 months he's confirmed his face-up style can be complemented by a developing back-to-the-basket game. His arsenal includes a baby hook. He can handle the ball against guards and seems like he'd even work as a modern wing at the NBA level -- today. The 3-point shot is there. He doesn't chug, he doesn't run -- he nimbly charges and/or glides to either baseline. Giles dunks with beautiful and aggressive force, and can pick up a tricky pass in transition like he's seen it develop two seconds before it's delivered.
"Our key early was to get him developed at all three levels," said Giles' father, Harry Giles Jr. "A lot of times you'll see big kids who decide firmly what position they'll play. That wasn't our goal. Our philosophy? Winning was the last thing we wanted to do at that age. As long as he was able to develop and affect the game with the ball in his hands, he had an opportunity to be special."
Giles hit six feet by the time he was 11 years old. His first dunk came on a fast break in an organized game when he was 12. The Giles family has known the Paul family for a long time. Giles Jr. used to work with Paul's uncle, Jeff Jones, through a church's after-school program. It was then that he met a Paul, when the future NBA player was a sophomore in high school.
"Good family, honest people, and the organization is probably the best one you could play for because it's all about developing kids," Giles Jr. said. "Not just on the court but off of it."
During games in Las Vegas, Giles could be spotted on the bench goofing and joking with Paul's young son. After watching him on the court in Vegas, CBSSports.com's NBA Draft evaluator Sam Vecenie said Giles "is wasting a year by playing in high school next season."
***
In terms of his standing in the recruiting rankings and longterm outlook, what happened in April, June and July should go down as the most important period of Giles' early career/professional start. In short: he just put together one of the more memorable and supreme spring/summer circuit performances of any player in recent memory.
"I got stronger in all areas," he said.
Without question. Keep in mind, as recently as this past April there was no guarantee he'd be this highly regarded ever again. Giles ripped up his left knee in 2013 while playing for USA Basketball in Uruguay. He was leading a fast break when one Argentinian defender crumpled into his plant leg and another barreled into his back as he went up to the hoop after faking a pass to a teammate. His left leg twisted, he was tumbled into the air and then came down feeling two pops in his knee.
"It was like a chop block," he said. "Like somebody put something through my leg twice."
Giles' injury came in Team USA's second game of the U16 FIBA Americas tournament. He never went to the hospital while he was there. Instead, he was given an inventive, sort of makeshift brace with a flexible hard-shell cast for his left knee by the team's trainer. Giles stayed throughout the tournament and flew home with the team.
"It didn't hurt," Giles said, "and I didn't cry until I found out what happened."
He didn't think it was too serious, and since the knee wasn't giving off too much pain Giles tried to tell himself it wouldn't be that bad -- even with concerns that he'd ripped his left ACL. Worst-case? ACL tear, sit four months and be ready to play by the time the high school season came around.
No. The diagnosis back in North Carolina was the worst-case scenario: a torn MCL, ACL and meniscus. Recovery was timelined for at least nine months. Giles never played his sophomore season. Stretching his knee and regaining range of motion over the course of nearly a year was agonizing. He'd become the coveted player with a crazy-big caveat.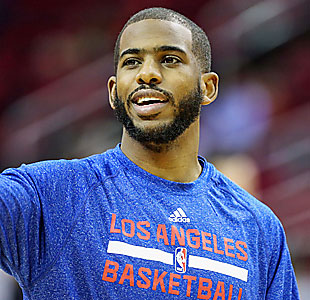 Chris Paul and Giles have a strong relationship, but when it comes to picking a college, the NBA star is staying out of the way. (USATSI)
Big men are always considered gambles. The human body, conventional thinking goes, just isn't meant to be 6-10 or taller and constantly under athletic stress. Breakdowns for most big men are inevitable. Giles, at 15 years old, already took on one of the worst kind of injuries for any big. When it comes to basketball players, only feet and back problems pose as much of a longterm threat as knee injuries.
But watching Giles in the summer of 2015, you'd never suspect he had any kind of knee injury. His young body bounced back. More than that: It enhanced. He is agile, strong, aggressive in his cuts and more splendid than ever. Coaches sitting sideline at his games were loose-jawed and awed not by a return to form but by a new definition of his dominance and recalibration of his skill ceiling.
"Playing with Harry is really easy because he makes it so easy for all of us," CP3 teammate Darnell Rogers -- who received plenty of attention himself this summer -- said.
The come about occurred somewhat by accident. Back in March, Giles lost his high school state championship game, and the thought was he made the decision to ditch his bulky knee brace for the first time just before that final matchup. He'd worn the brace in competition for almost an entire year; it undeniably hampered him in 2014 on the AAU circuit.
Instead, Giles told CBSSports.com the brace abandonment was a snafu, a mistake by his father. Giles left his brace in his dad's car the night before, after a semifinal win. The following night, Giles Jr. went to the same gym, thinking that was where the title game would be played. He was running late, too. And by the time he got to his son's game at the right high school, the third quarter was almost over.
This led Giles to ditch the brace altogether for the April AAU session -- and the happy accident allowed Giles to build confidence, to prove he was back and better than before. What came with it: Giles' third straight invite to play for Team USA Basketball in the FIBA Americas tournament. That June-July event culminated in a gold medal performance alongside Tatum and other elite 2016 and 2017 talent. Team USA's gold in Greece marked three consecutive golds for Giles and Tatum. Giles' defensive reputation, which was already formidable, enhanced more so with his showing in Greece.
"The physical nature of the game [in Greece] was a plus," Giles' father said. "They have fine athletes who are just as good, who can play multiple positions. It's a challenge."
Giles averaged a double-double (14.0 points and 10.6 rebounds) and did it coming off the bench against a lot of players who were two years older than him -- and looked at times to be the the best player on the team. Giles was going to remain a five-star recruit regardless of how he played in the spring and summer, but to go from a curious and cautious case to perhaps the predominant 2016 talent? It's one of those spring-summer runs that those in AAU and college basketball will remember for a long time.
***
Giles, born April 22, 1998, is the youngest of five children (three girls, two boys; his oldest sibling is his 32-year-old sister), none of whom played Division I sports. He is also a child of divorce. His parents split when he was 5, and Giles said he doesn't remember those details.
"I've kind of been used to it, I don't remember them being together, and I'm accustomed to it," he said. "I was so young when it happened that it didn't bother me."
Giles lives with his mother, while his father resides about 25 minutes away. Both parents make it to just about every game he plays -- including the ones overseas for Team USA. A self-described night owl, Giles isn't one for too many hobbies. His favorite activities away from basketball mostly consist of "laying low" and working out with his 38-year-old trainer, Kenneth Bates. His favorite sport outside of hoops is volleyball, something he played as an eighth-grader but then had to give up because his high school, Wesleyan Christian Academy, doesn't offer it.
He is now on the cusp of a most anxious and life-changing period. Giles has five schools as finalists for his services. Wake Forest: the hometown pick; Duke: the projected favorite; Kentucky: well, it's Kentucky, and you never count out Kentucky; North Carolina: the school of his favorite all-time player, Michael Jordan; Kansas: the one school he's not yet seen the campus of, and the mysterious and intriguing choice.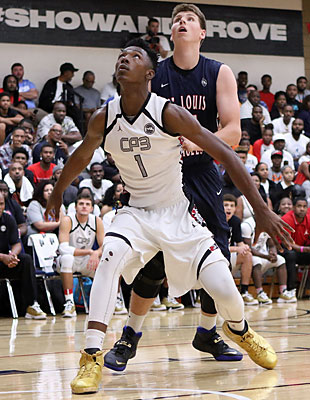 Giles averaged a double-double playing against guys two years older than him in Greece. (Jon Lopez/Nike)
His father played for Winston-Salem State, both football and basketball. ("I was OK -- got an education out of it, most importantly," the elder Giles said.)
For Giles, there's a basic reason why he's down to those five. And he's not sure he'll trim the list any smaller before making a pick.
"The tradition of the programs, the history of the players, the pride people have with those schools," he said. "They still represent them now, they still follow them. It's a good position, how strong and proud people are to be part of that program; 95 percent of people that attended these schools, people are proud to have gone there."
The strong belief in hoops circles is that Giles is just kindly playing out the routine, one that will have him inevitably choose Duke. It's not just Mike Krzyzewski's late-career recruiting hot streak that leads people to believe this. It's the fact that Giles describes Tatum has his best friend, that both openly talked about how they've seriously discussed mimicking what Jahlil Okafor and Tyus Jones recently accomplished.
The parallels between Okafor/Jones and Tatum/Giles (if Giles were to go with the Blue Devils): both players pick Duke after they develop a close friendship despite not living in the same state, not playing for the same AAU team, but still develop a bond over many years while also playing for Team USA, which has connections to Coach K.
"People are going to say what they have to say," Giles said of the Duke presumptions. "Every player has his own choice. They don't know, they don't have a clue -- they're just assuming."
The fact that Okafor and Jones just teamed up to win Duke a fifth national title can only enhance Krzyzewski's chances. The template is now in place and has been a proven tactic for winning big in the modern college hoops climate. It's just up to Giles to step into the role and fulfill it. The realistic discussion between Tatum and Giles about playing together culminated in the past year, and really was emphasized once more with winning three gold medals in as many years while playing for Team USA. In Greece, Tatum and Giles roomed together in somewhat funny conditions. The rooms and bed were so small, they had to scrunch and use pillows as barriers.
"It was this big tournament, they're hyping it up, and you think you're living the life," Giles said. "And then you got these tiny rooms."
That room on the other side of the world is where Tatum (who was already quite proud to don his Duke gear in Vegas) explained to Giles how was going to publicly announce his pick (Duke) while at the Peach Jam. The two have known each other since their middle school years, when Tatum's team beat Giles' teams in summer ball every single year. Giles said he basically knew Tatum's Duke pick well before he announced it.
So if Giles basically knew what Tatum was going to do, does it run the other way? Giles plays his recruitment very close to the vest, but he did say Tatum "probably has a feeling too" on where he'll end up.
"I always tell him, I tell Jayson and Jayson's father: You have to pick the system that's best for you," Giles' father. said. "You can go somewhere with someone, but [if] it fits one better than the other, it's not going to be good."
"Most coaches that recruit -- they don't call me," Giles Jr. continued. "Because when I first sat down with them, I said, 'You don't need to call me every day to check in, because I'm going to be checking in on your program. What you say is good, but what's happening with kids with similar skill sets as [my son's], and how successful they are in your program, that means a lot to me.'"
The most intriguing factor in Giles' recruitment parallels to what Tatum just went through: the hometown connection. Tatum, from St. Louis, was essentially as close as he could be to picking Saint Louis University without actually doing so. And now Wake Forest is hoping Giles will stay home in Winston-Salem -- with coach Danny Manning, who played a style which Giles' game resembles. And though Paul has Wake Forest ties, Giles said the NBA vet intentionally doesn't try to wade into those waters. Paul is said to want Giles to make the pick on his own; the only thing he's asked of his big man is to list out his final schools, write down his wants, and to call him whenever he's ready to discuss the pros and cons.
"The first decision you make is the best," Giles Jr. said. "I don't want you making a choice next week and then, 'I'm gonna change, I'm --.' No. The first decision is going to be the final decision. It's coming to a point where he's getting ready to make a decision sooner than later."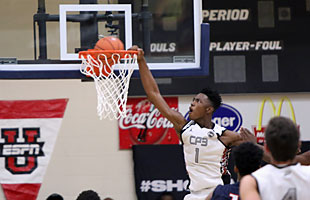 Chances are good that Harry Giles III will one day be the top pick in the NBA Draft. (Jon Lopez/Nike)
That sooner-than-later likely indicates late October or early November. Giles wants his choice to happen before his senior season begins, and he's setting up official visits in the next couple of weeks. He'll take his trips to his five finalists in September or October. The expectations of a 17-year-old basketball player are fascinating and on a certain level unfair. Giles explained how he handles living day-to-day with that.
"I'm just being me," Giles said. "I never rock the boat. I hate people that rock the boat, that like to be arrogant or cocky. I've caught myself doing that before, and I say to myself, Man, what are you doing? I've had to correct myself. I've told myself, You're not being yourself right now. I try to be appreciative because I've seen people who don't have a lot of things. My parents, my grandparents -- my grandfather, who works in construction -- he's worked his whole life. He worked hard for it. To see people have pride in every day, that they're struggling every day, bills are killing them, it just keeps me grounded, keeps me working hard. To hopefully make it easier [one day] for my immediate family, they sacrificed for me and I want to give it back."
***
Giles is media-savvy but not in a calculated way. He's just heard so many of the same questions. The only one that really catches him off-guard and makes him stop is when he's asked if he'd rather win a national title or be the No. 1 pick in the NBA Draft in 2017. It takes 10 seconds or so for him to form a response.
"I would say win a national championship. I'm about the team first. You will be remembered for being a champion more than being a No. 1 draft pick."
Giles is a kid who remembers what he used to be and in some ways still clings to that. Well, some of it. He's lived through a serious girlfriend and a breakup. When he was younger, Giles had custom roller skates made up. He'd hit up the roller rinks and parks.
"I was nice!" he said.
He lists his biggest fear as not being successful, or failing to realize his dreams all the way through. Also: cats.
"I don't like cats," Giles said. "They're just sneaky animals and I don't like that. My friend had a cat that was mean, and would torture you, and I had a fear of that cat, man. I don't like how they run so fast either."
Meek Mill, Future and Drake are his favorite musical artists. He enjoyed his first Vegas trip because of the allure of the Strip's cosmic and crazy public activity -- and the reliably warm weather.
"North Carolina's weather can be a little bipolar," Giles said. "And Winston-Salem doesn't have much to do, we don't have a the bright lights and a huge city. It was a blast."
"Loyal guy," Giles Jr. said. "He doesn't have a whole lot of close friends, but when he likes you, he likes you."
And that will be at the center of his much-anticipated college decision. He's in the midst of a decompression period now. The June and July regimen exhausted him. By the middle of the Peach Jam his legs already started to feel weary after coming off the Greece trip.
"I had to tell my legs to shut up," Giles said.
He'll relax, stay away from competitive basketball for a time and work on strengthening his body. Workouts and basic training will comprise his heaviest activity in the near-future. On Wednesday, he announced his next big decision: to leave North Carolina for his senior year of high school and attend Oak Hill Academy, the famous Virginia prep school that's tutored myriad eventual pros over the years.
As for the pros, put down the NBA player comparisons. They're too contrived and he's too young at this point. In many ways, both personal and skill set-wise, Giles is his own guy. And again, he's grown into the best recruit in what is shaping up to be the best recruiting class of the past decade.
With room to spare.
For others, for fans, there's an awareness of this that's uncommon. Okafor, Barnes, Wiggins, Parker, none of them were so sought after by the public the way Giles has been. He's fostered that, though. He represents a new kind of high school basketball celebrity and he wears it with ease.
Flash to Rancho High in Vegas. Team CP3 just won another game. Two minutes later, where's Harry?
"One more, coach, just gonna take one more," he yells to Adams.
"I think some people are born for this," Adams said. "He is."
In the hallway behind the gym three girls are waiting it out near the team meeting area. They're looking for Harry. They'd like a picture. He knows what's coming before he even turns the corner.