Turgeon's unlikely turnaround
Meet Mark Turgeon, the man who escaped the clutches of the hot seat to turn Maryland into the country's potential No. 1 team.
Turgeon's unlikely turnaround
Meet Mark Turgeon, the man who escaped the clutches of the hot seat to turn Maryland into the country's potential No. 1 team.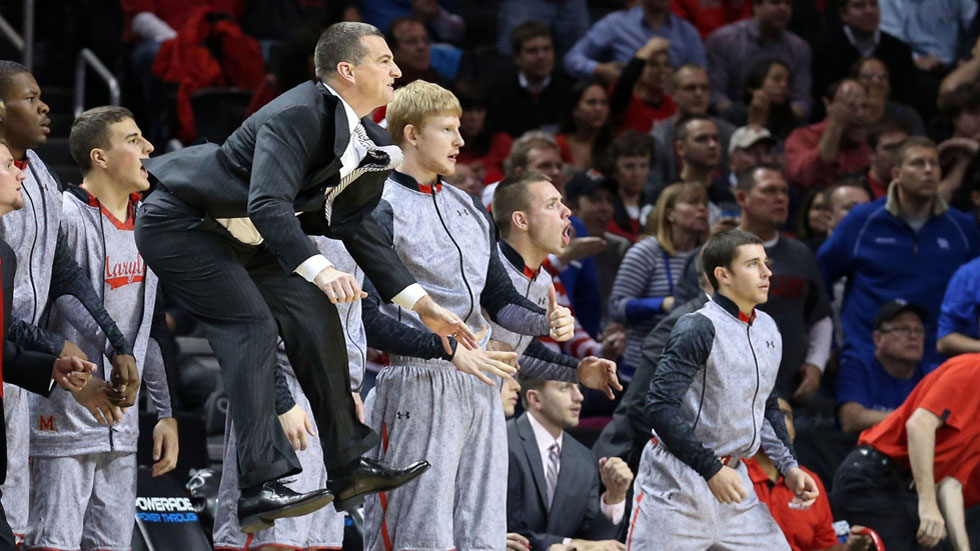 COLLEGE PARK, Md. -- It was around this time last year, on websites and in magazines all over the country, when Mark Turgeon started finding himself on various "Hot Seat" lists, which often signifies the beginning of the end for any college coach.
They're hard to escape, those lists.
You struggle a bit, for whatever reason, and your job security is suddenly in question. It's not always fair or even accurate. But that rarely matters. Because all that really matters is that a perception is created, and that perception, right or wrong, is that one more year short of expectations might have school officials eating your contract and moving in another direction. And frankly, it often does go exactly that way. Alabama's Anthony Grant, DePaul's Oliver Purnell and St. John's Steve Lavin are but recent examples.
And so this is where Mark Turgeon sat after three years at Maryland.
He was 59-43 overall, 23-29 in league games. He had missed the NCAA Tournament three straight years, which is something a Terrapins coach hadn't done since the early 1990s. And perhaps the most troubling development, on the surface, was that five players had opted to transfer following the 2013-14 season, leading both fans and media alike to openly wonder if Turgeon would ever turn the so-called corner.
"When you have five guys transfer from a school there's always going to be questions," acknowledged Maryland's Jake Layman, now a senior who lived through it all. "People are going to start saying things."
Which means people are also going to start hearing things.
Like family members and loved ones.
"You can't hide them from it," Turgeon said, and, boy, isn't that the truth?
The good news for Turgeon is that his wife, Ann, mostly isolates herself from the chatter, a wise move from a woman who's learned by living much of her adult life as what amounts to the First Lady of a college basketball program, whether it be at Jacksonville State, Wichita State, Texas A&M or Maryland. And his youngest two children, Leo and Ella, are, as Turgeon explained, "oblivious to it" all. But the oldest, William Harris, is a teenager who reads and listens and cares. He wasn't hidden from the chatter. He was overwhelmed by it. And so he broached the subject with his father while the two were in their car one day last year.
"He said, 'Dad, do you think you're going to get fired?'" Turgeon remembered, and that's never a question you want to hear from your son, if only because no father wants his children worrying about adult things.
Turgeon considered the question for a moment.
He then posed a question of his own.
"I said, 'Do you believe in your Dad?'' Turgeon recalled. "And he said, 'Yep.' And then I said, 'Do you like living here?' And he said, 'I love it.' And I said, 'Then don't worry about it. There's no chance I'm getting fired. No chance. We're going to get it done.'"
***
With a new playing surface under our feet, surrounded by 17,950 seats that'll be filled for a game against Georgetown soon enough, Mark Turgeon and I were sitting inside the Xfinity Center on this campus just 10 miles from our nation's capital on a recent afternoon, and we spent time discussing what it was like to be where he was a year ago, how great it feels to be where he is today, and how in the world he went from there to here so quickly.
Again, those "Hot Seat" lists are hard to escape.
Impossible even, in some cases.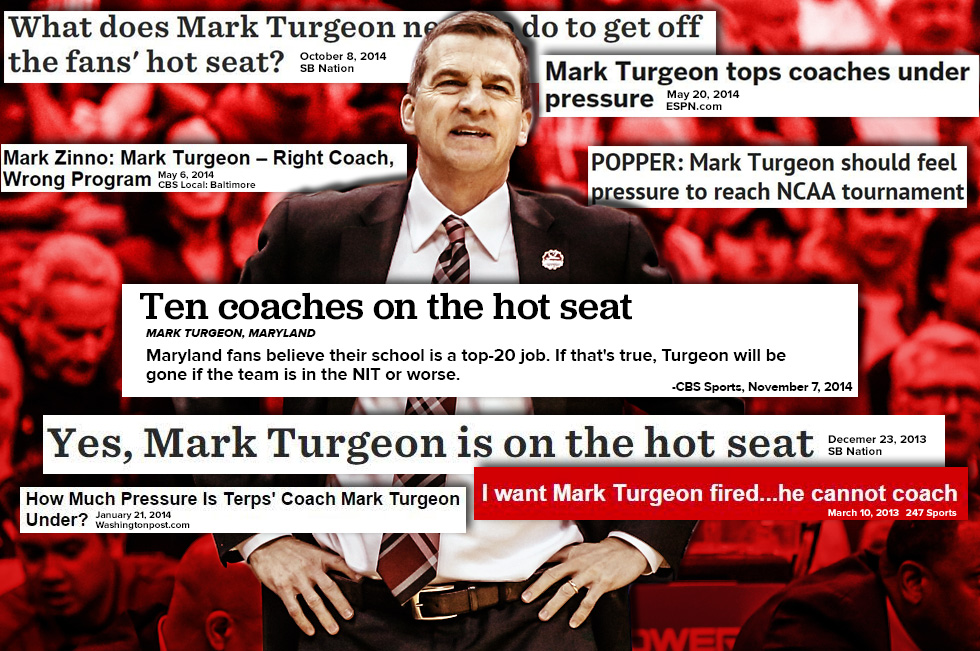 And yet Turgeon is a living, breathing example of a man who has not only survived it but also seemingly created a stable situation. He's coming off a 28-win season in which the Terrapins finished second in the Big Ten and advanced to the Round of 32 of the NCAA Tournament. He subsequently enrolled two McDonald's All-Americans (Rasheed Sulaimon and Diamond Stone). And when you combine those new players with the guys who are becoming eligible/returning, the result is a roster that'll be picked to win the Big Ten and have Maryland ranked in the top five of all relevant preseason polls, perhaps as high as No. 1 in the nation.
A trip to the Final Four isn't just a dream.
It's a reasonable and obviously attainable goal.
"We are talented and deep enough at each position," said Maryland assistant Cliff Warren, who knows what a Final Four team looks like considering he was on the Georgia Tech staff that made the 2004 Final Four. "We have enough on paper."
Which, again, is amazing given where this program was a year ago -- after five players transferred and the criticism of Turgeon became so intense that Evan Smotrycz, a senior at the time, was compelled to jump on Twitter and defend his coach. What's interesting, though, with the benefit of hindsight, is that the same thing that caused all that criticism is, on some level, precisely what helped Turgeon turn things in such a spectacular way.
You've heard of addition by subtraction, right? That's essentially what happened at Maryland last offseason. What the Terrapins lost in numbers they gained via the creation of a culture of hard work and togetherness that was missing in Turgeon's first years, especially the third in which Maryland won only two more games than it lost.
"We just didn't click that season," said assistant Bino Ranson.
But then some questionable contributors exited, and a freshman named Melo Trimble enrolled. And when Trimble ended up being significantly better than almost anybody anticipated -- he averaged 16.2 points, 3.9 rebounds and 3.0 assists per game last season -- the result was a record that was significantly better than absolutely everybody anticipated.
"I knew, this time last year, we were going to be good … but I didn't think we were a 28-win team," Turgeon said. "I thought we'd be an NCAA Tournament team -- but like an 8 seed or a 9 seed. I didn't know we'd be clearly in the NCAA Tournament in February."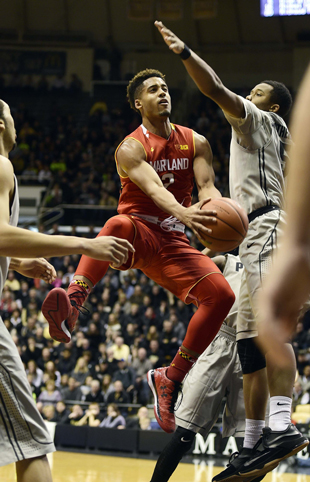 Melo Trimble was better than anyone expected last season, as was Maryland. (USATSI)
They were, though.
Maryland was a No. 4 seed.
And when Trimble and Layman both passed on the NBA Draft and returned to school, and Sulaimon and Stone enrolled, and Georgia Tech transfer Robert Carter became eligible, the table was set for something special. So now folks aren't predicting Turgeon's demise as much as they're projecting that Final Four.
Which creates an entirely different dilemma, of course.
Turgeon only needed to win enough last season to show real progress and calm his fans, and a trip to the Round of 32 qualified as enough. But a second-place finish in the Big Ten and a loss in the Round of 32 this season will technically be disappointing, relative to expectations, because there's potential for much more. So, as always, there's a new bar to meet. And Turgeon need look no further than at a fellow veteran coach in his own league -- Indiana's Tom Crean -- to understand how quickly things can flip back around on men in this profession.
Crean had a No. 1 seed in the NCAA Tournament three Marches ago. But his Hoosiers were upset in the Sweet 16 that year. And they haven't won an NCAA Tournament game since. And now it's Crean who is prevalent on all those "Hot Seat" lists.
So this isn't only about rising to the top of the polls for a minute. The goal must be to remain successful and stay there. And the good news, for Maryland fans, is that there are reasons to believe the Terps can do it -- specifically because, in the near future, Maryland has enough young talent to sustain things, and, more importantly, in the big picture, the staff has two distinct and powerful recruiting advantages that should ensure talent keeps flowing through.
There aren't many places in the country more consistently stocked with basketball talent than the Baltimore-Washington D.C. area that encompasses Maryland's 1,300-acre campus. So that's the first recruiting advantage -- the natural recruiting base. From Kevin Durant to Michael Beasley, Ty Lawson, Jeff Green, Rudy Gay, Roy Hibbert (and on down the line), the area produces high-major prospects and future NBA standouts almost every year. It's been that way for decades. It'll likely stay that way forever. And as long as the Terps get their share of the area's prospects, the roster should remain talented enough to succeed in the Big Ten.
Then there's another reason Maryland is looking like a pillar program of the future.
And that reason is a potentially game-changing reason, actually.
Under Armour.
Yes, Maryland's affiliation with Under Armour is a huge deal, and even Turgeon doesn't deny it's already an advantage. The company was started by Kevin Plank, a Maryland graduate, and it's headquartered in Baltimore. After first partnering in 2008, Maryland and UA extended their contract last year through 2024 -- a deal worth a reported $33 million.
Under Armour has the reigning NBA MVP (Stephen Curry) under contract, which provides credibility. And the fact that Under Armour is now a real player, and viable alternative to Nike, in the world of grassroots basketball is aiding Maryland's recruiting.
"And I'll never apologize for it," Turgeon said.
In fact, Turgeon explained, UA is a big reason why he took this job in the first place.
Maryland's 247 Sports recruiting rankings under Turgeon
Season
Rank
5 and 4-Star Recruits
2014
14
PG Melo Trimble, SG Dion Wiley, SF Jared Nickens
2015
38
C Diamond Stone, PG Jaylen Brantley
2016
12
SG Kevin Huerter, PG Anthony Cowan
"I was once a young assistant at Oregon, and I watched [Nike co-founder] Phil Knight get involved with that football program," Turgeon said. "I saw what that did. So when I was looking at Maryland, I said, 'OK, they've got great players. It's a great area. There are a lot of great players in the area. It's a great place to raise a family. And there's Under Armour.' I knew as Under Armour grows, our program would grow. It really was one of the top-five reasons I took the job.
"We get all the gear first, and kids like gear," Turgeon added. "And I do think, in grassroots basketball, Under Armour is only going to grow."
Translation: Under Armour will continue to sponsor summer basketball teams and draw elite talent to various events it holds. And though it would be presumptuous and wrong to suggest Maryland will get all, or even most of the UA-connected prospects it wants, it's not unreasonable to assume that Maryland will have an inherent advantage with certain UA-connected prospects, not unlike the advantage, say, Kentucky enjoys with Nike-connected prospects or UCLA enjoys with Adidas-connected prospects.
"It's a huge advantage," Turgeon said. "But they're not doing our jobs for us. We're busting our tails. It just is what it is. And I don't apologize for it."
***
Basketball is an unpredictable sport where injuries, suspensions and even foul trouble can ultimately determine whether a team does or does not do what it's projected to do. Nothing is promised. So nobody can say for certain what's on tap for Maryland.
On paper, again, things look great.
But the court is an entirely different place.
Mark Turgeon year-by-year
Season
School
Record
Postseason
1998-99
J'ville St.
8-18
--
1999-00
J'Ville St.
17-11
--
2000-01
Wichita St.
9-19
--
2001-02
Wichita St.
15-15
NIT Qtrs.
2002-03
Wichita St.
18-12
NIT 1st Rd.
2003-04
Wichita St.
21-11
NIT 2nd Rd.
2004-05
Wichita St.
22-10
NIT 2nd Rd.
2005-06
Wichita St.
26-9
NCAA Sweet 16
2006-07
Wichita St.
17-14
--
2007-08
Texas A&M
25-11
NCAA Rd. of 32
2008-09
Texas A&M
24-10
NCAA Rd. of 32
2009-10
Texas A&M
24-10
NCAA Rd. of 32
2010-11
Texas A&M
24-9
NCAA Rd. of 64
2011-12
Maryland
17-15
--
2012-13
Maryland
25-13
NIT Semifinals
2013-14
Maryland
17-15
--
2014-15
Maryland
28-7
NCAA Rd. of 32
TOTALS
337-209
The Terrapins won 12 games by six or fewer points last season, leading Turgeon to acknowledge that, yes, "the ball kind of bounced" their way. Thus it's possible things won't bounce so favorably this season. And the loss of Dez Wells might hurt, too.
But that's all beside the point.
Because the point is this: Regardless of how this season unfolds, Mark Turgeon has already defied some odds by turning an unstable situation into something stable inside of a calendar year. Nobody wonders if he can do the job anymore. He's shown he can. And the reality is that all the questions look silly from the perspective of a rearview mirror, and perhaps everybody should've paid closer attention to what Nima Omidvar did last year.
Omidvar was working at North Carolina State, on staff with the man (assistant Bobby Lutz) who gave him his first job. He was comfortable. The staff, led by head coach Mark Gottfried, was in no trouble after making the NCAA Tournament three straight seasons. And yet Omidvar decided to leave North Carolina State to take a job as Maryland's director of basketball operations, and he'd be lying if he pretended some friends didn't tell him he was crazy to voluntarily walk into what could've theoretically been a one-year situation if Turgeon didn't turn things around.
"Many people told me that," Omidvar said.
Still, he took the job.
He put his career in the hands of a man on "Hot Seat" lists.
I asked him why.
"I had faith and confidence in coach Turgeon because he never lost faith and confidence in himself," Omidvar answered. "Despite what everyone was saying, he knew what it was going to take, and I knew he had the [stuff] to get us there. The proof is in the pudding."
And in those 28 wins.
And in that preseason top-five ranking.
And in the idea that no matter if this year falls somewhat short of these big expectations, or if Trimble and Stone turn pro after the season, there are still enough positives in place to reasonably assume the program is positioned for long-term success. Tenuous as such assumptions can be, professionally, that's satisfying for Turgeon. And, on a personal level, it might mean even more. Because as of right now, as of today, William Harris Turgeon, if nothing else, doesn't have to worry about moving.
His dad has things under control.
"When we went through all the transition stuff last year … it really made me sad ... because I've worked my whole life, and I know I'm good at what I do," Turgeon said. "So going through that wasn't a lot of fun. … But I never doubted myself. I never doubted myself because I believe in my boss, [athletic director] Kevin Anderson, and he believed in me and that we were going to get it done. So I was never concerned, and I never lost faith. We love being here. I love being the coach at Maryland. So I just wanted to get things turned around and break through so badly, and I'm really glad we did."