It's not easy being Crean
Indiana coach Tom Crean has heard the critics since he arrived in Bloomington, but he's not listening to them.
It's not easy being Crean
Indiana coach Tom Crean has heard the critics since he arrived in Bloomington, but he's not listening to them.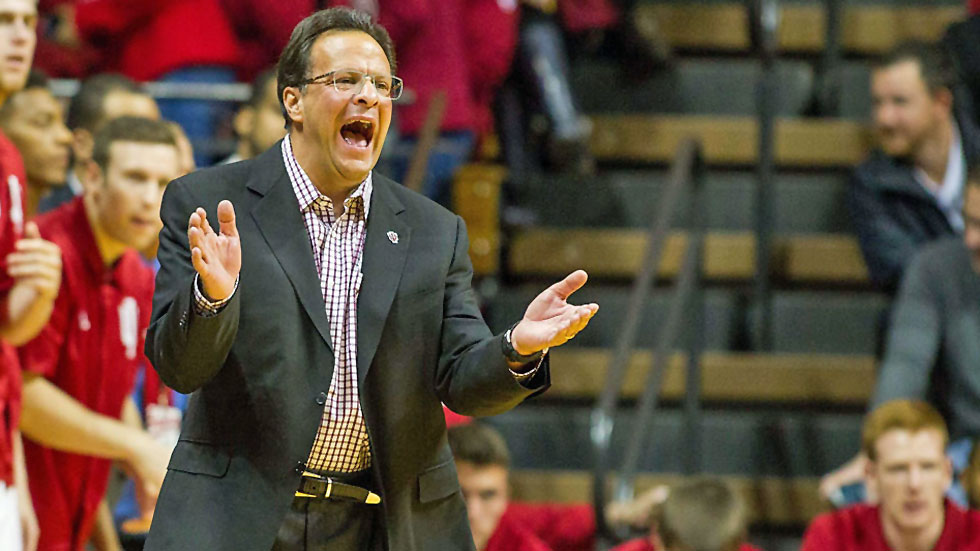 BLOOMINGTON, Ind. -- It's such a strange question to ask another person, I realized in advance. But I'd flown to Indianapolis, rented a car and maneuvered 70 minutes down the road to try to find an answer. And now I was sitting in a conference room inside Cook Hall on this sprawling Big Ten campus following a two-hour practice during which Indiana's coach talked about the importance of fighting through screens and rebounding from the guard positions, and he and I were alone. So I decided this was as good a time as any to ask something that's been bouncing around my head for a while.
I looked at Tom Crean and started talking.
On one hand, I told him, he's a coach who has made three of the past four NCAA Tournaments, advanced to the Sweet 16 twice in that span, won an outright Big Ten title, earned a No. 1 seed, and overachieved as recently as last season when his Hoosiers were picked 11th in the Big Ten but still made the Field of 68. To most people, I told him, that's good -- especially when you consider Crean has also recruited and developed well enough to have a team ranked 14th in the latest Associated Press poll. However, on the other hand, I told him there always seems to be some segment of IU's fanbase anxious to mock and replace him, and I told him I didn't think I could tweet his name without an Indiana supporter replying with something negative. And I told him that didn't make a lot of sense to me.
Why is life this way for Tom Crean?
That's the question I came here to answer.
So basically, I asked Tom Crean why more people don't like Tom Crean.
"Well, you know what happened last March, right?" Crean asked.
And I did. But I waited for him to say it. And then he did.
"Tom Crean sucks."
As the story goes, Crean and his wife, Joani, were at their son Riley's high school basketball game. It was a road game. Against a rival. And when Riley checked-in and walked onto the court, some students started a "Tom Crean sucks" chant that filled the gym.
"I think I looked at Tom and said, "Well, that's a nice one,'" Joani recalled with a smile.
In other words, pretty quickly, she brushed it aside.
Joani's strong like that. The sister of John and Jim Harbuagh, she can take a hit.
But no father wants to be the source of heckling directed at his teenage son. That's an awful feeling. So while Crean has heard and read plenty of worse things than a cliched chant from some immature kids, he admits that chant from those kids on that night, during his son's game, stung unlike most things he's experienced.
"That was hard," Crean said. "But I didn't feel bad for me. I was OK. But you know it affects him, and, in turn, that affects you. And that's hard. That was really hard."
Equally hard was what happened to Megan Crean, Tom and Joani's oldest child.
She's a student at Indiana.
"Megan is remarkable," Joani said before telling a story that … well, man, listen to this story.
"One of her professors, on April 1, announced to the class that Tom Crean got fired," Joani said. "He said 'Tom Crean was fired this morning.' And Megan was sitting in the class. And people cheered. And then the professor said … 'April Fools!'"
I mean, can you imagine? You're a student, sitting in class, surrounded by friends, and your professor is joking about your father being fired. And your classmates are cheering.
This, in a nutshell, is life for Tom Crean and his family here in Bloomington -- and it's been this way, for one reason or another, for the better part of seven years.
***
Tom Crean got a big ovation when he was introduced during Indiana's annual Hoosier Hysteria at Assembly Hall last month. Not a single boo, far as I could tell. And after talking to people in and around the program I feel confident suggesting a good portion of IU's fans, perhaps even the majority, remain on board with IU's coach.
That's the sense I get, at least.
Regardless, Crean's critics are out there by the thousands. That's undeniable. They are on Twitter and Facebook and message boards. They are at his son's basketball games. And they're even, apparently, running classrooms on Indiana's campus.
But why?
And where, and when, did this all begin?
Tom Crean is up against a pretty tough standard with John Calipari and Kentucky. (USATSI)
To answer those questions, perhaps it's smart to start at the beginning, with Crean's first three seasons at IU that produced an 8-46 Big Ten record. Yes, informed folks understood that was mostly the result of the mess Kelvin Sampson and his staff left behind. But those years were still difficult for IU's intense fanbase to endure, largely for three reasons:
1. John Calipari got the Kentucky job a year after Crean got the Indiana job, and Calipari turned UK into a title contender in roughly 15 minutes. So why was it taking Crean years to do what Calipari did in weeks? Some impatient Indiana fans asked that question, and loudly.
2. Matt Painter led Purdue to a 39-15 Big Ten record -- and two Sweet 16 appearances -- in the same three-year span that Crean coached Indiana to that 8-46 Big Ten record. And it's never easy for fans to watch their team stink while their rival flourishes.
3. Brad Stevens developed into the hottest coach in the sport while Crean was rebuilding, and this happened just 55 miles from IU's campus. The Indiana native led Butler to back-to-back national title games before Crean got Indiana to the NCAA Tournament even once. And, if not for Stevens bouncing to the Boston Celtics and insisting he has no interest in returning to college, some Indiana fans would still be screaming his name, I'm certain.
"Indiana basketball fans are accustomed to IU being a big dog nationally -- year in and year out," said Jeff Rabjohns, who has covered IU for years, previously for The Indianapolis Star, now for Peegs.com. "I don't think there's any question what has occurred at Kentucky and Butler and, to a degree, at Purdue has at times amplified the frustration of IU fans and added pressure to the person in the coach's seat in Bloomington."
Regardless of how long it did or did not take, Crean eventually broke through. He led the Hoosiers to 27 wins and an appearance in the Sweet 16 in 2012. Then, the following season, he guided Indiana to its first outright Big Ten title in more than two decades.
The result of that?
A top seed in the 2013 NCAA Tournament.
The Hoosiers opened the event with wins over James Madison and Temple. Then, in the Sweet 16, they faced Syracuse, missed 12 of 15 3-point shots -- despite being the nation's fourth-best 3-point shooting team -- and lost 61-50. And that, as they say, was that. Never mind that upsets happen all the time in that single-elimination tournament. Or that Syracuse had future NBA Rookie of the Year Michael Carter-Williams. Or that Indiana's best 3-point shooter, Jordan Hulls, was injured in a way that caused him to finish 0 of 6 from 3-point range. To the majority of Indiana fans, this was a missed opportunity that doubled as an unforgivable sin, details be damned.
"The loss to Syracuse made it look like we didn't accomplish anything," Crean said. "And then all those guys left."
Those guys were Victor Oladipo, Cody Zeller, Christian Watford and Hulls -- otherwise known as four 1,000-point scorers. Predictably, Indiana slipped the subsequent season and missed the NCAA Tournament. And that fact combined with one off-the-court issue after another led to fans and media alike calling for Crean's job.
Meantime, Devin Davis was lying in a hospital.
This was in November 2014, a couple of week's before Indiana's opener. And if you're trying to pinpoint when and where Tom Crean's outlook on everything changed for good, a year ago this month, in an elevator at IU Health Bloomington Hospital, is the right place to start.
***
"I remember the exact moment when [SID] J.D. Campbell pounded on our front door," Joani Crean said. "I was in a complete stupor. And the first thing I thought of was my daughter."
It was early on a Saturday, middle of the night, and Campbell cut right to it.
Devin Davis, a sophomore forward, was in the hospital.
The night Devin Davis was hit by a car changed a lot of things for Tom Crean. (USATSI)
"J.D. said Devin got hit," Joani recalled. "And I said, 'Over what? A girl?' … I didn't think [he meant hit by a] car."
But he did mean hit by a car, and, by now, you probably know the story. Davis was legally drunk. He got out of a vehicle driven by teammate Emmitt Holt, then inexplicably, likely because he was really drunk, ran in front of the vehicle while Holt was driving away. Davis was hit and injured badly. So Tom and Joani Crean rushed to IU Health Bloomington Hospital, where they spent most of the next few days praying for a recovery.
That's what was going on inside that building.
But outside a debate was swirling about the future of Indiana.
The Holt-Davis incident on that Saturday was followed by news that two other Hoosiers (Troy Williams and Stanford Robinson) had failed drug tests, which meant five of IU's 13 scholarship players had been cited for alcohol violations or failed drug tests. Or both. On that Tuesday, Gregg Doyel, the award-winning writer for The Indianapolis Star, began a column with these words: It's only a matter of time, now. Tom Crean cannot coach the Indiana basketball team much longer. When would be too long? The Hoosiers' first exhibition is Thursday night. That would be too long.
"The negativity was piling on," Tom Crean said.
"I was starting to hear rumblings," Joani Crean acknowledged.
And she could sense her husband was hearing and feeling those rumblings, too. So she decided to address the situation. And she did so in an elevator at the hospital while the two were riding up to again see Davis.
"Somebody was in the elevator with us, but then they got off and the door closed," Joani recalled. "And I just looked at him and said, 'We're good. I'm good. Your kids are good. We're fine.' I go, 'Whatever happens from this moment forward is what's supposed to happen. So we'll move on from here.'"
Tom Crean remembered the moment similarly.
"She's the one who helped me most when the accident happened," he said. "I'll never forget it. We're on the first floor heading up to the third, and she said, 'We're going to be fine. Don't worry about [the negativity]. He matters.' And she was pointing up to the third floor, where Devin was. And she said, 'That's what matters. He matters. We're going to be fine.' … And that moment crystalized a lot of things. All the negativity swirling made no dent whatsoever versus how hurt Devin Davis was. ... Now, I didn't like the negativity. But I couldn't focus on it because the kid was hurt. He didn't speak for the first day. And she's the one who helped me. She was really great with that."
***
Twitter is a fascinating and cruel place where just about anybody with a significant number of followers can't go a day without being called dumb, ugly or worthless in general. If you're an athlete who goofs up, you might get death threats. If you're a Kardashian, good luck. And if you're Tom Crean, yeah, that can also get bad.
Tom Crean year-by-year
Season
School
Record
Postseason
1999-00
Marquette
15-14
NIT 1st
2000-01
Marquette
15-14
--
2001-02
Marquette
26-7
NCAA 1st
2002-03
Marquette
27-6
NCAA Final Four
2003-04
Marquette
19-12
NIT Qtrs.
2004-05
Marquette
19-12
NIT 1st
2005-06
Marquette
20-11
NCAA 1st
2006-07
Marquette
24-10
NCAA 1st
2007-08
Marquette
25-10
NCAA 2nd
2008-09
Indiana
6-25
--
2009-10
Indiana
10-21
--
2010-11
Indiana
12-20
--
2011-12
Indiana
27-9
NCAA Sweet 16
2012-13
Indiana
29-7
NCAA Sweet 16
2013-14
Indiana
17-15
--
2014-15
Indiana
20-14
NCAA R64
2015-16
Indiana
2-0
--
MU Total
9 years
190-96
--
IU Total
8 years
123-111
--
TOTALS
17 years
313-207
--
Few understand this better than Andrew Wittry. He's a journalism student who covers the Hoosiers for Indiana's campus newspaper, the Indiana Daily Student, and he has a Tweetdeck column dedicated to the phrase "Tom Crean." So Wittry sees everything tweeted about Tom Crean.
"It's mostly negative," Wittry said. "Search 'Tom Crean' sometime and see what the people with 20 followers and an egg avatar have to say about him. … For some reason, he just seems to be an easy target for people."
Crean is aware of this, too.
Which is why you might've noticed, if you're one of his 146,000 followers, that he hasn't tweeted since the day he and his wife had that conversation in that elevator about what's important and what isn't, about what matters and what doesn't. Crean swears he no longer gets on Twitter for any reason. Sure, he has assistants monitor players' accounts and recruiting news, and he trusts his SID will get him anything he needs to read. But he doesn't actually sign-in to his account anymore because, he realized, the negativity was unproductive and, if he were on Twitter, there'd be no way to avoid it.
"The smartest thing I did was get off social media. No more tweeting," Crean said. "If I can get to it, I'm going to look at it. And anybody who says they're not reading [their mentions] is lying. So I'm still reading a lot. But I'm not reading social media."
Consequently, guess who no longer hears negative stuff about Tom Crean?
Answer: Tom Crean.
Because when you spend pretty much every hour of every day in your home surrounded by loved ones, or in a facility surrounded by people who work or play for you, the percentage of crazy people you encounter is drastically reduced. And, for the most part, people are cool in person regardless -- save those kids at that high school down the road.
"I hear about all the negativity, and I know it's there, but I don't see much of it anymore," Crean said. "I know it's there. You'd be naive to think it's not. But I don't see it. So I'm more at peace and more focused on what really matters and what's controllable."
***
The weird thing about all the turmoil the Holt-Davis accident brought to Indiana is that neither player remains a part of the program. Davis, along with Hanner Mosquera-Perea, was dismissed after he was cited in May for possession of marijuana on campus. And Holt was dismissed in August after another alcohol-related citation, meaning Crean has removed three Hoosiers from his roster since the end of last season.
This has left Indiana small in the frontcourt.
More than that, though, it's left Crean frustrated.
After all Davis had been through, and all the negative attention he'd brought to IU, how could he end up burning marijuana in a dorm? And after Holt damn-near killed his teammate, even if it wasn't really his fault, how could he get back in another vehicle with a bottle of alcohol? Didn't they realize every little thing is now a big thing at Indiana? Don't they know they're damaging the reputations of their school and their coaches and their teammates?
"You have to learn not to take it personally from players," Crean said. "Like … do you think those players [at Louisville] with Rick [Pitino] thought they were hurting Rick?"
"No," I answered.
"But they've hurt Rick," Crean replied in an obvious comment about the ongoing scandal rooted in allegations that Louisville players and recruits partied with dancers and prostitutes in a Louisville dorm. "Kids don't think that way, though. They don't think they're affecting me and my family. But they are. And what we've tried to get across to them is that you're affecting your family and you're affecting the Indiana family [when you create an off-the-court headline]. We've tried to get across to them that their actions affect a lot of people."
In eight seasons at Indiana, Tom Crean has yet to advance past the Sweet 16. (USATSI)
Which brings us to the letters.
Crean had Indiana's current players, after Holt was dismissed, write letters to Indiana's former players. They drew names out of a bowl. More than 200 total. And each former player got a handwritten letter from a current player.
"We wanted to tell them that we've made mistakes … but that's not who we are," said Indiana senior Collin Hartman. "And we wanted to tell them that we're going to do everything we can to show that we're good people and good men. … Basically, we just apologized for somewhat tarnishing what they've built."
***
Tom Crean has only interviewed for two jobs since he was named the head coach at Marquette in March 1999.
"One was Kansas -- when Bill [Self] got it," Crean said. "It was a phone interview. I was in the parking lot at Miller Park."
The other, of course, was Indiana -- a job Crean took in April 2008 and has kept ever since.
Translation: He's not a job-jumper.
So although he's been approached by third-party representatives about openings just about every year since arriving at Indiana, including after last season, Crean swore he's never considered leaving Indiana despite the theory that bouncing to a new school with fresh expectations, at this point, might be wise in the spirit of career longevity.
I asked Crean if anybody has suggested he do that -- bounce out of Indiana.
"Yeah, friends," Crean said. "But I don't listen to that. … I like it here."
And that, more than anything, is my biggest takeaway from three days I spent here in Bloomington -- that Tom Crean really does like it here even if a segment of the fanbase, the size of which is debatable, might not like him here. He believes in what he's done and what he's doing, and he genuinely believes lots of better years are ahead.
Will he ever win enough to win everybody over?
Probably not.
But that's totally beside the point because, after seven years on the job, he's finally come to peace with that reality. He doesn't like it, needless to say, if only because he would, like any of us, prefer to be loved by everybody. And appreciated. And embraced. But that's just never going to be the case at Indiana, for a variety of reasons, and so Tom Crean no longer hopes for that. What he hopes is that his son is never greeted with another negative chant. And that his daughter's professors are done with April Fool's jokes. And that Syracuse never upsets him again in the Sweet 16. And that he takes the Hoosiers to the Final Four.
But, either way, as Joani might say, he's going to be good.
He's going to be good and he's going to be fine.