ATLANTIC CITY, N.J. -- Luke Fabrizius hit two free throws with 5.8 seconds to play and Dayton stunned No. 18 Xavier 68-67 in the quarterfinals of the Atlantic 10 Conference tournament on Friday.
The Flyers (21-12) blew a 17-point lead in the second half and trailed by a point before Fabrizius made his foul shots.
Atlantic 10 player of the year Tu Holloway's running 35-footer bounced off the backboard and the rim at the buzzer as Xavier (24-7) continued its recent run of A10 tournament woes.
Conference tournaments
Related links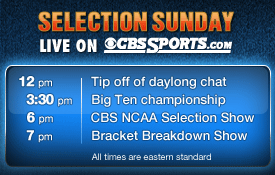 The Musketeers, who have made the round of 16 in the NCAA tournament each of the last three seasons, have not won a league title since 2006 despite having a share of the regular-season title the past five seasons.
Xavier likely will get another bid to the NCAA party on Sunday.
Chris Wright had 15 points to lead Dayton, which lost both regular-season meetings with Xavier. Paul Williams had 8 of his 14 in a game-opening 21-3 spurt and Chris Johnson 12 and 10 rebounds. Fabrizius finished with 10 points.
Holloway, who had 23 points, held his hands on top of his head after missing at the buzzer. Mark Lyons added 14 and Jamel McLean had 11.
Xavier staged a magnificent comeback after falling behind 21-3 in the opening minutes, and finding itself down 54-37 with 12:21 to play after Williams hit a 3-pointer.
After that, the Musketeers started playing like the best team in the league. They eventually tied the game at 64 on a fastbreak layup by Holloway with 2:47 to play, capping a 27-10 spurt.
Both teams failed to score on their next possession and Dayton eventually took a 66-64 lead on a layup by Josh Benson with 1:26 to play.
Lyons missed a drive on the Musketeers' next possession and Xavier looked in trouble when they committed a foul with 36.5 seconds to go, giving Dayton another 35-second shot clock.
However, the Flyers could not get the ball in play and were called for a five-second violation.
Holloway drove the left side of the lane on the ensuring possession and converted a three-point play, giving Xavier its first lead at 67-66 with 23.9 seconds to go.
Xavier had a foul to give and it did with 12.6 seconds. Johnson missed a jumper in the lane on the inbounds play but Fabrizius got the rebound and was fouled hard by Lyons on his way back up.
Fabrizius fell hard to the floor and hit his head. For a couple of seconds there was concern he was hurt. However, he cleared his head and his free throws hit nothing but net.
Holloway inbounded the ball to 7-foot center Kenny Frease on the final possession. The guard bobbled the ball momentarily taking a return pass and the lost time prevented him from taking the ball to the basket. His runner was on line but a little hard and Xavier, which lost only one game to an A10 team in the regular season, fell again in the tournament.
Dayton hit eight of its first nine shots, including four 3-pointers in jumping to a 21-3 lead in the opening 7:22. Williams ignited and capped the burst with 3-pointers.