LAS VEGAS -- One by one, Utah State's players climbed the ladder to claim snippets of nylon as their fans, the ones who made the Orleans Arena feel a lot like Logan, massed at center court.
After waiting to get an NCAA invite a year ago, the Aggies had done it on their own this time -- and it sure felt sweet.
Tai Wesley scored 19 points after a quiet start and No. 23 Utah State earned its second straight trip to the NCAA tournament, beating Boise State 77-69 in the Western Athletic Conference championship game Saturday night.
"The best thing is there's no way they can keep us out," Utah State coach Stew Morrill said. "We're in, so we're excited about that."
Utah State (30-3) was solid throughout in its fifth WAC title game in six years, getting contributions up and down the lineup.
Conference tournaments
Related links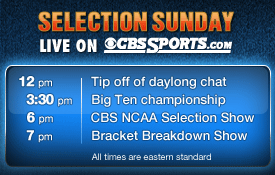 Brian Green (12 points) and Nate Bendall (16 points) did most of their work during runs to start of each half. Tournament MVP Brockeith Pane scored 13 of his 19 points in the first half and hit some key free throws in the closing seconds.
Wesley, the WAC player of the year, took over down the stretch, scoring nine points in the final 5 minutes, breaking into a smile in the closing seconds with the victory secure.
Their combined effort helped the Aggies match a school record for wins and set off a rush-the-court celebration at midcourt that lasted long after the final buzzer.
"This game definitely showcased our all-around play," said Wesley, who had nine rebounds and made 8 of 10 free throws. "We're a team and we play that way. There's not one guy that's going to beat you. It's a team game and we play it that way."
Boise State (20-12) twice came back from double-digit deficits to make it close, but struggled from the perimeter -- 6 for 26 from the arc -- and will now have to hope for some generosity from the NCAA tournament selection committee for its first berth since 2008. That's probably a longshot coming out of the weak WAC, though an NIT bid looks good.
Either way, to win 20 games and reach the championship game of the conference tournament under a first-year coach is still pretty impressive.
La'Shard Anderson led the Broncos with 18 points.
"It's a tough challenge to learn a new system -- me to learn them as well," said coach Leon Rice, who won more games than any other first-year coach at Boise State. "We kept plugging away. Teams with character pull things out. From where we were at the beginning of the season, you can't image playing at this level."
Utah State wrapped up the WAC regular-season title early and had a decent win against Saint Mary's, building a strong case to get an at-large bid to the NCAA tournament. The Aggies didn't want to gamble on their trip to The Strip, though, hoping to earn the automatic bid instead of sweating it out on selection Sunday like they had to do in two of the previous three seasons.
Utah State managed to get an NCAA invite last season despite losing in the WAC tournament, but wasn't so fortunate in 2007-08 after winning the regular-season title and losing in the second round to Boise State.
The Aggies took the first step in the semifinals on Friday, pulling out a four-point win over San Jose State despite struggling offensively most of the night.
Utah State had no trouble with Boise State during the regular season, winning by nine in Idaho, then busting the Broncos with a 28-point shellacking at a charged-up Spectrum in Logan.
Boise State has been a different team since then, though.
Embarrassed by the loss in Logan, the Broncos regrouped and refocused, peeling off seven straight wins to close out the regular season and earn their highest seeding since joining the WAC in 2001-02. Boise State had to shake off the rust a little after earning a double-bye in the tournament, but turned it on quickly to rout New Mexico State in the semifinals to earn another shot at the Aggies.
The Broncos were intent on not letting Wesley beat them in the first half, doubling him immediately on every touch in the post. He had no trouble whipping passes out to the wings for open shots, particularly to Green, who had eight points as the Aggies built a 12-point lead by the midpoint.
Boise State wouldn't let them run away with it just yet.
The Broncos, after missing their first seven 3-point attempts, hit three over the next few minutes, then Anderson took over, scoring 13 points in the half to keep Boise State within two.
Utah State opened the second half just like the first, this time turning to Bendall, who scored eight points in the first 3 minutes during a 12-0 run that put the Aggies up 47-33.
Boise State again chipped away at the lead, pulling within two with just under 5 minutes left, but never made it all the way back. The Broncos will likely play again this season, they just don't know where.
"This team has moved on this season," Boise State forward Daequon Montreal said. "At practices, guys get on it. When we know where it will be or what it will be, we'll get on it."
The Aggies know they're headed to the program's 20th NCAA tournament, though won't find out where it'll be until Sunday's selection show. Until then, it's time to savor the spoils of getting there on their own.
"They earned the right to enjoy themselves this championship game," Morrill said. "We didn't want them uptight, we wanted them to enjoy playing basketball and that's the same thing that we'll take into next week."