EL PASO, Texas -- Two years after John Calipari left town, Memphis is back in the NCAA tournament.
Joe Jackson made two free throws with 7 seconds left and the Tigers rallied past UTEP 67-66 on Saturday to win the Conference USA championship and an automatic bid to the NCAAs.
UTEP had a final chance to win at the buzzer, but Christian Polk's jumper fell short.
"One thing about us, early in the year, we had a lot of close games," Memphis coach Josh Pastner said. "I felt that those games that we won early in the year and in overtime were going to be good for us later on. We have found a way to win. That's a credit to the players because the players made plays."
After Jackson's clutch shots gave the Tigers (25-9) their only lead of the game, UTEP pushed the ball up the floor and retained possession after a loose ball was knocked out of bounds by Memphis with 2.5 seconds left.
Miners coach Tim Floyd called timeout and set up an inbounds play from the baseline. Polk, who scored 27 points, took the pass on the right wing and got off a tough jumper from just inside the 3-point arc with three defenders running at him. The shot bounced off the front of the rim, and Memphis players rushed to the middle of UTEP's home court to celebrate.
Conference tournaments
Related links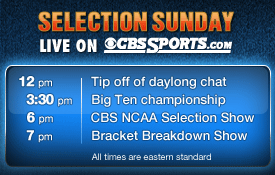 "To beat a team like [UTEP] with the type of talent they have and as well-coached as they are here in their home arena is hard," Pastner said. "That is hard to do and that's a credit to these young men. It's a great win for Memphis."
The Tigers had plenty of great wins under Calipari, the big-name coach who bolted for Kentucky before last season after leading Memphis to six NCAA tournaments -- including four in a row from 2006-09. He guided the Tigers to the 2008 national title game, where they blew a late lead against Kansas and lost in overtime.
Following an NIT appearance last year, Memphis quickly regrouped and made it back to college basketball's biggest stage.
"Everybody played well," Pastner said. "The reason we won this tournament is because of defense and that has been our calling card all year."
Jackson finished with 17 points and Chris Crawford had 15 for No. 4 seed Memphis, which was routed 74-47 at UTEP just two weeks earlier. Tarik Black and Will Barton each added 11.
Julyan Stone pulled down 11 rebounds for the third-seeded Miners (25-9), who led by as many as 13. They're still looking for an at-large berth in the NCAAs on Sunday.
"We're disappointed for our city, disappointed for our seniors and all these kids have been absolutely terrific. We're hopeful we'll still be playing," Floyd said.
Polk thinks the Miners are good enough to warrant a spot.
"I think we pass the eyeball test, whatever that is. We can play with anybody in the country," he said.
UTEP opened the game with a 9-0 run before Memphis called a timeout. The Miners continued to pressure the Tigers throughout the first half before going into the break with a 36-27 lead.
Memphis started the second half with several defensive adjustments, including a full-court press that helped chip away at UTEP's 12-point lead with just more than six minutes left.
The Tigers went on a 9-0 run to cut it to 62-59 on Crawford's 3-pointer with 4:18 to go. Memphis finally tied it at 65 on another 3 by Crawford with 1:53 remaining.
Gabriel McCulley made one of two free throws with 1:30 left to put UTEP ahead 66-65, but Polk couldn't convert the Miners' last chance.
He thought he might have been fouled on the last shot.
"I thought he got my arm a bit, but we can't blame the refs. We had turnovers down the stretch," Polk said. "The game was in our hands, but I think they missed the last call."
Pastner and Floyd both think Conference USA should have multiple teams in the NCAA tournament.
"There is no question in my mind that this is a multiple-bid league," Pastner said. "There should be four teams in, and you could make a stretch for five."