WINSTON-SALEM, N.C. -- Ed "Little Buck" Joyner got to achieve his goal in his hometown in front of his father, uncle and numerous other relatives and friends in his coaching-rich family.
Joyner has Hampton back in the NCAA tournament in only his second year on the job -- with the player he helped convince to change his mind about transferring leading the way.
Brandon Tunnell scored 20 points, including four free throws in the final minute, and Hampton secured its first NCAA berth in five years with a 60-55 victory over Morgan State on Saturday in the Mid-Eastern Athletic Conference title game.
Conference tournaments
Related links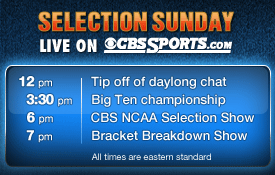 While Morgan State coach Todd Bozeman accused the officials of bias and the league of wanting the Pirates to win, Joyner was still celebrating on the floor with his family.
His father, Buck, is the coach at St. Paul's. His uncle, Steve, coaches Johnson C. Smith. His cousin, Steve Jr., is the women's coach at Winston-Salem State.
"I tell everybody and I'm not ashamed to say it: I'm historically black college born and bred," Joyner said. "So if anybody deserved this and if there was anything for me to be selfish about, I wanted to take a historically black college to the NCAA tournament.
"I didn't care what Division. It could have been Division 12, I wanted to do it."
Tunnell's clutch play helped the second-seeded Pirates (24-8) accomplish that feat. Two years after he nearly transferred while upset about his playing time, the senior guard hit 7 of 10 shots and 5 of 7 free throws.
"I was pretty close," Tunnell said of leaving. "If it wasn't for Coach Joyner, who at the time was an assistant coach, I probably wouldn't be here."
Joyner had to deal with far more serious issues when he took the head coaching job. Senior captain Theo Smalling died in a shooting just before last season, which ended with a loss in the MEAC semifinals.
Now the Pirates have won five straight and stopped the fourth-seeded Bears (17-14) from a third straight league crown.
Morgan State coach Todd Bozeman doesn't think his team, which took 10 fewer free throws, got a fair shake.
"One official, every game we had him we lost," Bozeman said, refusing to name him. "It pains me. ... It's just ridiculous. I think they got what they wanted."
Tournament MVP Darrion Pellum added 12 points for Hampton, which held Morgan State scoreless for more than 8½ minutes in the second half in a game in which neither team shot better than 36 percent.
"I thought we were getting some fouls, but obviously we weren't getting any foul calls," Bozeman said. "That's tough."
DeWayne Jackson had 25 points, including a 3-pointer with 25 seconds left to get Morgan State within 57-55. But Tunnell hit two free throws on the next possession before Jackson missed a long 3 to end the Bears' hopes.
No other player scored in double figures for Morgan State. Kevin Thompson, the MVP of last year's tournament, had 15 rebounds, but only eight points on 2-of-9 shooting.
"For Kevin Thompson to get four free throws just seems absolutely ridiculous to me," Bozeman said. "It's horrible when a team shoots 30 free throws and you shoot 20.
"I always felt if you get in the championship game you're going to have a really tough time. If you look at all the connections ..."
Bozeman declined to elaborate.
Best known for his tumultuous 3½-year tenure at California in the 1990s that ended with him being dismissed and receiving an eight-year ban for major recruiting violations, Bozeman had his team close to knocking off the league's top two teams in the regular season.
A day after upsetting top-seeded Bethune-Cookman, Morgan State struggled to get in a rhythm early. But Jackson, who shot 9 of 19 and grabbed six rebounds, helped Hampton rally late.
Bozeman seemed to sense his rant would bring sanctions from the MEAC.
"I'm going to take the fine. I don't even care," he said. "Sometimes things have to come out."
It didn't temper Hampton's celebration, which included players piling on each other on the floor as the buzzer sounded.
The Virginia school, best known for its stunning upset of Iowa State in 2001, is headed back to the NCAA tournament for the first time since losing to Monmouth in the 2006 play-in game.
"I've dreamed of this day," said a smiling Joyner, "and it's here."