ATLANTIC CITY, N.J. -- Chris Wright had 17 points, 15 rebounds and five assists and Dayton advanced to the Atlantic 10 Conference tournament championship game for the first time since 2004 with a 64-61 victory over stubborn Saint Joseph's on Saturday.
Conference tournaments
Related links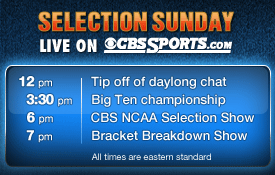 Chris Johnson added 19 points for the ninth-seeded Flyers (22-12), who will play in the final on Sunday.
Langston Galloway had 16 points and Idris Hilliard 15 for Saint Joseph's (11-22), which reached the semifinals with overtime wins over George Washington and Duquesne in the first two rounds.
Down 11 with 5:33 left, the Hawks pulled within two, 63-61, with 8.8 seconds to play on two free throws by Galloway. Dayton's Josh Parker hit a free throw with 5.8 seconds left for the final margin.
Saint Joseph's had a couple of chances to tie, but turned the ball over on an inbounds play in front of their own bench with 2.8 seconds to go.
Temple's three-year run on the boardwalk is over.
Richmond dethroned the three-time defending Atlantic 10 Conference tournament champions Saturday, getting 22 points from Kevin Anderson in a victory in the semifinals.
The win allowed the third-seeded Spiders (26-7) to avenge a loss to the No. 24-ranked Owls (25-7) in last year's title game and a 20-point loss earlier this season.
"Getting over the hump and getting Temple is, that's it," Richmond senior center Dan Geriot said. "Everyone knows this boardwalk empire goes through Temple, so to beat them in a game like this, where it was gut-check time over the final 5 minutes with the game in the 50s, and for us to make the plays, just shows we are there."