BOSTON -- Boston University is back in the NCAA tournament for the first time since 2002 because John Holland brought the Terriers back from a 15-point deficit in the second half.
After going scoreless for the first 17 minutes, the America East Player of the Year hit two free throws with 2.4 seconds left to cap a 27-point performance and give BU a 56-54 win over Stony Brook in the conference championship game Saturday.
"I knew I had to be aggressive because that's my game," said Holland, who had 23 points in the second half. "It was really important for us to just stay in the moment and not look up at the scoreboard."
Conference tournaments
Related links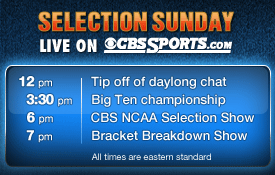 It would have been an ugly sight for the Terriers (21-13) for much of the game. They missed their first seven shots and trailed 41-26 with just more than 3 minutes gone in the second half. And they didn't lead until Holland's final free throws.
The Seawolves had one last chance, but Bryan Dougher's 50-foot shot at the buzzer bounced off the rim. The second-seeded Terriers scored the final eight points to win their 11th straight game, tying it at 54 on Holland's two foul shots with 1:03 left. Then they were helped by referee Bob Adams' foul call against Dallis Joyner as Holland drove along the baseline, setting up the decisive points.
"I thought he traveled, first of all. I'm not sure about that," Stony Brook coach Steve Pikiell said. "You would like the players to decide a game, but we had our opportunities."
Holland said, with a smile, "I don't think I traveled. I haven't seen it, so who knows? It was fortunate."
There was no question about the senior guard's dominance during one 6-minute stretch. Holland, the tournament's most outstanding player, scored 14 consecutive points in a span of 5:58, cutting Stony Brook's lead from 41-26 to 41-40 with 10:32 left.
"The stretch he just had in the second half where he literally took over the whole game and went on a one-man wrecking crew, I don't think I've ever seen anything like that. It was pretty amazing," said second-year BU coach Pat Chambers, a former Villanova assistant under Jay Wright.
Holland added 11 rebounds and Darryl Partin scored 12 points. Leonard Hayes led Stony Brook with 14 points, all in the first half, and Dougher and Chris Martin had 12 each.
A perennial hockey power, Boston University won its fifth NCAA title on the ice in 2009. The basketball program, however, is best-known for hiring a couple of prominent coaches early in their careers: Rick Pitino and Mike Jarvis.
BU reached the NCAA tournament for the seventh time but will almost certainly be a big underdog in the first round.
"It's not over yet," Holland said, "so let's try to keep it going as long as possible."
Stony Brook (15-17) has never made it to the NCAAs in the 12 years since it moved up to Division I.
Fittingly, the final four points came on free throws. The Terriers made 24 of 29 from the line while the fifth-seeded Seawolves were 14 for 15. Boston University won despite missing 17 of 19 shots from 3-point range and having just two assists.
"Our game plan was to not put them on the free throw line and I hate the fact that they won the game on the free throw line," Pikiell said.
The Terriers didn't do much from the field in the first half, sinking just six of 27 shots. The Seawolves led 30-23 at halftime, then opened the second half with an 11-3 run.
"I looked those kids in the eye and I didn't see one of those deflated looks," Chambers said, "one of those, 'oh, no, we're in trouble,' or `oh, no, we might lose this game.' That never crept in."
With BU trailing 41-26, Holland connected on a jumper from the left baseline before Martin made two layups for the Seawolves with 16:47 to go. But they didn't score again for more than 5 minutes while Holland kept scoring to make it a one-point game. That included Boston University's first 3-pointer after 13 misses.
"We held him to four points in the first half but I said to our guys at halftime, 'Forget about that, he averages 20,"' Pikiell said. "If the game was 20 minutes, we would have been in great shape."
Stony Brook built the lead to 54-48 with 3:31 to go on two free throws by Martin and a layup by Preye Preboye before Martin sank two more free throws after Holland made a pair.
But those were the final points for a team that won the America East regular-season title last year before losing in the semifinals of the conference tournament to the Terriers.
"We played good for 35 minutes," Martin said. "We just fell apart."
D.J. Irving made two free throws, making it 54-50. Then Holland drove to the basket, drawing a double team, and dished the ball to Dom Morris for an easy layup with 2:17 remaining.
Martin missed a layup with 1:03 to play and Holland was fouled after grabbing the rebound. His shots tied the game, but the Seawolves had the ball. But again, Holland made a big play when Dougher dribbled into traffic near the top of the key and was tied up by Holland with 31.4 seconds left.
The Terriers had the possession arrow and ran the clock down until Irving passed to Holland on a backdoor cut for the drive that resulted in the foul and the winning points.
Dougher's desperation heave missed and fans at a packed Agganis Arena raced onto the court to celebrate. It was a rare sight for a team that had mediocre support for much of the season.
"I knew they had to be out there somewhere," Holland said. "It's great to see."