Freshman guard Zam Fredrick II has decided to stay at Georgia Tech.
OK ... if you want to be technical about it, South Carolina coach Dave Odom has decided not to hire Fredrick's father as an assistant coach. Fredrick's father, Zam Sr., was a college star at South Carolina and is a high school coach in the state. When his son was choosing a college out of high school, according to the Columbia (S.C.) State, "it became clear that the Fredricks were, indeed, a package deal for USC."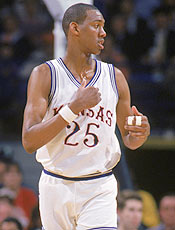 Odom didn't go for it then, and even though he has a staff opening, he's not going for it now. And so Zam Fredrick II is going to stay at Georgia Tech.
Judging from the Fredrick situation and the latest round o' fun at Southern California, the package deal is making a comeback. On second thought, it never left. Ten for Tuesday understands that one package deal isn't necessarily as smarmy as the next. Hence the "ooze factor" included after each package deal, free of charge.
1. Kansas: In the mother of all package deals, Kansas coach Larry Brown lured Danny Manning of Greensboro, N.C., away from the Tar Heels by hiring his father, Ed Manning, in 1983. Brown and the elder Manning had been teammates in the ABA, but until Brown added him to the staff at one of the best programs in college basketball, Ed Manning had been driving a truck. Ooze factor: Radioactive.
2. Memphis: In the father of all package deals, John Calipari wanted Dajuan Wagner so badly in 2000 that he made Wagner's father, Milt, his director of operations ... and gave a scholarship to Wagner's best friend, serviceable forward Arthur Barclay. Where could Calipari have learned such a thing? In 1983, he was on Larry Brown's staff at Kansas. Ooze factor: Potentially fatally radioactive.
3. Villanova: In 1996, Tim Thomas was considered one of the country's best seniors. Villanova's Steve Lappas made an assistant of Thomas' high school coach and cousin, Jimmy Salmon. Boy, was everyone shocked when Thomas signed with Villanova. Both were gone after one season. With Thomas in the NBA, Salmon was no longer needed at Villanova. Ooze factor: Toxic.
4. Southern California (Part I): At about the same time in 1998 that he added Highline (Wash.) Community College coach Joe Callero to his staff at USC, Trojans coach Henry Bibby signed two of Callero's best players, Brian Scalabrine and Quincy Wilder. Scalabrine would score more than 1,000 points in three seasons at USC. Wilder and Callero would last a year at USC, Wilder transferring to Boise State, Callero becoming a head coach at a Division III school back in Washington. Ooze factor: Take a shower, Bibby.
5. USC (Part II), Miami, Kansas: Center C.J. Giles of Rainer Beach (Wash.) High committed to USC in 2003 because of his affinity for USC assistant Kurtis Townsend, who had successfully recruited Rainer Beach alumni Jamal Crawford to Michigan and Lodrick and Rodrick Stewart to USC. When Townsend left the Trojans for Perry Clark's staff at Miami in 2003, Giles backed off USC and signed with Miami. After the 2003-04 season Clark and Townsend were laid off, and Giles asked Miami to release him from his National Letter of Intent. In the meantime, Townsend landed a job on Bill Self's staff at Kansas. Guess where Giles ended up playing this past season as a freshman? Ooze factor: High.
6. Southern California (Part III): The package deal must be in the culture of USC basketball, because Bibby replacement Tim Floyd pulled off a whopper last month. Floyd hired junior college coach Gib Arnold on April 6, and within a week Arnold's best player, point guard Shaun Davis, was starting to waver on his commitment to Indiana. Soon enough, Shaun Davis signed with USC. So did another of Arnold's players at the College of Southern Idaho, center Abdoulaye Ndiaye. True, Arnold has been an assistant coach at Pepperdine, Vanderbilt and Loyola-Marymount. Still. Ooze factor: High.
7. Indiana: Not that Indiana coach Mike Davis needs to be getting outraged about losing Shaun Davis to USC. The Hoosiers' best player, D.J. White, committed to Indiana in July 2003 -- five weeks before Davis hired White's coach at Tuscaloosa (Ala.) Hillcrest, Thad Fitzpatrick. Davis and Fitzpatrick had known each other for years, and coached together at Alabama. That's a mitigating factor. But not entirely mitigating. Ooze factor: Medium-high.
8. Richmond: On Sept. 3, 2002, Spiders coach Jerry Wainwright hired longtime acquaintance Gary DeCesare, the coach at St. Raymond's School in the Bronx. Thirteen days later, St. Raymond's point guard Daon Merritt named Richmond his leader. On Oct. 9, Merritt committed to the Spiders -- the only top 100 recruit Wainwright signed in three years there. When Wainwright left Richmond this spring for DePaul, he brought along DeCesare, a potent recruiter in New York City and a potential college head coach himself. Ooze factor: Medium.
9. North Carolina State: In 1996, Herb Sendek signed one player before his first season at N.C. State: Damon Thornton of Atlantic Shores (Va.) Christian School. A few months later, Sendek completed his staff by hiring a director of operations -- Mark Phelps, the coach at Atlantic Shores. A few weeks later, Atlantic Shores' Kenny Inge committed to N.C. State. It looks like it looks, but Phelps has stayed with Sendek ever since, even being promoted to assistant coach in 2000. Ooze factor: Medium.
10. Eastern Michigan: Trying to salvage his job after going 36-78 through four years, EMU coach Jim Boone made Detroit Denby coach Ray Reeves his director of operations after the 2003-04 season. Reeves, who had sent James Matthews to Eastern Michigan a year earlier, brought two players with him, including freshman star Darryl Garrett (11.9 ppg). No matter. The Eagles went 12-18 in 2004-05, and Boone was fired. Ooze factor: Embarrassing.