Some day soon, Pat Knight will be the head coach at Texas Tech. Some day shortly after that, Texas Tech basketball will cease to be relevant. This is Sean Sutton's fault.
Some day soon, Keno Davis will be the head coach at Drake. Some day shortly after that, Drake basketball will plunge to the bottom of the Missouri Valley Conference. This also is Sean Sutton's fault.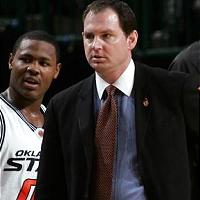 Right now, Tony Bennett is the new head coach at
Washington State.
He has never been a head coach anywhere. He has only been a college assistant for six years. If in five years we can't find Washington State without a plunger, that too will be Sean Sutton's fault.
Sean Sutton wasn't normal, but all over the country, fathers and sons and naïve athletics directors thought he was. They saw Oklahoma State name Sutton, the son of legendary OSU coach Eddie Sutton, the Cowboys' head coach designate in May 2004.
A light bulb went off in Lubbock, Texas. And in Pullman, Wash. And in Des Moines, Iowa.
Light bulbs are cheap. They burn out, or they shatter. And when it shatters, a light bulb is no longer a good idea. It is something dangerous.
Designating Pat Knight as the next coach at Texas Tech? That's dangerous. Nationally, he is known only for being Bob Knight's blindly loyal son. Pat Knight is not widely respected by other coaches. He is most certainly not feared by anyone in the Big 12, or in the Big West, for that matter. When Bob Knight retires, possibly after the 2006-07 season, the rest of the Big 12 is having a party. Pat Knight will be invited. He'll be the one wearing the lampshade.
Other than working for his father, Pat Knight's only college coaching experience is one season as a part-time assistant at Akron. While at Texas Tech, Pat Knight has overseen some of the worst recruiting -- and I'm not exaggerating -- anywhere. His recruiting has been so bad that his father, ogre that he is, has had to renege on a handful of Pat's scholarship offers. After seeing the kids Pat Knight thought could play, Bob Knight literally had to say no. And go stand in the corner.
When Bob Knight retires, Texas Tech officially becomes a women's basketball school. This is Sean Sutton's fault. Sutton isn't Oklahoma State's next coach because Daddy says so. Sutton would deserve the job on his own merits. He played point guard for Kentucky and Oklahoma State. He was an assistant in the SEC at Ole Miss. For 12 years he has worked at OSU, but long ago Sutton could have been a head coach somewhere else. A number of schools -- from solid leagues like Conference USA and the Missouri Valley -- have tried to lure him away from OSU.
Sean Sutton is not normal. He's good.
Pat Knight? He tried to get the Wright State job in 2003. Couldn't. He tried to get the Loyola (Ill.) job in 2004. Couldn't even get an interview. Tiny schools won't hire Pat Knight, so what the hell ... let's make him a head coach in the Big 12! Somewhere, Billy Gillispie and Rick Barnes are smiling.
At least Pat Knight has a reputation, mocked as it may be. Keno Davis? No reputation. None. Before Drake, he spent two years at Division II Southern Indiana, then six at Southeast Missouri State. His father is Tom Davis, the former Iowa coach who came out of retirement in 2003 to try to resurrect Drake. At the time it looked strange. Three years later -- last month -- when Drake announced that Keno Davis would eventually replace his father, it made more sense. Keno wasn't going to get a head coaching job any other way, so he'll get one this way, by following his father.
That's how it looks. At Washington State, that's how it is. Dick Bennett, a sweetheart of a man, told me last week that he came out of retirement to Washington State because he knew that if he did a solid job, Tony Bennett would have a great shot at replacing him. At least he was honest.
Good as he turned out to be, Tom Davis got his first head coaching position at tiny little Lafayette. Bob Knight debuted at Army. Dick Bennett? He started at a high school, then went to Division III, then to a small Division I school, then to Wisconsin. That's what qualified coaches do. They work their way up.
Being Daddy's Boy, though, means never having to say "I'm hungry." And it's not fair -- not to other coaches who deserve these jobs, and not to these schools' fans, who deserve more than a nepotism hire.
Last week I spoke with Tom Davis, Dick Bennett and Texas Tech athletics director Gerald Myers. (Bob and Pat Knight don't talk to me, which is fine. Their company isn't all that.) All three gave the same basic defense: (A) these sons are qualified because (B) by growing up with successful fathers, their learning curve has been faster than the average assistant.
Fair enough. But if Pat Knight is ready for Texas Tech, why couldn't he get hired by Wright State, or interviewed by Loyola? If Keno Davis is ready for the Missouri Valley, why does he literally have zero name recognition in college basketball? And as good as Tony Bennett may be -- and he's the only one of these three guys with a chance -- is he truly ready to compete with UCLA's Ben Howland, Washington's Lorenzo Romar, Arizona's Lute Olson and Arizona State's Herb Sendek?
Of course not. Tony Bennett should fight for the job at Idaho or Montana State before getting handed Washington State. Keno Davis is a borderline MVC assistant, nothing more. Pat Knight? Already turned down by the dregs of college basketball, Pat should stay an assistant coach until it's time to sell vacuum cleaners.
This is your fault, Sean Sutton. And for the love of God, stop smiling about the future promotion of Pat Knight.