Jerry Kill taking leave for epilepsy treatment; Claeys acting coach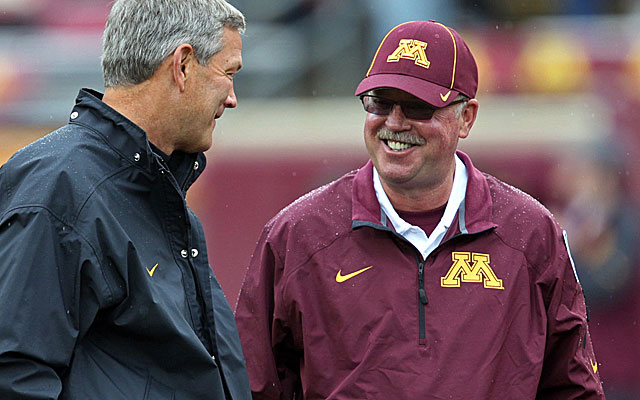 Minnesota head coach Jerry Kill will continue to take time to focus on his epilepsy treatment, Norwood Teague, the Gophers' athletic director, announced on Thursday.
"Coach Kill is taking time to continue treatment and focus on managing his epilepsy," Teague said in an official release. "Tracy Claeys will serve as the acting head coach until Coach Kill is ready to return. Coach Kill will remain in very close contact with the team and his staff and provide direction and support as needed. Our support for Coach Kill is unwavering and we look forward to his return to full-time coaching duties.
"This is a great group of student-athletes under the guidance of one of the longest-tenured and most respected staffs in college football, and there is no doubt in my mind that they will continue to move this program forward and make us proud."
Kill was unable to make the trip to Ann Arbor last Friday because he did not feel well, but was planning on joining the team until the head coach suffered a seizure early Saturday morning. It was Kill's fifth seizure-related episode since he took the job at Minnesota in 2011, his second of the 2013 season.
"My wife Rebecca, myself and our two daughters want to thank everyone for their prayers and concerns during the last few weeks," Kill said. "This was a difficult decision to make, but the right decision.
"Our staff has been together a long time and I have full confidence in Coach Claeys and them during my time away. Every decision that will be made will be in the best interest of the players and the program. I look forward to returning to the Minnesota sideline on a full-time basis soon."
Teague and Claeys will meet the media Thursday afternoon at TCF Bank Stadium to address the issue further.